The Prehistoric family, The Croods, are back after surviving the end of the world and they're in search for a better tomorrow in The Croods: A New Age. Joining original cast and the first family of Ryan Reynolds, Emma Stone, Nicholas Cage, Clark Duke, Catherine Keener and Cloris Leachmen are newbies Kelly Marie Tran, Leslie Mann and Peter Dinklage as the new family, The Bettermans.
Yeah, emphasis on the better.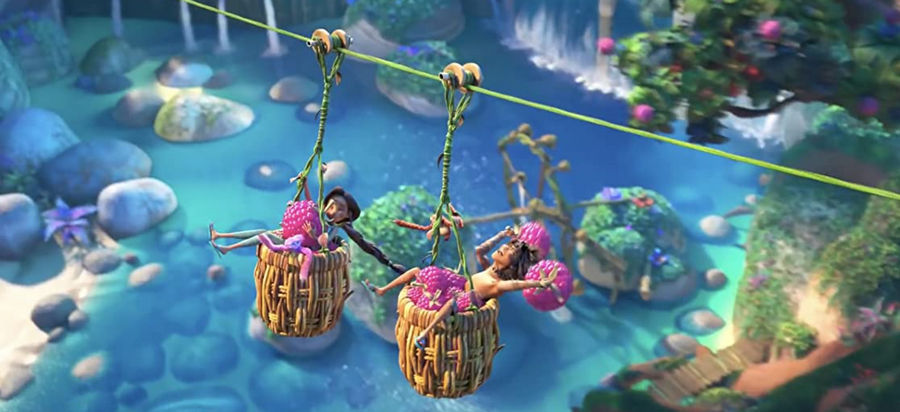 After a long voyage in effort to chase 'Tomorrow' – a place described by Guy (Ryan Reynolds) as paradise that can only be reached by rising the sun – the family of cavemen find themselves entering the gates of The Betterman's home, where everything points to modernity and civilisation we know today. Hello civilisation.
An elevator, a toilet, a shower and yes, sandals. Comfortable and semi-stylish footwear to protect your feet from anything sharp and pointy. All of which the family of cavemen took a while to get used to.
Whilst everything looks fine and dandy on the surface, trouble bubbles as Grug (Nicholas Cage) struggles to assimilate into the Bettermans' lifestyle, Guy and Eep's (Emma Stone) relationship goes through a rough patch and Phil and Hope Betterman (Peter Dinklage and Leslie Mann) schemes to kick the Croods out of their home and matchmake Guy with their ever so sheltered daughter Dawn (Kelly Marie Tran).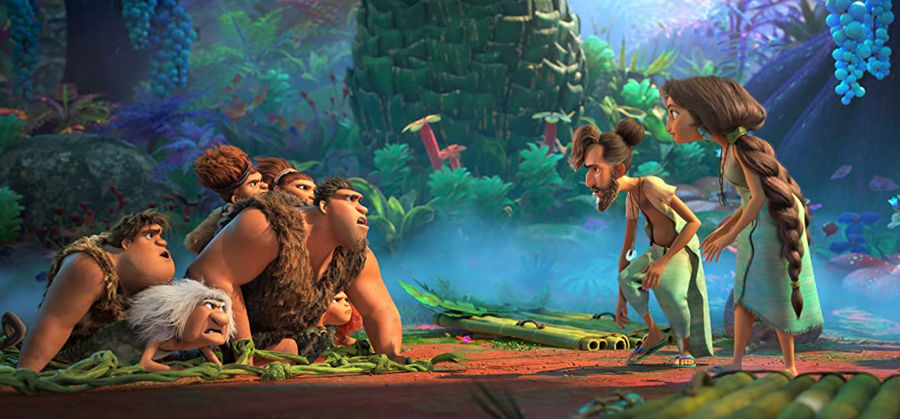 As a period cartoon, The Croods: A New Age is an interesting reimagination of the beginning of civilisation and modern creations. In the first film we see Guy use a sloth named Belt (Chris Sanders) as, you probably would've guessed, a belt. This time around we see more of these jokes and smart interjections, like an open window having the same effect of a television to Thunk (Clark Duke), their Macawnivore (a large saber-tooth predator with colourful fur) Chunky to be described as a fast luxury car – we say, Jaguar – and more.
Drama between the families aside, a larger threat lurks, one that sees the patriarch of the families Phil and Grug, and Guy in great danger. With the boys far away from home, the remaining female family members put their differences aside and embark on a dangerous adventure to save their dads. On their journey, the girl gang come across deadly creatures and learn that the two packs may have opposing lifestyles, but they're two sides of the same coin.
It's pretty evident what the lesson of the film is. With The Croods focusing on a rather heartfelt and emotional father-daughter relationship between Grug and Eep, The Croods: A New Age looks at friendships and interpersonal relationships with others we share a community with.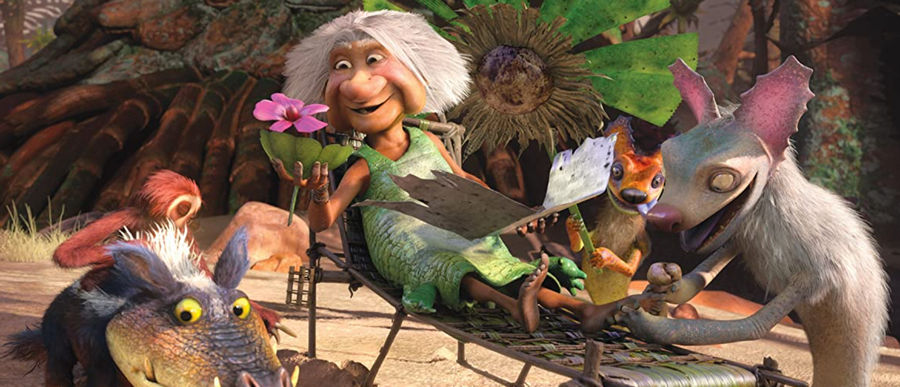 Dawn and Eep put boy problems aside and foster a healthy female friendship, Grug and Phil grow to have an inseparable bromance and Thunk learns that no form of entertainment content is more valuable or more important than the people you call family.
The Croods: A New Age shares a wholesome message of friendship that is light and in honesty, pretty essential right now in the day and age of isolation due to Coronavirus and political unrest between communities.
The film also puts forward a good example to children watching how friendships should form in a healthy and communicative manner that places care, respect and mutual understanding at the center. The Croods: A New Age also proves that family dynamics are ever-changing and are open to accommodation to new ideas and adventures when we open up our hearts and minds to each other. 
Unfortunately for The Croods: A New Age, its narrative is one that viewers would've already seen before or can get a little bit predictable. It seems rather odd if throughout Hope and Ugga's (Catherin Keener) tiring journey of bickering and trespassing the abode of wolf-looking spiders (or spider-looking wolves?) don't end up with forming a friendship on the basis of mutual matriarch protective instincts.
Nonetheless, The Croods: A New Age is an enjoyable watch filled with adventure. The film's biggest strength undoubtedly lies in its visual storytelling. The film is an explosion of beautiful and vibrant colours that can put viewers in awe.The reimagination of modern items and what these items will look and function like during the stone age not only tickles the audience for comic relief, but is genuinely an amazing and smart way to make a period film feel relevant and close to our own 21st century lifestyle.
All in all, The Croods: A New Age is a family-friendly bundle of joy that promises a beautiful lesson to learn for kid viewers. Though, that is not to say that it cannot be enjoyed by older viewers. The Croods: A New Age definitely brings forth a much more visual spectacle than the first, so viewers who appreciate the art of story and animation will definitely have something to marvel at.
GEEK REVIEW SCORE
Summary
The Croods: A New Age features a stellar cast cleve Flintstones-like premise, and while it's is not a genre-breaking animated movie, it's entertaining family entertainment.
Story -

6/10

Direction -

8/10

Characterisation -

7/10

Geek Satisfaction -

8/10
---

Drop a Facebook comment below!