By all accounts, The Angry Birds Movie is a recipe for disaster.
It's an animated movie based on a series of mobile video games that have since waned in popularity. And even if it hadn't, few movies based on a property, especially a video game one, have been any good.
In fact, unless it was made by Disney/Pixar, very few animated movies tend to be any good.
Which is what makes The Angry Birds Movie a surprise. No, it is not anywhere near as good as a Pixar film, but it stands well on its own, and does its source material proud. (If there's anything worth feeling proud over aiming a destructive bird at a pigsty.)
If you know the original game, it's about a bunch of birds trying to save their eggs from a bunch of green pigs. The film does not deviate much from this premise, and it can in fact be seen as a prequel to the game.
Red (Jason Sudeikis), the game's main mascot, is a strange bird who has anger issues. The residents of Bird Island shun him and he's fine with it. Circumstances with a late birthday cake causes him to attend anger management classes and that's when the pigs, led by Leonard (Bill Hader) arrive.
It's also there that he meets Chuck (Josh Gad) and Bomb (Danny McBride), two equally annoying birds, and an uneasy friendship forms. The set-up isn't entirely new, and we've seen it work in animated films such as Madagascar. And like those films, there is an extensive use of pop culture references, mainly in the music department.
It's fine once in awhile, but the movie's soundtrack is heavily dependent on the audience's knowledge of classic pop anthems.
But there's no denying that Red is a lovable character. Maybe it has to do with the fact that all of us hold our anger, and keep our temper in check most of the time, but Red does not, and it feels good to watch him cut loose at his fellow birds. Because that's what we would want to do. He's not overbearing in anyway and when he investigates the arrival of the pigs and exposes them for hiding certain details of their visit, we feel his pain when his fellow birds do not trust him, due to their dislike of Red.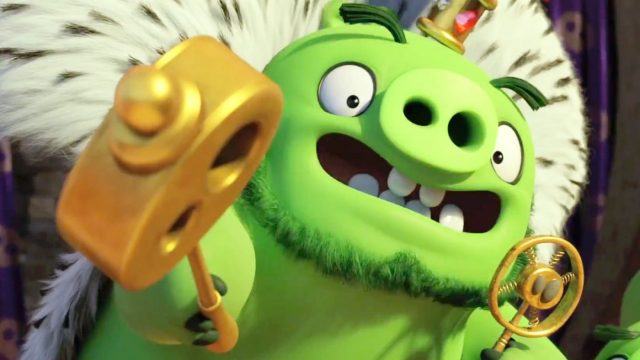 The arrival of the pigs hit a little close to home as well. After all, we are talking about a mass migration of folks on to a new land, many who do not follow the rules of the land, and try to force their behaviour onto the original residents.
But I digress.
The premise of the game is established in the second part of the movie, when the pigs successfully steal all the eggs on the island, and the birds have to get them back. It's there that the giant catapult comes into play, and if you're a fan of the game, the next 20 minutes are what you want to watch.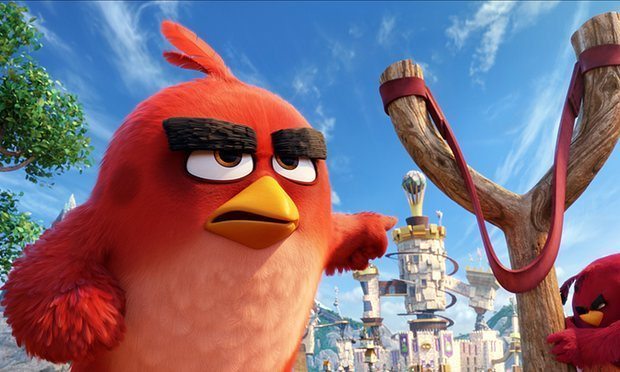 And if you caught the trailer, you might have seen The Mighty Eagle make an appearance and if you remember it, then that's about all the jokes there is. The Mighty Eagle is the single weakest character in the movie, and that includes the pigs themselves, who are as dumb in the movie as they are in the game.
If anything, this flick will probably be remembered as the start of the flood of mobile game movies that are bound to come out. A movie based on Tetris was announced, so why not Clash of Clans? Candy Crush? Come on King and Supercell, don't let Rovio laugh all the way to the bank.
GEEK REVIEW SCORE
Summary
If you fiddled with the game a few years ago, the flick will bring back some awesome memories. If you've never touched the game, the movie might make you download it for the first time.
Story -

7/10

Direction -

7/10

Characterisation -

8/10

Geek Satisfaction -

6/10
---

Drop a Facebook comment below!