The new Cypress EcoSmart Collection is Targus' third collection of bags that have been certified by Global Recycled Standard (GRS). This initiative aims to reduce the number of plastic bottles destined for landfills by utilizing them in the bag production process. By being GRS certified, Targus is able to put their money where their mouth is and trace the entire process of production from bottle sourcing to final manufacturing. There are a total of 33 products in the Cypress EcoSmart line, and today we are looking at the 15.6″ Slim Backpack.
The Slim Backpack is a 17L, no-frills backpack, designed to carry the minimum needed for your daily commute. It has one main compartment, one laptop compartment, one stash pocket and two water bottle holders on the sides. There are simple dividers and pockets on the inside of the main compartment for some form of item organisation.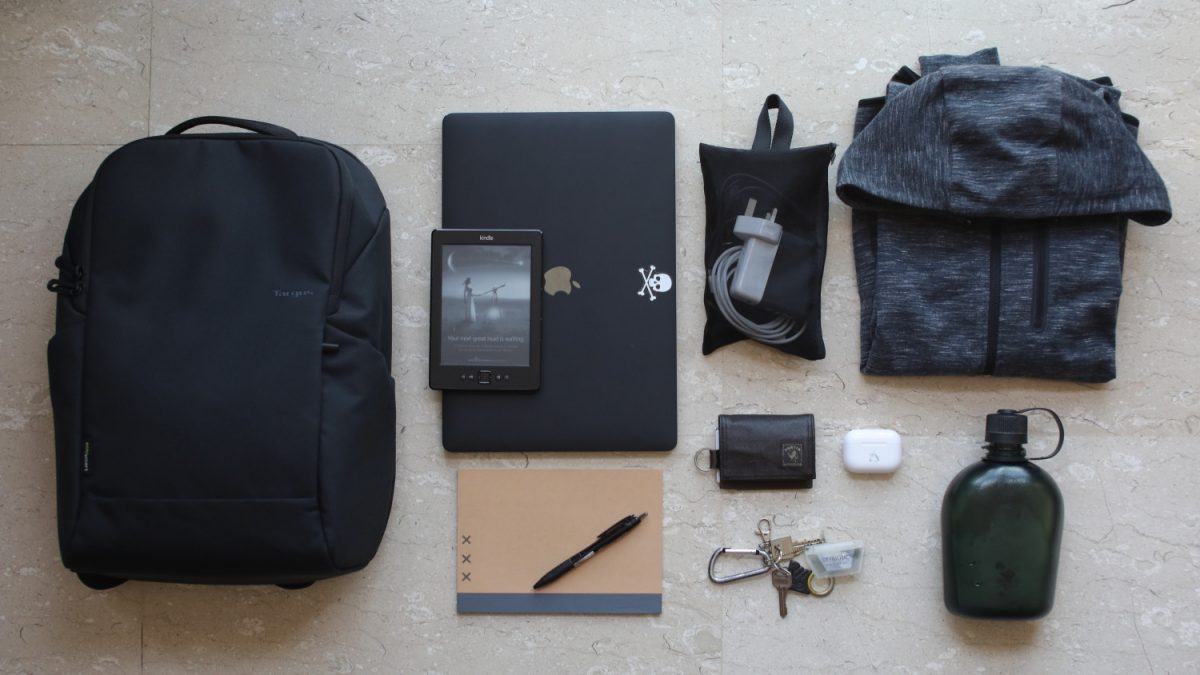 Its design is very similar to the "anti-theft" bag that we see bootleg versions of everywhere now, so no points to Targus on creativity here. However, its simple design and colour complements the fact that this bag is meant to be as unintrusive as possible.
Targus does not state any form of water resistance about the materials used, but seeing how it is a strong polyester material, it should provide some form of water resistance. However, you should not count on it keeping your belongings totally dry if you end up getting drenched in a rainstorm.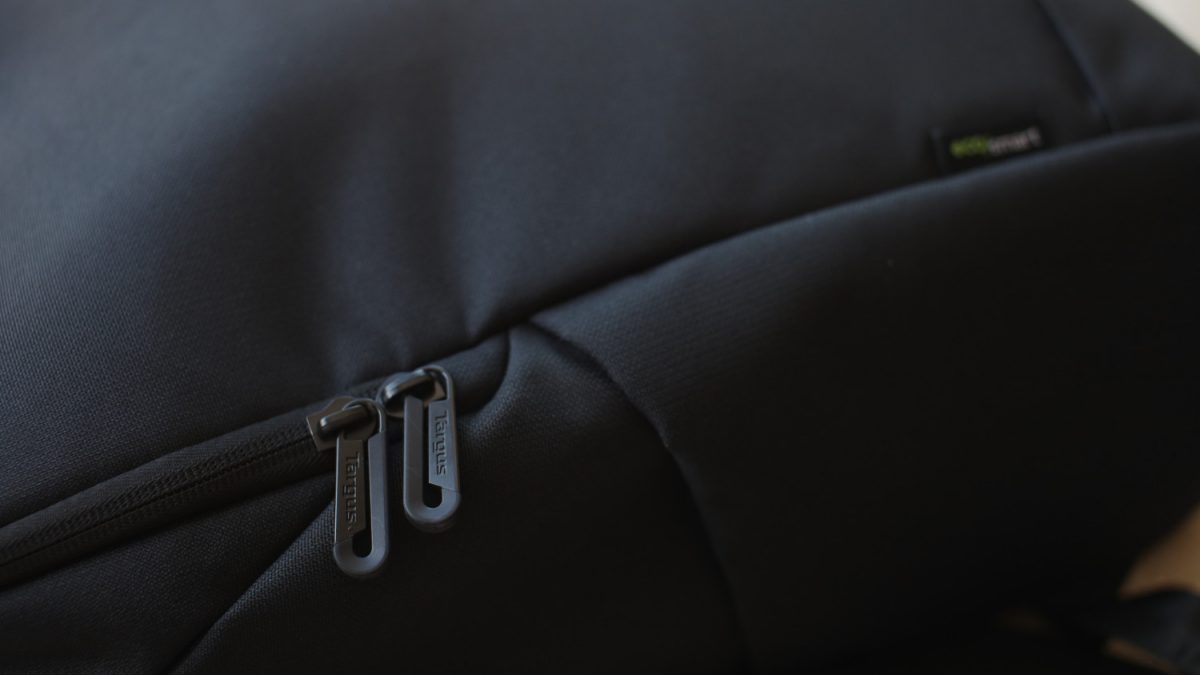 Being a slim backpack, the main compartment is what you would expect it to be. Small, but large enough for the daily necessities. With a capacity of 17L, it will be able to pack your essential electronics, documents, outerwear and beverage bottle.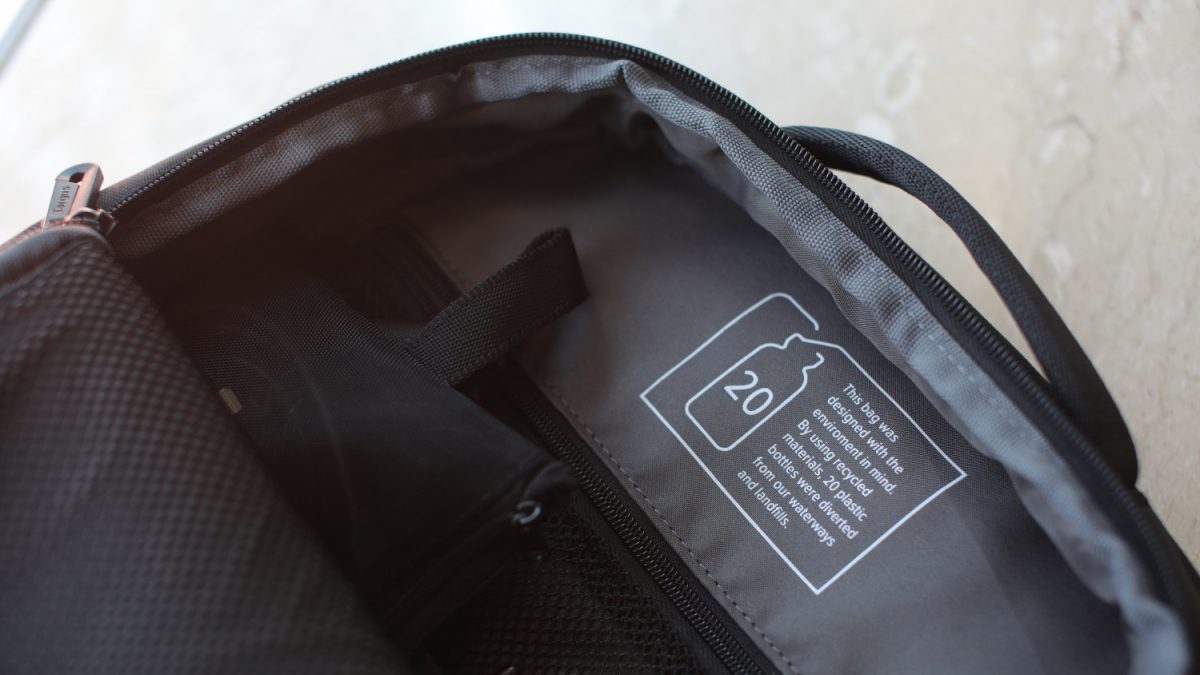 The first thing you see when you open the zipper of the main compartment is the print of how many plastic bottles were recycled in the process of manufacturing this bag. Targus doesn't want you to forget that both you and them have done some good by purchasing this product.
The laptop compartment is advertised to fit laptops of up to 15.6″, but the space given is much more generous than that. It fit a 15″ MacBook Pro with plenty of space leftover, so you perhaps fit up to a 17″ laptop in there. The padded compartment provides enough protection against bumps, and it is nice that the base of the laptop compartment is cradled above the base of the main compartment, so you would not accidentally expose your laptop to a heavy drop when putting your bag on the ground.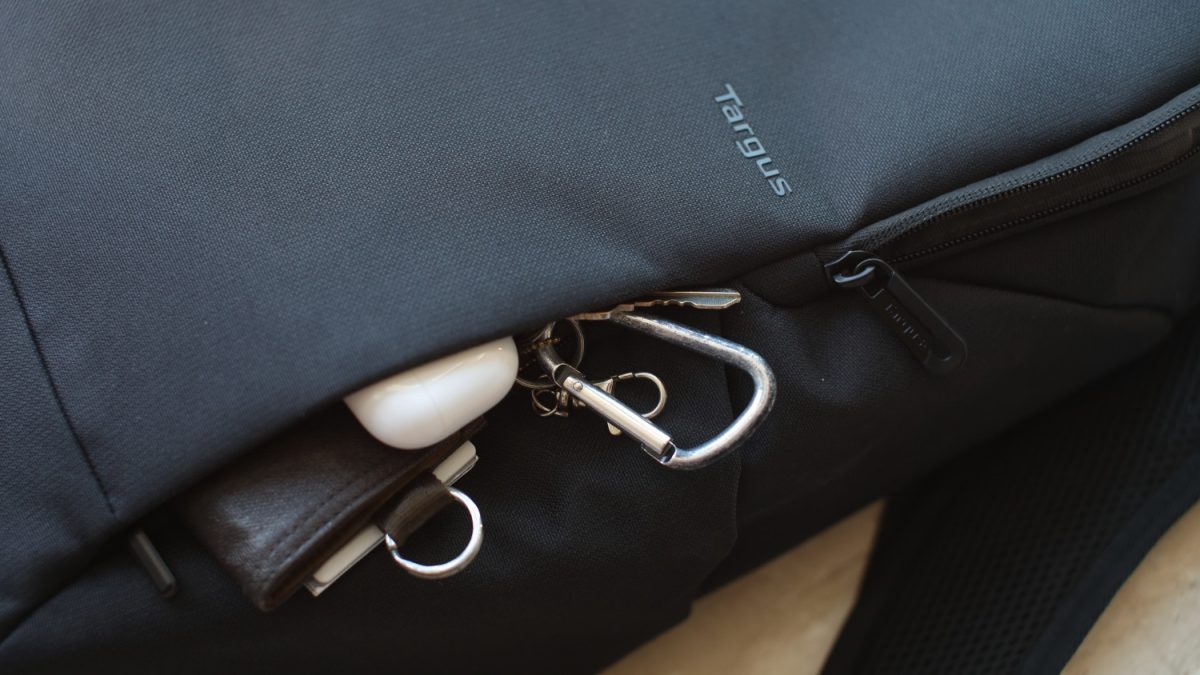 The stash pocket on the front of the bag is perfectly placed for the user to be able to open it while still carrying it with the right bag strap. However, a small gripe about this compartment is that the zipper opening could be expanded ever so slightly. The opening is quite tight for someone with relatively small hands, so those with larger appendages might experience some difficulty retrieving small objects deep inside the pocket.
There are two small water bottle pockets on both sides of the bag. These would be able to fit a bottle of perhaps up to 500ml, any bigger a bottle would be stretching the elastic bands holding it in place. There is also a pass-through trolley strap on the back panel for travellers to easily secure the backpack to your rolling luggage.
Ergonomics of carrying the bag is comfortable enough, unless loading it beyond the expected daily necessities. The shoulder straps are connected to the bag by two seatbelt straps, providing extra durability. However, the straps themselves are rather thinly padded, and when viewed with the high quality seatbelt straps send across a rather mixed message on its quality. The bag is able to stand on its own, even without any items inside, which is a nice touch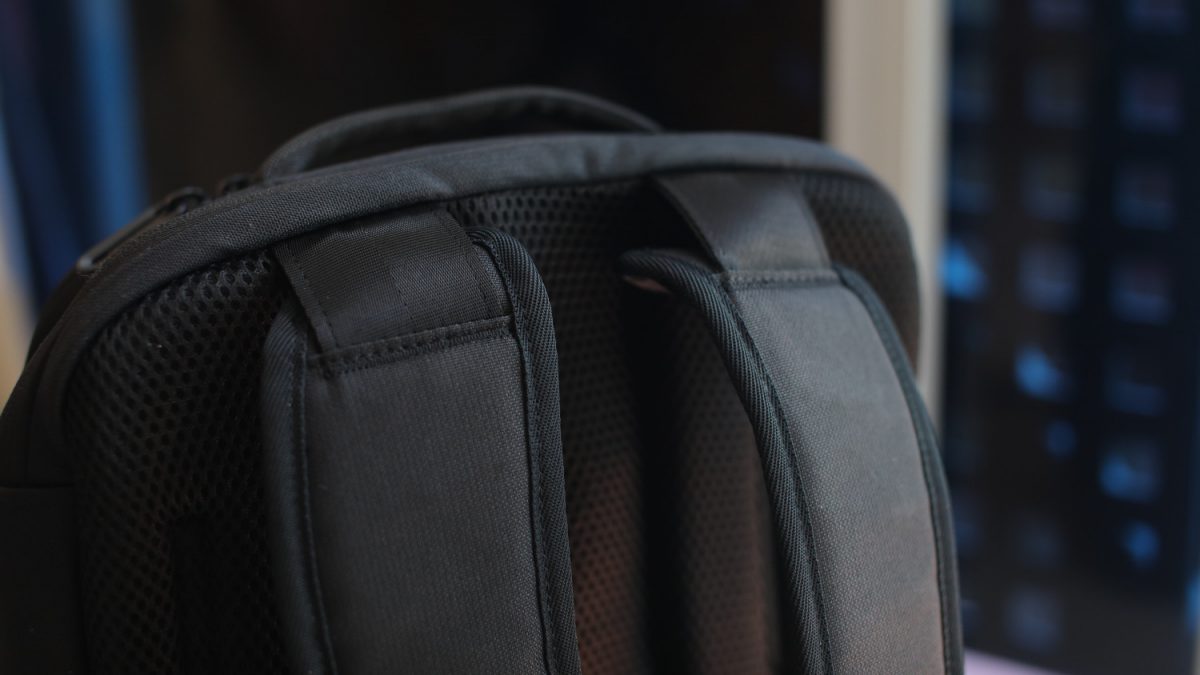 The Targus 15.6" Cypress EcoSmart Slim Backpack is made for someone who seeks a simple carrying solution, yet providing protection for their electronics and fitting all the necessities for their daily activities. Its design is minimal enough to be fitting for the office, travel and even semi-formal dinner. The fact that it is made of recycled plastic bottles is a nice touch and could even be a conversation starter when someone compliments your backpack.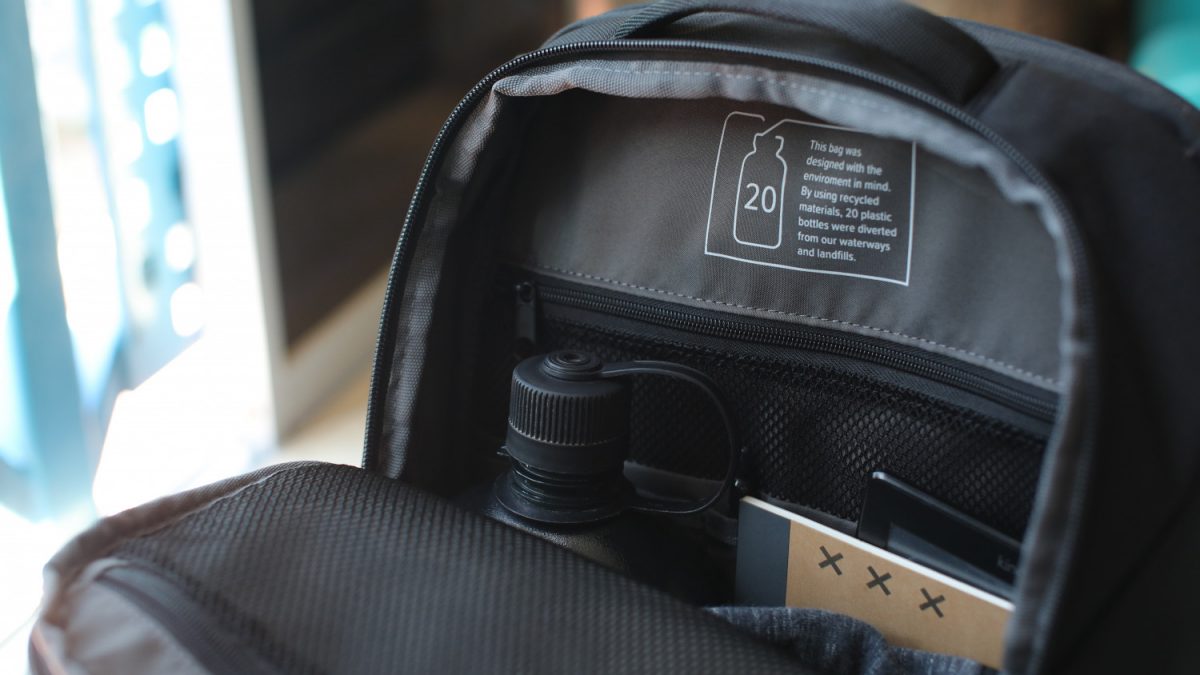 Targus deserves some recognition for their commitment to sustainability efforts, as well as producing high quality bags. With a limited lifetime warranty and at a price point of S$129, the Cypress EcoSmart 15.6″ Slim Backpack presents decent value for a simple, no-frills bag for daily commuting.
GEEK REVIEW SCORE
Summary
A minimal carrying solution for your daily commuting essentials, designed with a contemporary silhouette and good conscience that it is made from recycled plastic bottles.
Aesthetics -

7/10

Build Quality -

8/10

Utility -

7/10

Value -

8/10