Musical rhythm games have always been a niche market, and the constant addition of plastic peripherals did not help the situation much. While the likes of Guitar Hero and Rock Band have risen and fallen over the years, games inspired by music have not waned. And coming in with a huge drumroll is the endearing Taiko no Tatsujin: Drum Session! for the PlayStation 4, which puts a new spin on the genre.
Similar to what you will find in arcades (if you can find one), the drum-centric Taiko no Tatsujin: Drum Session! tasks players to follow the beat, and beat out some sick tunes by hitting the center or the rim of the drums. Yes, this comes with a drum peripheral, from a manufacturer.
Yes, players can also achieve the same results with the DualShock 4 and while I much prefer the DualShock to help me nail some of the faster combos, it is indeed a more authentic experience with the adorable Drum Controller. Even if it means I need more practice with it.
However, unlike the arcade version, the songs selection in Taiko no Tatsujin: Drum Session! are chocked full of Japanese tunes. J-Pop, Anime, Vocaloid, Variety Classic, Game Music, and Namco Originals make up a list of over 70 tracks, not to mention guest tunes from guest characters that include Doraemon, Hello Kitty, Miku Hatsune, Pac-man, and even Tekken's own Heihachi Mishima.
The track list will also be expanded in the future with DLC, so keep your drumming hands warm! It really is an impressive collection, especially if you are a big fan of the Japanese music scene, which is probably why you are interested in the game in the first place.
With just 4 areas on the peripheral to drum on (each half of the center and the rim), the challenge for Taiko no Tatsujin: Drum Session! doesn't really ramp up till you are trying the harder difficulties, which is a welcome boost for beginners wanting to experience the musical goodness. Trying Hard or even Extreme difficulty is not for the faint-hearted, and that is with me using the DS4, I truly salute the masters who can competently pass songs with the Drum Controller.
Playing through the vanilla Taiko mode will help you hone your skills, with the aforementioned difficulty levels adding variety. Bingo cards that require you to fulfill specific conditions for each song spice things up, with the reward of Don coins always just around the corner. This currency is used to purchase Taiko no Tatsujin: Drum Session!'s version of loot boxes, or in this case, Treasure Boxes. Costumes, instruments, card titles, greetings, and more are up for grabs for players to customise their buddy, Don-chan.
Once you are up to snuff, venture into the Ranked Match modes and challenge other players and their Ghosts online. Every time you play a song, the game generates a Ghost that plays like you do, which other players will drum against online. With rankings that go up to level 50, there are plenty of jam sessions ahead of you if you want to be crowned the best in Taiko land.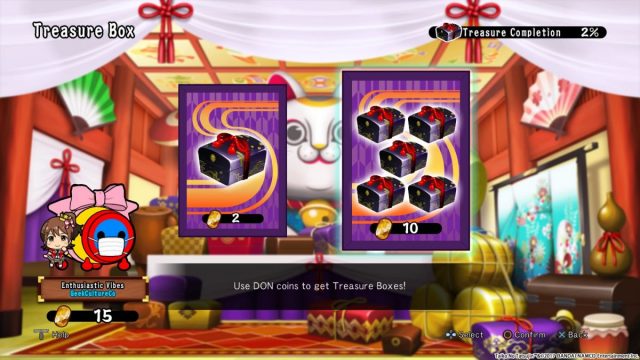 Taiko no Tatsujin: Drum Session! is a love letter to fans of the series and a darn good rhythm game to boot, but it is incredibly niche. While the drumming is great on the Drum Controller and solid on the DualShock 4, the gameplay can only carry you thus far if you are not a fan of the music, so you have been warned.
It's been over 10 years since the last Taiko game came to Sony's console, but Taiko no Tatsujin: Drum Session! is a more than decent addition to the series, and if you can get your hands on the Hori Drum Controller bundle, it is definitely the way to drum.
GEEK REVIEW SCORE
Summary
The path to becoming a drum master is arduous, but it is an enjoyable torture if you are a lover of all things Japanese.
Gameplay -

7/10

Musical Variety -

8/10

Presentation -

8/10

Value -

7/10
Jake is a full-time trophy hunter and achievement gatherer on consoles, and part-time Steam Sale victim. He has a thing for Batman and awesome statues, and running out of space for both. Send help.
---

Drop a Facebook comment below!