Sony, well known for its PlayStation consoles and excellent headphones (and some say, Spider-Man films), has made a proper foray into the PC gaming peripherals market, with its INZONE series, offering two monitors and three headsets targeted at gamers. The S$499 INZONE H9 wireless noise cancelling gaming headset is the top-end headphone in the lineup (the other being the H3 and H7) that combines Sony's vaunted audio performance and active noise cancellation (ANC), with a set of useful gaming functionalities.
After using it for a week and several hours of gaming, we can say that the INZONE H9 works great, offering excellent spatial sound, amazing noise cancellation, and great, long-lasting comfort. However, it is set back by a few minor issues, including a rather tinny-sounding microphone, and heat accumulation in the earcups during extended gaming sessions.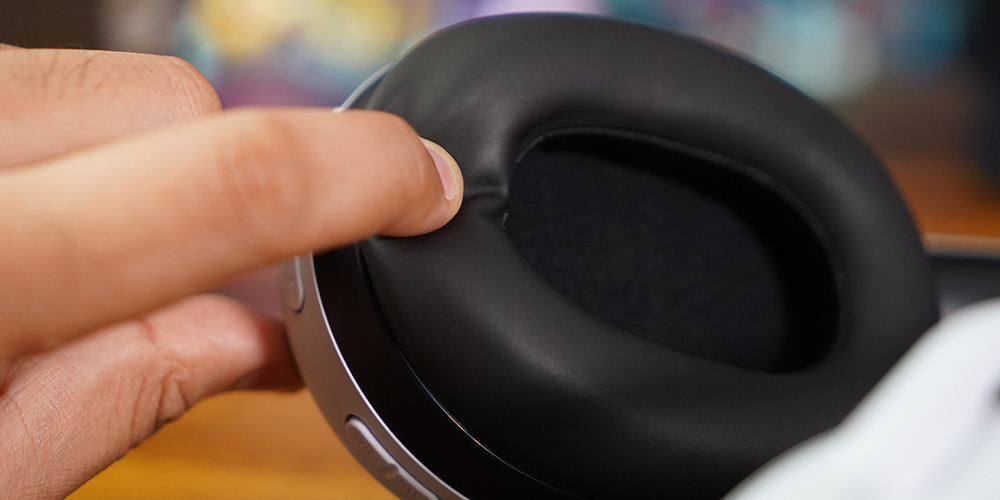 The INZONE H9 comes in white, with two soft leather earpads, similar to Sony's premium WH-1000XM5. From the get-go, the headset is comfortable to wear and feels secure without being too snug. Its lightweight 330g frame, coupled with its wireless feature, makes it easy to forget its presence during hours of gaming.
This is helped by the headset's 360 Spatial Sound and excellent ANC. From the moment you turn on ANC, with a button toggle conveniently placed below the left ear cup, you can 'hear' the noise around you disappear. The noise from the fan, the sound of traffic outside, or the hum of the air conditioner – they just go away. The whole process actually is somewhat relaxing, but the tech feels a bit wasted for a headset designed for indoor use. But if you really want to focus on your game without external distractions, the H9 lets you do just that.
The headset also has an ambient mode to let outside sound in. Say you left a kettle boiling on the stove or are waiting for a delivery, ambient mode lets you keep playing as you keep tabs on external sounds. Just hit the ANC button to toggle it.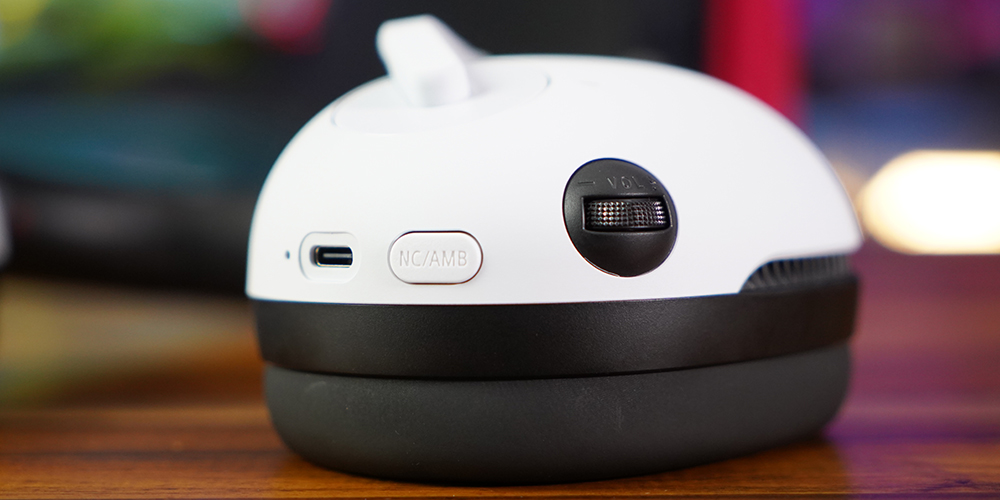 The volume controls and buttons for turning on the headset, toggling noise cancellation, and Bluetooth are all well placed on the bottom of each ear cup. They are easy to reach while worn, are well-spaced, and require just the right amount of pressure to activate.
The 360 Spatial Sound virtualiser, through the INZONE Hub app for Windows, turns what are 2-channel audio signals into 7.1-channel surround sound. In third-person games such as Monster Hunter: World and Nioh 2, the directional audio makes it easy to pick up the location of monsters and enemies, even when they are behind your character's view. Noise from farther distances sounds softer than the ones closer to the user, which adds a touch of realism. In first-person shooters like Borderlands 3, where moment-to-moment reactions are important, the audio cues help you stay alive better, but we can't say if that actually converts into actually measurable wins; obviously, player skills matter.
On the PlayStation 5, you don't get the INZONE Hub but the H9 supports the PS5's Tempest 3D AudioTech for a similar enhanced performance and experience.
The sound the H9 delivers through its 40mm Neodymium drivers is rich and accurate. Guns sound punchy, while sword slashes sound like there's weight behind each swing. Environmental sounds are crisp and music – within games, from your own tracks, or from streaming playlists – is a delight to listen to, with plenty of range and depth behind each score or soundtrack. The INZONE Hub also lets you customise the equaliser to your liking. Prefer a deeper bass or a stronger treble? Easily tweaked.
You can save a separate setting for different applications in the Hub, which tracks and tailors the profile to the programme running in the foreground. The Spatial Sound can be personalised to your ear profile, though that needs to be done through your smartphone, with the 360 Spatial Sound Personalizer.
The H9 comes with a USB transceiver that easily links it via a low-latency 2.4GHz wireless connection to your PC or PS5. All you need to do is plug in the USB dongle, select which device it is connecting to, and turn on your headset.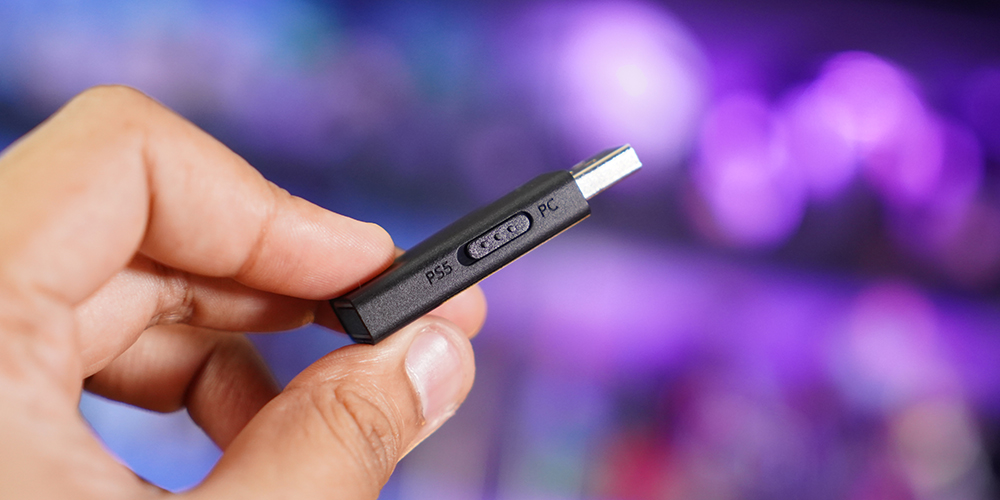 Like other headsets in this price range, the INZONE H9 also allows for a simultaneous wireless and Bluetooth 5.0 connection. You can connect to the Bluetooth on your phone to take calls or chat on Discord while gaming on the USB wireless connection. It's not that useful since we usually run a voice chat through the PC or PS5 anyway, but just know that there's the option to do so in case you need to answer a call on the phone but you cannot pause your game session.
Speaking of calls, the microphone on the H9 is decent. The bi-directional boom microphone gets your voice across fine with minimal background sounds, but there are instances where it can sound tinny and metallic. While not a deal-breaker for most conversations, it can be a bit distracting for the party on the other end. To use the mic, just pull it down to talk and tuck it back up to disable it. You can hear a soft click on your headset to indicate when it is on or off, which is a nice touch.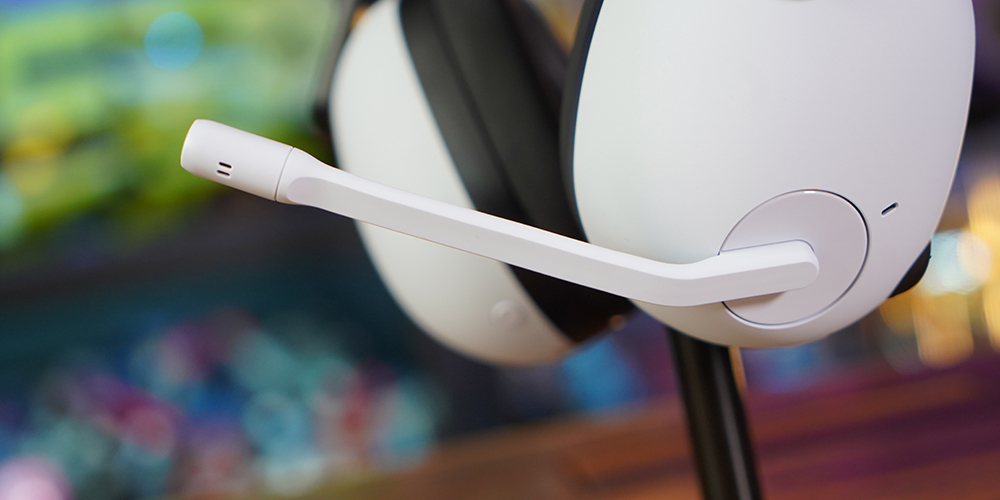 Another nifty feature is the ability to rotate the ear cups to lay flat, making storing easy if you don't have a special headphone holder taking up valuable desk space. It also makes the headset a little more portable to carry around in a bag, since it doesn't come with a carrying case.
The Sony INZONE H9 is rated for 32 hours of use (without noise cancellation) for each full charge. How long it actually lasts in practice depends on whether you have ANC or Bluetooth on. We managed to use it for two days, each day with at least 10 hours of gaming with ANC running and intermittent microphone use, before a beep came up, which we guess signifies low battery.
See, the H9 doesn't have an actual battery indicator anywhere on the headset. The only way to get a rough idea of the battery level is through the INZONE Hub by looking at the battery icon on the top left. Even that doesn't tell you any numbers, so it is pretty much a guess between full, half full, and almost empty.
Should you run out halfway through your gaming session, you can just charge the H9 with the supplied USB cable and continue playing. Still, the lack of a proper battery level indicator on the H9 is an irritant that Sony should fix, either with the Hub software update or in future INZONE models.
The other issue we had with the H9 was how warm it can get after using it for hours. Because of the snug design of the ear cups, there's a tendency for them to get warm after a while, especially if you're wearing the headset in hot, humid locations like Singapore with the air-conditioning turned off. The rate of heat accumulation depends on individuals but for us, we had to turn on the air conditioner to stay comfy for prolonged gaming sessions.
All in all, the Sony INZONE H9 is a great pair of wireless noise-cancelling gaming headset. It has excellent audio and noise cancellation, and is well made, light and comfortable to wear. It has a few potential deal breakers – with the microphone, missing battery level indicator, and warmth during prolonged use – as well as costing quite a bit. However, if you have S$499 to spare for a quality gaming headset and can overlook the issues, the INZONE H9 is certainly a great audio peripheral to add to your gaming repertoire.
GEEK REVIEW SCORE
Summary
The S$499 INZONE H9 wireless noise cancelling gaming headset delivers excellent spatial sound, amazing noise cancellation, and long-lasting comfort, but is set back by a tinny-sounding microphone and heat accumulation in the earcups when gaming in warm, humid and non-air-conditioned locations.
Aesthetics -

8/10

Build Quality -

9.5/10

Performance -

9.5/10

Value -

7/10

Geek Satisfaction -

10/10