Thumping bass echoed through the confined space of my tiny room, as the dynamic tunes of a beat-heavy song carried over into the living room. The volume increases; air ripples. Back where the audio source drifts from, a hand is splayed across a wooden table, feeling the steady drum of vibration. In no time at all, strong pulses wash over the touch, with rhythmic bass booms filling the room.
It's a tremendous show of power from the smaller-than-average PC speaker SPACE 7, a new addition to local company SonicGear's existing repertoire of audio products. Prior to this, it'd have been difficult to reconcile a compact speaker with loudness and amplitude, but the slim subwoofer package is set to switch up the playing field.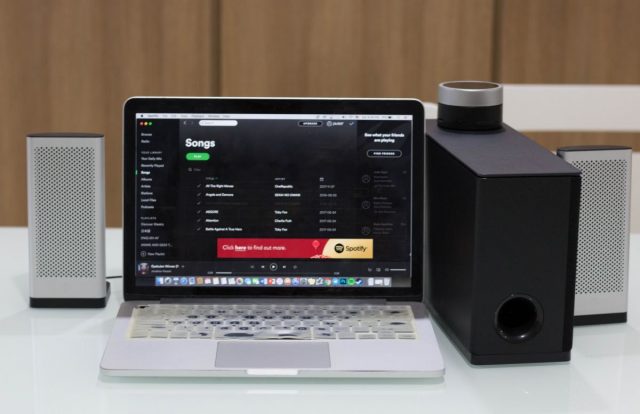 Decked out in sleek grey satellite speakers and a classy black subwoofer, the SPACE 7 sports a simple, elegant look that blends easily into any workspace. Equipped with a metallic-topped remote control, the whole bundle makes for a nice aesthetic finish, bringing the added element of sophistication to the table.
A pleasant-looking exterior counts for nothing, however, if something does not perform its intended function well. In the case of speakers, that'd be volume and audio quality – something the SPACE 7 handles with great proficiency.
Loud. The speaker is satisfyingly loud, so much such that it's a literal embodiment of its description, "unbelievably powerful bass from an ultra-small woofer". It's a bold claim; one that was met with initial scepticism and doubt, but both expressions were quickly squashed in favour of surprise and awe, as test sessions went underway.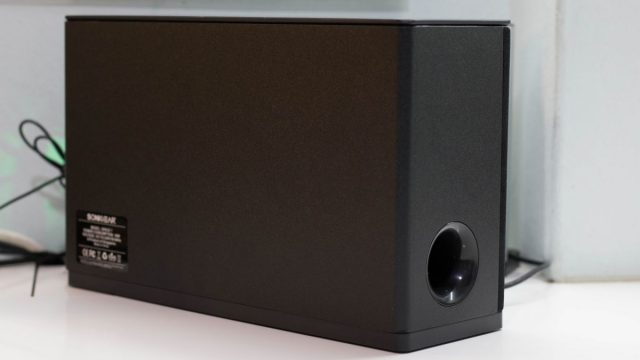 In a typical shut-door medium-sized bedroom, a 50 per cent audio volume is enough for music to be blasting out of the speakers, and spilling into other spaces. With the door open, the ante can be upped to around 70%, which will see the entire space being engulfed in the deafening tones of highs, mids, and lows. Anything beyond would probably have sent neighbours hot on my heels, which is definitely not the best way to end off a good night – and that's not even at 75% speaker volume to boot.
In light of its 8.9cm subwoofer body, the above is indeed an impressive feat, made possible by the 36-watt power system, and two 8-watt satellite speakers. The sound quality is rich, with the sonorous twangs of sound pleasing to the ears, and crisp, too, where gaming is concerned.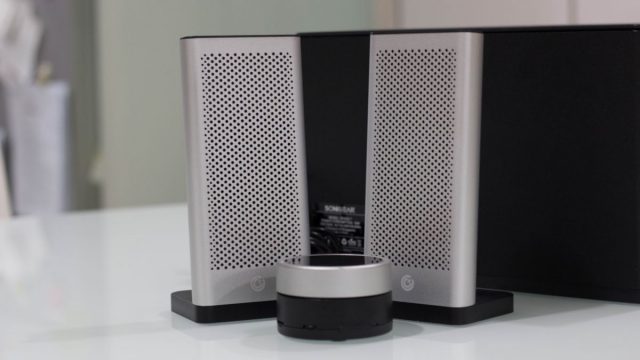 With both satellite speakers boasting the same audio levels, the user is in for a more enriching and immersive experience. Highs are about to hit an all-time…well, high, supported by the weighty 'ting' of cymbals from songs, and an overall clean sound. It's a pity, however, that the SPACE 7 falters slightly in the mids, sporting a weaker performance in the vocals category, where the timbre is present, but often subdued.
As established, the speaker is able to handle strong, pulsing beats with little difficulty. When bass-heavy songs, such as Imagine Dragons' Believer, were put to the test, the baritone tunes could be heard clearly. The problem arises once the volume or bass level is increased, resulting in some distortion, in which lyrics may come out garbled, and the background audio a little unnatural-sounding.
Still, its sheer power is indeed something to behold – even at a bass level of 50%, everything can sound overly boomy, especially in a smaller, more enclosed space.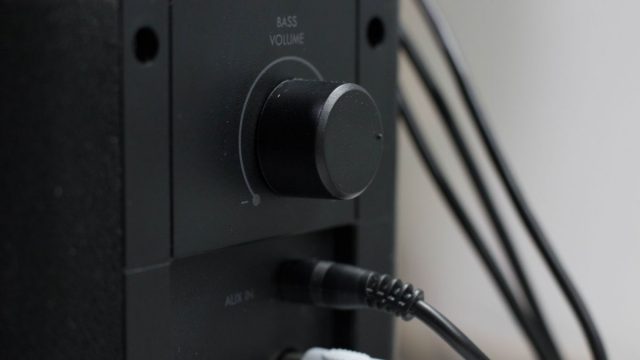 Located at the back of the subwoofer is a knob for adjusting the bass level, and boy, is the range between 0% and 100% a world of great difference. From the barely-there drum to the intense pounding of musical beats, users are treated to a wide spectrum of bass reach.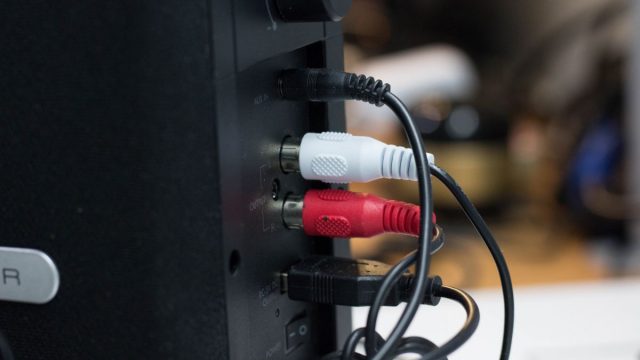 But with the subwoofer also comes the trouble of wire clutter. Apart from a power cable, four other wires – line-in, left/right channel speaker, and USB – are required as well, giving rise to a messy setup. Thankfully, its portable size allows one to place it anywhere as desired, so these unsightly cables can lay outside of the field of vision.
I say anywhere, because the speaker is capable of pulling off such a feat – to a certain extent only, of course. SonicGear seems to understand that more consumers are adopting the "less is more" mindset, and cleverly conveys this in the form of Bluetooth functionality, controlled via a silver-topped Bluetooth receiver.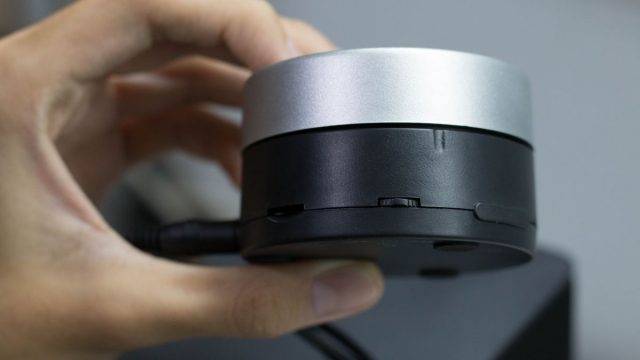 Doubling up as a volume-cum-remote control, it also houses a microSD card slot, multi-function control wheel, mode button, and two jacks, allowing for easy access at one's fingertips. The rubberised bottom is a nice little touch, designed to prevent it from moving about on the table, or slipping off.
When hooked up on the Bluetooth, connection was relatively smooth. While there were occasional interruptions, especially for streaming services such as Spotify and Netflix, the overall experience was hardly affected – a minor issue that users can afford to overlook, much like the remote control's flimsy-looking exterior.
Make no mistake, though, it isn't as fragile as it looks.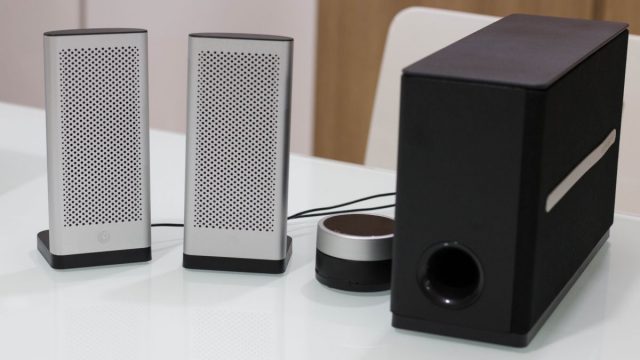 Retailing at S$99.90, the SPACE 7 is definitely one of the few affordable high-end speakers on the market. With portability, Bluetooth convenience, and wired control all bundled into one handy package, having to forgive its flaws is a more-than-reasonable compromise for the fine audio quality and rich listening experience offered.
Meanwhile, those with a leaner budget may wish to opt for its cheaper counterparts instead, with the entry-level SPACE 3 (S$49.90), and mid-tier SPACE 5 (S$59.90) also up for sale.
Specifications
| | |
| --- | --- |
| Bluetooth | 4.2 / Audio Line-in |
| Connectivity | Bluetooth / AUX-in / microSD |
| Driver | 2 x 2″ Full Range |
| Output Power | 2 x 8W |
| Subwoofer | 3.5″ / 20W |
| Frequency Range | 60Hz – 18KHz |
| Total System Power | 36W |
| Suggested Retail Price | S$99.90 |
GEEK REVIEW SCORE
Summary
A welcome addition to one's office or home space (pun intended), the SPACE 7 is the handyman of speaker-verse, providing affordability, versatility, and convenience all within easy reach.
Aesthetics -

7/10

Build Quality -

6.5/10

Performance -

8/10

Value -

8/10

Geek Satisfaction -

7/10
---

Drop a Facebook comment below!