We've seen numerous changes when it comes to travel photography in recent years. In the past, it was common for enthusiasts to lug along huge bags of photography equipment, only for everything to be replaced by the mobile phone.
These days, however, it's not uncommon to leave the phone in your pocket, and travel with the latest trending plaything – a drone.
One of the most successful brands in this new segment is DJI, who has been able to successfully entrench themselves into mainstream consciousness. At US$999, the DJI Mavic is an affordable and portable option for anyone looking to get into the hobby.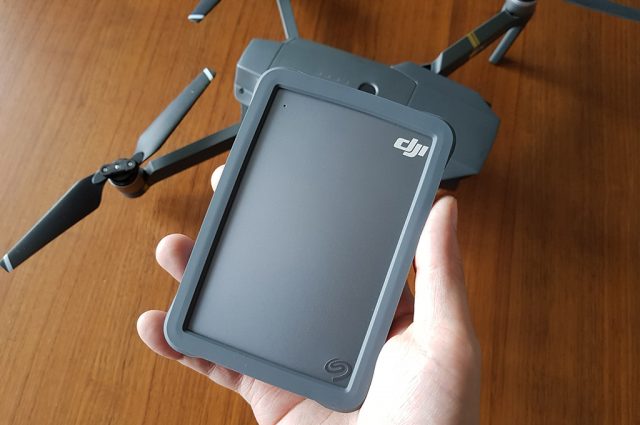 At the same time, it is this portability that allows for the Mavic to be brought on holidays, leading on to great vacation pictures and videos from non conventional angles.
But while it beats a selfie stick and a mobile phone, built in memory for such drones are rather pathetic.
If you're stuck with the default 16GB micro SD that came with your DJI Mavic, Seagate is here to help you fill it with their new DJI Fly Drive. We are not looking at 128GB or even 512GB card mind you. Packing 2TB of space, Seagate claims that you're able to transfer at least 60 hours of footage into the package. Considering that you might go on long trips with your drone, having a backup drive on hand is great to keep all the footage safe and sound. Just to be clear – this is not a drive you stick into your drone to film stuff with. This is an external HDD with some a bell and possibly a whistle to aid drone enthusiasts.
So what makes it stand out from other normal HDD? Well, Seagate packed the DJI Fly Drive with a rubber bumper that serves to protect the internals from knocks and drops, for when you are traveling. Considering that the drive itself is not a SSD, I would refrain from subjecting the drive from too much abuse though. If you're looking to keep the drive a little slimmer, the bumper is easily removable.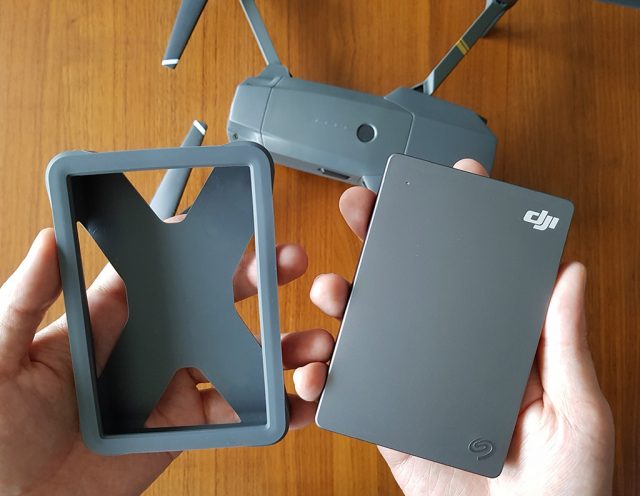 The Seagate DJI Fly Drive is also equipped with a micro SD card reader slot and….well, that's pretty much it. Initially, I thought I'd be able to upload my footage from the SD card directly to the drive itself simply by inserting the card in. It would be nice for the drive to also wipe the contents of the SD card, so that I could pop the micro SD card into the drone for more video capture. Sadly, this is not the case.
Instead, you would actually still need a computer to transfer the contents of the SD card onto the drive. Having a built in readers means you can skip bringing a separate card reader of your own. Included in the package is a USB-C to USB-C cable, which might be an issue if you have an older computer that lacks the required port. Thankfully, using a third party USB-C to USB cable works fine as well.
From my tests, I found that the transfer speed with the micro SD card inserted into the drive was transferring at a reasonable rate. From the above capture, transfer speeds were stable mostly at the 12 MB/s rate. Considering that a computer is essential to facilitate the transfer in the first place, I figured that I should test by plugging in the drone directly to my computer.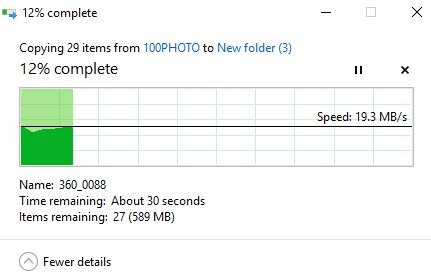 At 19MB/s, I wouldn't go as far to say that the Seagate DJI Fly Drive is slow by any means but if you have a laptop on hand anyway to employ the drive, then perhaps that's something worth considering as well. Of course, you drain the battery by keeping the drone turned on.
Overall, this is a missed opportunity for Seagate. With the drone market set to grow with even more affordable devices set to be release, perhaps the next iteration would be perfect for all existing and aspiring enthusiasts out there. The Seagate DJI Fly Drive, while a decent product, comes across as more of a gimmick for enthusiasts who don't know better.
The Seagate DJI Fly Drive is currently available at S$219 and comes with 2 months membership of Adobe Premiere Pro CC.
Gerald currently straddles between his love of video games and board gaming. There's nothing that interests him more than trying out the newest and fanciest gadget in town as well. He dreams of publishing a board game sometime in the future!