When it comes to keyboards and mouse, Razer has set the gold standard in terms of quality and innovation – from an MMO mouse to their own keyboard switches, the Singapore company has done it all, and yet, it is still constantly trying to improve its game to keep up.
But when it comes to webcams, Razer is still considered new to the market with the Razer Kiyo, released back in 2017, as their one and only model. The webcam received positive reviews, had many rave over its camera prowess during that time and is still widely used today and after four years, they're finally back with their second entry into the webcam game, the Razer Kiyo Pro.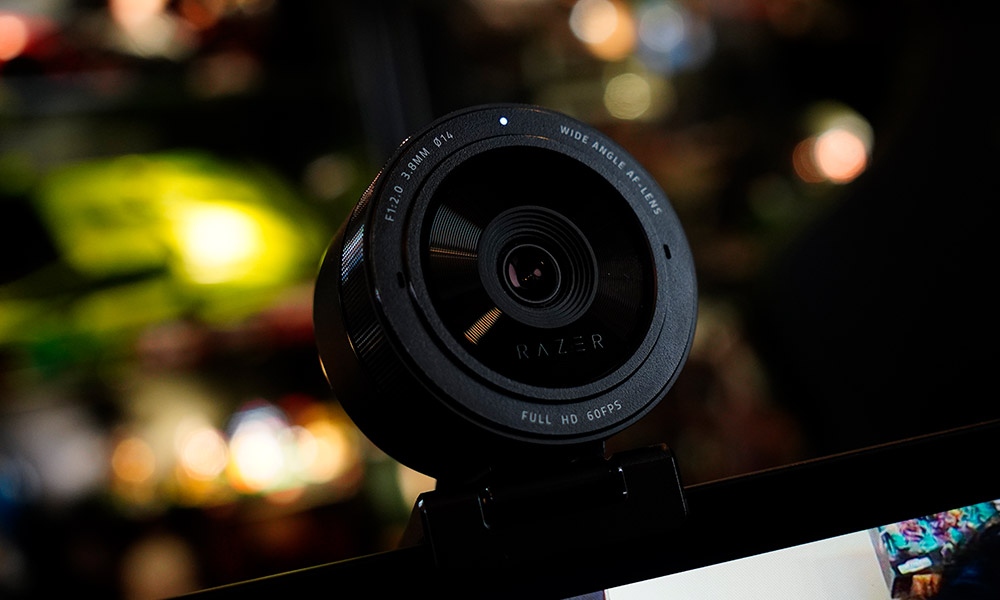 In terms of designs, there aren't any notable changes and it's not a surprise because Razer has always been known for its minimalistic design and the new webcam adheres to that as it comes in the same matte black and embellished textured surface as its predecessor. While the looks of the camera remain somewhat similar, the size had a big change because the Razer Kiyo Pro is now roughly twice the size in terms of depth compared to the Razer Kiyo and it's almost comparable to the DSLR lens we have in the office. It comes with a Razer imprinted cover that you can latch over to assure your privacy and prevent dust when it's not in use which can be handy, but also a little troublesome since you need extra space when you're using the camera.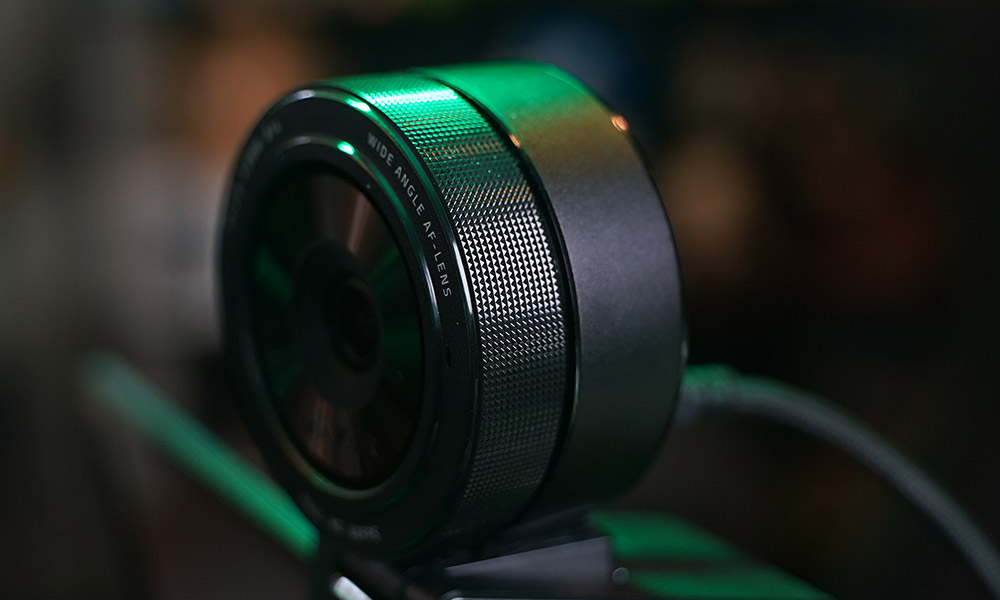 The camera comes with an L-shaped joint mount that you can adjust to fit on top of your monitor for the most complimenting angle and the mount itself also allows you to rotate the camera around and flip the entire lens downwards if you need a top-down visual for your unboxing or crafting videos. Although at an imperfect angle due to how close it is to the monitor, it still looks quite decent if you're not too picky.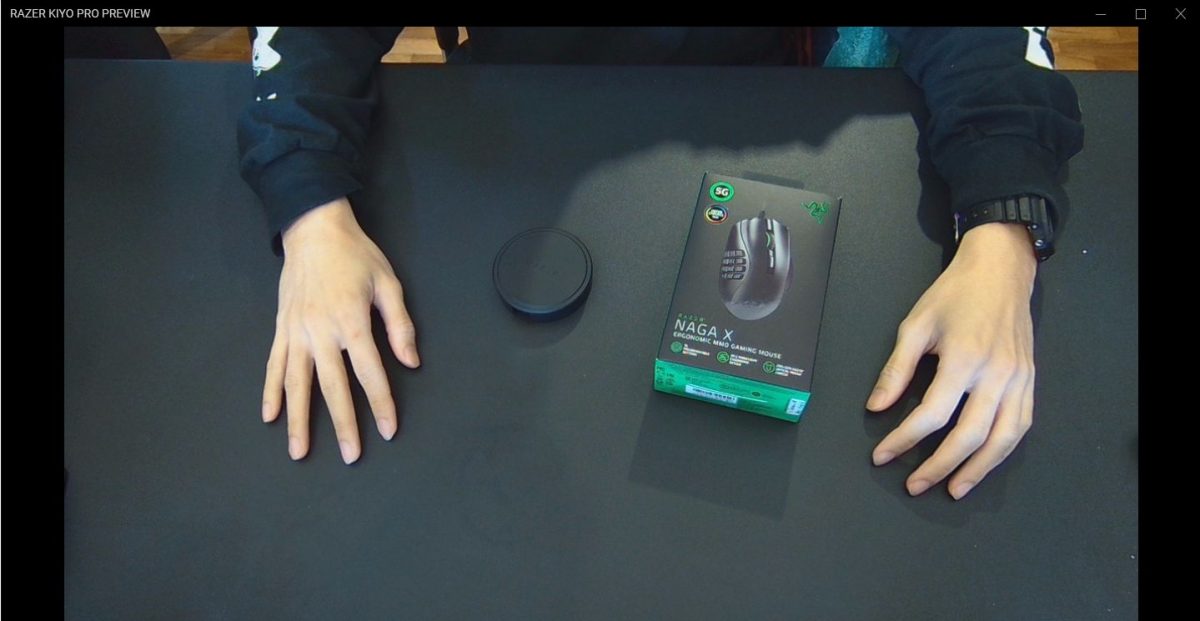 Razer also added more options by having the mount completely replaceable with a tripod so you will also be able to record your videos with the Razer Kiyo Pro placed on the table or on the ground if you find the need but there's a catch, the tripod is not included in the package. We've also tried out the webcam on the Razer Blade laptops and even though it looks a little bulky for the slim machine, it works out awesome as a replacement for the in-built camera.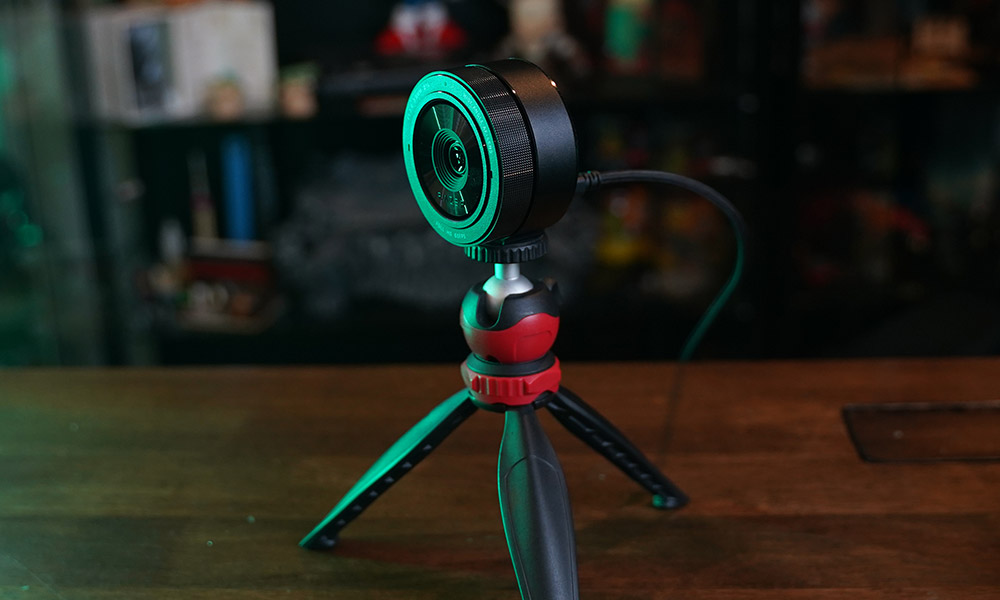 The webcam now records 1080p in 60 frames per seconds (FPS) and while it's an outstanding upgrade versus the 1080p 30 FPS and 720p 60 FPS video resolution of the Razer Kiyo, the question is, why didn't Razer go straight to 4K instead? The market is still coming up short on 4K webcams and it feels odd Razer didn't come in to fill the void like they always do.
What Razer is boasting in this camera with its new price tag though, is its all-new adaptive light sensor that promises to detect your environment and automatically adjust its camera settings to fit whichever setup or lighting condition you are in. This sensor upgrade is possibly why the camera size doubled and why the ring light was removed even though it was considered a prominent feature in the Razer Kiyo.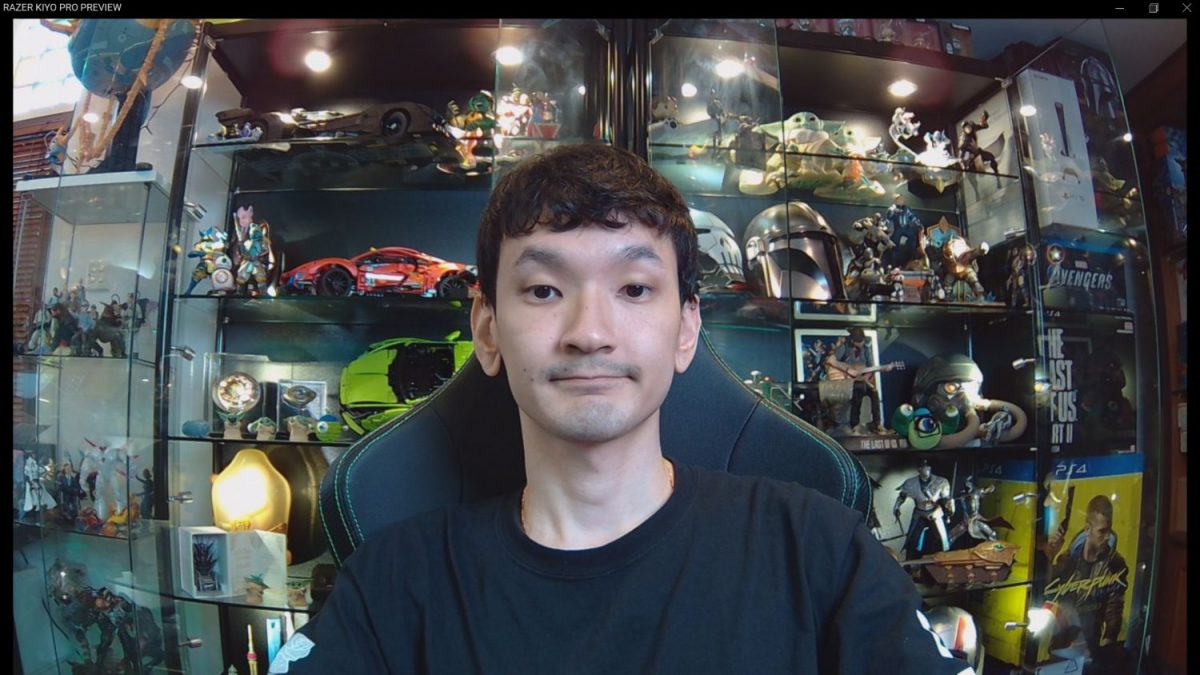 Of course, we gave the webcam a test in two different lighting conditions to see if the upgrade checks out. For streamers with a good lighting set-up, we replicated the setting by using a softbox and the image clarity that the camera produced is incredible. With the 60 FPS, it captures buttery smooth visuals when you're interacting with the camera and balances the colour, white balance and contrasts exceptionally well to give you a fine-tuned quality image that you might find worth the money.
In dim light, the camera continues to present excellent imagery and the removal of the ring light from its predecessor doesn't seem to impact the visual quality at all as underexposed areas were adjusted accordingly so that enough details can still be visible without sacrificing image quality. And if you find the need to adjust the settings, the Razer Synapse software which can be downloaded, will do the job with its simple set-up and diverse settings to give you personalization for the different environments that you are in.
Since we were in a darker setting, we adjusted the brightness and surprisingly, it worked well and didn't add too much grain nor noise to the image. The Razer Kiyo Pro certainly lives up to its expectation of delivering quality imagery under any lighting condition and with the ability to change up saturation and contrast settings to personalize your own visual outlook, it could very well be your next work-from-home set-up.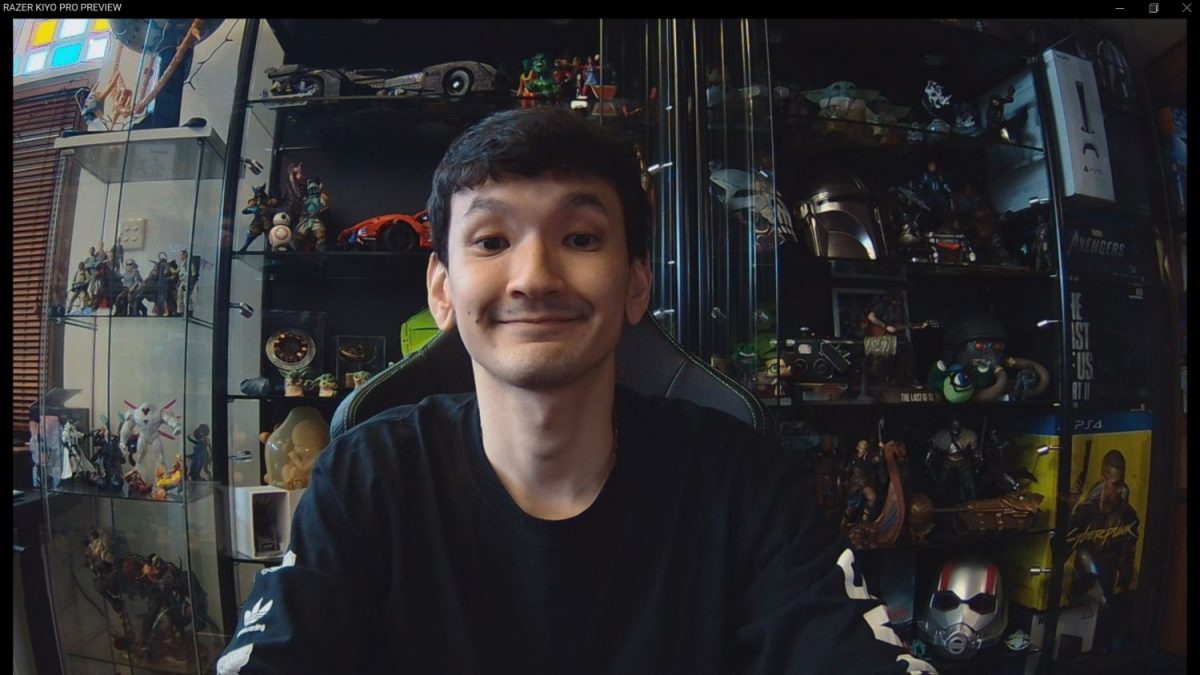 The new HDR-enabled feature also makes a big distinction in terms of colour and lighting, as the images now look way more vibrant and the overexposed areas are balanced so that it's visible. As you can see from the HDR-enabled image, the overblown top-left corner from the non-HDR-enabled images is darkened and looks way much better, although turning the HDR on will reduce the overall camera frame rate to 30 FPS, and make the image slightly more jittery compared to when it's off, so it's a sacrifice of frame rates over video quality.
If you'd like to go into details, you can select advanced settings and change up more camera controls and video adjustments. The advanced settings also work the same in Open Broadcaster Software aka OBS or XSplit, which are software that allows you to broadcast your video capture so if you're going to use the webcam to stream your gameplays or yourselves, the Razer Kiyo Pro's setting can be adjusted without the Razer Synapse.
For camera controls, there is a zoom function that goes up to 4X which loses a lot of quality after and two additional pan and tilt functions that only work after zooming in as they help you to readjust your frame so you can centre on any spot within the captured field of view. For video adjustment wise, you can also change sharpness, backlight compensation, and gain along with its powerline frequency when you face flickering problems so whether you want a sharper, more contrasty and colder image, everything can be handled within the settings control.

There are also three different fields of views (103°, 90° and 80°) for the camera even though we find them a little underwhelming since they don't make much of a difference. The 103° wide view option was substantial enough and seemed to work well for every situation but if you prefer a close-up, then the 80° narrow view option might help just a little.
The autofocus that comes with the camera was a slight disappointment though, as the refocus on the camera can be fuzzy, especially when you're trying to show an object. It focuses well when you're still, but once you're moving, it all goes to nought as it takes one to three seconds to refocus depending on your lighting.
While the inconsistency shouldn't be a huge deal for productivity users, it could be a deal-breaker for streamers who are using it for unboxing purposes or to show off something. The camera also hung once or twice when we were playing around with the settings, and this makes an unconvincing case for us to deem the camera's worth for its premium price tag.
Image quality isn't an important factor in webcams, but the resolution slump of the camera from 4 megapixels to 2.1 megapixels is another thing to take into consideration if you're looking to take stills during your video recordings.
Completely plug and play, the Razer Kiyo Pro comes with a braided USB 3.0 cable that's oddly short for some reason, so it might be something to take note of if you have a complex gaming set-up. Measuring 1.5 meters, it's considerably shorter than most webcam's cable but it should still work fine for an average workstation. However, if you're on a gaming set-up where your monitor is being held up by an arm and the distance between your monitor and desktop is placed further away, you may face some cable problems.
Additionally, the Razer Kiyo Pro also comes with an in-built microphone which we tested in an open room setting with the camera on top of the monitor and the audio seemed poor even though we're not expecting much from a webcam. The volume was extremely low and there weren't any settings on the Razer Synapse for you to adjust the mic and the only time the camera picked up a decent audio quality was when we were up close.
With the HDR and new sensor, the Razer Kiyo Pro is overall a decent webcam that might be worth considering if you're not looking for a 4K resolution webcam. However, at more than twice the price of the Razer Kiyo, the lack of 4K capabilities and smoother autofocus, does make it feel hard to justify the premium price tag.
The Razer Kiyo Pro is available now on Razer, Shopee, Lazada or Amazon at US$199.99 / S$299.90.
GEEK REVIEW SCORE
Summary
The Razer Kiyo Pro is an incredible webcam that works well in different environments with its new adaptive light sensor. However, without 4K capabilities, it might be tough to convince yourself to pay the hefty price tag.
Aesthetics -

8/10

Build Quality -

9/10

Performance -

8/10

Value -

6/10

Geek Satisfaction -

7/10