Pro Evolution Soccer is entering its twentieth year of existence, and since the launch of the latest generation of consoles, has been fighting tooth and nail with EA's FIFA series as the league leader of football simulators. In recent years, PES has edged FIFA in terms of gameplay while FIFA featured all the pomp and pizzazz of the actual televised football matches – so how does this year's edition stand?
For those who don't know, Pro Evolution Soccer – also known as Winning Eleven or PES in short – is a simulation of the "beautiful game": Football. For the layman, think of it as a real-time action strategy game where the goal is to, well score more goals than the other team while doing a lot of sports.
With this year's edition, PES is now looks better than ever before. Still armed with the FOX engine – the same one that powers the amazing Metal Gear Solid – the developers have managed to squeeze out more realism than in previous years. One obvious way is in the faces: Other than some weird dopplegangers and lesser-known / random players, many of the named players look startlingly good.
Animations have also improved – players move more realistically, and some of them – like Cristiano Ronaldo – move almost like their real-life counterparts. The physics engine is robust enough to simulate all kinds of kicks and falls, and with better weather effects, PES 2016 is way more immersive experience than before.
And PES has tried to make amends in terms of how it presents the pageantry of modern football. Armed with the official Champions League license – complete with that earworm of a theme song – and licenses for a few other clubs competitions, it's a small step towards feeling less like FIFA's poor cousin. It's still not a one-for-one match, and added with a forgettable commentary team, it's just not something to boast about.
Good news is, teams of modders are hard at work skinning entire teams so you can get the game looking more official. It's a bit of a pain to replace them team by team – and not all teams will get matching commentary – it's good enough if you want to put in the effort. Modding on the PS4? Would've thunk?
Another weakness is in the menu system, where even with tutorials guiding you through the various functions it's just so easy to forget where everything is. There's a lot of depth – such as how you control tactics within the game – but sometimes it's too troublesome to worry about Iit.
But where PES puts all those niggling problems away is in its gameplay. There's a certain je na sais quoi about the whole thing – it just works, in an almost effortless way that can't really be pinpointed. Whether it's careful, probing play or swift counterattacks everything feels like a real match, and the AI is more than happy to move things around in response to your tactics.
But that's not to say that it's predictable – "the ball is round", goes the old nugget, and somehow they've managed to encapsulate the emotion of football. Whether it's a threshing or a tight match – it just feels right, and every match can be a roller coaster of moments, even if you end up with a goalless draw.
The game is more thoughtful – in terms of milliseconds, and it's more than ready to punish players who dally too long. You can play it simply but the AI will be happy to steal the ball – knowing some tricks while keeping an eye on your teammates for that key pass will be the key to victory.
So when it comes to comparing PES and FIFA, this is where PES just blows away the competition. Last year's iteration, PES 2015, already had an edge over FIFA 15 in terms of feeling more organically like football, and this PES 2016 continues that trend. Sure, FIFA has made certain improvements in their gameplay, but they're nowhere in touching distance. Developers PES Productions have managed to shoot the game to the top of the league.
Games with annual release schedules tend to be tricky propositions: Change too much and risk losing your core audience who's back for more, change too little and it's just a cash grab. On the surface, PES doesn't appear to have obvious changes over last year, but once you get your controller in hand and head into a match the difference is clear – PES 2016 truly deserves the championship.
GEEK REVIEW SCORE
Summary
On the surface, PES doesn't appear to have obvious changes over last year, but once you get your controller in hand and head into a match the difference is clear – PES 2016 truly deserves the championship.
Overall
9.5/10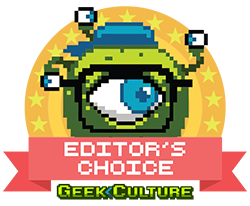 Gameplay -

10/10

Story -

10/10

Presentation -

8/10

Value -

10/10
Geek of all trades, master of none, Direcow has done all kinds of
weird stuff in the name of geekdom, from guest starring in a webcomic,
starting a tiny geek blog, and auditioning for a Comic-Con
documentary. He has a room in his house that only houses comics, which
he needs to tidy up very soon.