Highly recommended by friends, I tried the Porterhouse steak at Wolfgang's Steakhouse and was not disappointed, as it prepared some of the best meats I've tasted. Upon arrival, I saw that the receptionists seem to be busy handling endless amounts of calls to make reservations.
Wolfgang Steakhouse by Wolfgang Zwiener originated in New York, and has a branch at level 2 of the InterContinental Singapore, Robertson Quay. I noticed that this restaurant is always confused with another steak restaurant located at Marina Bay Sands, Cut by Wolfgang Puck, and would like to highlight that these are two different steakhouses by two different chefs.
The service was impeccable, and although it could be due to lack of a crowd during my lunchtime visit, the service by Wolfgang's Steakhouse was top notch. Noticing that this was my first visit there, the waiter took great effort to explain their all-day menu, lunch specials, and even how they aged their steak. My bread and water were refilled frequently too. The place really lives up to its claim that one will enjoy the "Wolfgang's experience".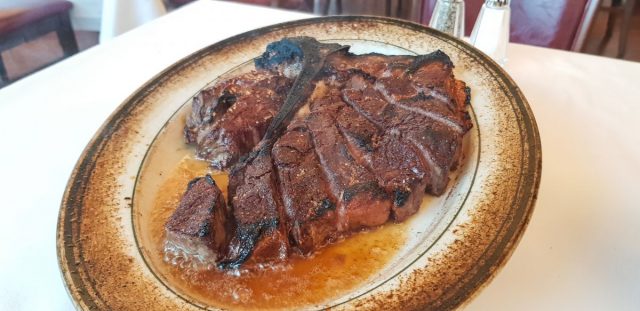 Dry aged in house for 30 days, Wolfgang grills its U.S.D.A prime porterhouse steak, on the plate. It's very much an American style of cooking, where the piece of prime meat is cooked at high heat in an oven, on a ceramic plate. This explains the charred plate and reminds me of my many meals at Peter Luger in New York, widely regarded as one of the best steak restaurants in New York, if not the United States. The porterhouse was served pre-sliced against the meat grain, making it easy for me to cut the meat into bite-sized chunks. What was also impressive is that the steak was served with a sizzling shine (a mix of the beef's essence and melted butter).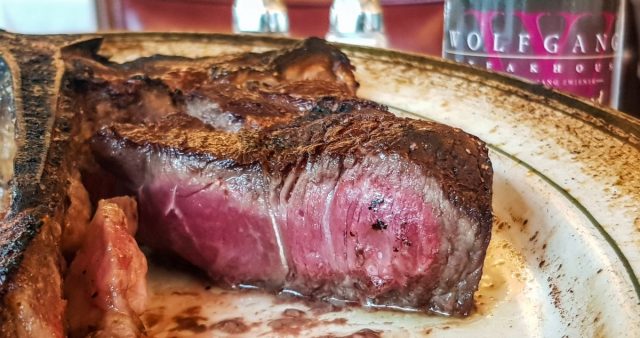 Although it was grilled to medium rare, the steak was cooked differently at various places. The exterior of the steak was well done and crumbly, while the insides of the were gradually medium rare from pink to red. This allowed me to taste different varieties of cooking intensities for the steak.
The steak was very flavourful with the dry aging, this was further enhanced when the meat was dipped into the sizzling shine. Midway into the steak, you can try adding a different dash of flavour using Wolfgang's house-made steak sauce.
Biting into the steak, the meat was very tender and juicy and I had no difficulties chewing the steak. Also, unlike other steaks I ate before, I could scrape off all the meat from the bone without any difficulties. This resulted in a very clean T-bone after I finished the meal.
Although the Porterhouse Steak for two was meant for two. Huge eaters should not have any issues finishing up the whole dish. However, this place can be very pricey and you should only go there for special occasions or if you would need to impress at a business lunch meeting.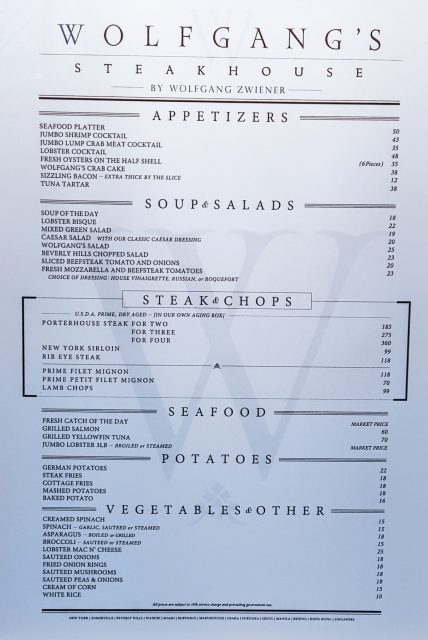 *This meal was paid for by Geek Culture's reviewer.
SnapSniper is an avid geek who is both a huge fan of games and an even bigger Star Wars fan.