An all-star cast of leading men, guided by the hands of an independent auteur? That formula worked so well, audiences lapped up all three movies in the series, setting a new gold standard of heist movies otherwise known as the Ocean's Trilogy.
But in the age of reboots and girl-power, Warner Brothers rightly asked, what happens if the cast were female instead, and led by Sandra Bullock, Cate Blanchett, and Anne Hathaway, instead of George Clooney, Brad Pitt and Matt Damon?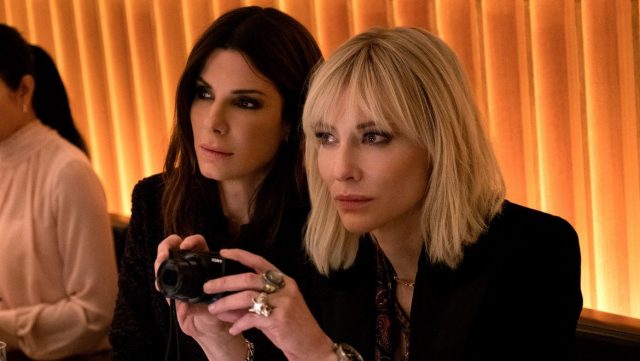 Individually, each of these women are scene-stealing class acts in their own right, but put them together, and audiences get the equivalent of an intellectual slumber party, led by smarts, punctuated with humour and sass, and a huge dose of attitude that sets this reboot in a league of its own.
The only let-down is that director Gary Ross isn't Steven Soderbergh, who only takes on a producer's credit here. Ross does a great job aping Soderbergh's style, with close-ups and long shots punctuating the film, but he doesn't carve his own identity to call this new series his own. In terms of ingenuity, pizazz and outrageousness, the plan here that brings everyone together isn't as snazzy or outright dangerous – it just so happens to be a heist that only women can perform.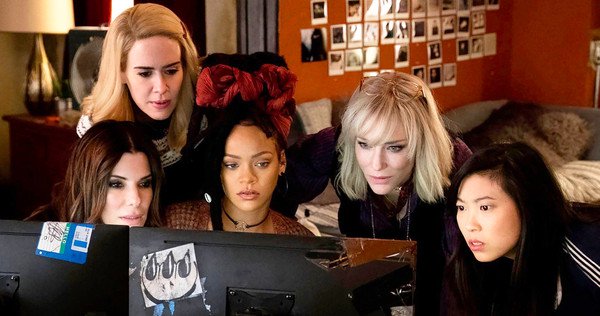 Fresh out from a five-year stint behind bars, Deborah Ocean (Bullock) has one goal on her mind – revenge on the guy who put her there. Like her estranged brother, Deborah is not one to take slights lightly, so she assembles the help of old partner Lou (Blanchett), as well as jewelry Amita (Mindy Kaling), fencer Tammy (Sarah Paulson), pickpocket Constance (Awkwafina), hacker Nine Ball (Rihanna), and fashion designer Rose (Helena Bonham Carter).
Their mark? Celebrity Daphne Kluger (Anne Hathaway) and her US$150 million dollar necklace, which they plan to take during the annual Met Gala in New York City. Oh, and joining them in cameos are the Who's Who of female superstardom, from athletes Serena Williams and Maria Sharapova, supermodels Heidi Klum and Adriana Lima, actresses Katie Holmes and Dakota Fanning, to personalities Kim Kardashian and Kylie Jenner.
Carl Reiner also reprises his role as Saul Bloom, as does Qin Shaobo as The Amazing Yen, as they bring some link to the original series. Sadly, Clooney, Pitt and Damon are nowhere to be seen. Poor Danny.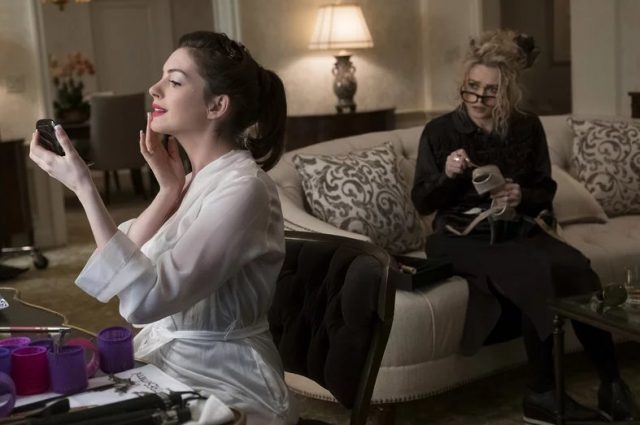 What's also missing is the dramatic twist. What made the original trilogy work is that the audience also plays a part, in that they get played. There's that moment where the movie takes a quick rewind, to reveal where the con took place and how viewers were gypped. It's like watching the Hong Kong gambling movies from the 1980s, where the narrative led audiences into one direction, but the ending wasn't so much of a twist, but a different take on the unfolding events.
The twist is still here, but it lacks the gravitas and merely goes for the unearned satisfaction lying at the end.
And while Bullock and Blanchett get the recognition for leading this movie, as the duo slot themselves easily into the void left by Clooney and Pitt, prop goes to Hathaway for effortlessly dominating the film in her usual unassuming way. Mind you, she doesn't go all out to steal scenes or try to outshine the others, but she puts her all in her role and the movie is the better for it.
GEEK REVIEW SCORE
Summary
There's been a strong effort by Hollywood to have female-led movies, especially franchises that were previously male-led, and Ocean's 8 happens to be the first one that can stand on its own, with strong female stars to take the reins.
Story -

8/10

Direction -

7.5/10

Characterisation -

8.5/10

Geek Satisfaction -

8/10