To the general public, a shoe is what is used to protect your foot, but if you ask the major sports footwear brands, everything from a foam sole, elastic upper, lace-free sneakers to toe-sock like shoes will change the way you walk, run, and everything else in between.
For Nike, it still has the usual sneakers made for basketball and other sports, but when it comes to running, the fabric upper that has come to define the Flyknit line is still running (ahem) strong for the sports apparel brand, even as Nike enhances the run with its latest Nike React Infinity Run Flyknit 2.
Nike tends to supply runners with low to middle mileage shoes while emphasizing more on the aesthetics. In our opinion, the Nike React Infinity Run Flyknit 2 is just that. In true Nike fashion, the shoe does not look like a typical running shoe, as its curved midsole and sleek upper makes the sneaker allows the shoe to also act as a gym or casual shoe.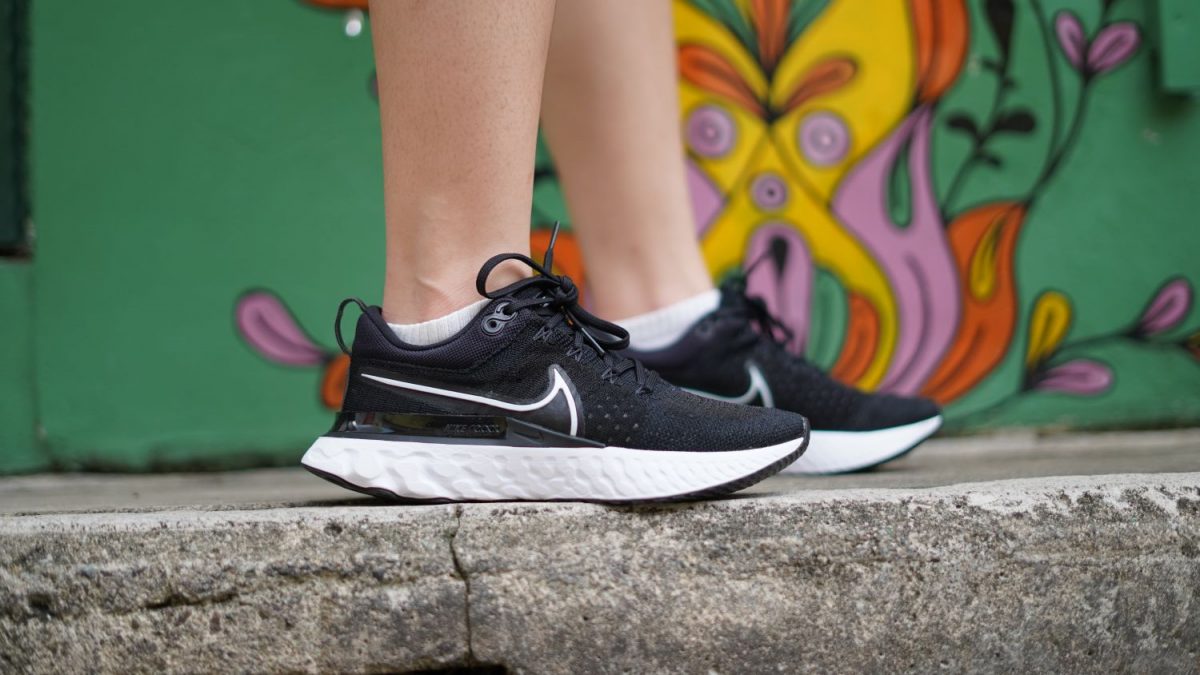 The shoes come in four colours for women and seven for men in stores, or you can opt for NikeID to create your own colourway for a more striking aesthetic. For those unfamiliar with NikeID, it is a free customization service by Nike for shoppers to design their new pair of shoes by themselves. To unlock this feature, you would need to sign up with Nike's free membership.
The shoe fits extremely snug, with minimal toe space for a true to size pair. The laces and tongue secure your feet in the shoe well, with added lockwire and a half sewn-in tongue to ensure your shoe won't slip out during a run. Beware though, there have been complaints of the tongue being very delicate, so do be careful, or else you will end up with a ripped tongue.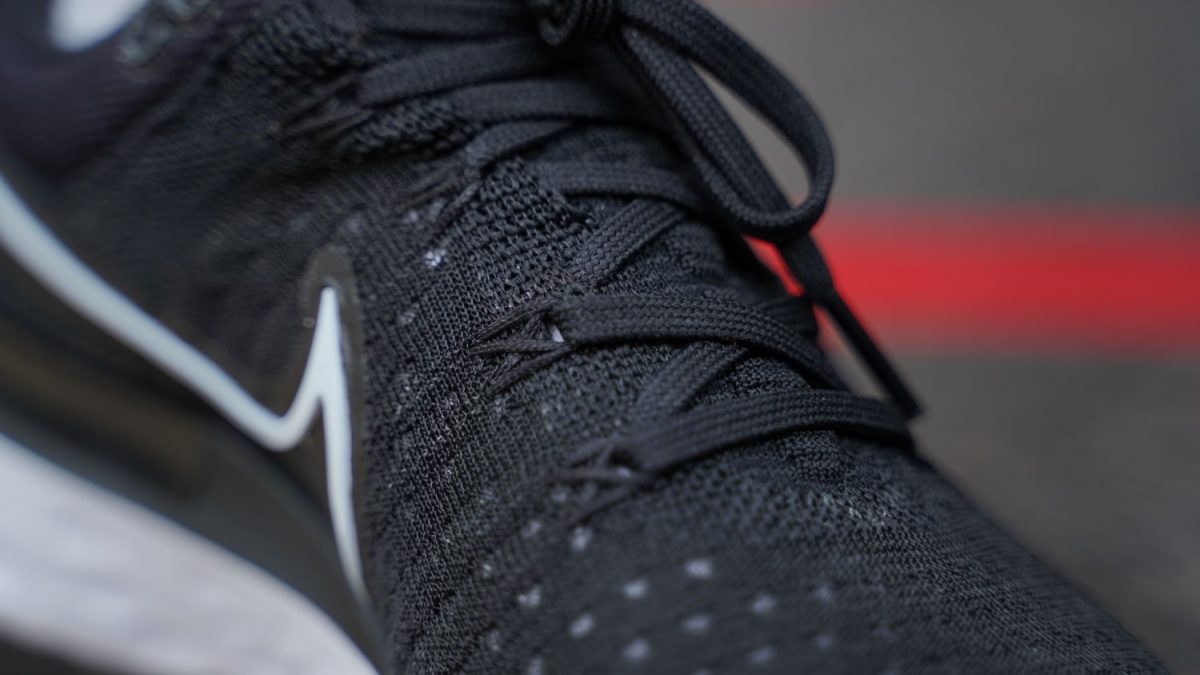 The upper has been totally redesigned from the predecessor, with Flywire and Flyknit technology to guarantee support and breathability. Flyknit technology takes advantage of different weaves of lightweight yet strong yarn. This fabric creates a one-piece upper, which not only supports but also secures the feet into the shoe. It does all this while still being stretchable and breathable for optimal comfort for any sportsman.
The addition of Flywire technology adds Vectran filaments into the shoe for added support and flexibility as well. The NASA-inspired material is lightweight yet is effective in creating a lockdown fit by wrapping Vectran strands around the shoe. The material may be thin, but it is no doubt durable. The cushioning around the ankle is pleasant and is soft enough to not cause blisters. It also greatly reduces ankle strain, allowing runners to go the extra mile.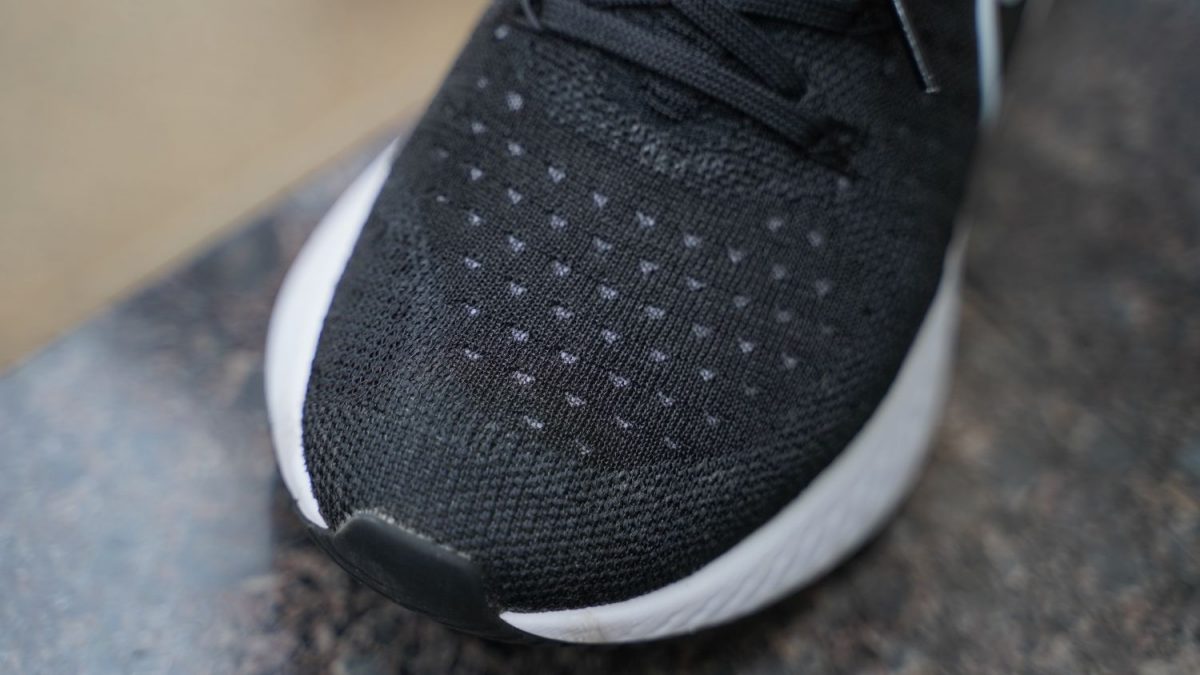 The first version of this shoe was designed to decrease injury in runners. So one of Nike's priorities was to make sure the ankle was protected during the run and is why they decided to keep the heel clip of the shoe. The clip is made out of a hard plastic called TPU which creates a more sturdy heel for extra stability at the ankle. It was also a good move by Nike to not remove the pull tab at the back of the shoe too, since the shoe would be extraordinarily hard to remove and put on without it.
Moving on to the sole of the shoe, the part Nike worked on the most would be the Nike React technology. The insole is made thin, specifically so the runner will be closer to the React foam for a more responsive feel. The midsole is pretty meaty in terms of thickness and width. The 9mm sole provided comfort while the thickness gave good stability and support. The midsole also had very good arch support, which made the shoe much more enjoyable.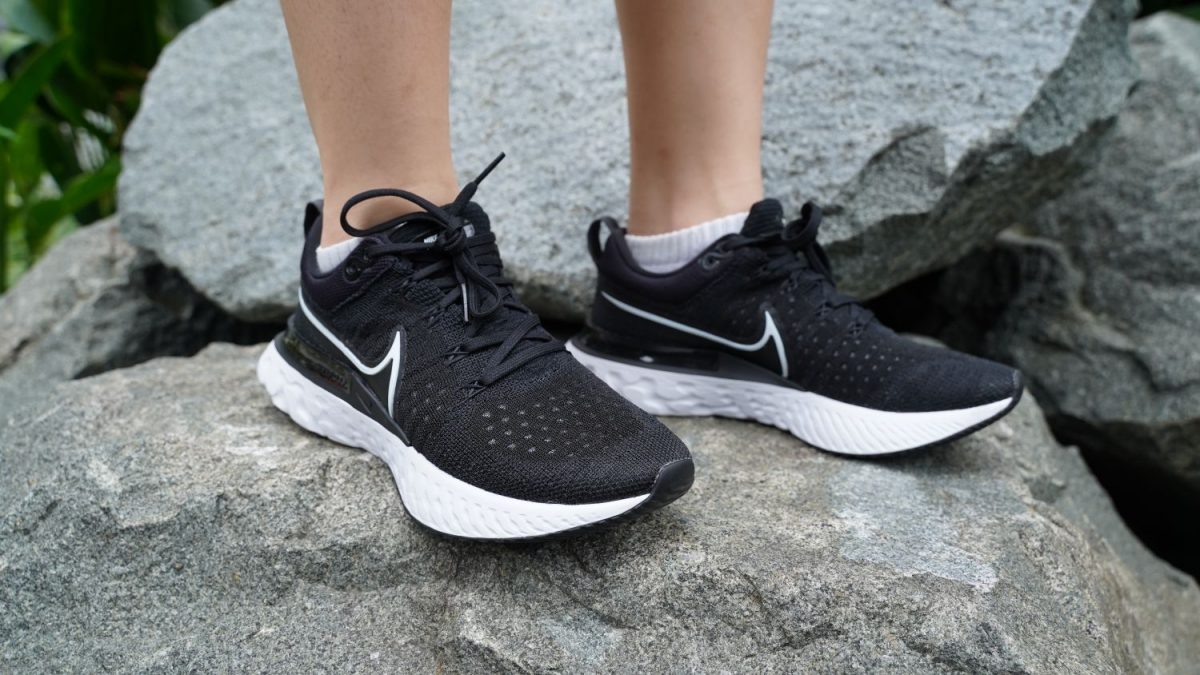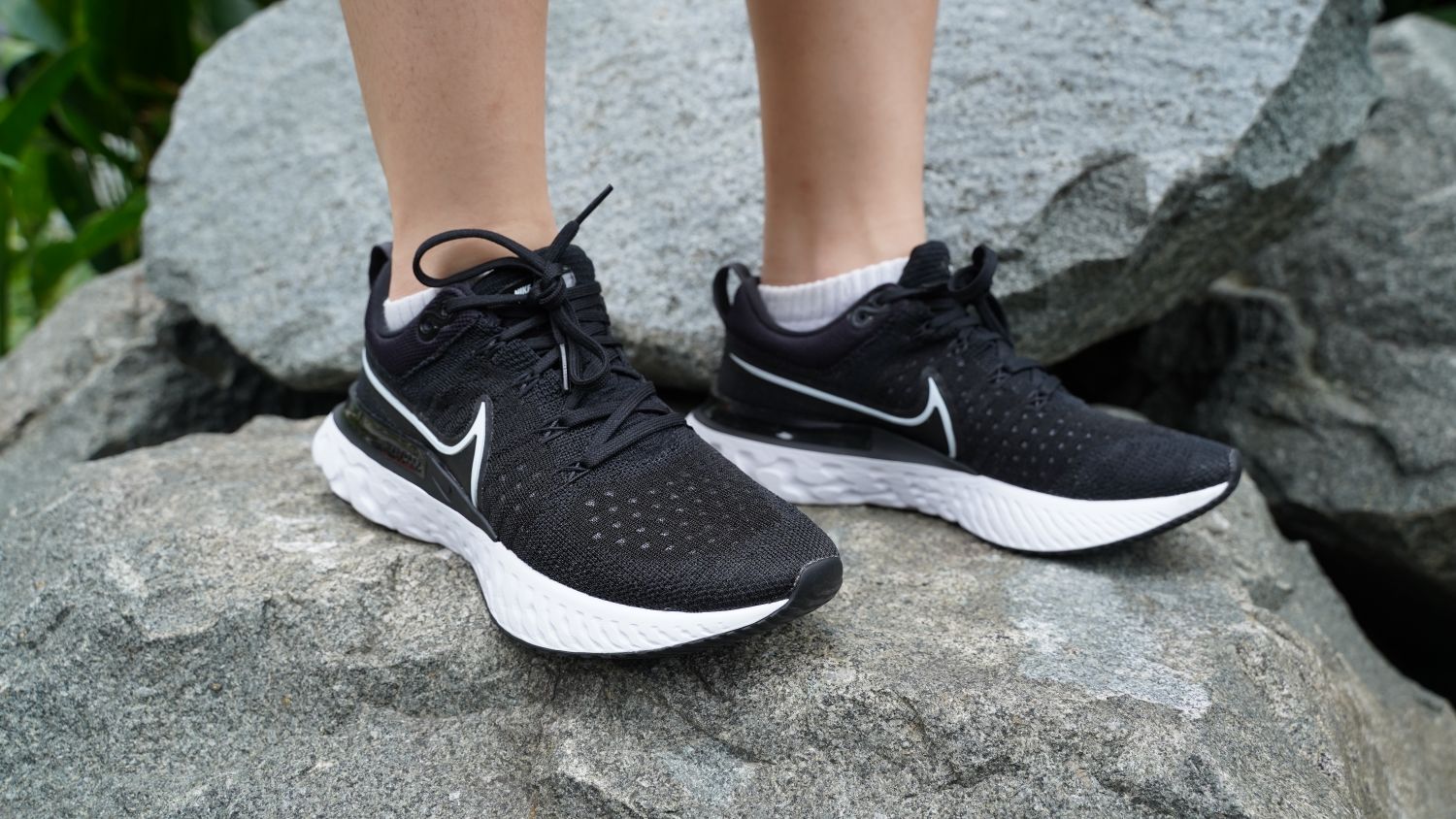 Nike is known for creating shoes for slim feet. As mentioned, the toe box is perfectly fitted, while the arch support in the midsole greatly contours your feet. This is beneficial for regular runners as it distributes body weight efficiently. But bad news for flat-footed people, this shoe is going to be terribly uncomfortable for you. You could solve this problem by sizing up, but some parts may not fit right, with some parts feeling tight while others feeling loose.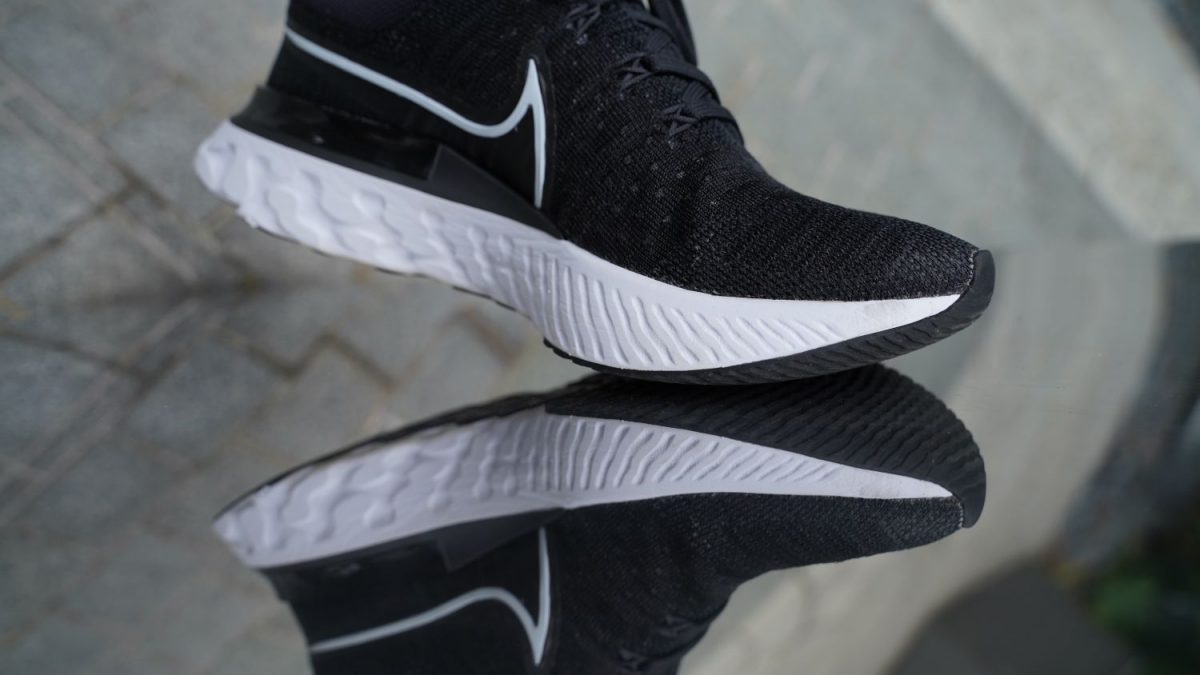 The sole has both a flared heel and toe. This curved sole allows runners to have an easier heel to toe transition with a mild-rocker sensation, while also offering a better stride while running without injuring their thighs, knees, and calves. The feature was extremely helpful to keep our momentum in check, pushing us further.
The downfall of this shoe is the lack of springiness, as Nike was aiming for the impossible when they wanted to create a shoe that was both soft and durable. There was a limited leap in our step and it felt denser than running on clouds. But this experience might differ from runner to runner. We appreciated the denseness of the React foam and its energy return, but when it came to plushness, the Nike React Infinity Run Flyknit 2 was missing out.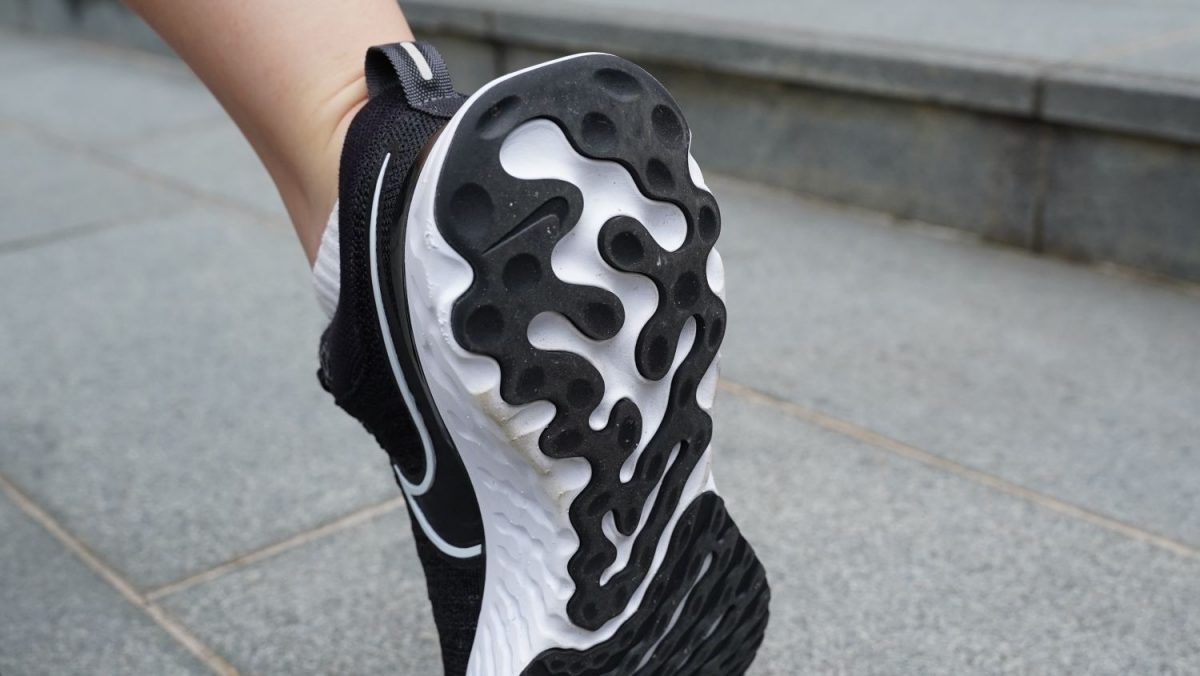 The outsole of the shoe has two distinct parts. On the upper, the grip is lined, while the lower half has carved out crevices, resembling canyons, for better friction on the surface. This does surprisingly well on wet paths, securing your step onto the group without any slips. The outsole will probably last a good two to three years for the average runner.
Talking about wet runs, the dense sole does well in this situation. When it comes to boost technology, the porous sole makes it possible for moisture to travel up the shoe and wet the feet. The runner held up well to the elements when it came to light rain as well. But careful for those large puddles, we had to learn it the hard way, this shoe cannot take a big splash.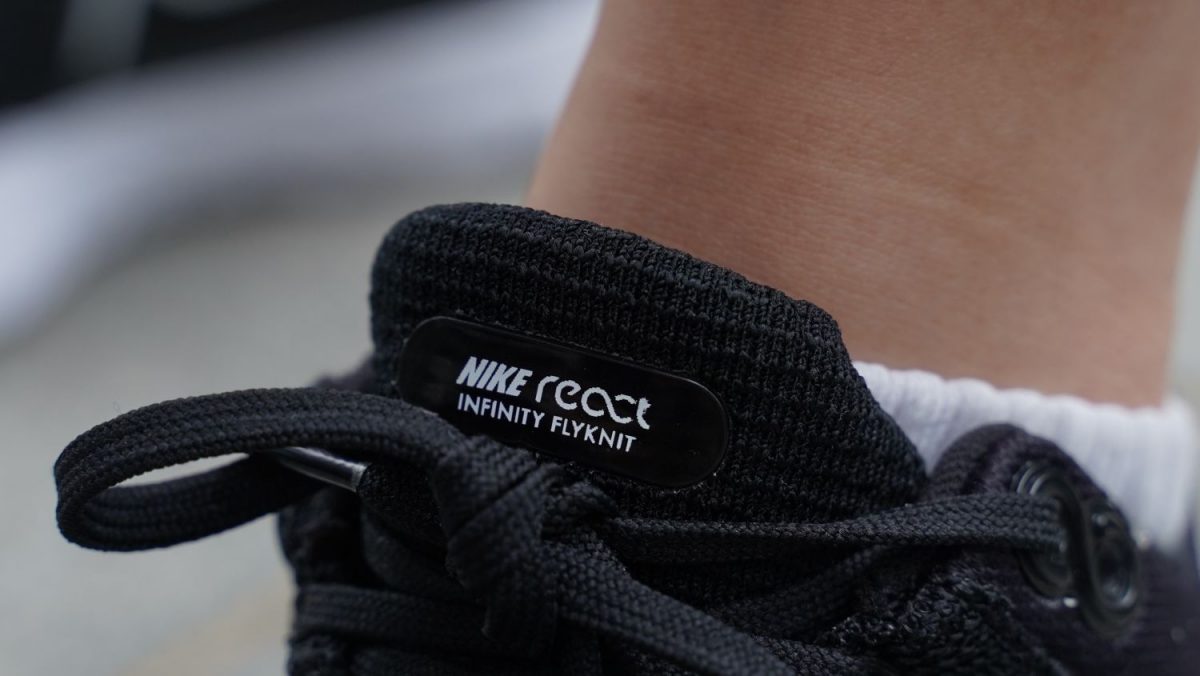 The shoe weighs 244 grams for a women's size 8. This is no surprise with the added cushion on the collar and React rubber sole. The shoe was not noticeably heavy while on a short run, but this might not be the case when it comes to longer ones. If you are looking for a shoe that makes you think you can fly, sadly, this isn't the pair.
Priced at S$239, Flyknits are not cheap, and owning a pair is really based on individual needs. These shoes are meant for runners who like their soles a little harder. It will be a long-term investment for a good transitional casual/trainer shoe. Are there other shoes that can fulfill these needs that are way cheaper? Well yes, as the React technology didn't exactly shine through here.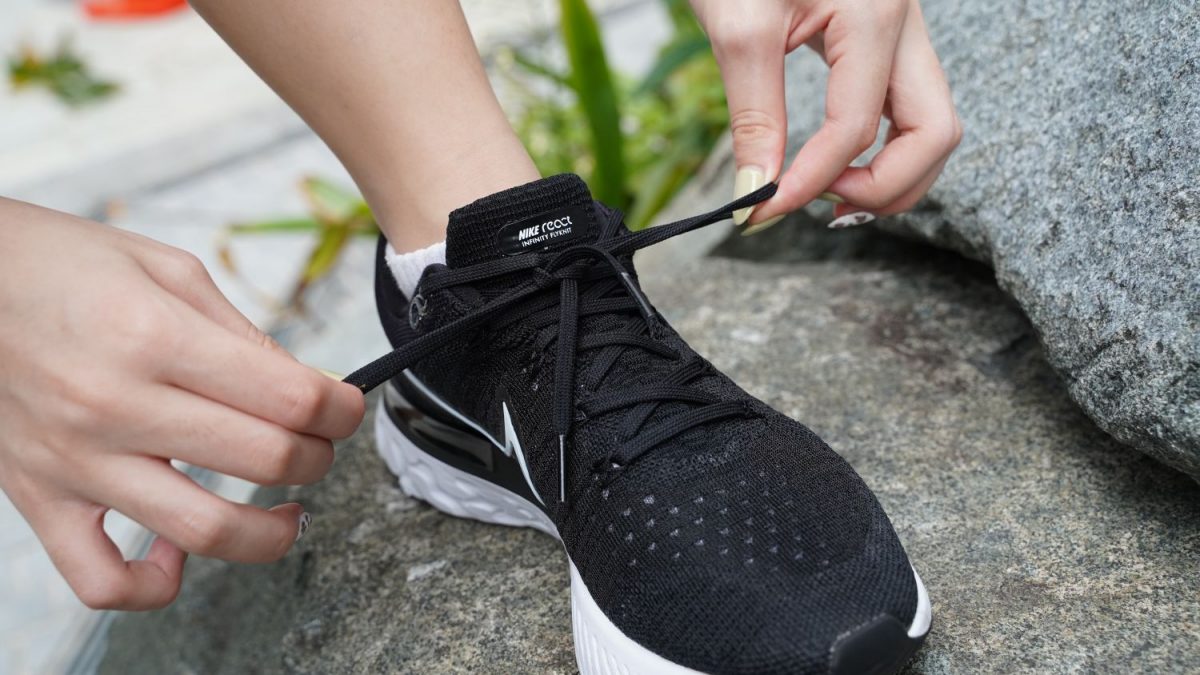 Let's look at some comparison for these shoes. An affordable and staple shoe in runners' closets would be the Pegasus 37. The shoe is a good $40 cheaper, with a light and bouncy sole. It's outsole is also optimized to take you on longer and faster runs with a more cushioned run. The running world also worships brands like New Balance and Asics, known for wonderfully engineered soles and a budget-friendly price. The Adidas Ultra Boost also does a good balance of a soft midsole and a hard outsole to create plushness with structure. But, this does not discount the Nike React from its quality construction, rather it depends on whether you prefer a softer or harder sole.
All in all, the Nike React Infinity Run Flyknit 2 is a great option as a starter running sneaker. It gets the job done while serving you comfort and is an overall trusty shoe for your basic training needs. If you are an experienced runner, that runs 5ks on the weekend, we think there's a shoe that's lighter and bouncier for you out there. Nike nailed the basics – support, durability, and comfortability-wise. But its weight and hard base may be intolerable for some.
GEEK REVIEW SCORE
Summary
The Nike React Infinity Run Flyknit 2 is a good option for your quick recovery runs and gym sessions. But in terms of endurance and speed, the weight and tough sole might slow you down.
Aesthetics -

7/10

Build Quality -

7.5/10

Value -

7/10

Performance -

7.5/10

Geek Satisfaction -

7.5/10