It is fair to say that Blizzard popularised the genre of hero-shooters with Overwatch, and the game still remains at leads in the face of competition. But while first-person shooters function quite similarly, it is the unique characters that make up Overwatch's roster who are arguably the main attraction.
From anthropomorphic animals to sentient robots, there is much to love no matter your inclination. If you are a fan of pure power over subtlety, then the man known as Reaper/Gabriel Reyes is a big draw.
Armed with his Hellfire shotguns, this walking storm of death is best suited for close-quarters combat, and you could do the same with the help of Hasbro's Nerf Rival replicas.
The Reaper Wight Edition is an impressive package, packing two Hellfire shotguns with distinct details, and the intimidating mask of Reaper himself.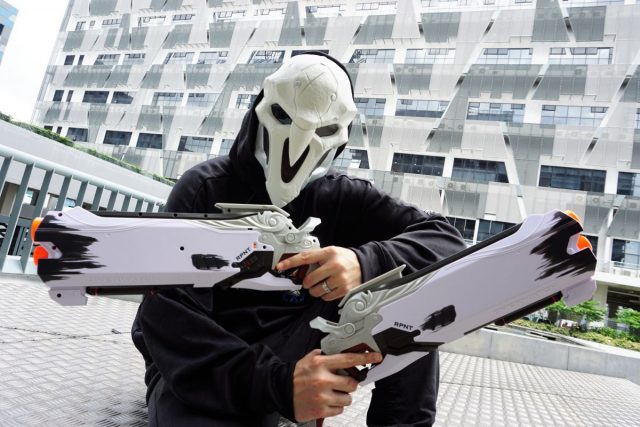 Despite the playful nature of Nerf, holding the Hellfire shotguns with both hands is no simple feat, as these are hefty weapons not meant for the weak. Utilising breechloading, you can load up each shotgun with up to 8 high-impact Nerf Rival rounds, which is plenty of ammo for any conflict.
Simply pull the handle back, load, and push the handle forward, and a visible indicator will let you know you are ready to go. However, if you were thinking of unleashing all your rounds like a proper shotgun, you will be disappointed.
Every round fired will require the pulling/pushing of the handle again. While the replicas are solidly built, the constant motion can a tough process for younger users.
Much like the in-game Reaper, the velocity at which the rounds are fired is impressively fast and this Nerf has a long range. Thankfully, Hasbro has implemented a trigger lock system that can help prevent any misfires.
When fully armed, donning the mask just elicits a feeling of being badass though it does get hot behind the mask really fast. The adjustable elastic strap helps ensure the right fit for almost everybody, and your vision is not affected while behind the mask.
While we would love to engage in day-long battles and looking as close to the real deal as possible, the eventual stuffiness and heat will get to you. Looking awesome is always good, but some precautions should still be taken.
Interested heroes/villains can get their hands on the Nerf Rival Overwatch – Reaper Wight Edition for a cool sum of S$239.99, or a sole Hellfire shotgun for S$99.99. Either way, whoever stands in your way is in for a reaping.
Retail Price: S$99.99 (Sole Hellfire Shotgun), S$239.99 (Reaper Wight Edition)
GEEK REVIEW SCORE
Aesthetics -

8/10

Build Quality -

7/10

Value -

7/10

Fun Factor -

8/10

Geek Satisfaction -

7/10
Jake is a full-time trophy hunter and achievement gatherer on consoles, and part-time Steam Sale victim. He has a thing for Batman and awesome statues, and running out of space for both. Send help.
---

Drop a Facebook comment below!