NBA 2K18 is the best basketball video game available for fans of the sport, but that is not saying much, considering that their only competition, EA Sports's NBA Live series, took a long hiatus and returned this year to little excitement.
At its core, there is no doubt the experience of playing NBA 2K18 is pure butter, with improved adjustments to the underlying mechanics and better visuals pretty much the gold standard. However, the looming presence of microtransactions has made the game pretty much unenjoyable for me in the long haul.
Virtual currency, or VC, is everywhere in the game. This is especially obvious in MyCareer mode, where you take a former prospect from the streets into the bright lights of the NBA, all in less than an hour. The plot is ridiculous at best. After all, how many street players jump straight into the team of their dreams after one street tournament?
But at least the basketball makes up for it.
With a base rating of only 60 out 99, MyCareer mode tasks you to get to the highest rating possible. The Road To 99 sign is ever present, and what else do you need besides skills to improve your player? Virtual currency, that's what.
Simply getting your rating to around 85 needs an estimated 200,000 to 250,000 VC, and if you want to change your hairstyle, get new clothes or kicks, prepare to throw in more $$$. Now imagine getting to a 99 rating.
It is no surprise that there is a high price to pay to be the best, but it's crazy considering you only earn around a 1000 to 1500 VC per game at the start, and that is only if you are playing great. And when you know that pumping in cash to get yourself a huge pile of VC can make your player great instantly, the joy of attempting MyCareer mode simply vanishes.
This is an unnecessary grind, and add to the fact that you can be deducted VC for poor performance makes it even worse. Just imagine paying real life money for VC and getting it taken away simply for not performing well enough for the game. This is insane considering the high costs in NBA 2K18.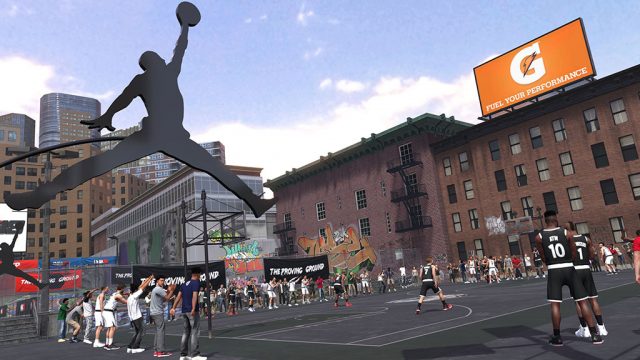 The disparity is made worse when you are trying to play online in the new addition to the series, The Neighbourhood. It is NBA 2K18's equivalent of an open world that you can explore, and other players will populate the hub world alongside plenty of opportunities to spend even more VC.
Once you are on the playground, it is common to see 99 rated players balling against lower rated players due to the randomness of pickup games. Even more amusing is when you see a highly rated player getting trounced by someone rated lower than them.
Yes, money cannot buy you everything, especially honest gaming skills. Are you listening 2K?
Other modes also require VC, such as MyTeam mode. The pack-buying team-building mechanic made famous by EA's Ultimate Team is in full force here, and packs of players will cost you VC or MyTeam points.
That is fair, but if you are using VC here, it means having less to spend in MyCareer mode and all other aspects of NBA 2K18, which is a huge bummer. MyTeam mode is still fun though, the allure of getting a rare drop is only dampened by the push for you to spend more money to get more VC.
MyGM returns this year with new text-driven story elements, adding scenarios to spice up your journey as a GM. While this is laudable on 2K Games' and Visual Concepts' part to keep players more engaged, it still needs major improvements. Choices can have little to no impact, and cut-scenes are still hit-and-miss, which makes it a slog sometimes.
Of course, you can always choose MyLeague mode to get your fix without all the added distractions. The new analytics tools are deep and informative, a definite boon for you statisticians who obsess over 3-point percentages of players over 30 years old and other interesting tidbits.
The addition of elements of the NBA collective bargaining agreement adds realism, but the execution leaves much to be desired. Salary cap holds and player rights are not exactly accurate, and free agency is still finicky when it comes down to rookie contracts. If you are a fan of long seasons in MyLeague mode, this is something that will irk you in the long run.
Yet underneath it all, this is still a great basketball game. Production values are top notch in presentation, and I particularly enjoyed the commentary for NBA 2K18 with new real-life soundbites thrown into the mix. It all feels like a proper, televised game of basketball.
Defence and offence have been much improved, and it pays to play to your players' strengths more than ever. Recognising how and who to take advantage of will garner both points and fouls, putting you in good stead down the stretch.
Whether you are driving and taking a shot from downtown, the animations are second to none, although shot timing can still be improved. Too many times I have seen a good or excellent timed shot take a bounce off the rim instead of a satisfying swish.
The AI responds really well to on-court action, rotating when needed to, doubling on drives, and leaving poor shooters free to keep the more dangerous players occupied. It all contributes to a gameplay experience like no other. There are still bugs now and again, and clipping happens way too much, but they do not significantly impact the action to be a hindrance.
NBA 2K18 continues its dominance on the hardwood court, with better graphics, gameplay, and all-around improvements to every aspect of the game. The Neighbourhood is an interesting addition, as are the story elements added to MyGM mode.
However, I just cannot get over the fact how hard the game is trying to push microtransactions and Virtual Currency, and it is a shame considering how great of a game NBA 2K18 is.
GEEK REVIEW SCORE
Summary
An excellent basketball game mired by the shadow of microtransactions, this should have been another slam dunk, but alas, it was not to be.
Gameplay -

8/10

Story -

6/10

Presentation -

9/10

Value -

6/10
Jake is a full-time trophy hunter and achievement gatherer on consoles, and part-time Steam Sale victim. He has a thing for Batman and awesome statues, and running out of space for both. Send help.
---

Drop a Facebook comment below!
---