Out of all the pair-ups that Hollywood has given us, who knew that the Adam Sandler and Jennifer Aniston combo would be one of our favourites? And who could have anticipated that their talents would work well in a murder mystery, a well trodden genre that in recent times gave us modern Whodunnit including Knives Out and its sequel, Glass Onion, Death On The Nile, The Batman, See How They Run, Enola Holmes and of course, Murder Mystery.
Well, the comedy duo of Blended and Just Go With It are back, this time with a sequel in Netflix's Murder Mystery 2, which has Sandler and Aniston reprising their roles as married couple Nick and Audrey Spitz, who now travel to a remote island to celebrate the wedding of their good pal, the Maharajah (Adeel Akhtar). Set around a big Indian wedding and against the backdrop of the city of love, Paris, Murder Mystery 2 is bigger, wilder and funnier.
Nick, an ex-cop for the NYPD and Audrey, a hairdresser and mystery fanatic, were caught in a web of a murder while on their much delayed honeymoon cum Europe trip in the 2019 original, and after successfully catching the murderer, they now emerge private investigators. Well, more amateur because they're not exactly professionals, but when a special person gets kidnapped at the wedding, the clumsy and chaotic duo work together to prove their abilities as investigators.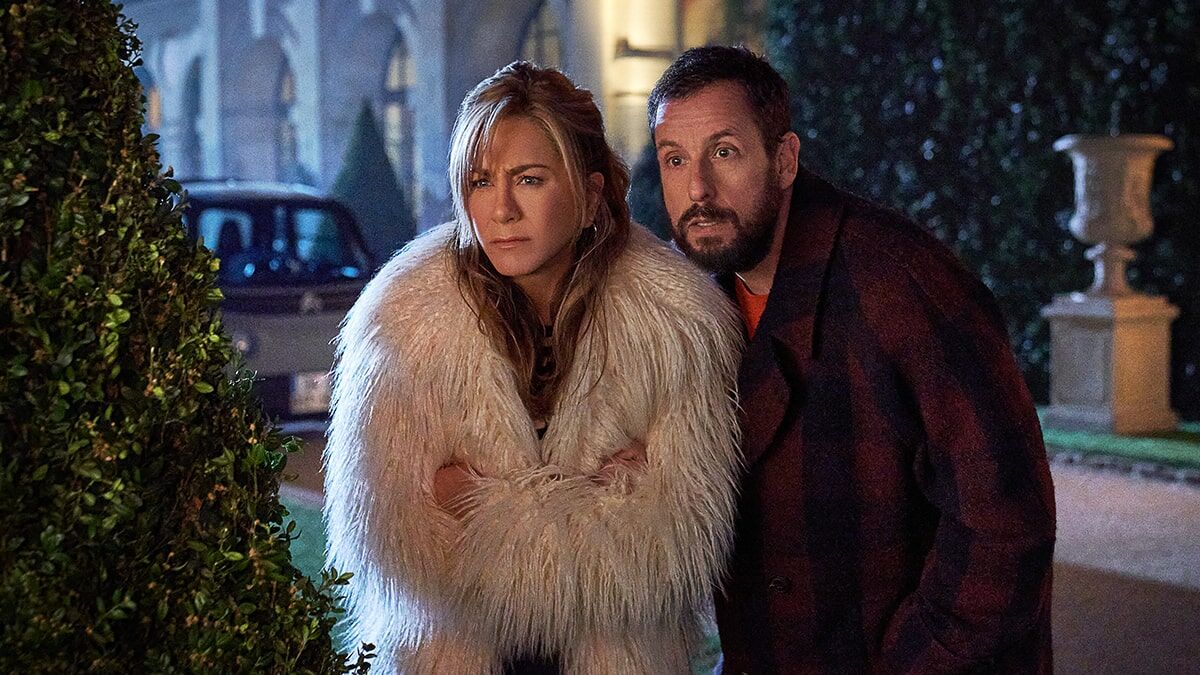 Like all murder mysteries and whodunits, Murder Mystery 2 has plenty of the necessary elements to get viewers hooked from the start, including multiple suspects, clues that viewers can piece together (but not fully solve), as well as a distraction big enough that you know will lead to a big twist. The suspects in this film include Kuhoo Verma's Saira, Mark Strong's Miller, Zurin Villanueva's Imani, Jodie Turner-Smith's Countess Sekou, Enrique Arce's Francisco, Melanie Laurent's Claudette, as well as John Kani's returning character, Colonel Ulenga. Each of whom have their own motivations, but unfortunately, the execution is not as drawn out as we would like things to be.
Murder Mystery 2 has the right ingredients but its execution could be improved. For starters, the movie has interesting suspects – a business partner, a spiteful ex, a sister, amongst many others and yet, we don't see any of these characters investigated or being put under the microscope for a tough round of grilling. It's a bit of a missed opportunity, especially with stars like Turner-Smith (Queen and Slim), as characters pop up and are sidelined after a few seconds of appearances and cheap one liners.
One thing that irked us greatly is that Murder Mystery 2 went from trying to solve a murder to a hostage-kidnapping situation. Murder is literally in the name of the genre, as well as being the title of this film and while there are several dead bodies along the way, this movie skews closer towards a mystery and comedy, especially when compared to the full blown murder-mystery and comedy of the first film. Murder Mystery 2 can also afford to have a better script for its other characters because Sandler and Aniston themselves – as fans would know – are naturally funny and likeable. That said, there are some really good jokes in there that will have viewers laughing ever so often.
And despite these complaints, Murder Mystery 2 is utterly enjoyable mainly due to Sandler and Aniston. The two have a natural chemistry that is easy and fun to watch, as they bounce dialogue and remarks off each other so brilliantly that we're inclined to believe that a good half of their script were just the two actors improvising as the cameras rolled. Their chemistry, we argue, is likely the main hook of the film. Forget the murder, forget the crime-solving, we're just here for how chaotic Sandler and Aniston, or Nick and Audrey, can be.
Even as flawed investigators, they are incredibly likeable and relatable. Just like us, Nick and Audrey get excited over jumping into a luxurious King-sized bed, are protective over their iPhones and don't want to be convicted murderers. Even though the situations the couple find themselves in are highly impossible for average Joes, we can't help but think we would behave the same way if we were caught in the same web of mystery as they have been. 
Geek Review: Murder Mystery 2 (Netflix)Ultimately, Murder Mystery 2 is not to be taken seriously – and we mean this in a good way! An absolute chaotic thrill of a ride promising silly antics and the comedy magic when Aniston and Sandler are together on screen, this is a comedy we would recommend putting on if you want to sit back, relax your brain and laugh at messy people doing really messy things. It also goes without saying that if you're a fan of the first Murder Mystery movie, this is a must-watch.
GEEK REVIEW SCORE
Summary
Murder Mystery 2 is another certified banger starring Adam Sandler and Jennifer Aniston. We can't wait for number three.
Story -

7/10

Direction -

7/10

Characterisation -

8/10

Geek Satisfaction -

7.5/10