Gone are the days of enjoying the silent tremble of butterfly keys, as mechanical keyboards continue to take over desks with their clacking. With all its features, the tactical click of a mechanical keyboard is often the defining choice for many desktop enthusiasts, and brands have built around it, offering stylish colour options and RGB effects, to attractive prices ranging from S$50 – S$100, leaving converts with a wide selection of keyboards to choose from.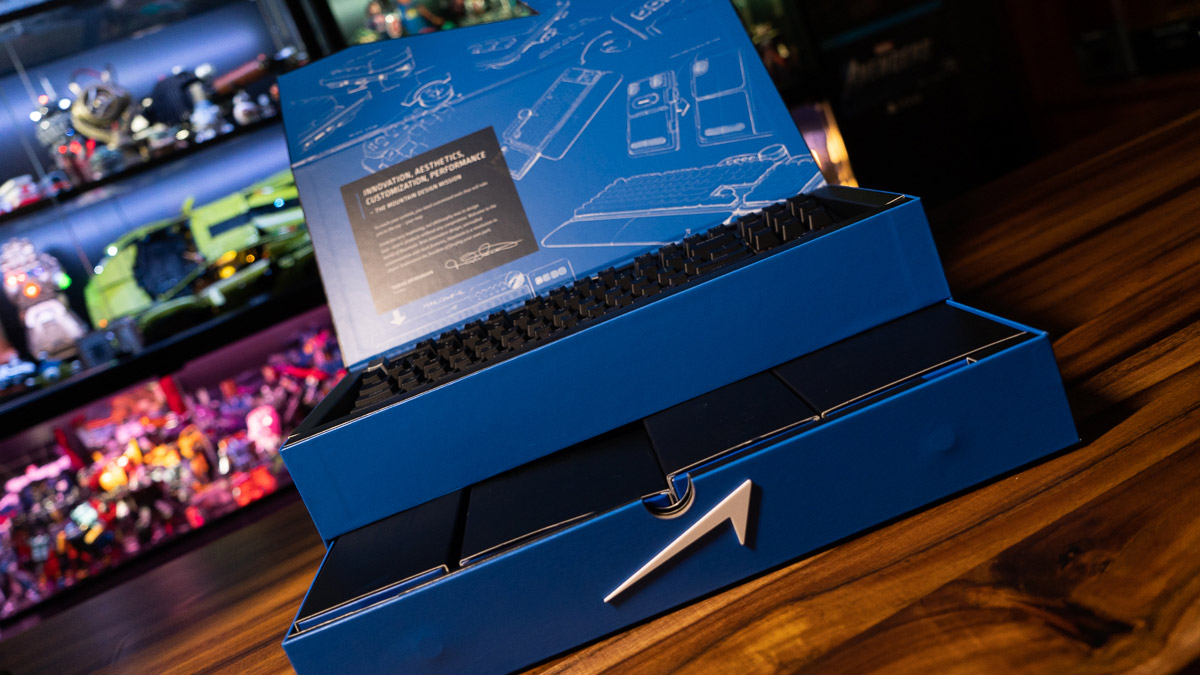 The latest is Mountain, a new and upcoming brand in the gaming peripherals industry, with its debut product, the Everest Max, a mechanical keyboard designed to rival the best on the market. What's remarkable about its latest toy, though, is its US$300,000 run on Kickstarter, which transformed it into reality.
The modular keyboard offers Cherry MX switches, a modular and removable numpad with four programmable display keys, a media dock with control dial, and the ability to mix and match exactly where those add-ons live on your keyboard. It's unique and exciting for gamers and keyboard enthusiasts alike, and though its price is steep at S$399, it's comparable to many flagship keyboards out there, such as the Logitech G915 TKL and Razer Huntsman V2.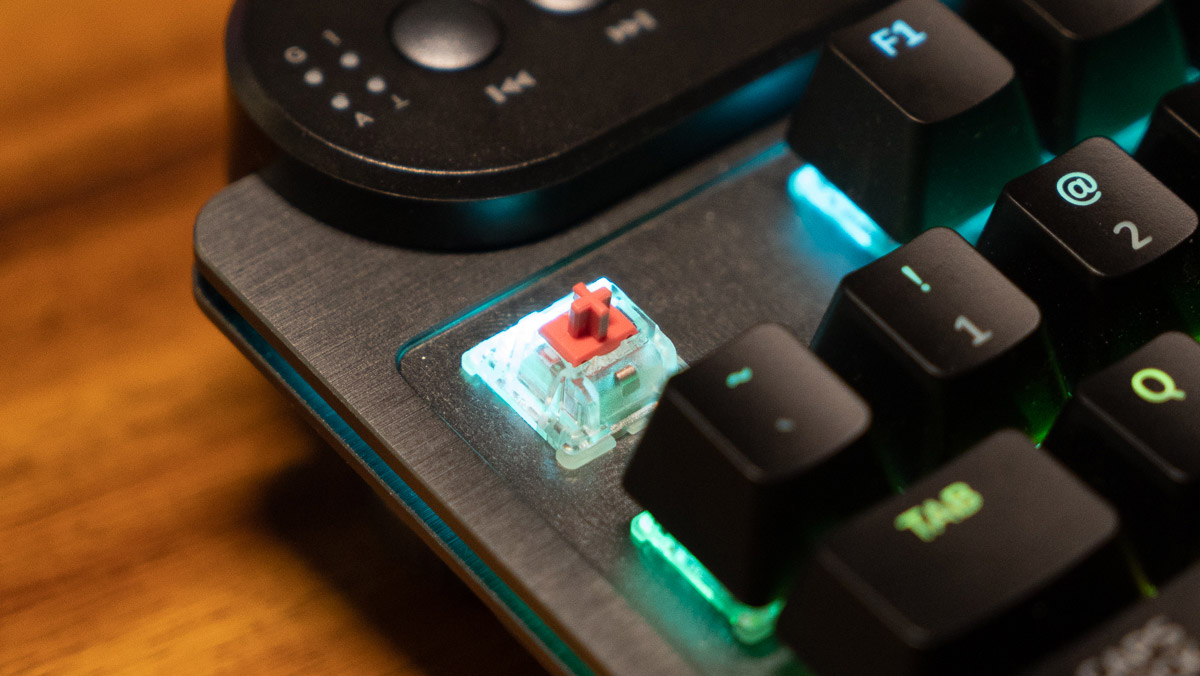 As the saying goes, "What you pay, is what you get" and Mountain doesn't disappoint. The Everest Max arrived in a cool-looking and sleek box that's reminiscent of a car mechanic's tool cabinet, complete with pull-out drawers for storage. The unboxing experience and the box itself really goes in line with what the brand has set out here to do –- to offer a blend of customisation and quality, as if one's building their own concept car. Normally, one would throw the box away, but with this much thought and purpose put into it, it's definitely worth keeping.
Out of the box, you get a tenkeyless (TKL) board with Cherry MX hot-swappable keys. The design and build of the keyboard is sturdy with no discernable flex, with the chassis sporting a dual-layer CNC aluminum faceplate that's split down the middle by a LED diffuser for 360-degree RGB lighting.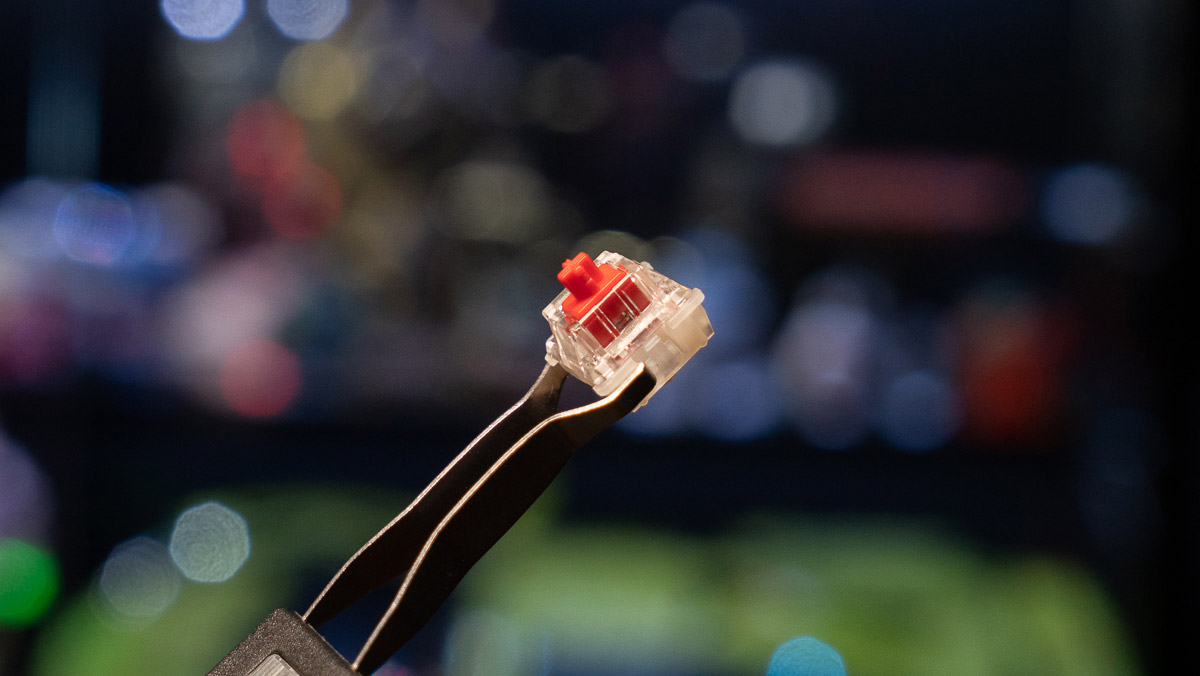 The underside, meanwhile, is moulded from plastic, and features handy cable-routing channels to keep your desk tidy. It comes with a braided USB type-A cable, as well as a 3.2 Gen-1 USB Type-A and Type-C passthrough hub to hook up a mouse, or a card reader if you'd like. You get no foldable stands on this unit, but height can be added by using their patent-pending magnetic snap-on riser feet, coated in a rubber finish.
The feet have a strong base and grip, so you won't have to worry about it losing grip even in the most intense gaming sessions. There's also a detachable wrist rest that when combined with the magnetic rise feet, offers great ergonomics with an adjustable incline configuration. While a little too narrow for our taste, the wrist rest is plush to the touch, but not overly so. Overall, it feels comfortable to type on.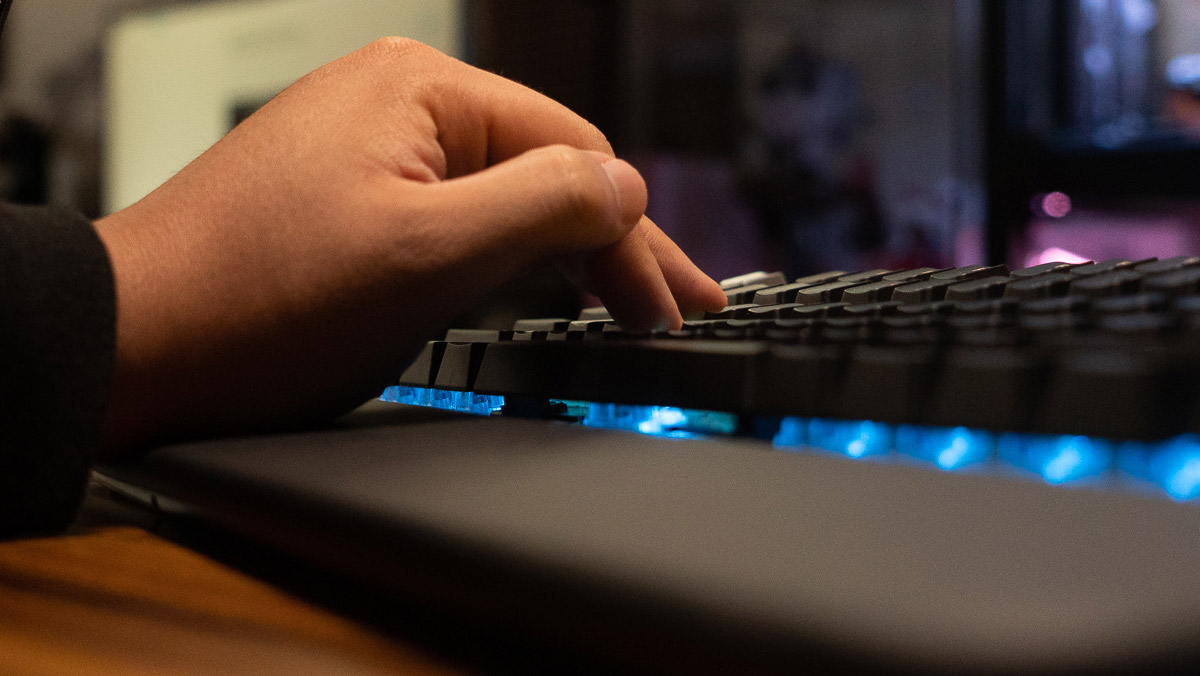 By itself, the Everest Max is a pretty standard TKL keyboard, but what sets it apart from competition is its modularity, which comes in the form of a removable numpad with programmable display keys, and a media dock with display dial. The former features the same design as the conventional layout, with four additional 64-by-64px LCD display keys above the top row. Similar to the ones seen on an Elgato Stream Deck, these can be programmed for a range of tasks, including OS commands, launching programs, assigning macros, or even setting some preset functions on OBS for streaming.
The numpad can also be installed either from the left or right side, thanks to the USB-C connections on each end. As there's no lock, the only caveat is the wobbly mechanism, which breaks apart like a melted Kit-Kat bar. The magnetic attachment system proves lackluster in holding the numpad in place as well, so it'd be good if you install these kits on a solid surface.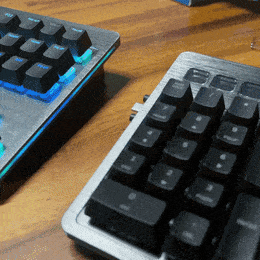 The media dock can be repositioned on either the top left or ride side of the core unit, and comes with a 40mm display dial that offers a 240 x 240px IPS LCD screen for clean and clear visuals. Alongside the display, you have four dedicated keys to play around for volume and playback control, with the fifth function key used to select and save up to five profiles via its onboard storage. The dial controls allows for basic customisations to the keyboard, including lighting effects, brightness, and volume, and flashes basic information or numerical stats like time, actions per minute, and CPU/GPU/RAM/HDD usage.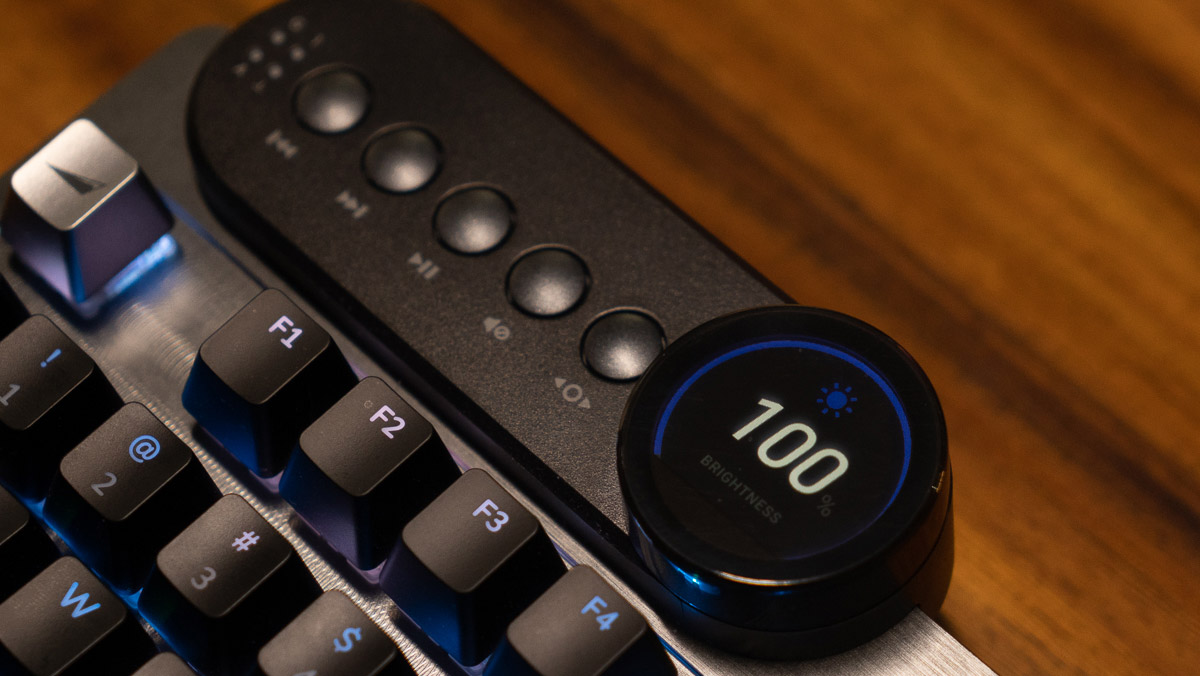 What's missing here is the push action button on the display dial itself which would help omit the fifth key. Surprisingly, the feature wasn't used much during the review period, primarily serving its purpose as a clock or a quick way to access and control volume levels. Desktop and gaming enthusiasts, however, might consider it as a nifty way to check on their PC performance without the hassle of pulling up the Task Manager App, or to swap out macro profiles on the fly. One gripe here is that the material and build of the media dock feels very cheap compared to the core unit and numpad, so it does remove you from the overall aesthetic.
Where performance is concerned, this keyboard is as crisp-sounding and tactile as Cherry MX Red switches go. The keys, including larger-sized ones like the spacebar and Enter key, are stable and sturdy, with no unwanted wobble. They are spaced out very precisely, so the typing and gaming experience should prove to be gratifying – in fact, the Cherry MX Reds are absolutely superb for gamers, and those who need to rapidly double-tap or triple-tap will enjoy the edge in speed. In terms of lighting, the Everest Max offers full RGB backlighting with individually-lit keys, and doesn't go over the top with them. However, it's unfortunate that Mountain has opted for ABS keycaps in place of double shot ABS or PBT for more durability, especially with its premium price tag.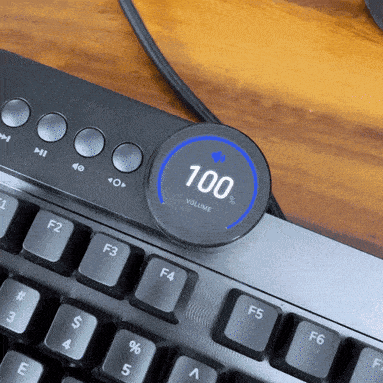 Customisation is done via the Windows-exclusive app Base Camp. It works similarly to the software for other models, such as Logitech G Hub and Razer Synapse, and offers different lighting modes. Each color mode comes with a real-time preview, which gives users an idea of how the effects and colours will look when applied. Modules that are connected will also show up and be reflected here.
The Key Binding section is where you can assign functions to each key, from those of the core unit, to the screen keys of the numpad – and even the media dock and display dial. This is also where you can customise the Display Keys on the numpad and keybind them to different icons.
The macro screen, meanwhile, features a fairly simple system. Upon creating macros, users will be able to edit the names, modify the order, even the delay of each action. These macros would then be assigned to the keys in the Key Binding Section.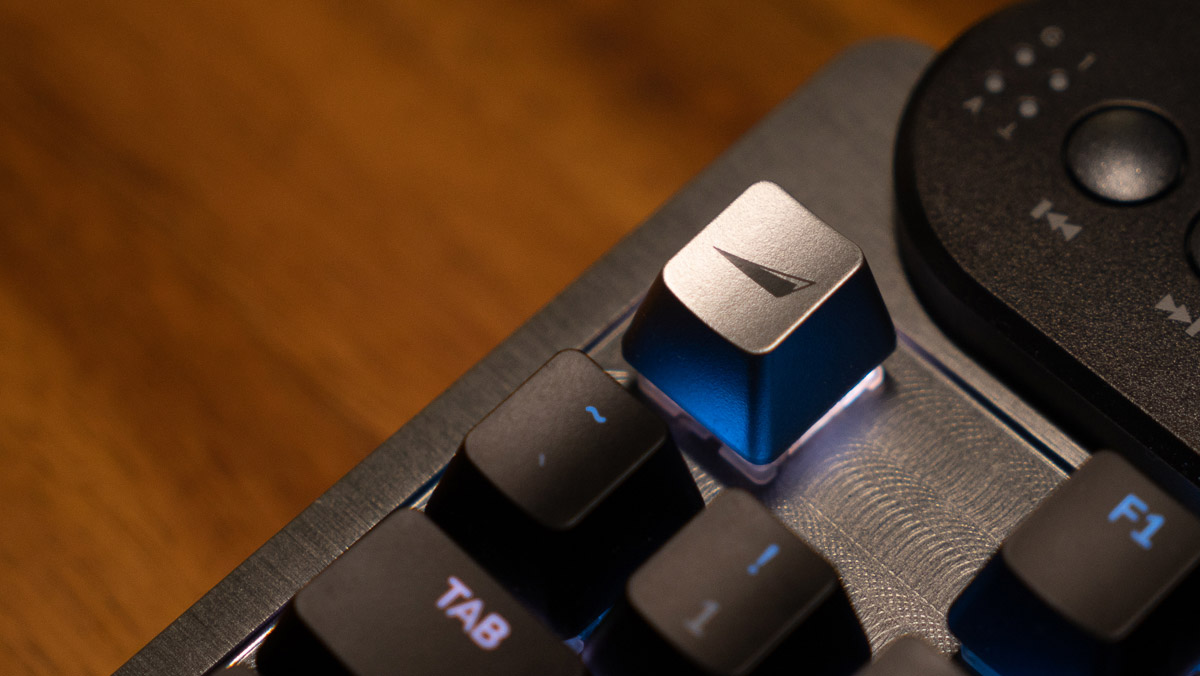 For the most part, Mountain impresses with a robust keyboard that boasts all the bells and whistles of a premium keyboard and more. The Everest Max has set the bar for innovation in what a keyboard can achieve, and in turn, has made its presence known to its rivals. From a unique brand of modularity offered by a removable media dock and numpad, to its pure performance as a keyboard for typing and gaming, it offers more than what you can find on other keyboards.
The S$399 price tag is a little steep for most and without a wireless version, many would turn their heads away. As a versatile keyboard tailored for working professionals, the game at home, and everything in between, however, it's not one that should go unnoticed.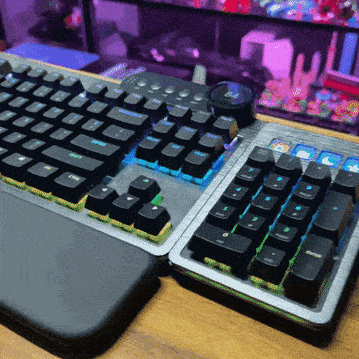 GEEK REVIEW SCORE
Summary
A highly-competent keyboard with premium design, features, and performance, the Mountain Everest Max is a breath of fresh air from the usual market picks. Its modular accessories offer a duality for those who want simplicity and a full-suite desktop experience, but price remains its greatest enemy.
Aesthetics -

8.5/10

Build Quality -

8/10

Performance -

8/10

Value -

7/10

Geek Satisfaction -

7.5/10