Many of us spend hours in front of the computer for work, attend Zoom meetings, play some games or watch Netflix movies, but we sometimes disregard bad sitting posture, use poorly positioned monitors and traditional keyboard and mouse, and suffer backaches, vision fatigue and repetitive stress injuries, which could bring a huge toll to our bodies in the long run. That is why computer ergonomics is important in our day-to-day life, as it addresses ways to reduce strain, fatigue, and injuries through innovative product design and workspace arrangement.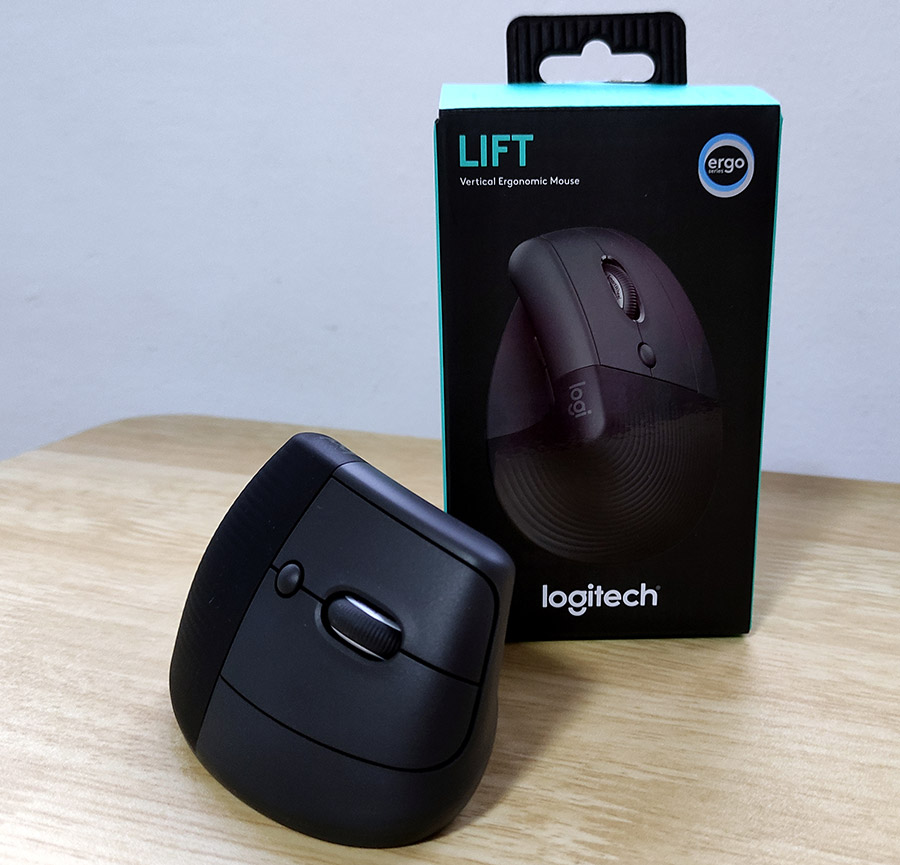 The Logitech Lift is the latest PC mouse in the company's ERGO series, the smaller sibling to the MX VERTICAL that was launched in 2018, and touts ergonomic benefits including reduced muscle strain and wrist pressure. It sports a unique vertical design, like a mouse with one of its sides elevated upward. The left and right mouse buttons are nested on one side, while on the other is a curved indent which works conveniently as a thumb rest.
The Lift sent to us is a right-handed version, but if you are left-handed, you will be pleased to know Logitech also designed one that fits the left hand. Because of the design, the Lift uses a grip that is similar to that of a handshake, unlike traditional mice that use the commonly-used palm mouse grip. According to Logitech, this handshake grip offers more comfort and is suitable for long usage periods, and it also helps to reduce Repetitive Strain Injury (RSI) and Carpal Tunnel Syndrome.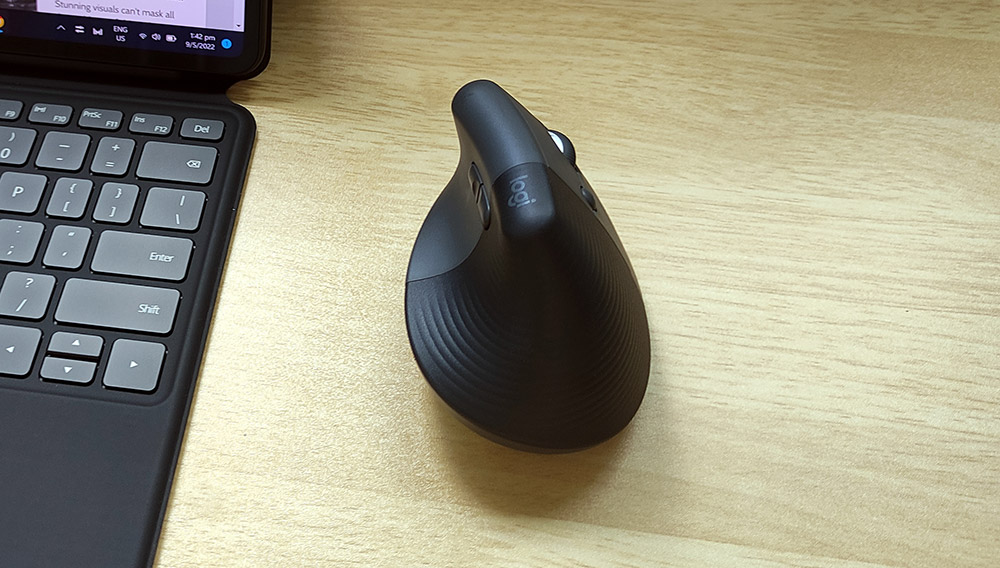 Measuring 71mm high, 70mm wide and 108mm in length, the vertical ergonomic mouse weighs a mere 125g and suits neatly to small and medium hands. It comes with six buttons – left/right, back/forward, middle and scroll-wheel with middle click, and is made of plastic (on the front half) and rubber coat on the rear. Rubber texture isn't good for users with sweaty palms as it tends to get sticky or flaky after long usage, and this is coming from personal experience of using such mice previously.
The Lift comes in a small box that also holds the Logi Bolt USB receiver for wireless pairing, quick start guide and a single AA alkaline battery that can power the mouse for up to two years before needing to be replaced. At the base, you will find the optical sensor, pairing button, mouse power switch and an easy-to-remove magnetic hatch that reveals the battery compartment and a slot to store the USB receiver when not in use.
The Lift boasts a dots per inch (DPI) range of 400 to 4000 dpi mouse sensitivity; the higher the DPI, the faster the pointer speed. You can easily switch the sensitivity higher and lower with the round middle button that is situated just below the scroll wheel. It also features Logitech Advanced Optical Tracking that claims to provide accurate movement, clicking and pointing when navigating on most surfaces.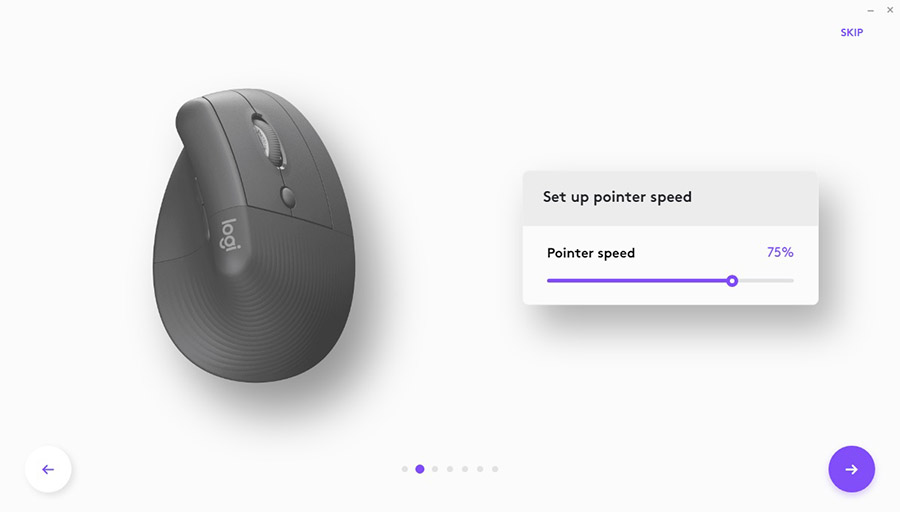 The Logitech ERGO website is printed on the box's interior cardboard, and it offers to help inexperienced users setup their devices and workstations as well as to download the Logitech Options software to manage and customize their Logitech mice, keyboards and touchpads. For some reason, we were unable to get Logitech Options to detect the wireless mouse. After several attempts of uninstalling and reinstalling the device drivers, and re-pairing several times, it just treated the peripheral to be non-existent. Luckily, we found a solution, and that is to download and install the Logi Options+ Beta instead. The Logi Options+ Beta lets you customize your mouse buttons and keys to perform other tasks such as open up the calculator app or volume up/down, and even adjust your pointer speed manually.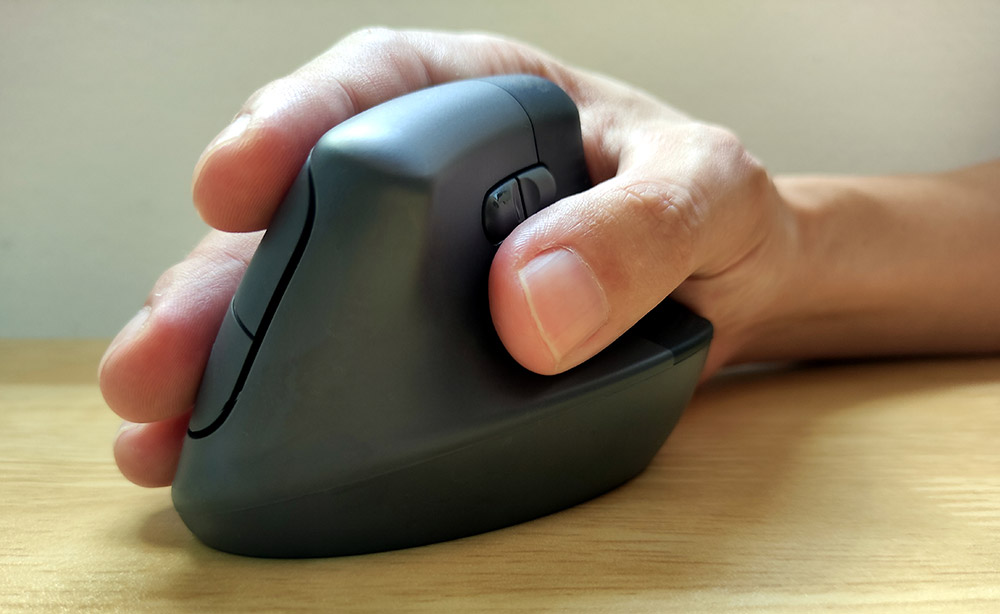 After spending about a week with the Logitech Lift, the vertical mouse does require some getting used to. The handshake grip feels weird and moving the mouse pointer to where you want to is slightly tedious. At the start, the different palm placement also means that your hand will feel slightly uncomfortable, as because of the different way the Lift is being gripped, your wrist will rest mainly on the Pisiform bone, which your body will take some adjusting to. Having said that, there is some reduced strain when using the Lift compared to a traditional mouse, and experts advise taking short breaks and occasional stretching to avoid and reduce aches and pain.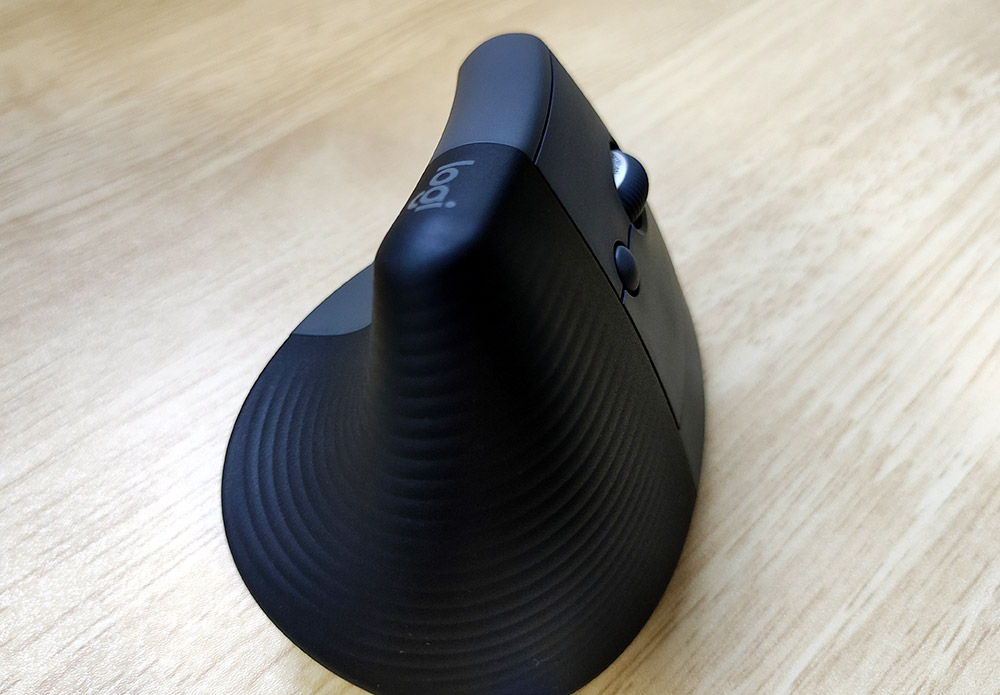 Even though the vertical mouse is not designed for gaming, there isn't much to complain about when using it on a first-person shooter game such as Team Fortress. It definitely did not manage to help score the highest number of kills, but it works fine as intended. How about using it for image editing? Again, it's on learning a new way of handling a classic tool, and while it is possible to do a clipping path of a high-resolution image on the GIMP image manipulation program, it will take some practice before you will match your previous speed. The Lift's quiet left and right buttons are particularly enjoyable, unlike some mice with loud click sounds.
Available in graphite, rose and pale grey colours, the Logitech Lift is selling at most retail outlets at S$119, which isn't cheap. But do note you are paying for the ergonomic benefits it has to offer. For users with large hands, the Logitech MX Vertical is a better choice.
GEEK REVIEW SCORE
Summary
The Logitech Lift Vertical Ergonomic mouse is designed for long usage, and aims to reduce the strain and fatigue off your wrist. 
Aesthetics -

7/10

Build Quality -

8/10

Performance -

8/10

Value -

7/10

Geek Satisfaction -

7.5/10