Even as more players enter the field of gaming accessories, there is still a preference for wired mice devices, for a variety of reason. Weight, price, speed and of course, never a need to change batteries since it's powered by the computer.
But that last bit is about to be changed, courtesy of the wireless G903 mouse by Logitech.
Touted as the successor to Logitech's widely-popular G900 Chaos Spectrum wireless mouse, the G903 sports a near-identical appearance. The key difference? Pay S$199 for an additional POWERPLAY mousepad that basically charges the mouse as you use it. The first of its kind, the POWERPLAY partners well with the G903 to deliver an entirely new charging experience: the entire process is all about gaining charge through a limitless pool of flowing current.
It might sound like a lot is happening, but the charging is not at all disruptive, with little to no indication of it happening. That means no static, or any other form of notification, and admittedly, it felt strange knowing that the mouse was being charged, but with nothing to inform you of such.
For all of its cutting-edge technology, the POWERPLAY's performance is not quick charge, like those found on smartphones, and is quite like using a phone as it is charging – the bar never goes up, and a change in charge is hardly seen, with a maximum increase of maybe one or two percent. Leaving the mouse alone to charge only marks a slight improvement, so plugging in the cable is still the best charging option.
The POWERPLAY comes with two surfaces (hard or soft) to be paired with its rubbery base. Thankfully, they are equally on par in the technical aspects – the G903 is able to glide smoothly across both parties, which translates to a swift and responsive in-game experience.
That's where the similarities end, however. Layering the mousepad with the hard surface results in a slightly oversensitive reaction that may throw off the aim of newer gamers. On the other hand, the soft surface allows for a higher accuracy rate, but at the small cost of response time.
It takes some time to get accustomed to either surface, but I personally preferred the soft one. I wasn't too keen on the little jump of the cursor that seemed to follow me everytime I swapped out for the other surface, though that could just be my poor gaming skills speaking. Nonetheless, it all boils down to a matter of personal preference.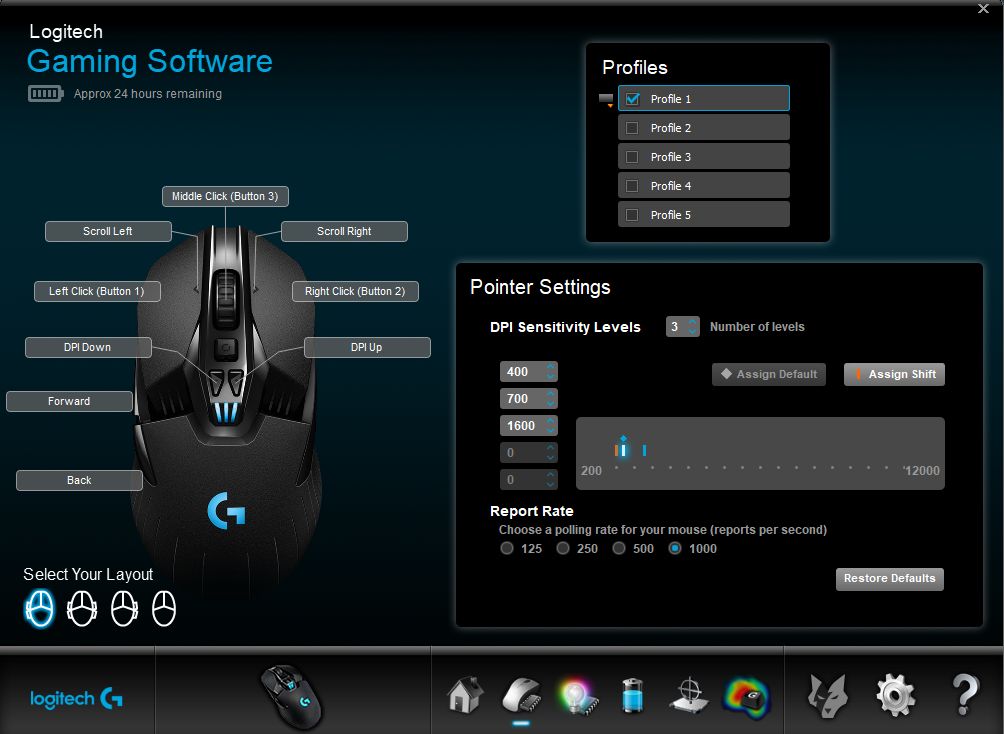 As with anything new, the biggest drawback is that the mousepad is only compatible with the G703 and G903, making it a convenient luxury, but not a necessity. Still, it's no small feat for a wireless mouse to perform as seamlessly as a wired one, and the G903 manages to pull it off with impressive flair.
The biggest credit for that goes to the PMW3366 optical sensor, which also boasts a maximum sensitivity of 12,000 dpi. Said to be the best gaming mouse sensor in the market, the PMW366's strengths lie in its incredible tracking accuracy and consistent responsiveness.
That, coupled with Logitech's LIGHTSPEED wireless technology, brings out the very best of the G903 – a gaming beast at its core, with a cursor that glides smoothly across the screen with zero lag.
Testing the mouse with McCree in Overwatch yielded an overall improvement in tracking ability, 180-degree sweeps and wrist flicks. Wall gliding as Lucio has never been easier, especially when it comes down to executing accurate movements.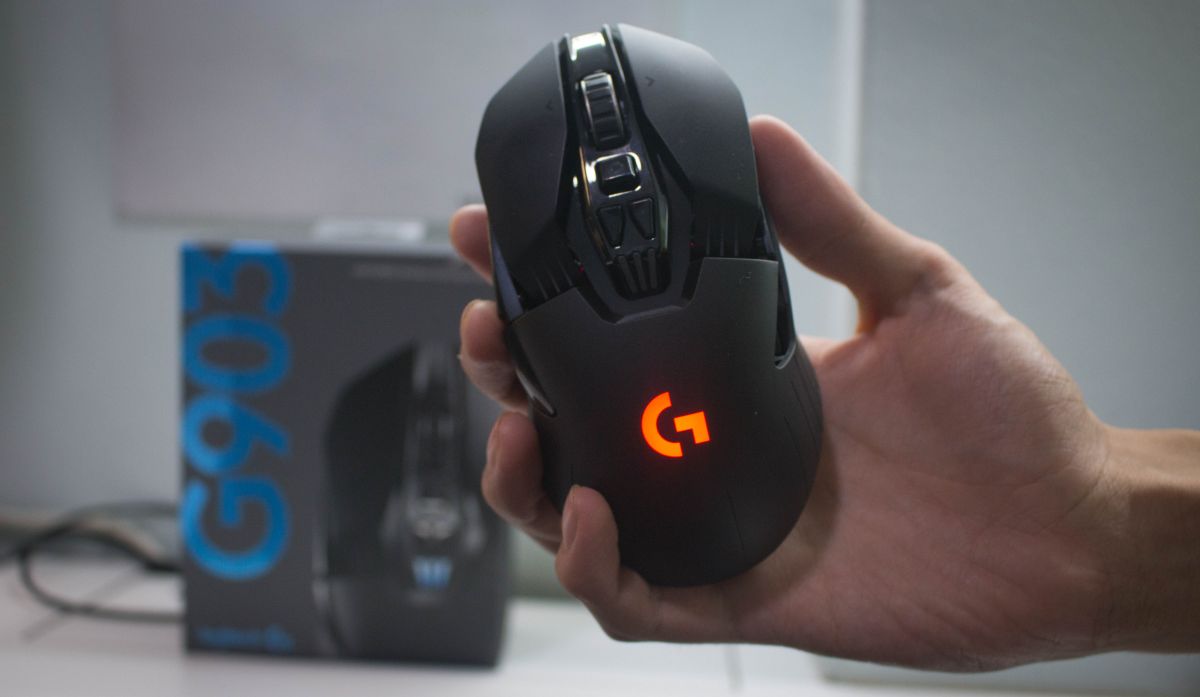 Where battery life is concerned, the G903 can last up to a respectable 24 hours, and up to 32 hours if the RGB lights are off. Plugging the mouse will result in a full charge in about two hours, which is considerably fast – or you could always choose to charge it wirelessly instead.
Decked entirely in charcoal black, the mouse's design is sleek and modern, with its futuristic appearance further accentuated by cutaways. All of that subtle flashiness is not just for show, either; the ergonomics of the mouse are hardly compromised, and instead, only help to deliver quality.
For starters, the gentle curve of the G903 allows for a comfortable grip, and is able to fit snugly into various grip methods. Despite the lack of rubber and soft-touch surfaces, it maintains a tight, slip-free grip, and never once did the cool metal dig uncomfortably into my palm.
The mouse's ambidextrous design may be a slight gripe for some, but it didn't feel all that different for me, especially after one too many intense rounds of Overwatch and Destiny 2. A striking balance between aesthetics and practicality – that's perhaps another accurate description of the G903 as well.
Other Features
A mouse that supports ambidexterity, customisation, and freedom of selection?
If there's a way to describe the G903, it'd be that it's extremely well-packaged, with much thought behind its concept.
Case in point: To complement its ergonomics counterpart, Logitech introduced customisable side buttons for left-handed gamers, as well as for individuals who prefer to use both sides of the mouse. This means that apart from the left- and right-button configurations, a both-side or nothing-at-the-side arrangement is entirely possible as well.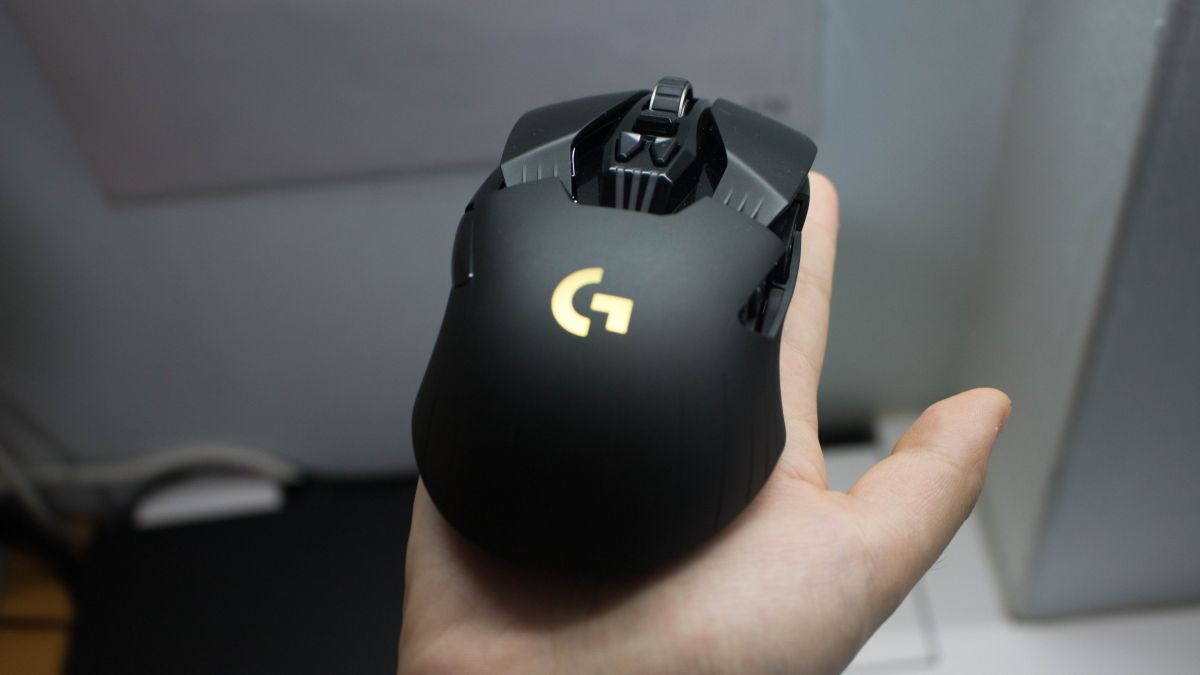 As with any other gaming mouse, the G903 has two buttons along the top to adjust the DPI settings. However, that's not all when it comes to customisation – Logitech allows users to set their preferred DPI sensitivity levels from 200 to 12,000, up to a maximum of five. Done through the Logitech Gaming Software (LGS) app, this is a useful function, especially for gaming enthusiasts like myself, who don't believe in having more sensitivity levels than necessary.
And for those of us who often look up detailed character guides or long reddit forum pages, the job has been made easier with the G903's scroll wheel. With a single click of a button, it can alternate between smooth and notched scrolling as its gnarled, rubbery texture rests pleasantly under the index finger.
Final Verdict
The G903 lives up to its predecessor, with its sleek design, highly-customisable elements, and outstanding performance. It's really expensive – even more so if picked up with the POWERPLAY – but definitely a good investment for those who can afford it. For others with a leaner wallet, there's also the G703 that serves as a good alternative to its higher-priced counterpart.
GEEK REVIEW SCORE
Summary
Sorry Razer, but Logitech takes this round. After all, nothing can beat the feeling of entering mouse nirvana.
Overall
9/10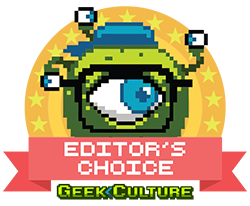 Aesthetics -

8.5/10

Build Quality -

9/10

Performance -

10/10

Value -

8/10

Geek Satisfaction -

9.5/10