For those with access to China's online marketplace Taobao, forget about the lofree Indiegogo fundraising campaign. It has been on sale in China for a few weeks now and while it's on backorder with most vendors, the wait is just a few days.
This is the same product by the same team, and the Taobao one looks identical to the Indiegogo one as far as I can tell. The product name on the packaging is DOT here in China, and the brand lofree appears in very small print on the base. I've been using the keyboard for a week and here are my thoughts.
Design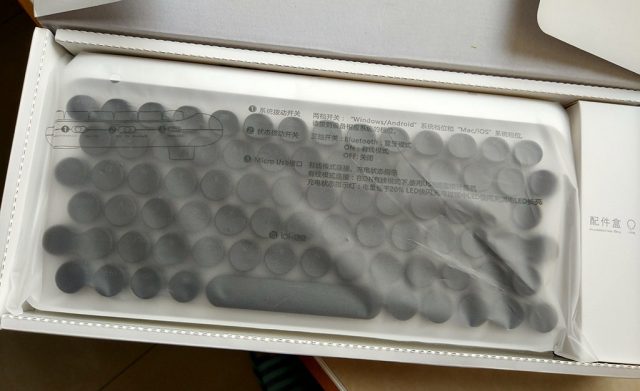 The lofree keyboard looks great. Everyone stopping by my desk gave it a second look. The Sans Serif font used on the keycaps look okay, though it's weird that the numbers are Serif.
Switches
The keyboard comes with Gateron blues, which are like Cherry MX Blues, which means clicky, tactile. They are also just a tad "heavier". I was using a 45g Topre board just before this, so it took me awhile to get used to this. It's also a really loud board, so make sure your family and colleagues are cool with it.
Connectivity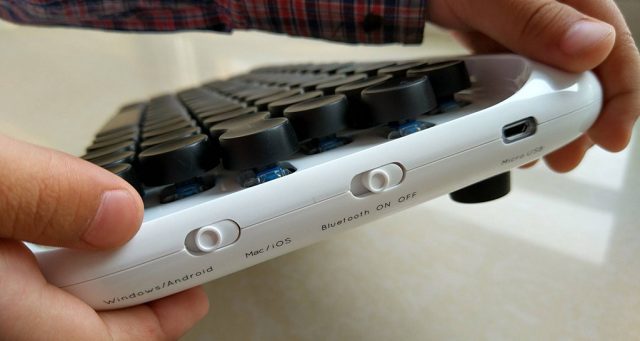 Here, we get all the toggles and the micro-USB port. It comes with a right-angle micro-USB cable, so that's quite thoughtful. This works fine as a wired keyboard. In wireless mode, it identifies automatically as an Apple Wireless Keyboard, so there's no "press key left of left shift" setup process. It's pretty seamless so you just have to read the manual, to find out how the pairing mode is activated. You can pair up to three devices and switch between them. This is really easy to do, and I paired my phone as the second device, and switched to it by pressing Fn+2.
Layout
This keyboard is designed for Mac users. The layout is (almost) exactly the same as an Apple keyboard, down to the media controls. So, why the "almost"?
This is my first issue with this keyboard. Basically, the way the keys are staggered is wrong. The Q key is below the ~ and 1 keys, and that's just horrible for touch typists. I keep hitting ~ when I intended to type 1.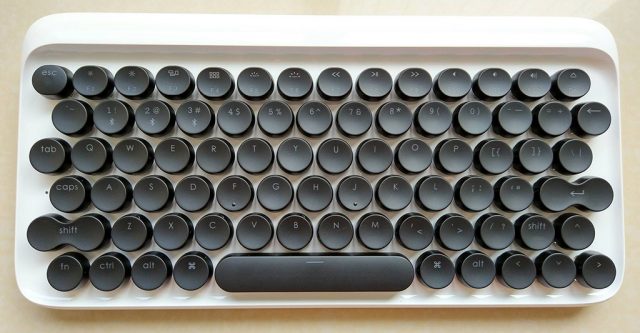 But what's worse is the lack of 1.25, 1.5 and 2.25 keycaps. The ⌘, Backspace, Right Shift and Tab keys ARE ALL THE SAME SIZE. There's a good reason why these keys are larger on any keyboard. The ⌘ is used a lot and initially, my right thumb kept missing it, or hitting the Alt key instead. I now hit Backspace with pinpoint accuracy, which takes away the joy of slamming multiple fingertips against a large Backspace key when angrily censoring myself.
Finally, the shape of these keycaps really take some getting used to. Because of the large round top surface, the left/right edge of each keycap are just under 2mm from the neighbouring key. This can lead to frequently hitting two keys at a time. I did get used to it in about 3 days, so it's not a huge issue. I believe they could have avoided this by tapering the top of the keycap even more, like with regular square keycaps.
Backlights
The backlight has four settings: Off, dim, bright and really bright. Light is white, and shines through the print on the ABS keycaps. I personally don't really like my keyboards too bright, so I have it on dim or off mostly.
Conclusion
Lofree got many things right with this keyboard. The ease of setup, the problem free Bluetooth connection (so far), and the Mac Fn keys are all consistent with MacBooks. The keyboard looks good but the typing experience is marred by the lack of properly sized keycaps that match the design. Sure, they made a 2x keycap for the Enter and Left Shift keys, but this isn't enough.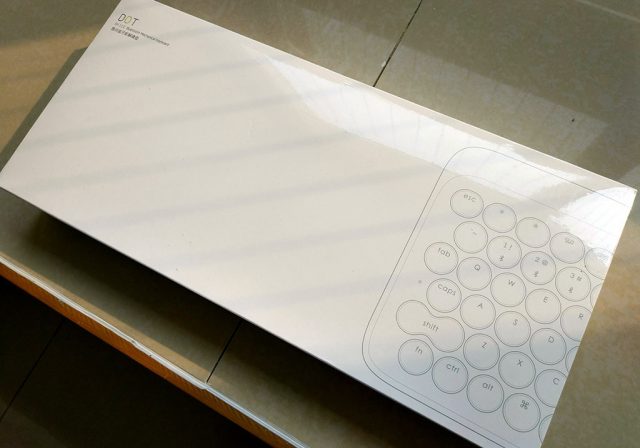 There aren't too many Mac mechanical keyboards in the market, but I can't recommend this one wholeheartedly. It comes in at a great price point at RMB 399 (S$81), against the US$79 (S$110.50) Indiegogo Early Adopter edition, but with that you need to endure a week of acclimatisation. No one should have to adjust their muscle memory because of a non-standard keyboard layout. Let's see if they fix it in version 2, or just get a Matias.
*This is an adapted Facebook post by the author. Note that this is a Taobao version of the lofree keyboard, and not the Indiegogo one.
---

Drop a Facebook comment below!