When it comes to innovative laptop designs, Chinese tech brand Lenovo has been ditching tradition for a while, in the hopes of coming up with something new for users and pushing ahead with something it believes in. Their Lenovo Yoga Book 9i follows a long-established line of 2-in-1 laptops that can turn into a pseudo tablet, have touch screens, and developed for the artist or illustrator in mind for drawing purposes.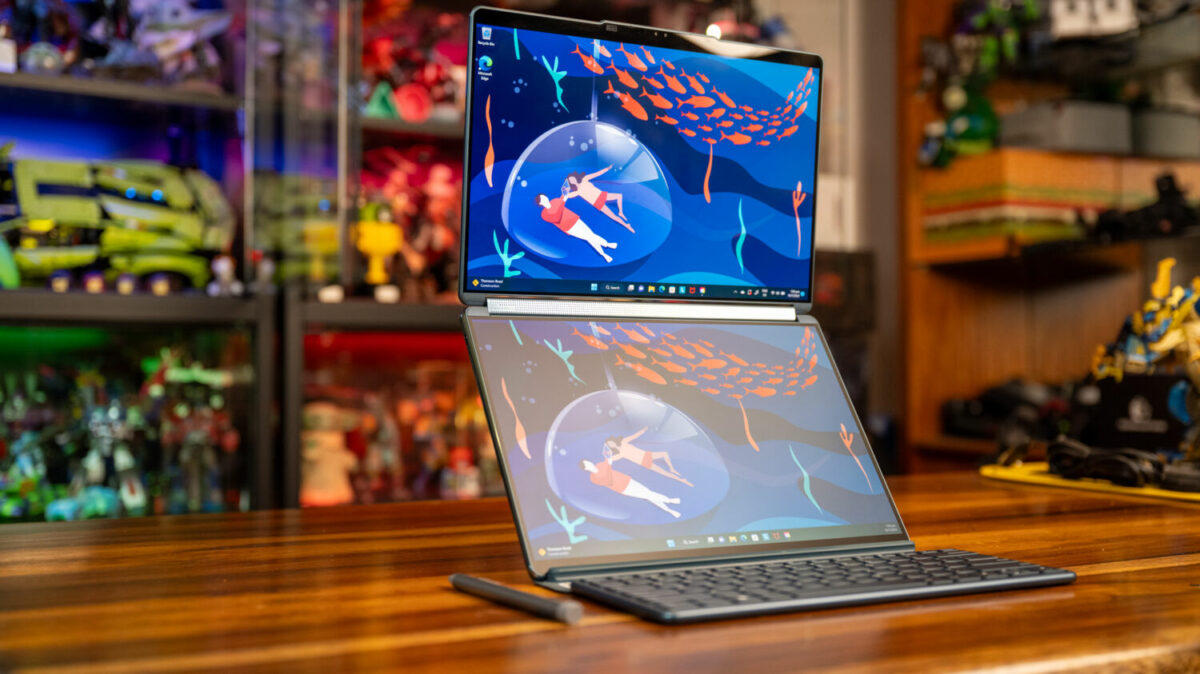 The latest Yoga Book 9i sets itself apart with a unique dual-screen laptop designed to be both productive and creative, with two 13.3-inch OLED displays, both of which are touchscreen and eliminate the physical keyboard altogether. Unlike the ASUS Zenbook 17 Fold OLED, the Yoga Book 9i does not have a continuous screen and has opted to join two screens together with an extremely sturdy hinge.
The hinge itself allows the screens to have a 360-degree rotation, so the device has various form factors. Apart from being used as a traditional laptop, it can also double up as two screens angled on top of each other, or as a book in portrait orientation, and lastly, a tent-mode display, which is ideal for presentations. While not everyone will fully use all these modes, the laptop's design works well to appeal to a wide range of users, including students, professionals, and creatives. The dual-screen design, in particular, proves handy for multitasking and tasks that require a lot of screen space, such as drawing, painting, and video editing.
However, at a price of S$3,699, this dual display wonder will make most consider if the cost will revolutionise their workflow, as opposed to more traditional setups with an accompanying monitor.
At the heart of this laptop is a 13th Gen Intel Core i7-1355U processor, combined with 16GB RAM, 512 GB storage, and an Intel Irix Xe GPU, which is good enough for light gaming. The standout here, though, is its two 13.3-inch 2.8K (2,800 x 1,800) OLED touch displays, and all of this is packed into a footprint of 29.9 X 20.3 x 1.6 cm.
Weighing in at 1.3kg, the Lenovo Yoga Book 9i is light on the back but feels heftier than premium productivity-focused laptops of its class due to its thicker cut. Completing the full setup is a small, lightweight power adapter, as well as a folio cover, Bluetooth keyboard, and stylus for the device.
Encased in an all-aluminium unibody build, the Yoga Book 9i sports a minimalist design and is smooth to the touch. There's an evident effort put into construction and durability, with Lenovo ensuring top-notch build quality – opening the laptop with one finger is effortless as the hinge is able to open and close without any audible creaks. While this might seem like a given for most modern laptops, not many are able to rotate 360-degree screens to achieve the various modes that Yoga Book 9i offers.
Ultimately, the biggest selling point of the Lenovo Yoga Book 9i is its dual-screen design. With its 2.8K resolution OLED display, the laptop performs best under indoor conditions, providing crisp and clear image quality. But if you're the road warrior who might be out in the sun, the display becomes difficult to read in outdoor settings, which will be a big concern for many. This will be a key issue for anyone looking to grab this laptop, but let's be honest – how often do you use laptops under direct sunlight anyway?
Ports-wise, there are only three USB-C ports: one on the left side and two more on the right, fitted alongside the webcam security shutter and power button. It's par for the course for many productivity-focused laptops these days, but having an additional multifunction dongle for HDMI and USB-A inputs as an included accessory would have been welcome.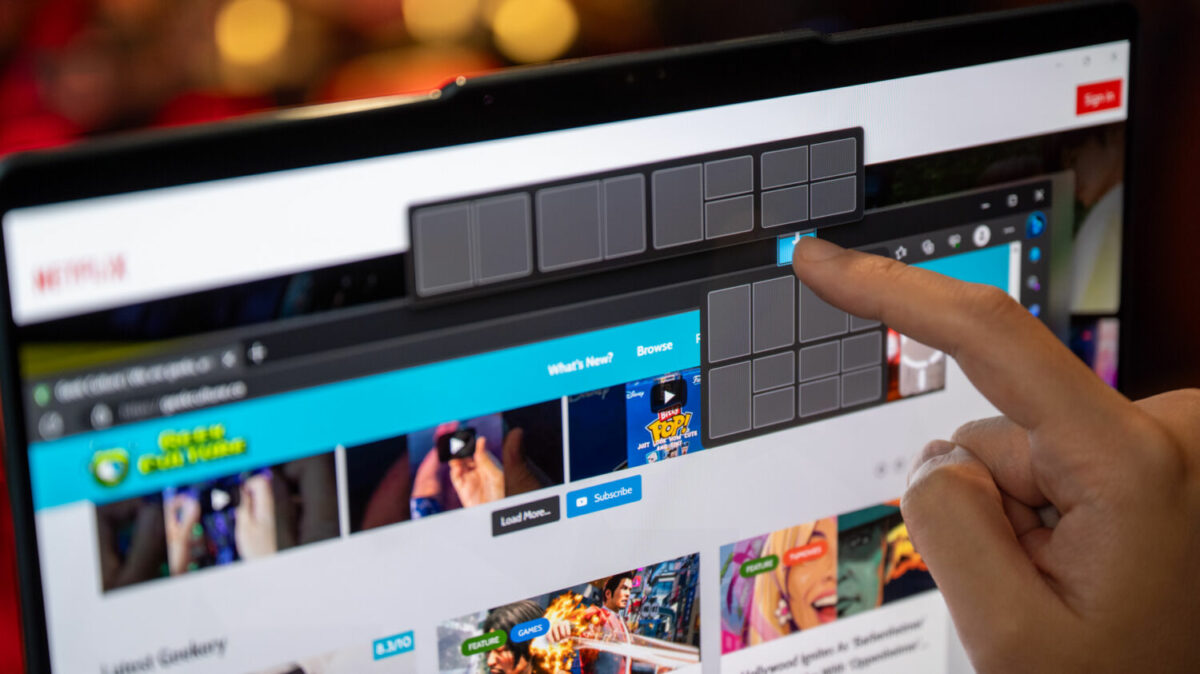 However, some concessions have to be made, especially when incorporating the dual-screen displays, which is easily the star feature of the device. The best way to use the laptop would be to place it in a dual landscape format or dual portrait format. In our day-to-day use, the dual landscape format worked great for multitasking or keeping multiple windows open at the same time.
While it felt nice having four windows open side by side, we found that the best configuration was to keep two windows open at the top with a full-screen window open at the bottom. Navigating the windows between screens is done by simply dragging each screen to the edges with a mouse, but the control becomes more challenging when moving it with your finger. Users will have to hold down on the window bar and wait for the UI prompt to appear on-screen before they can 'snap' to the opposite screen. It's not difficult to overcome the learning curve, but the process could be a bit more intuitive.
The dual portrait mode, meanwhile, is ideal for coding and word processing due to the taller placement. However, as most multi-monitor users would know, it's not quite optimal to stare in the middle of the two screens where the hinge sits. Over time, this results in poor ergonomics as your head will be tilted slightly off-center to look at either screen on the left or right. As such, it's recommended to use the Yoga Book 9i in dual landscape mode.
But this brings about another key concern. While the included folio stand does well to prop up the laptop, one can't help but fear that an accidental nudge could send the laptop crashing to the ground easily. Using both screens together with the provided keyboard requires more space than the average coffee store table can provide, so having it in regular tablet mode would be a better option.
To use the laptop in the traditional clamshell mode, users have the option to use an on-screen keyboard, which can be pulled up by tapping eight fingers on the lower screen, and a virtual trackpad. As mentioned, this sounds like a good implementation on paper, but most will realise that typing on a touchscreen is not the best experience. The touchscreen keyboard has haptics to register each keystroke that while feels good, falls short of being perfect. Multiple keypresses will also not register, which rules out WASD gaming, but standard modifiers with the shift, control, and alt key for shortcuts work just fine.
Our recommendation would be to use the hardware keyboard as much as possible. Placing the hardware keyboard at the top half of the lower screen gives access to the trackpad, while positioning it on the bottom portion brings up quick access widgets for Outlook, calendar, and a news feed powered by MSN. It's a nifty feature that could see some use, but it all boils down to the individual if such adaptability is an actual boon.
For this review, the keyboard was mostly placed on the top of the screen, which removed the need for a mouse. One major bugbear was having to reset the keyboard configuration each time the laptop goes on standby. This means that users would need to lift the keyboard up, place it down once again, and configure it for their preferred mode, as the laptop reverts to dual-screen use with every wake-up. Additionally, the keyboard doesn't automatically enter sleep mode, and there were multiple instances of it going flat in the midst of being used.
When it comes to laptop performance, the Lenovo Yoga Book 9i scored 5245 on PCMark 10 Professional benchmark software. It falls a little short of other devices, but it offers enough power to get some light Photoshop work done. On the gaming front, the laptop scored 15,352 on 3DMark Night Raid and 4364 on 3DMark Fire Strike benchmark test. Battery life was decent, with the device lasting 4.5 hours of continuous play with indie darling Dave the Diver, a less intensive title than most gaming titles. Productivity-wise, it was able to last a good 9 hours before giving way to constant word processing, Photoshop, and Internet activity.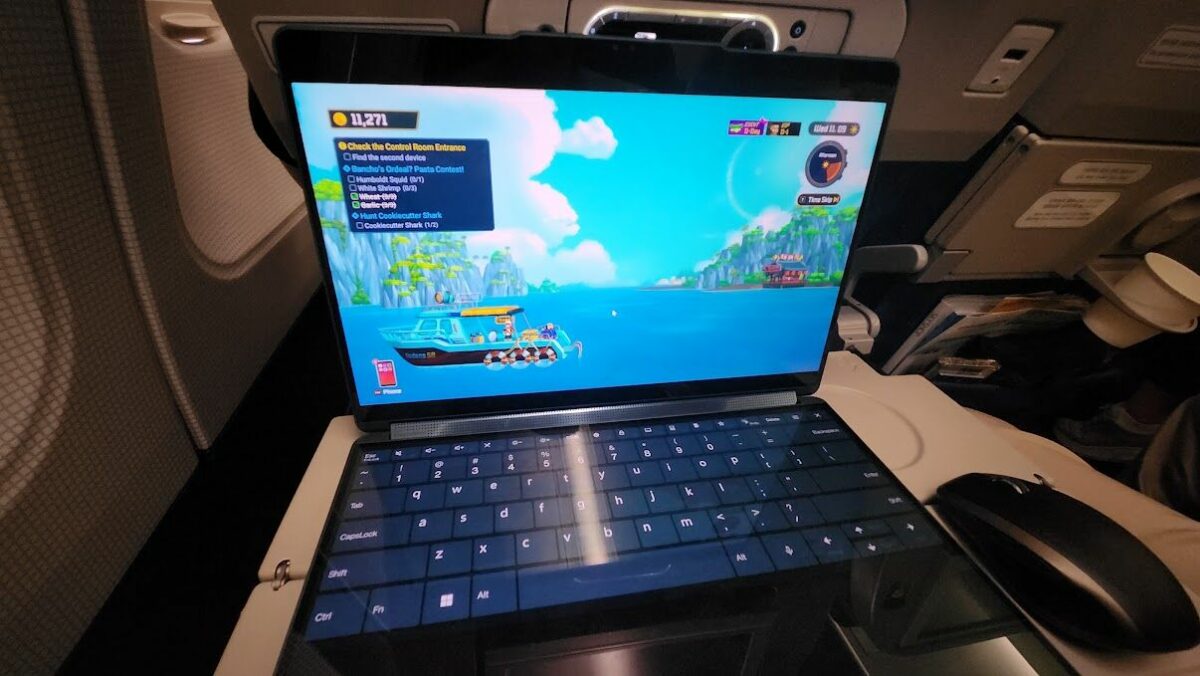 With its overall unique package, the Yoga Book 9i relies heavily on the custom Lenovo Vantage software to run on Windows. For first-time users, it's recommended to go through all the different features and toggles to get the best out of this device and reduce the learning curve. There are quite a bit of elements to get through, but the display settings is something to note –
Lenovo has done well in maintaining the health of the OLED screen by selectively dimming areas of the screen that are not in focus. This minimises burn-in – a common issue for OLED devices – while keeping the window being worked on at a consistent brightness.
All things considered, the Yoga Book 9i is a great execution by Lenovo. On top of a unique, versatile dual-screen design, it also offers users the convenience of a two-screen configuration on the go without having to lug around extra hardware. The provided accessories are thoughtful and do not add much bulk, so users can feel that they are getting good value after a significant investment into this laptop. With a $3,699 price tag, the device won't be an easy buy for the average user, but if you can convince yourself to make use of the laptop to the fullest, it will definitely come in handy for a variety of situations.
GEEK REVIEW SCORE
Summary
While most laptops stick to the tried and tested, the Lenovo Yoga Book 9i is a great example of how innovation can help a device stand out from the rest of the pack.
Aesthetics -

9/10

Build Quality -

8/10

Performance -

7.5/10

Value -

6.9/10

Geek Satisfaction -

8/10
Gerald currently straddles between his love of video games and board gaming. There's nothing that interests him more than trying out the newest and fanciest gadget in town as well. He dreams of publishing a board game sometime in the future!