After 40 years, Dungeons & Dragons (D&D) has evolved in many ways, we've seen the franchise churn out it's base roleplaying game and translated it to video games, RPG miniatures and now in its latest iteration the franchise has evolved into a Kre-O line of toys.
The Kre-O toys features familiar characters such as Drizzt Do'Urden and Lord Neverember, plucked from the Forgotten Realms campaign setting.
The A6737 Lightning Cannon set is just one of the many D&D sets that Hasbro has released. It includes 2 minifigures and an awesome firing Lightning Cannon.
 At 115 piece count, it took me a quick moment to get all the pieces from this –
To this –
I was expecting that the Cannon would only be a static fixture and just imagine my glee when it not only could be adjustable for various firing angles but it moves as well!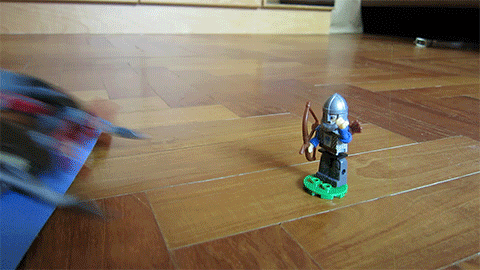 The cannon itself packs a very big punch. I would say it makes a very good office desk toy as well! Here it is in action –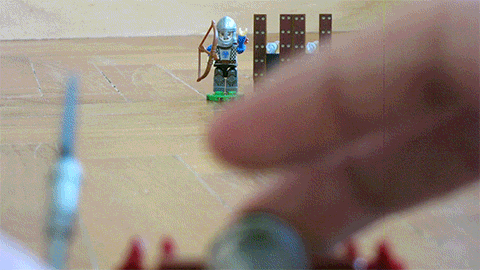 The missile can traverse a good distance, easily 2 metres straight.
As this was my first Dungeons and Dragons Kre-o, I had no idea what to expect in terms of minifigure quality. The Orc Archer has excellent detailing and his hood is made of a rubberized material that looks fantastic.
The Knight Archer and his fortification is a tad underwhelming though when compared to the Orc and his Lightning Cannon. Special praise has to be showered upon the helm as the details give it an authentic medieval look –
The fortification looks as though it could be joined to a bigger playset, extending its replayability.
Verdict
With no movie or cartoon tie-in, the Dungeons and Dragons Kre-O sets might have a bit of an uphill battle when capturing the younger demographic. But when it comes to the adults who grew up with D&D, it might be the perfect fit. Like other Kre-O minifigures, there is a small amount of articulation that can be coaxed out of the figs but I do feel that more faces on the figures would go a long way for posability.
If you've been itching to grab one set for yourself kid, I feel that the smaller packs such as the A6737 Lightning Cannon is a great way to get your feet wet.
The Lightning Cannon can be picked up for SGD$24.90 at Toys "R" Us which I feel is a decent price for its features.
---

Drop a Facebook comment below!