You want a review? Sure. John Wick: Chapter 3 – Parabellum gets a solid 9 out of 10.
Should you watch it? Yes, watch it right away.
See, every once in a while there comes an action hero without comparison. We've had the likes of Jason Bourne, Ethan Hunt, and the most recent iteration of James Bond, but none have come close to Keanu Reeve's now-iconic John Wick, and especially not since the most immense "Oh" was ever uttered on the silver screen.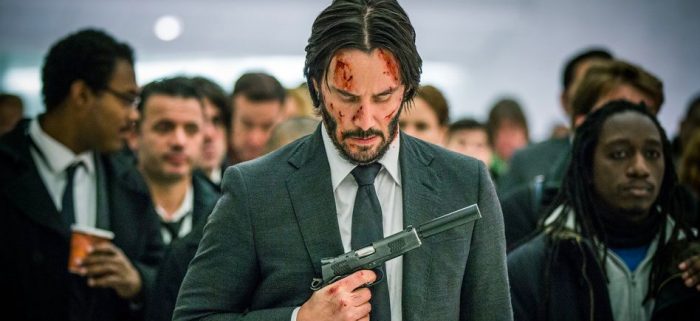 'Parabellum' begins right away from the final events of the second film, after Wick was declared 'excommunicado' for taking out another on holy grounds in The Continental hotel, which greatly displeased the mysterious cabal called the High Table that strictly governs a group of international assassins that John Wick used to be a part of.
Wick's been given an hour's head-start by hotel manager Winston (Ian McShane), and immediately we're brought to the last moments to set up the rest of this film, which can only be described as watching a Twitch stream of Shroud playing a FPS shooter against an army thirsting for his blood at every corner.
The film is highlight reel after highlight reel of what John Wick is truly capable of, and underscores exactly why he is the feared Baba Yaga of the underworld. If you needed any explanation of his lore and killing prowess, look no further than his showdowns with basketball start Boban Marjanović, and silat masters Cecep Arif Rahman and Yayan Ruhian, both of whom are the breakout stars from 'The Raid'.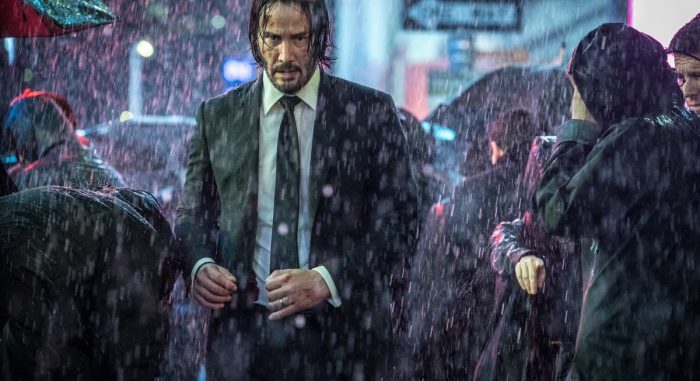 The fight with Boban, is particularly notable for its showing of John putting things back in their place after their most optimal use, despite his relentless fight against the High Table with a ruling hand of the toughest order.
What works for the film is that it is entirely self-aware, and that's what makes the oft-funny moments more delightful than you'd expect, and you'll appreciate it. You wouldn't expect the laughs to come out of a fight in a Chinatown antiques store full of knives, but here we are.
Ian McShane reprises his role as Winston, manager of the Continental Hotel for well over 40 years, and Lance Reddick gets to flex more than his facial muscles this time round outside of his concierge duties for a most specific slew of clients.
Laurence Fishburne, the other obvious allusion to Reeves's Matrix past, returns also as the Bowery King, almost never without a pigeon in hand. We're joined this time by film veterans Anjelica Huston who takes on the role of Director, herding and training a blooming crew of killer ballerinas, and who throws in one of the more illuminating additions to the lore of John Wick.
Above all, we get to meet Zero (Mark Dacascos), who is as competent with a blade as sushi chef and as shinobi. Common tried in the second film, but it took Dacascos to really put in one of the most memorable performances against John who, let's face it, only allows you to perform in his universe the way he deems fit, and Dacascos killed it. Asia Kate Dillon (Billions, Orange Is The New Black) shows up as an Adjudicator, an honourable under-table auditor if you may. Their character primarily collects penance for the goodwill extended to John by those with a soft spot for him, but does nothing else substantial.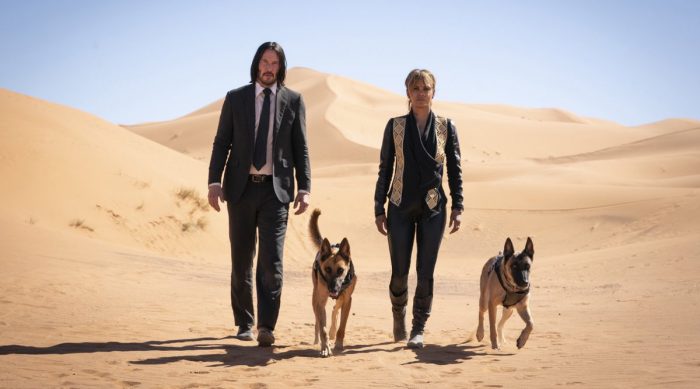 Perhaps the most esteemed casting to turn up is Halle Berry, who plays ex-assassin Sofia, serving the High Table in a 'management' role. While her action chops are hardly as believable as Reeves's always-maximum effort, the consummate actress manages to lend a commanding presence. That said, there is simply no way anyone will come out of 'Parabellum' without acknowledging the two Belgian Malinois dogs by Sofia's side. If the upcoming 'John Wick' TV series doesn't have a single episode dedicated to these dogs in its rumoured 3 seasons, then what is the point.
Outside of all the stunning attacks to the visual and aural senses at breakneck speed, 'Parabellum' continues to be able to showcase Reeves's distinct ability to tell full fables with what is likely the thinnest script in Hollywood.
When 'John Wick' first appeared in theatres, there was nothing to expect, except for Keanu Reeves to draw us in. We don't suspect anyone, even the directors and producers, ever expected this body of work to have come out from that experiment of insanity and the most inane motive for an assassin film pitch. 'Parabellum' is knives and guns a-blazin' without giving you any chance to breathe, much like Reeves's portrayal of the titular character, but yet comes across stylish in all manner of light, colour, and sound. If the Hong Kong battle sequence and carnage in Pacific Rim was condensed to the street level, you get 'Parabellum', and then some.
'Parabellum' is wholly dedicated to answering the last decade's question of who John Wick really is as a person, and we wouldn't be surprised at a fourth addition to the Wickverse.
Just don't expect him to adopt a cat.
GEEK REVIEW SCORE
Summary
Director Chad Stahelski and Keanu Reeves have done the impossible at raising the ante and pulling out every stop there is again to take our breaths away through incredulous fight scenes, just to showcase how one man we still know little about can outlast and outkill an entire world of assassins just to be able to live another day in remembrance of his loves. 'Parabellum' exists parallel to Reeves's IRL biography to the world, served to us in an impeccable suit.
Overall
9/10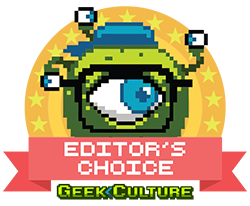 Story -

9/10

Direction -

9/10

Characterisation -

9/10

Geek Satisfaction -

9/10
One day Hiro have bottle of nice rum. Then Hiro smashed. Hiro never had chance to find rum name. Tell someone you love them before it too late. Hiro also harsh critic of people who walk dogs only one day a week.