As we continue to revolutionise the home with technology, one can expect tangible improvements with each generation of hardware. With the igloohome Smart Mortise Lock, the smart lock just got more brilliant.
Made by Singaporean start-up igloohome, designers of versatile smart access solutions, the care and attention to details can clearly be seen from the Mortise in its aesthetics and accessibility. It is no wonder that the company managed to recently raise US$4 million in its Series A Round funding.
For the low price of S$649 (with free installation till April 30), the Mortise is not only one of the most economical options in the smart lock market, but coupled with a free and fuss-free installation, stands out for a pleasant experience from start to finish.
Of course, there will have to be some modifications made to your existing doors to house the sleek Mortise unit and the accompanying locking mechanism. It should not be a problem as with the convenience of smart locks, going back to traditional locks is off the table.
In just under two hours, you will have a spanking new Smart Mortise, and can say goodbye to opening doors the old way. Together with the igloohome app, homeowners can easily unlock the door through various methods.
A PIN can be used via the LED touchscreen, and best of all, temporary PINs can be generated on the app, with a ton of customisation options like duration, time, and the option of permanent and one-time access.
Why? Say you are waiting for someone to deliver an item that can easily slip through your metal gate. All the delivery man needs to do is input the one-time PIN, open the door, and slip the package past the door and into the house.
Are you expecting a cleaner to come to your home at a certain time of day? What about having your kid come back from school? If they know that they have to be home by 3, they will. Otherwise, their PIN won't work and they will have to call you for a new PIN, thereby revealing what time they actually returned home.
Basically, if you ever needed to let someone in, this can be done easily with the app and the Mortise, and you do not even need Internet access. Also, a Master PIN ensures you will always be able to unlock your door.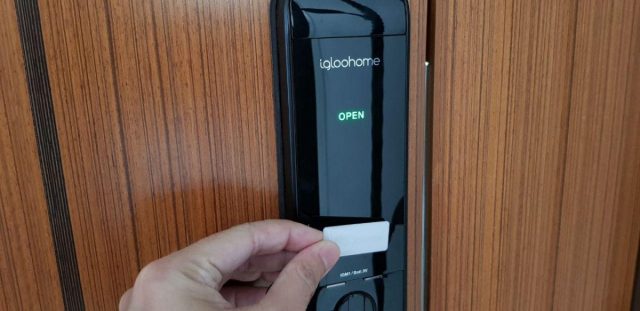 The much more preferable method is to use Bluetooth. A tap on your smartphone (within 1-2m) and the Mortise will unlock without a hitch. It is utterly convenient when your hands are tied up – just have someone press the screen when you are near the door and bam, instant access within seconds. The Bluetooth key can also be shared with guests, with customisable duration to make sure you are always in control.
Igloohome also provides you with two keycards and two RFID stickers, giving you a variety of options when it comes to opening the Mortise.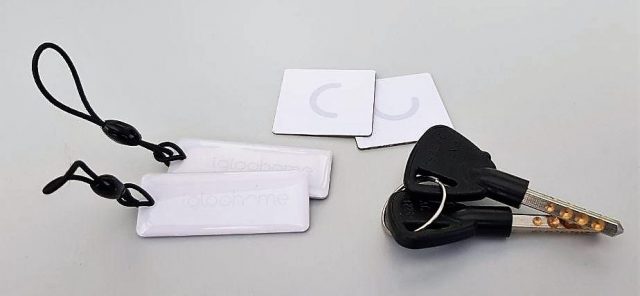 And for emergencies, you can always use the physical key provided. No matter what, you will always be able to enter your home or office.
To top it all off, you can always check the activity log via the app, which gives you a rundown of the times where the Mortise was unlocked, and with which method. One thing to note, however, is that the app is still being worked on, so there will be teething issues now and then. The igloohome team has assured us that more improvements will be made in the coming months.
Running on four AA batteries, the Mortise will remain functional for six months at least, following which it will alert you to change its batteries. If you just so happen to be without your physical key and it runs out of juice, you can jumpstart it with a 9v battery, just enough to grant you access.
The Mortise also comes packing a tamper alarm to deter any prying of the lock, and a fire alarm that automatically unlocks when temperatures of 50-70 degrees are detected. Now you are safe both inside and outside of your home with the Mortise.
At its attractive price point, a companion app, a suite of options, and convenient accessibility, there is much to like about igloohome's Smart Mortise. If you are sick of fumbling for keys and looking for an easy but secure solution to the tradition lock, then the Smart Mortise should definitely be on your radar.
GEEK REVIEW SCORE
Summary
An awesome smart lock with the looks to kill, the Smart Mortise should be on everyone's shopping list.
Overall
9/10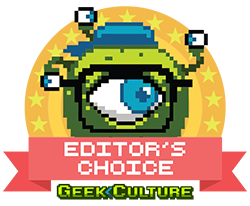 Aesthetics -

9/10

Build Quality -

8/10

Performance -

10/10

Value -

10/10

Geek Satisfaction -

8/10
---

Drop a Facebook comment below!