We're already reaching the end of October, which means that it's still not too late to start planning for Christmas. The perfect Christmas gathering at home might take a lot of work so instead, why not try something a little different? Get rid of all the muss and fuss by having a fabulous buffet with friends and family at The Carvery, Park Hotel Alexandra.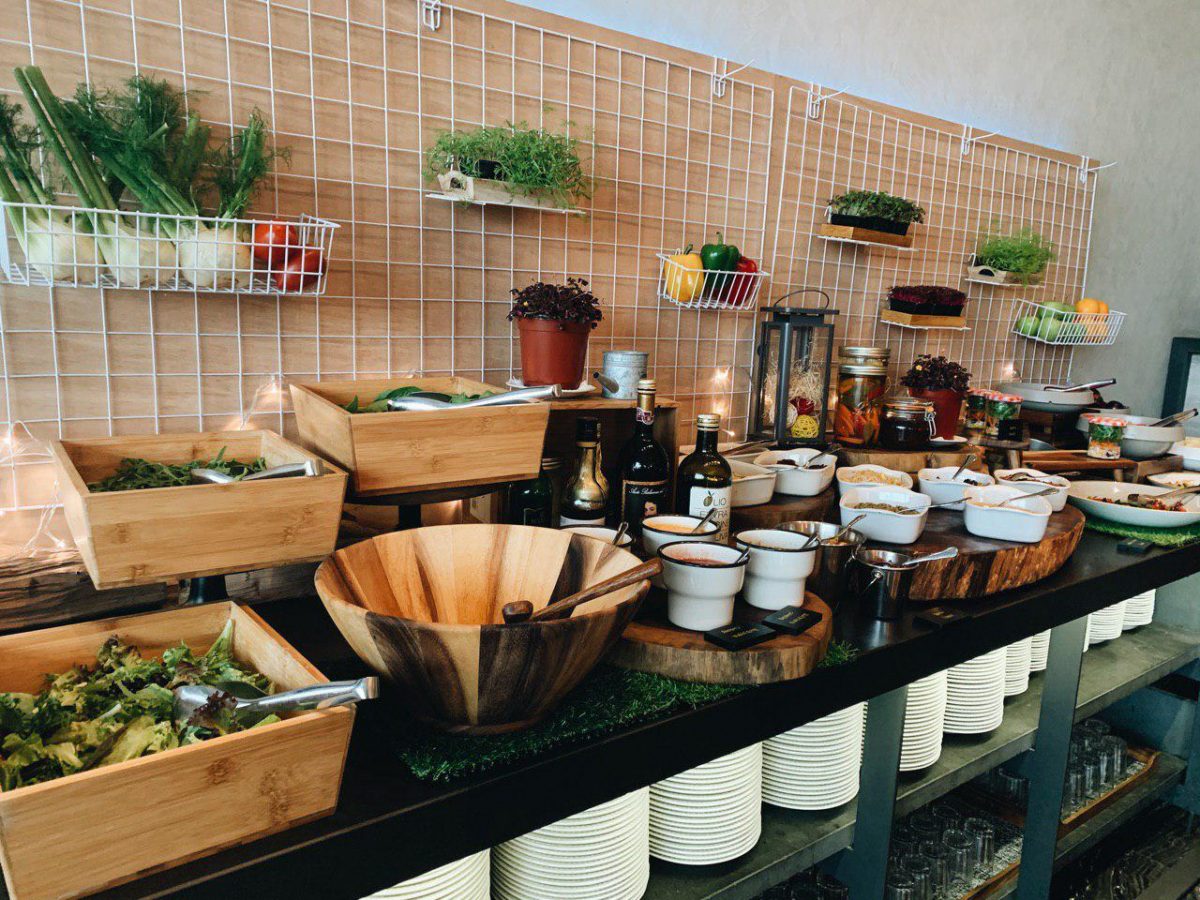 Themed "A Rustic Merry Christmas", the menu consists of comforting dishes to elevate the festive cheer all around, meant to evoke feelings of nostalgia. From as low as S$51++ for lunch and S$61++ for dinner, treat yourself and your loved ones to an exquisite meal that is worth every cent.
We know that filling up on carbs is a big no-no for buffets but you have to try their handmade festive pizzas. With a specially commissioned wood-fire oven, the thin-crust pizza is flakey and has a delightful charred flavoured. Some of the new festive pizzas include Pulled Pork with Pickled Mustard Seed, and Baby Spinach with Wild Mushrooms and Truffle Oil.
The spinach and mushroom pizza is light and flavourful, especially with the added drizzle of truffle oil that gives it an aromatic boost. Along with a slice of pizza or two, we would recommend grabbing some of the roasted carrots. These four different carrots are all sweet and retain a slight crunch that has gives them a great mouth-feel.
We all know that the stars of the buffet are the meats carved in front you by the chef. The 21-day Gin-aged Angus Beef Prime Ribs and the Spit-Roasted Chicken with Sweet Orange and Aged Balsamic Glaze are the specialities of this year's holiday-themed spread. 
The 21-day Gin-aged Angus Beef Prime Ribs is the first-of-its-kind, where is it aged over a period of 21 days with the smooth Tanqueray 10 gin, where the top-grade Australian Angus beef is accentuated with the juniper berries in the gin. The beef is soft and cooked until perfectly pink. You can choose to have it on its own because it's just that good, but there are a variety of salts and condiments that pair beautifully with the meat.
The Spit-Roasted Chicken with Sweet Orange and Aged Balsamic Glaze is also absolutely spectacular. Masterfully brined for at least 24 hours in a spiced bath, the chicken is then carefully marinated with a sweet orange and aged balsamic reduction before being sent to the rotisserie oven. The chicken is tender, juicy and the orange brings a sweetness to the chicken that is delightfully refreshing.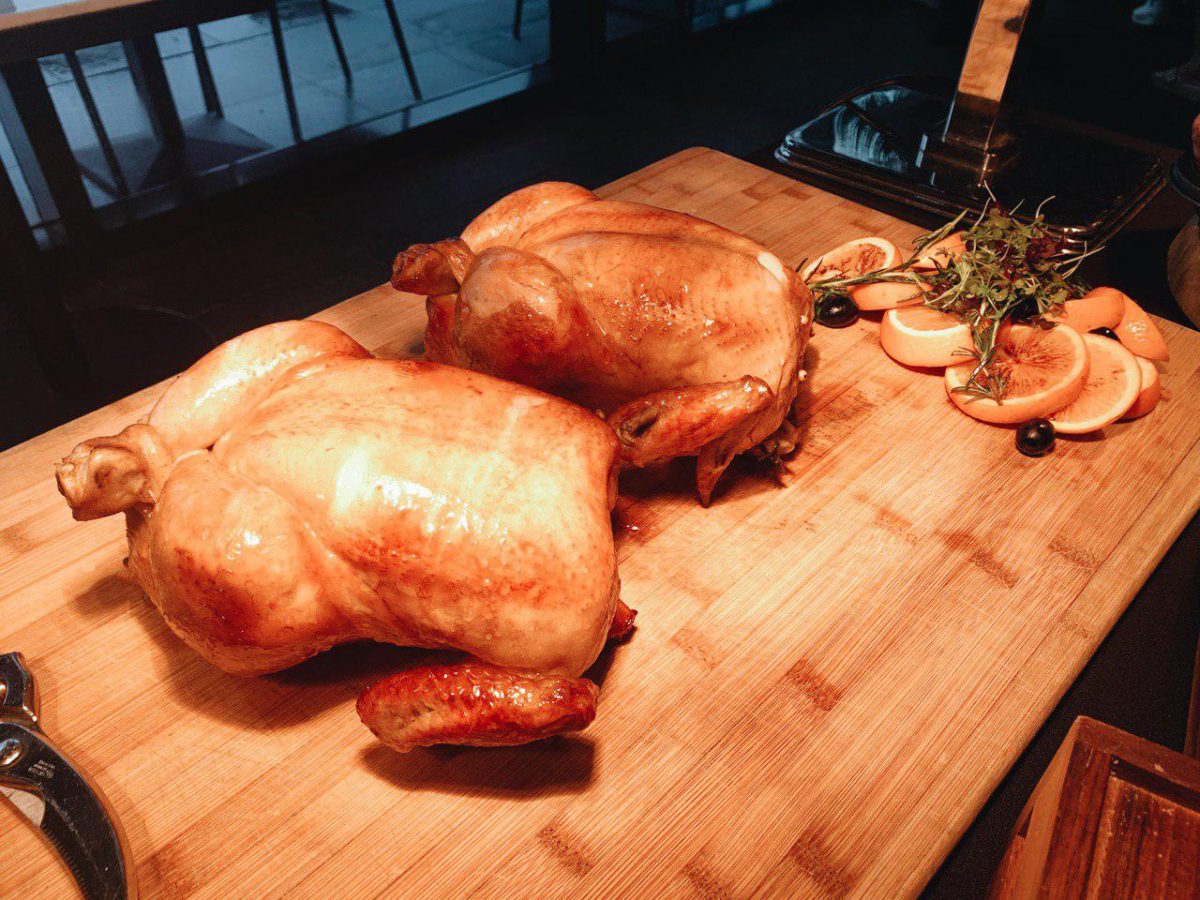 The Spit-Roasted Chicken is also available for takeaway if you want to bring The Carvery's delicious Christmas treat home. This dish is cooked-to-order and will be a hit amongst your guests. Each roast chicken weighs in at around 1.8kg, and will feed 3 to 4 adults. The package comes with roasted vegetables, herbed potatoes and balsamic orange sauce, and goes for S$46 nett. Pre-orders may be made online or via telephone from November 25.
Once you've made your way through the buffet and are ready to cap off your hearty meal, its time to tuck into some dessert. For a milder dessert, the Almond Rhubarb Pithivier is a wonderfully flaky pastry that houses a heavenly filling of rhubarb compote with an almond cream with rum and vanilla custard.
If you want something with a bit more tang, the Sticky Date Trifle is perfect for you. A twist on the classic English trifle, this layered beauty contains varying textures and flavours to create an unexpectedly cohesive and delectable dessert. Other desserts all focus on bringing the Christmas spirit into their menu with items such as Christmas Yule Log, Eggnog Crème Brûlée, Gingerbread Cookies and more.
All guests will also receive a complimentary glass of Festive Velvet Alexander Cocktail made from a special concoction of gin, advocaat and lemonade, garnished with a rosemary sprig and cinnamon stick. A non-alcoholic option, made of orange juice, honey and whipped cream, is also available.
The Carvery's "A Rustic Merry Christmas" buffet will be available from December 2 to 30. Lunch costs S$51++ for adults while dinners will be S$61++ from Monday to Thursday and S$72++ from Friday to Sunday. Children get to dine any day or time for S$34++. Disclaimer alert, these prices differ on Christmas Eve, Day and New Year's Eve and Day.
On December 24, 25 and 31 from 6:30pm to 10:30pm, diners get to experience a special VIP al-fresco seating at Aqua Luna. Guests can enjoy the gorgeous evening sunset views as they dine, and as an added perk, the bar has included a complimentary one-off serving of a Cold Seafood Platter comprising poached lobster, fresh raw oysters and cured trout sashimi. This iconic sunset bar regales revellers with a panoramic view of the beautiful landscape, making it a perfect spot for holiday celebrations.
Bookings can be made online, via Chope, or by calling the restaurant directly.
---

Drop a Facebook comment below!