There have been murmurs on the ground recently about the founder of Dyson making a rather significant home purchase in the land of Singapore, but this is about the product that established the empire.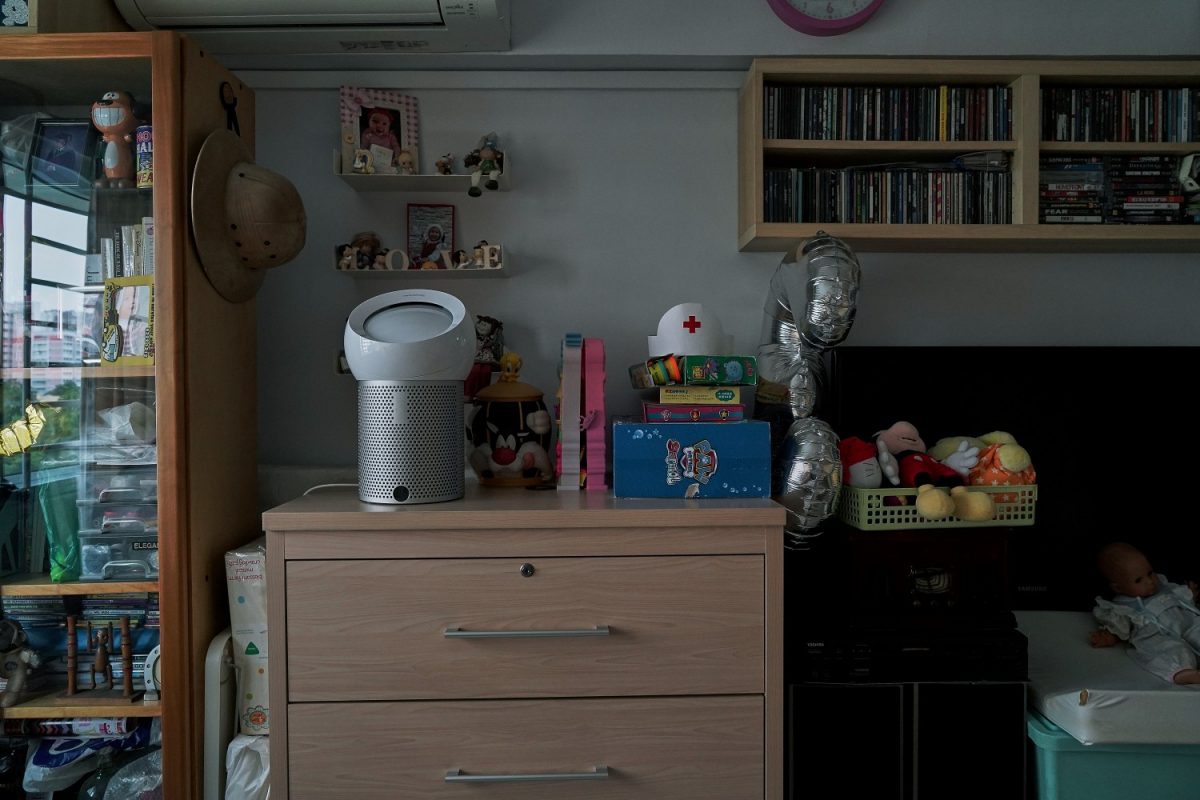 Basically, no one really needs a Dyson but let's face it – you've always wanted a Dyson.
It's just as well that Dyson just made the smallest and most affordable Dyson product in their stable of cool. They call it the Dyson Pure Cool Me BP01, and it combines an air purifier and a bladeless fan in one compact system, meant for your desk or at your bedside.
You happen to live in an apartment in Singapore where space is a premium – we're guessing Mr Dyson knows a little about this – so the Pure Cool Me makes a lot of sense.
Design-wise, the Pure Cool Me stands alone, even in a Dyson catalogue with their distinct design language. In fact, this reviewer needed more than a couple takes to fully register what it was at first sight, but there is no denying that the Pure Cool Me is a looker.
The Pure Cool Me is made up of mainly 2 parts. On the top is a sort of half-sphere that has the ability to rotate side to side in a 700 oscillation range. From here, cool air is also blasted from it even if there isn't a single blade in sight. Therein lies Dyson's signature Core Flow engineering wizardry where cool air is collected from the edges of the body and is projected outwards. With a gentle motion, the centre panel of the sphere is adjustable for a higher or lower projection of wind, depending on your preference to cool the area around you, or just yourself, because what's the point of being warm alone. Surprisingly, the Pure Cool Me has such controlled air movement that stray papers around our desks weren't at all affected, so that's a plus.
The other part of the Pure Cool Me is the base unit that looks like the perfect complement to the new Apple Mac Pro, which you now also can afford for one. The unit houses a Dyson filter that is required for air purification, wherein it filters the air that it first sucks in, before sending out the purified air. Dyson says the Pure Cool Me's sealed filter is a combination of an activated carbon and glass HEPA layer, and as one unit, can filter up to 99.95% of ultrafine particles from the surrounding air, including PM10 from pollen and allergens, PM5 from bacteria and mould, ultrafine PM0.1 particles, and even keep out odours from household fumes and cooking.
Oddly enough, Google ads informed us midway through this review that these claims are based on the Pure Cool Me after being tested for filtration efficiency at 0.1 microns (EN1822), and of course that gaseous capture rates vary, so, as good advice goes, your mileage may vary.
In my experience with the Pure Cool Me, I found generally getting better sleep and less nasal irritation while maintaining the same lifestyle and sleeping habits. This is quite a big deal in the office as I'd give my colleagues less stress when dealing with my nose works up, so major props to Dyson.
On the grilled body unit is a pretty handsome circular digital display that showcases the Pure Cool Me's airflow speed (from a silent 1 to a soft whirring 10), modes (mostly for the timer and oscillation), and lastly, air and filter quality (the filter reportedly has a 12-month lifespan). The Pure Cool Me is controlled by an equally handsome and minimally designed remote control that attaches to the front of the unit magnetically. Interestingly it has no connection to any of their existing family of smart apps. It makes sense though, since you're supposed to be in close proximity to the Pure Cool Me, the only thing you can be close to now.
All that said and done, we're betting that all you want to know is if the Pure Cool Me does its job of being a fan first and foremost. For a fan priced at USD499, you wouldn't be faulted for expecting it to blow your socks off, but it only does its best, if different job, in a cosy air-conditioned room for one. Perhaps it's more apt to think of the Pure Cool Me as a product for a more discerning individual who appreciates the slower life, where one appreciates the rustling of feet on carpet and the ASMR of fountain penmanship with the sounds of lofi hip-hop playing in the background barely audible. Perhaps that is you now.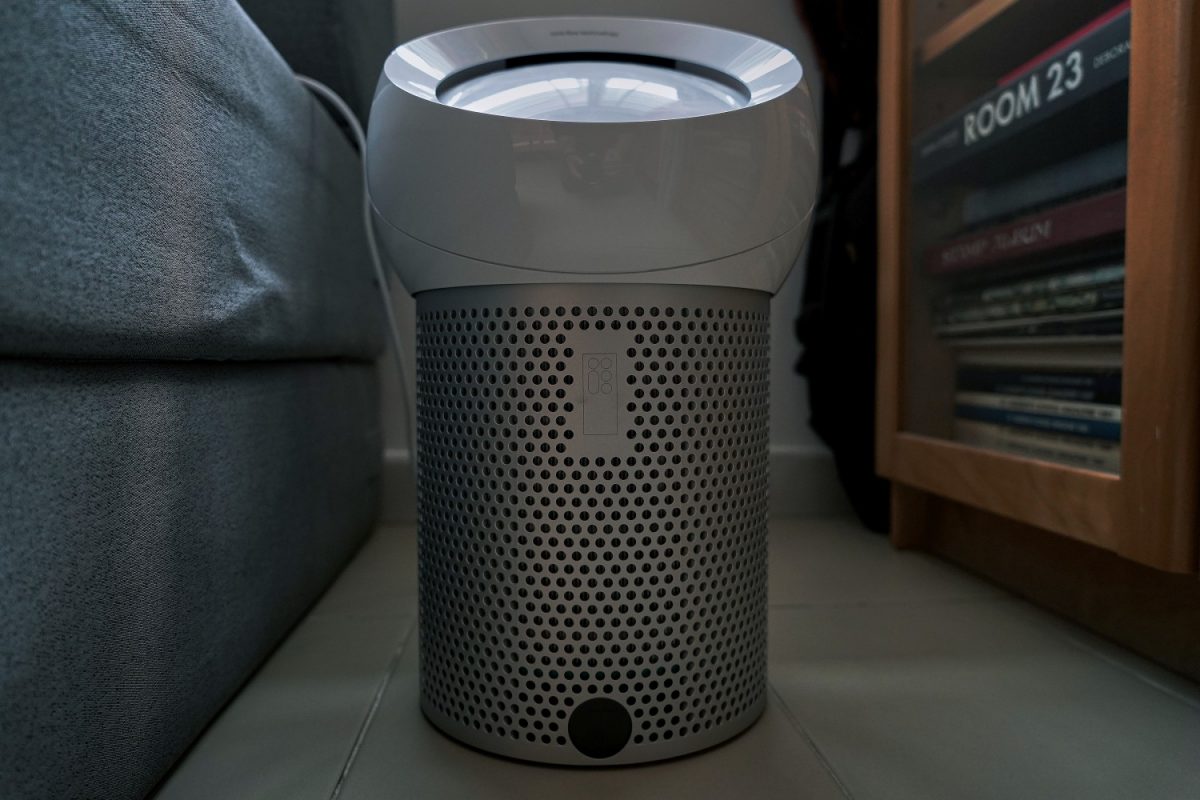 Dyson took a chance away from their usual, more upright designs that focused more on height and length and still managed to keep an aesthetic that is at once eye-catching yet non-threatening. You, of all people, know this to be true. After all, Dyson's first Dual Cyclone did win the 1991 International Design Fair prize in Tokyo, Japan. A Dyson invites you to better your home.
Performance-wise, it does literally what Dyson intended for it to do, as long as you don't expect anything more of it outside of cooling your own person in a cosy space where the Pure Cool Me can stand out as its own art piece. Least surprising of all should be its price, because it's decidedly not cheap, but what you pay for is an unyielding Dyson build quality, design prowess, and laser-focused purpose, if circumstantial.
GEEK REVIEW SCORE
Summary
Perhaps this is finally the right time to take a leaf out of Dyson's book, and you take a chance on yourself too with the Pure Cool Me.
Aesthetics -

9/10

Build Quality -

9/10

Performance -

8.5/10

Value -

7/10

Geek Satisfaction -

7.5/10
One day Hiro have bottle of nice rum. Then Hiro smashed. Hiro never had chance to find rum name. Tell someone you love them before it too late. Hiro also harsh critic of people who walk dogs only one day a week.