This past few weeks, women and men with long hair around the world have been glued to Facebook, watching videos of a hair gadget – the Dyson Airwrap Styler – which does for the old fashion curler what the Supersonic did for the antiquated hairdryer.
This baby is going to be on plenty of Christmas wishlists out there. Think of it like the BB-8, but for a predominantly female crowd. I managed to get one for my wife, which was like instant forgiveness for everything I've done to irritate her in our 10 years of marriage.
She's been using it for about a week now, and she hasn't yelled at me in all this time. Nice.
Aside from that, it also gives us enough hands-on experience to give our opinion of this miracle machine.
Meet the Airwrap
We were introduced to the Airwrap styler by Yongchen and Cara from Dyson at the Concept Store. Yongchen, a Design Engineer who worked on the Airwrap, explained the science behind the Airwrap and then my wife eagerly jumped into the chair to let Cara demonstrate on her hair.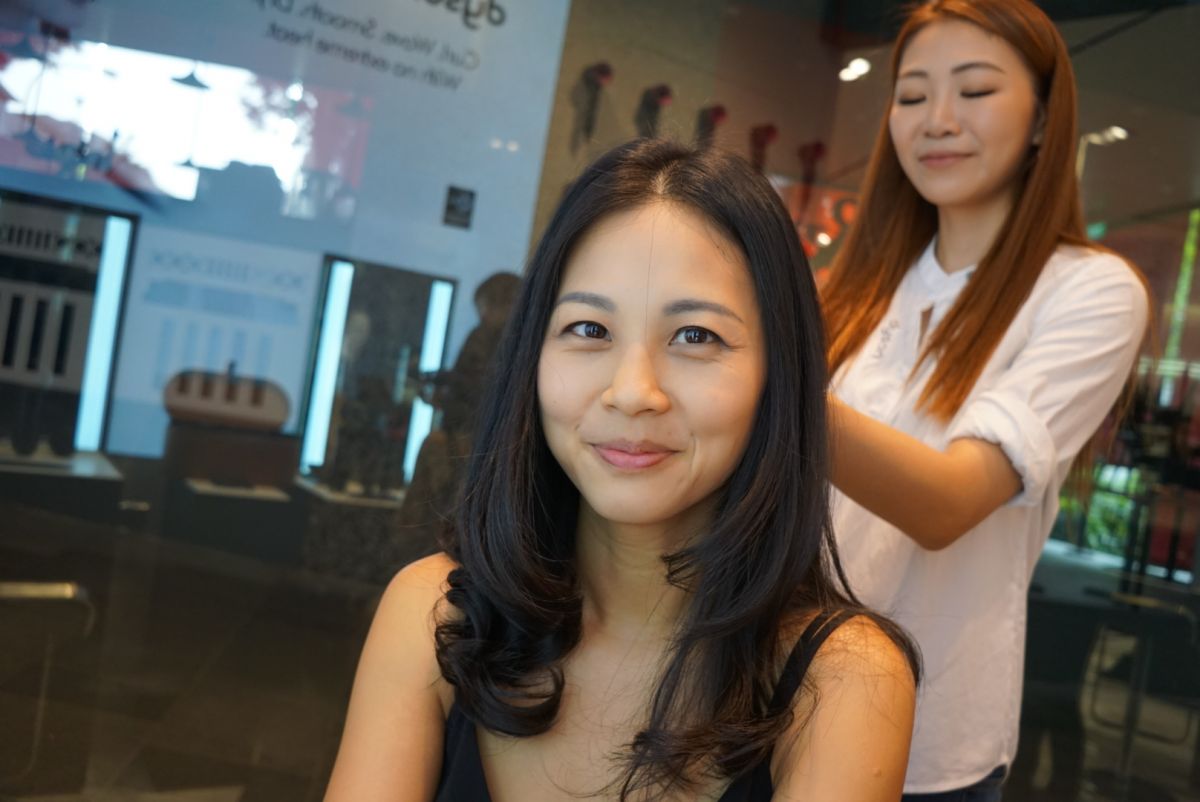 The Dyson Airwrap is basically a device that can be used to dry, straighten and curl your hair. By using different heads on the lightsaber-like styler unit, you're able to convert it into a blow-dryer, smoothing brush, and a curler with the signature Airwrap barrel. The Airwrap barrels will do this thing where it uses air to make your hair wrap itself around the barrel. Cool party trick, Airwrap!
And (and this is a really big "and") it does all this without damaging your hair. This is a really big deal when you've been carefully growing and caring for your luscious locks for years.
This is a claim that's confirmed by the Mrs, and the tech explanation for this can be found towards the end of this review.
Thoughtful design
Since the demonstration on day 1, wifey's been using the Airwrap quite a fair bit – especially on the first Friday when she had a girls' night out with some very envious friends. And with each use, she's come to appreciate more and more of the Airwrap's design.
Firstly, it's really convenient to use. The power cable connects to the styler unit through a swiveling connector (a feature that Yongchen was very proud of since it was one of his contributions), so the power cable doesn't get all twisted up when you turn and twist the styler around your head.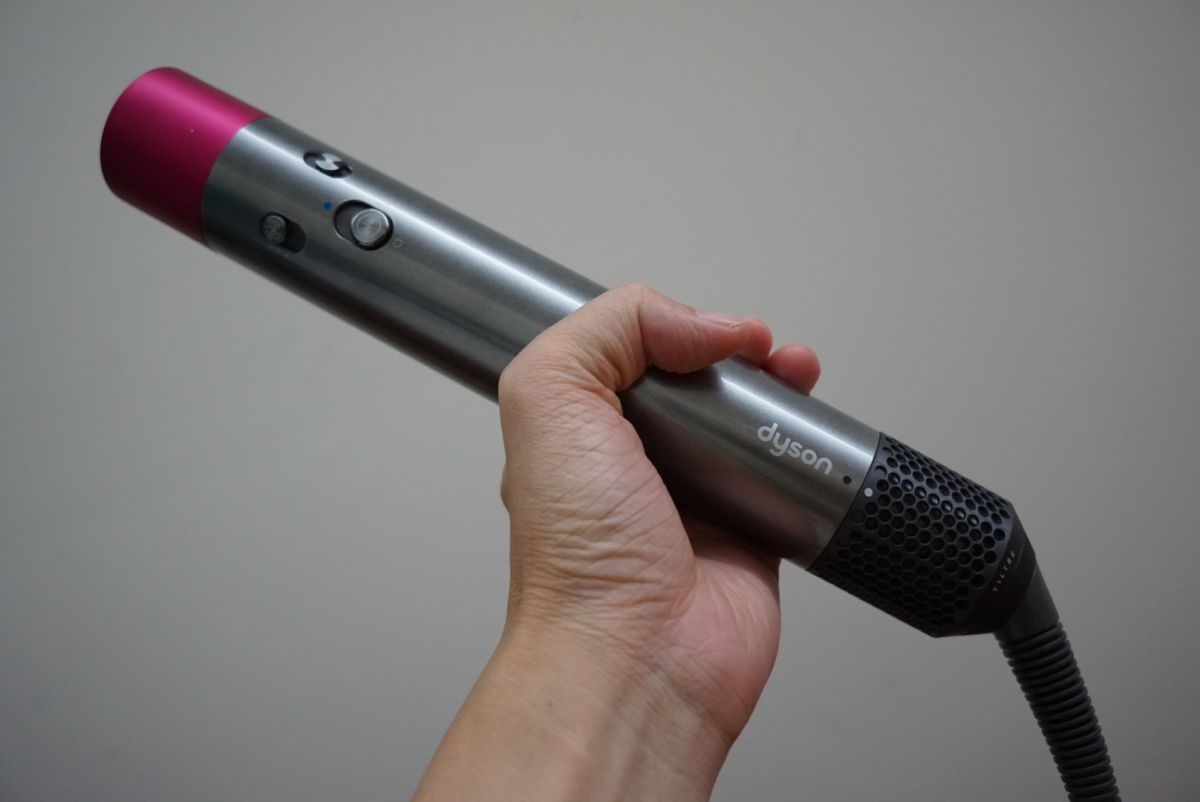 Changing the heads could've been a pain, but all the barrels are designed with a pink tip for you to pick them up by. These tips aren't hot to the touch even after use, so you won't burn your fingers while changing heads.
Also, the barrels have little arrows imprinted on them, which makes for a good visual indicator of which way your hair will curl after using it. Apparently, she will sometimes still accidentally curl both sides of her hair to twist the same way with her old curling iron, even after using it for years.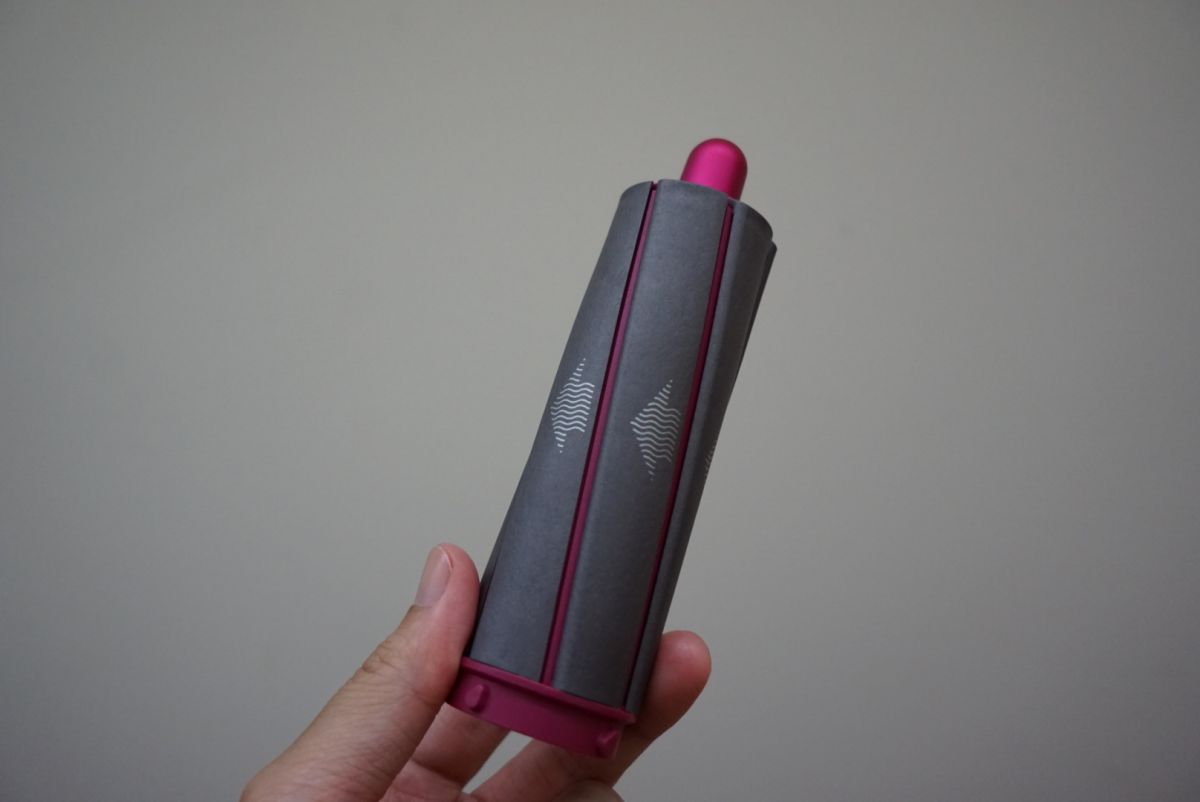 Something magical about the Airwrap is that it uses a phenomenon known as the Coanda effect (see below for more info) to make your hair automatically wrap itself around the curling barrels. Once wrapped, it will keep them wrapped and you can bring the Airwrap up and down your hair without getting it stuck.
This effect also attracts your hair into the smoothing brushes, making it easy to mimic the blow-dry technique. Whether you're straightening or curling, it's pretty simple to use.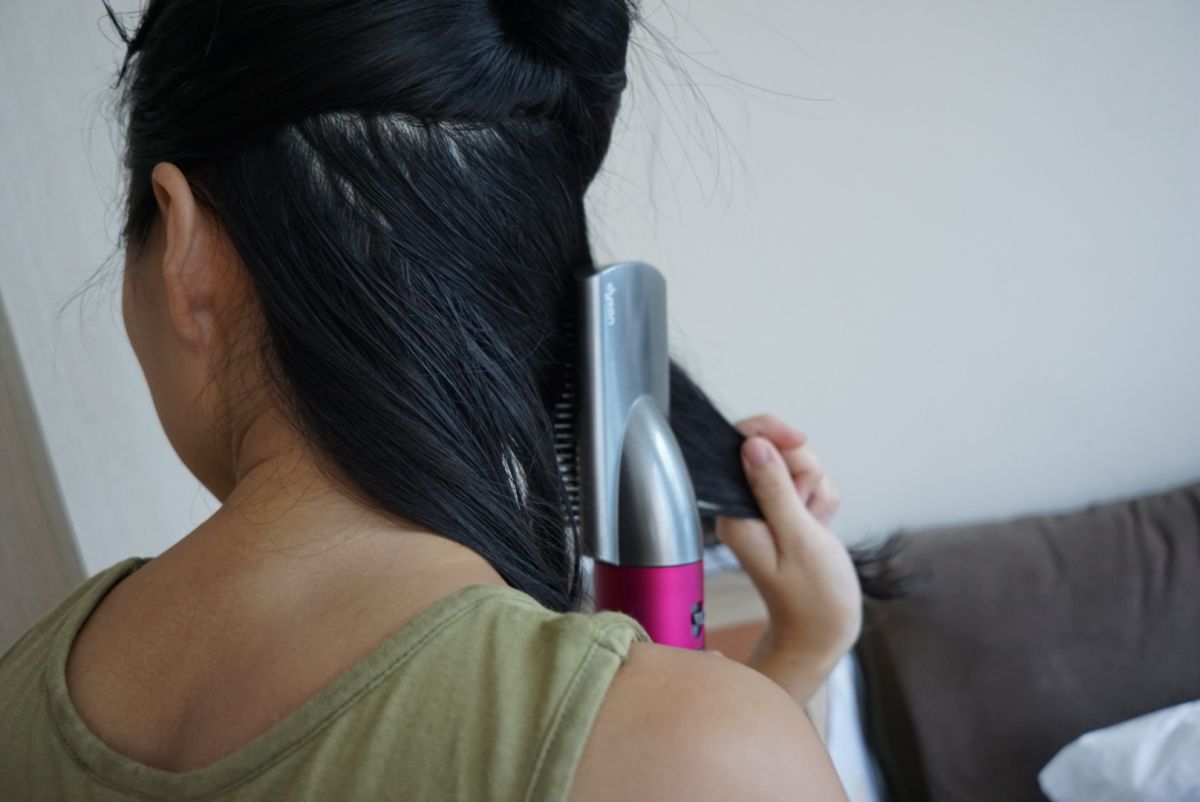 Depending on which set you buy, the Airwrap could come with up to 5 different sets of brushes and barrels, with the pre-styling dryer as a standard in all sets. The different heads are designed to suit multiple hair types, so there will be a head that's good for your hair.
Using the Airwrap also has another big benefit: check out all the accessories that the Mrs doesn't need anymore.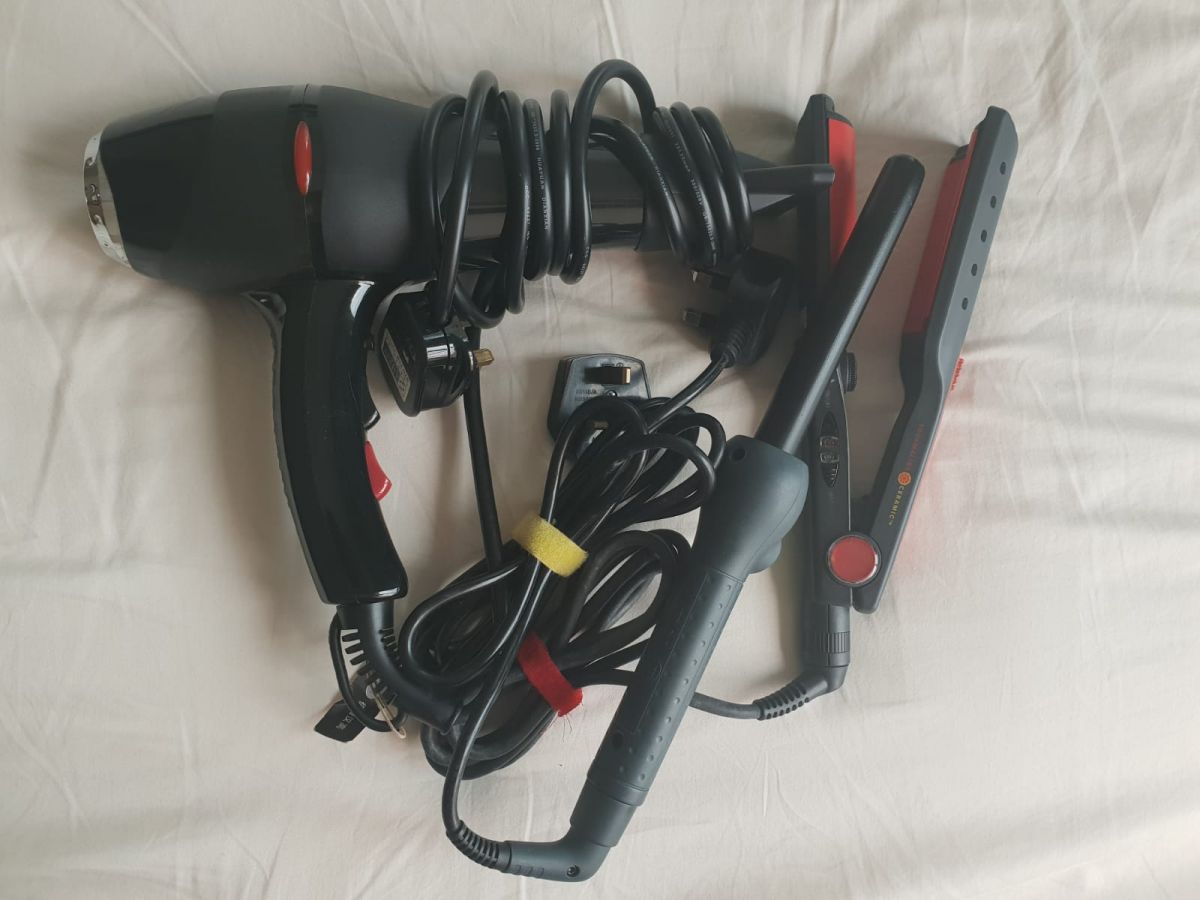 That's a big noisy hairdryer, a ceramic curling wand (that also requires her to wear a thick glove), and the hair straightener. These have since been replaced by the one Airwrap styler and the multiple heads, which come in a convenient and classy looking case.
Every day can be a good hair day
So the Airwrap is easier to use, and wifey tells me it's also faster. She said it usually takes her about 45 minutes (or approximately half an episode of her Korean dramas) to curl her hair with the old equipment, but the Airwrap takes her about 30 minutes – but she expects it to get faster because she's still using it like her old curling wand.
The really really important point to note is that her hair feels great after the curling. She mentioned that frequent usage of her old ceramic straightener and curling wand would make her hair feel burnt and hard, and frizzy. She feels more comfortable curling and styling her hair more often now.
Also, as smooth as her old hair straightener was, it would sometimes snag when being pulled along her hair, resulting in a painful yank. She hasn't experienced this kind of snag with the Airwrap yet.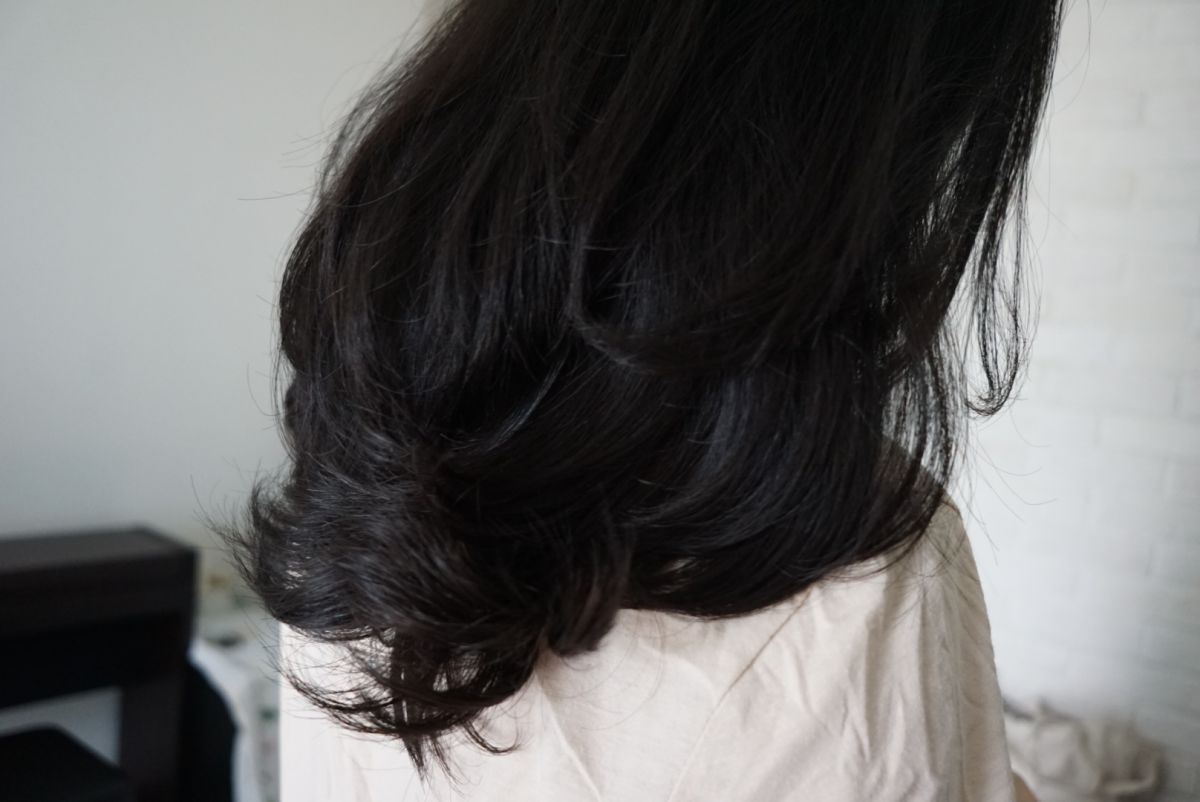 If there is one drawback though, it's that the curls don't seem to last as long – probably because it's not as hot as her old equipment. Wifey says that after 3-4 hours, the curls would become more like waves. With the aid of some styling products, they'll last longer. She got through a night out with the girls with her curls intact.
So it's really up to you if you'll trade the convenience and healthy hair for longer-lasting curls.
The tech under the hood
What makes the Airwrap so special? It's the use of the Coanda effect to attract your hair to the styler. What's the Coanda effect? It's basically the way a stream of air would curve along a convex surface. It's how curved wings on a plane create lift when air flows over it, and possibly how Professor X and Angelina Jolie can bend the flight path of bullets in that silly movie.
If you want to test the Coanda effect, just hold a spoon under running water from your tap, and see how the spoon gets sucked into the stream instead of being pushed away.
The Airwrap uses the Coanda effect to create a vortex that attracts your hair into it and keeps it wrapped around the barrel. When using the smoothing brushes, the air comes out of little jets that switch direction depending on which way you're brushing, and that also attracts your hair into the brush.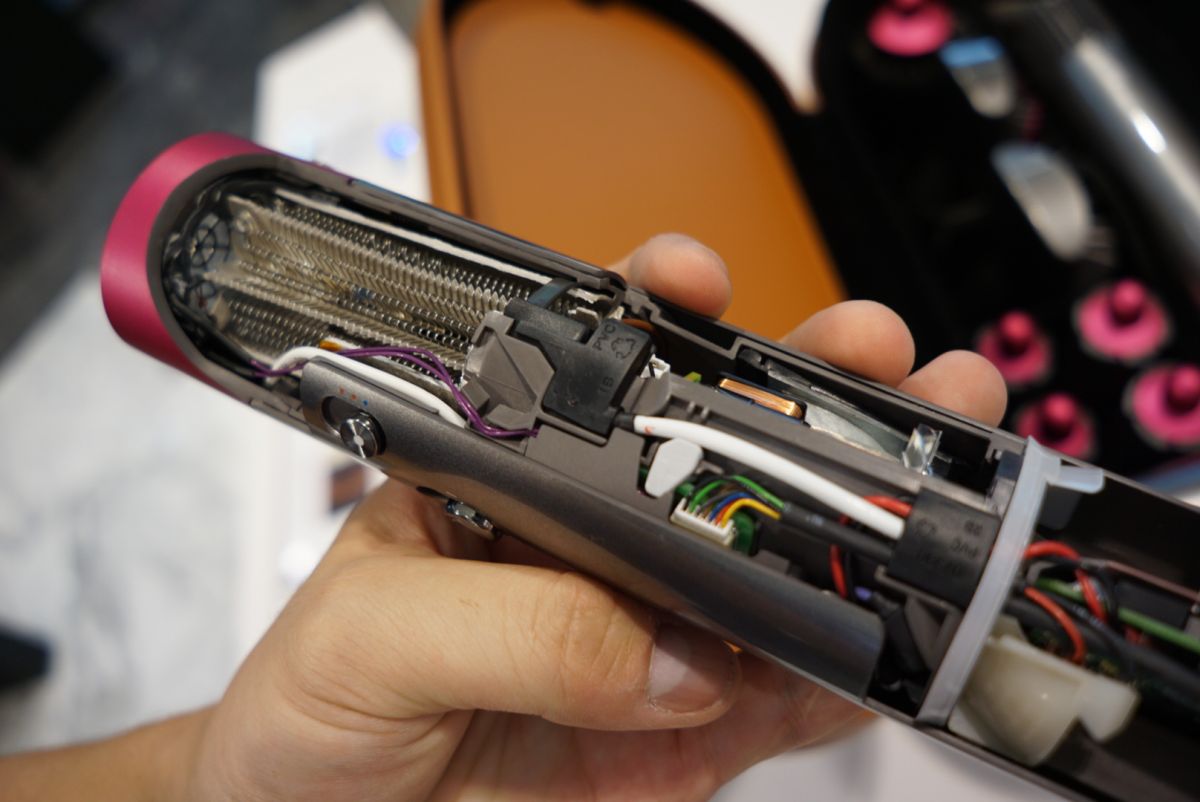 The healthy hair part comes from its controlled heat. Hair gets permanently damaged at 200°C, and traditional curling and straightening tools can reach those temperatures as they need extreme heat to make dry hair curl. The Airwrap is built with a sensor that measures the airflow temperature something like 40 times a second, according to Yongchen. It does this to always keep the Airwrap below 150°C.
It's able to function at a lower temperature because its designed to work on slightly damp hair, whereas curling wands work on dry hair.
Different sets for different users
There are currently 3 different sets of the Dyson Airwrap styler available, catering to different hair types. There's the Volume+Shape set for people with limp and flat hair, and the Smooth+Control set for fuller, frizzy hair.
Both the Volume+Shape and Smooth+Control sets are $649 each.
If you have different types of hair (or more likely you want to share it with your family), there is the Complete set. Not surprisingly, this one comes with all the different heads – 6 in total (Pre-styling dryer, 2 x  30mm barrels, 2 x 40mm barrels, Firm brush, Soft brush, and Round brush).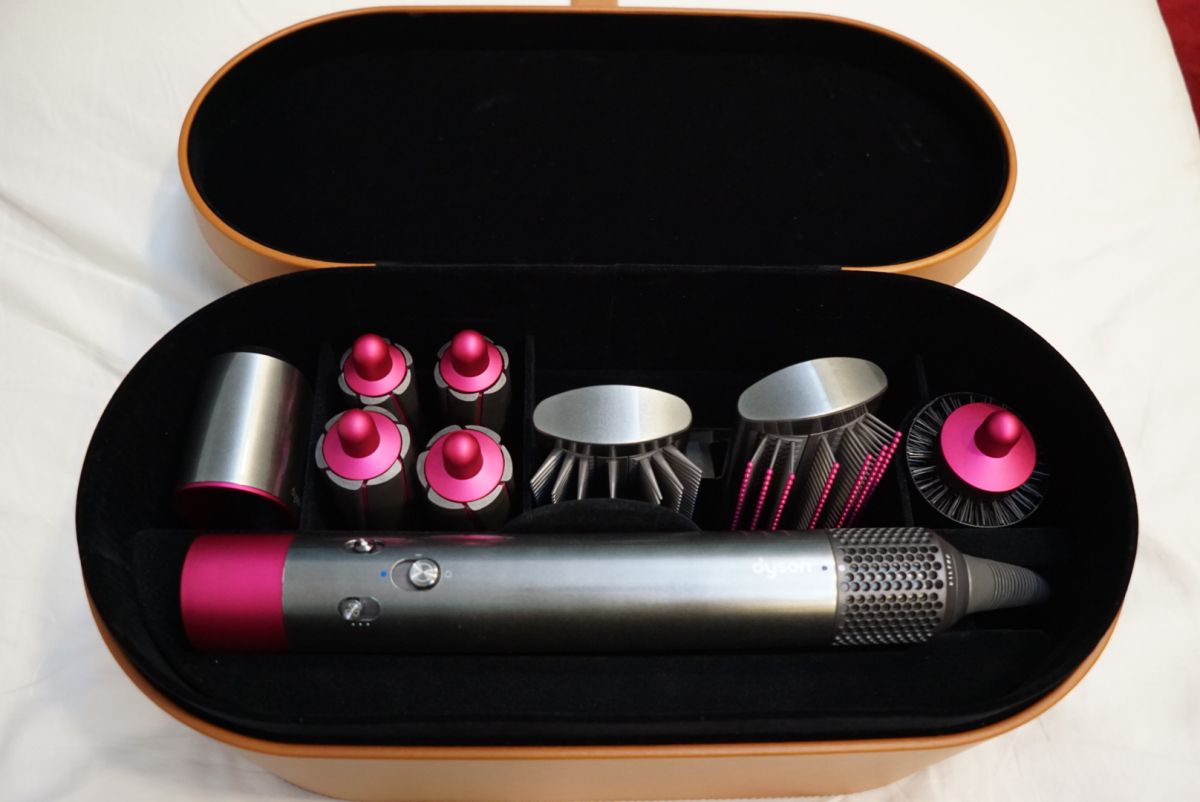 The Complete is a bit more expensive, at $699.
Is it worth buying?
If this review seems really positive, that's because it is. My wife is happy, and that makes me very happy. At almost $700, it's not the cheapest gift around, but if you're considering buying this for your partner, then keep that end goal in mind. You can always Carousell the old curling wands and hair dyers to subsidize the purchase.
If it's for yourself, then just go ahead and demo it at a store. Bring your credit card along.
Happy curling!
Oh and here's my wife and daughter unboxing the Airwrap:
GEEK REVIEW SCORE
Summary
At almost S$700, it's not the cheapest gift around, for yourself or your partner. But it sure is worth it either way!
Overall
9.6/10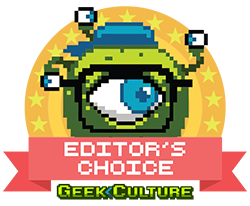 Aesthetics -

10/10

Build Quality -

10/10

Performance -

9.5/10

Value -

9/10

Geek Satisfaction -

9.5/10