By all accounts, the latest Final Fantasy XV is a certified hit, with accolades called upon it from all over the gaming realm. Alas, the same cannot be said for Distant Worlds: music from Final Fantasy.
If you're a gamer of any sort, you would have come across at least one (if not all) of Square Enix's famous RPG franchise, Final Fantasy. Primarily scored by Nobuo Uematsu, the games' various themes make up some of the most epic soundtracks in the gaming world. Distant Worlds: music from FINAL FANTASY is the ultimate world-touring geek symphonic concert that pays tribute to these audio masterpieces.
10 years after its initial debut, the global multimedia phenomenon has deigned to grace our shores again with an exclusive, one-night-only event held at The Star Vista. The concert played here last in 2009.
Despite its large seating capacity of around 5,000 tickets, the show sold out Lightning fast (hur hur), with fans clambering to get tickets up till the day of the concert.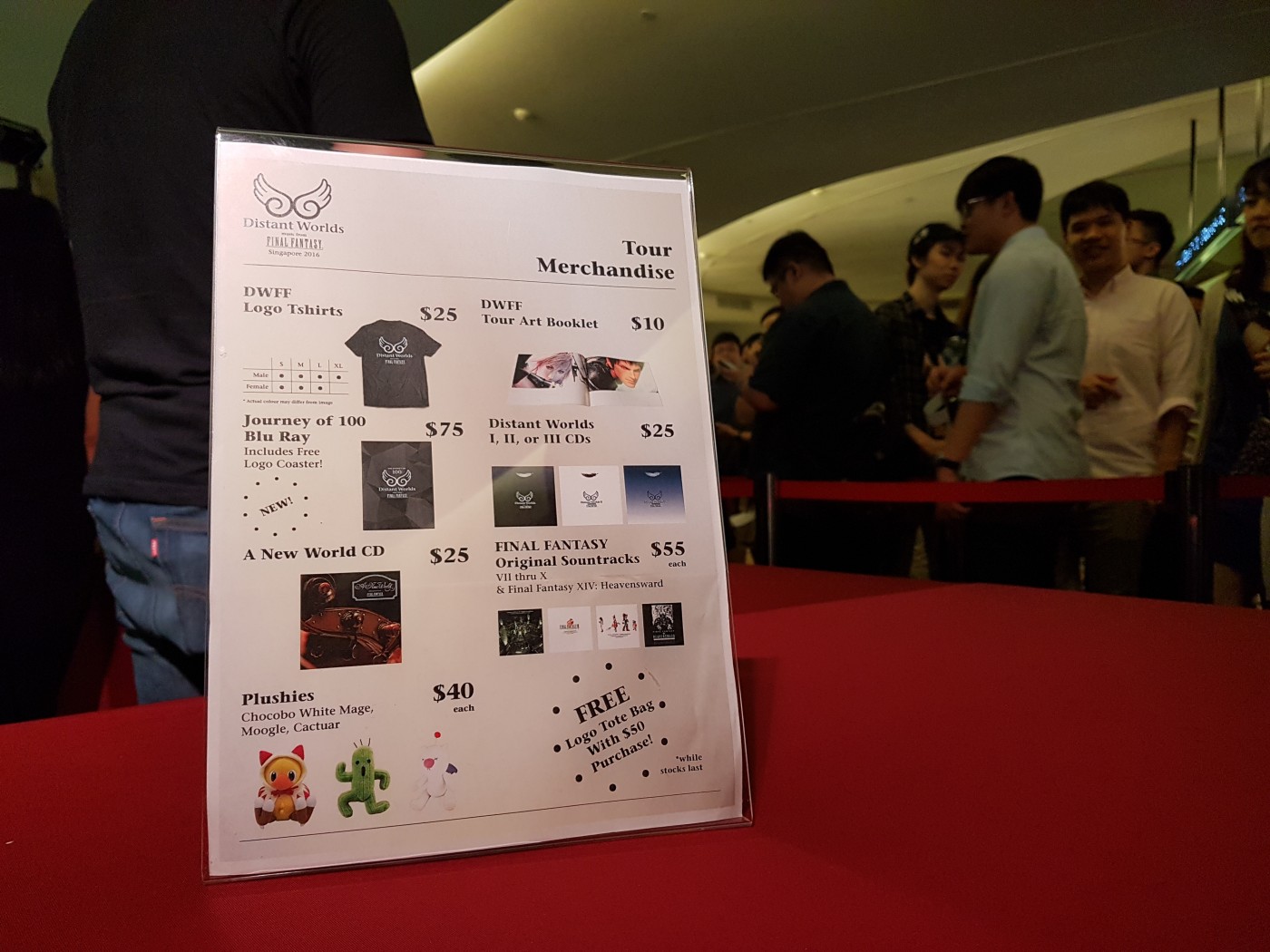 Some turned up as early as five hours before the event, to queue and purchase merchandise and while it was pretty standard fair for a performance, fans still eagerly snapped up them. The plushies and Blu-Rays were the first to sell out rather early on, but despite the dwindling supply, fans still determinedly stayed in queue to buy whatever they could get their hands on.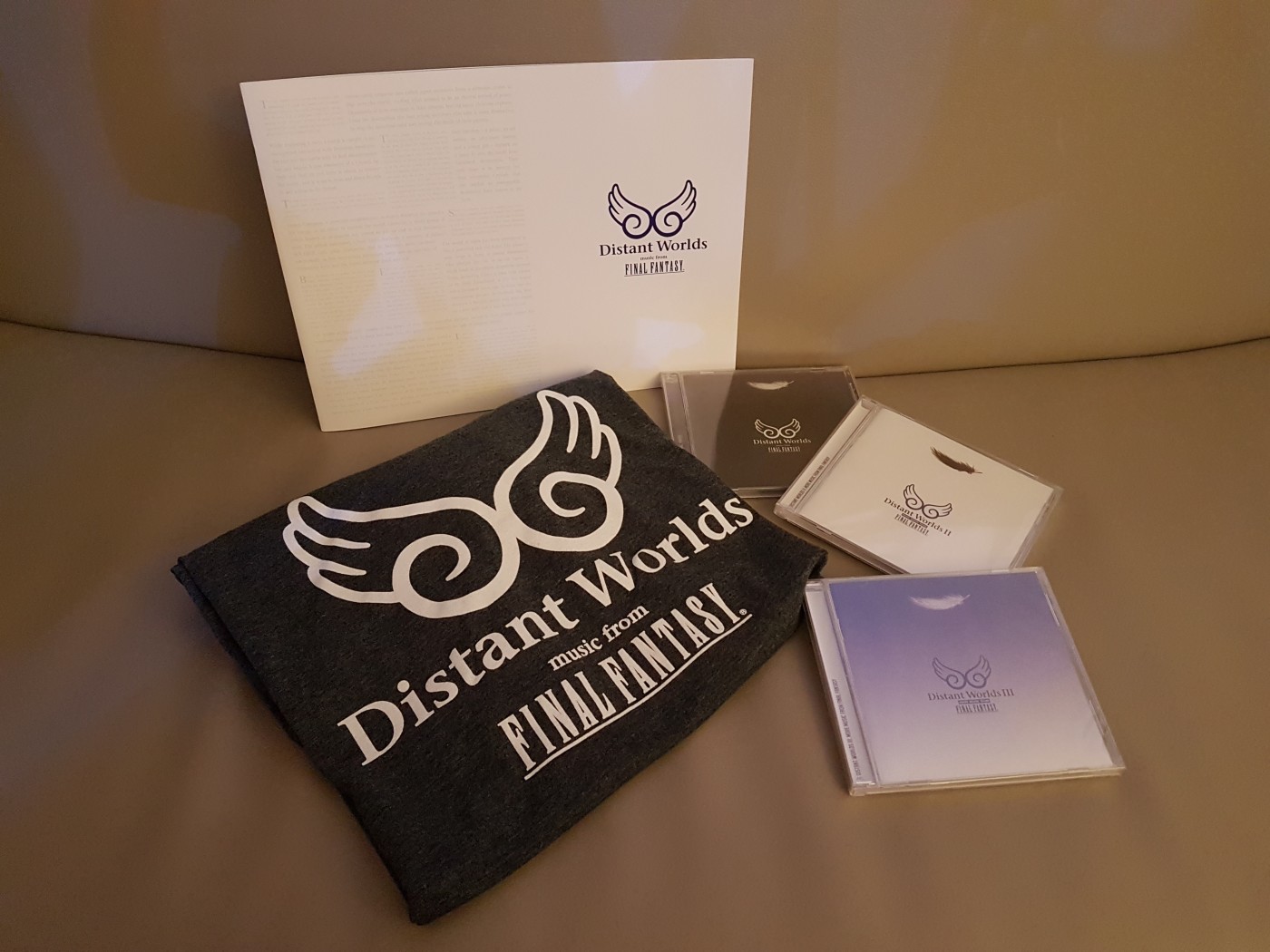 We managed to snag ourselves some pretty awesome loot after battling the forces of fandom for two hours, before wondering around the event space to see what else was going on.
At the venue, Sony PlayStation set up a number of standing booths for fans to experience World of Final Fantasy and Final Fantasy XV.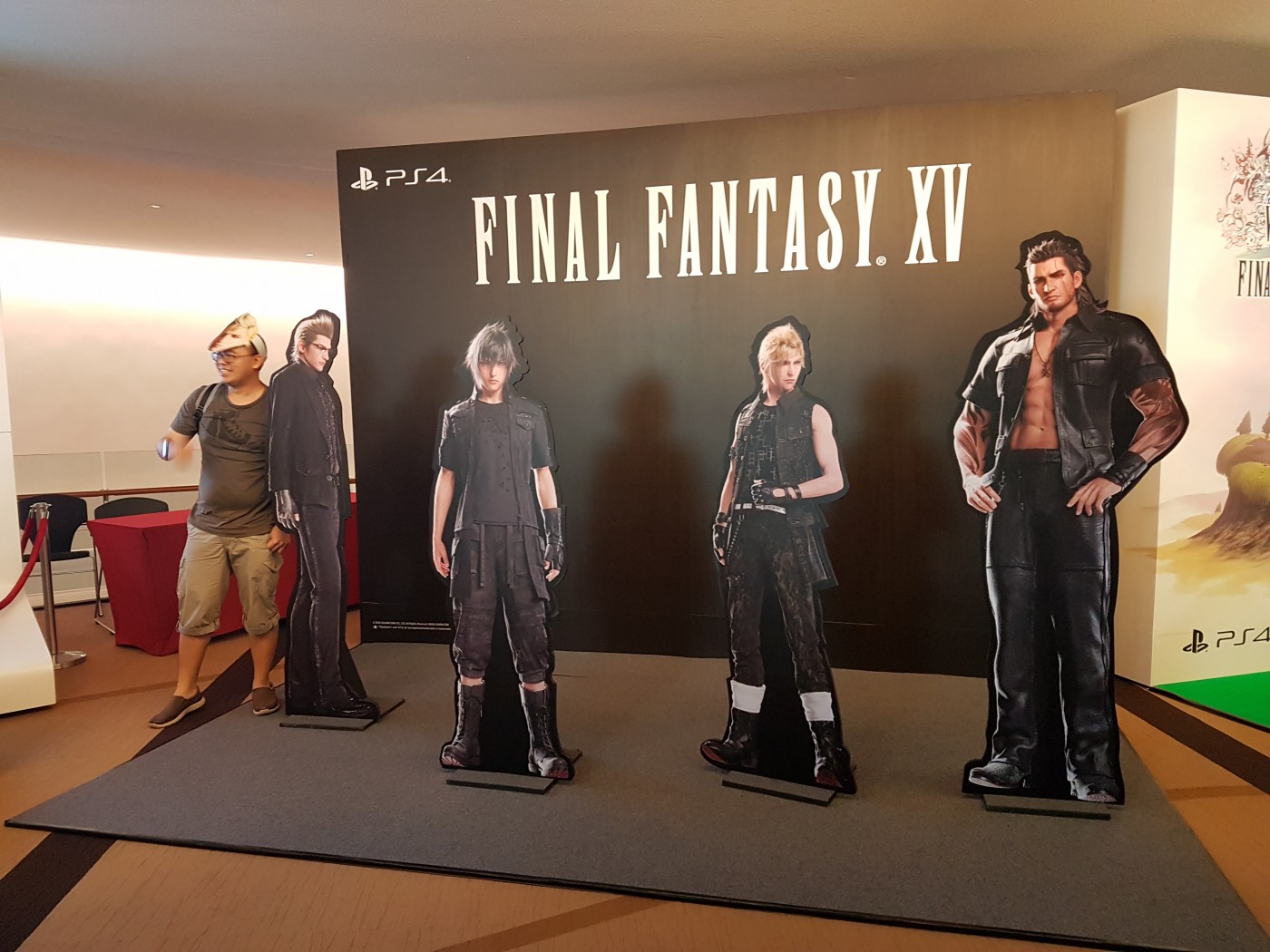 There were also huge screens playing trailers and scenes from Final Fantasy XV, as well as cut outs of Square Enix's latest boy band, Noctis and the Brotherhood. There were many hopefuls who wanted to try out to join the band, but the requirements were just a little too fantastical.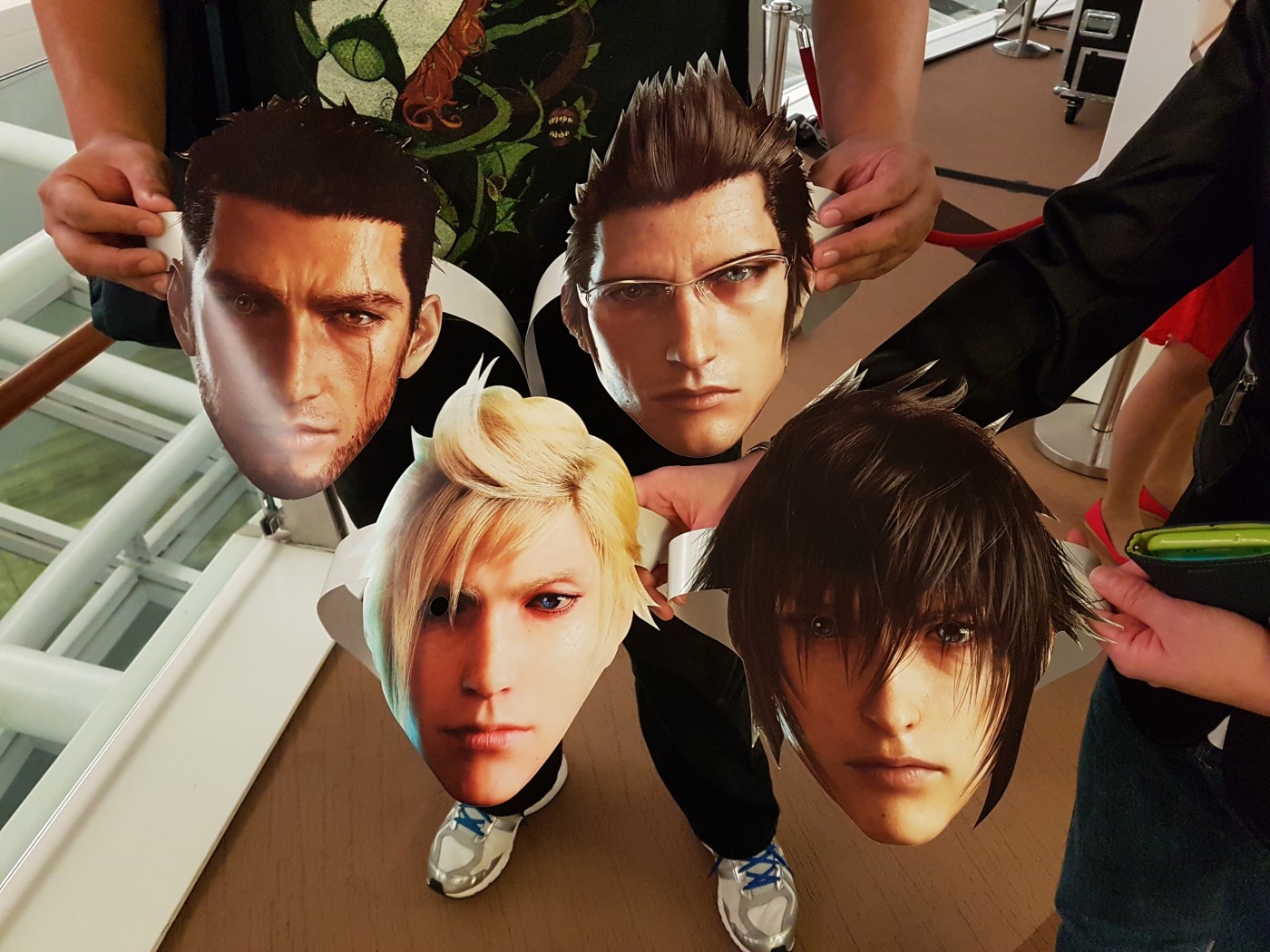 They were also giving out masks of XV's main party characters which was really cool, but also slightly disconcerting because it kind of looked like they all had their heads chopped off. But judging from how everyone was happily running around with their masks on, it was probably some sort of fantasy fulfillment for them to become their dream bishounen (pretty boys).
Finally, we were loaded up on merch, hyped up after playing FFXV and Final Fantasy World, and armed with our cut-out heads. On to the concert.
Distant Worlds is a mixed-media symphonic orchestra which uses video clips from the different games played against a live orchestra and choir. Unlike other performance, Distant World doesn't use a traveling orchestra and choir. Instead, they use local talents. For Singapore, it's The Metropolitan Festival Orchestra and Choir, led by acclaimed conductor and producer of Distant Worlds, Arnie Roth.
The concert covers an array of themes and songs from the long-running series but (for this concert) predominantly featured tracks from VII and X, a spattering of songs from VIII, VI and XI and some other concert staples. Sorry folks, but fans of FF to FF III left disappointed.
Starting with the unmistakable Prelude, fans were brought on an emotional, nostalgic journey for most of the concert, revisiting moments such as Rinoa and Squall's dance with Balamb GARDEN ~ Ami, and the highlights of FFIX with its powerful yet peaceful theme Not Alone.
There was a special performance by RIKKI, the original soloist for FFX's romantic theme, Suteki da ne. RIKKI's powerful, haunting vocals, coupled with the visuals taken from the game's cut scenes, really tugged on the heartstrings. RIKKI's voice might not be as sweet and young as it was some 13 years ago, but instead lent a deeper, more melancholic tone to the piece.
There were plenty of unexpected pieces played throughout the night. When surprised with Man with a Machine Gun, fans erupted into loud fist-pumping cheers and were happily bobbing along to the upbeat song in their seats. Another highlight of the night was being present for the world premier of the orchestral performance of Apocalypsis Noctis from Kingsglaive.
What made the show truly enjoyable was the passion displayed by the fans, as they cheered on each song and participated in the last encore. Judging by the response, Singapore has a larger fanbase of FFVII than almost any other game in the series. Visuals used during these performances included classic footage from 1997, as well as clips from Final Fantasy VII: Advent Children and the newly remade FFVII. It created an interesting contrast between the old and new, and also cemented the game's popularity and place in the franchise's history. The set list for FFVII included JENOVA COMPLETE and Cosmo Canyon, while are both fan favourites. However, there was one glaring omission that left some fans upset – the tearjerker Aerith's Theme.
Distant Worlds is more than an audio fest. It's an sentimental performance that contrasts the past and future of the Final Fantasy franchise. It's also a visual journey that brings you through the ages and advancements that the game, its system and visuals have made.
Sadly, the disappointment wasn't with the event, but with the Metropolitan Festival Orchestra. Maybe it is because they were new to video game music, but their timing was all over the place, like a Chocobo on steroids. There were many instances of dropped notes and fum, especially on faster tracks such as Battle on the Big Bridge. And while the casual listener might have missed them, the unimpressive acoustics of the event location made these tiny errors stand out a lot more. To be fair, the orchestra engaged the audience on an emotional level, drawing out sniffles during soft moments and inspiring loud cries of excitement during triumphant tunes, but their inexperience with the source material showed.
While most of the songs were thoughtfully put together with the visuals, one miss of the night was FFXI's Fighters of the Crystal. The visuals chosen didn't seem to match the mood evoked by the song, which left some feeling a little unsatisfied.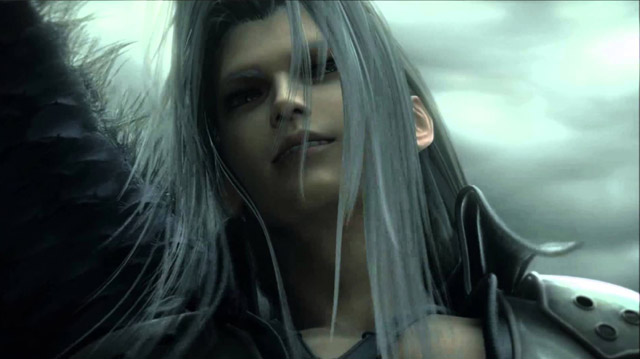 The night ended on a high note, with a one song encore performance of One Winged Angel that involved attendees singing Sephiroth along with the choir. Despite calls more another encore, the orchestra quietly and quickly packed up, and exited the stage leaving the audience just a little disappointed.
Distant Worlds music from FINAL FANTASY seeks to be the penultimate auditory experience for any lover of the franchise and, they have succeeded in that regard. However, there's no denying that the 2009 performance here was the superior one. Still, it is well worth the money for fans of the franchise, and here's hoping the concert comes back again.
Hopefully in less than seven years time.
GEEK REVIEW SCORE
Summary
A must-watch for all Final Fantasy fanatics.
Song Selection -

7/10

Visuals -

8/10

Audio -

8.5/10

Geek Satisfaction -

8.5/10
Victoria is a consummate dragon trainer fueled by ice cream and cake. A huge cartoon, tokusatsu, bronze and modern age comics fan, she aims to one day use her cosplay skills to become a spy like Sydney Bistrow.
---

Drop a Facebook comment below!