When it comes to curved monitors, immersion is the name of the game and like the other monitors in the BenQ MOBIUZ lineup, the EX3210R is designed with gaming in mind.
More specifically, it is a monitor built with the Massively Multiplayer Online Role-Playing Game (MMORPG) and Action Role-Playing Game (ARPG) genres in mind. Since games in these genres have players frequently in the fray, experiencing the heart-pumping action for themselves, a curved monitor wraps the game world around the player's field of vision by latching onto the edges of their peripheral vision, bringing the world inside the screen to life.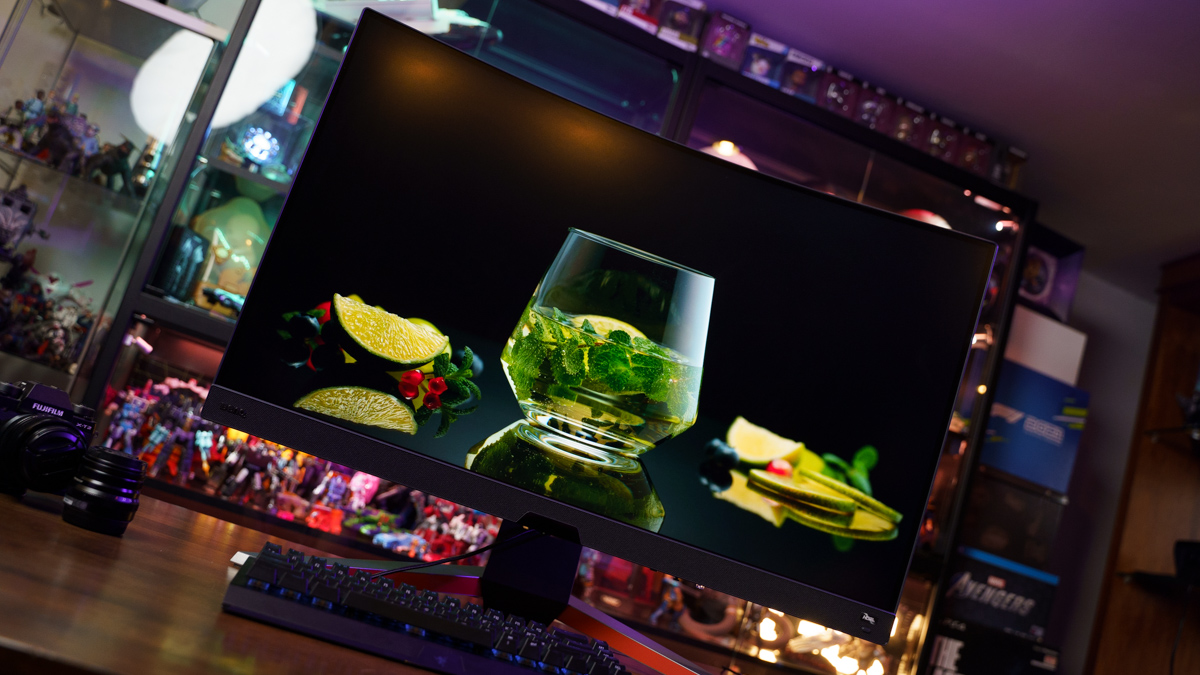 Of course, just because a monitor is curved doesn't mean that it will be able to achieve that high level of immersion, as the amount of curvature, the resolution, and aspect ratio all play a role in reaching an impressive visual fidelity so that the monitor can assert its advantages over a standard flat monitor.
The EX3210R boasts a 1000R curvature, which means it matches the curvature of the human eyeball. It is, theoretically, the optimal amount of curviness, allowing motion in your peripheral vision to travel the same distance to your eye, as if you were staring at it straight on. Technically, there should also be less eye strain when using a curved monitor, as the distance of the corners and edges of the screen to the eye is more or less the same as the distance from the middle of the screen to the eye. Thus, the eye doesn't have to constantly readjust focus. While the actual benefit in this regard is hard to confirm, visually, the monitor does fill the user's field of vision up in a comfortable manner.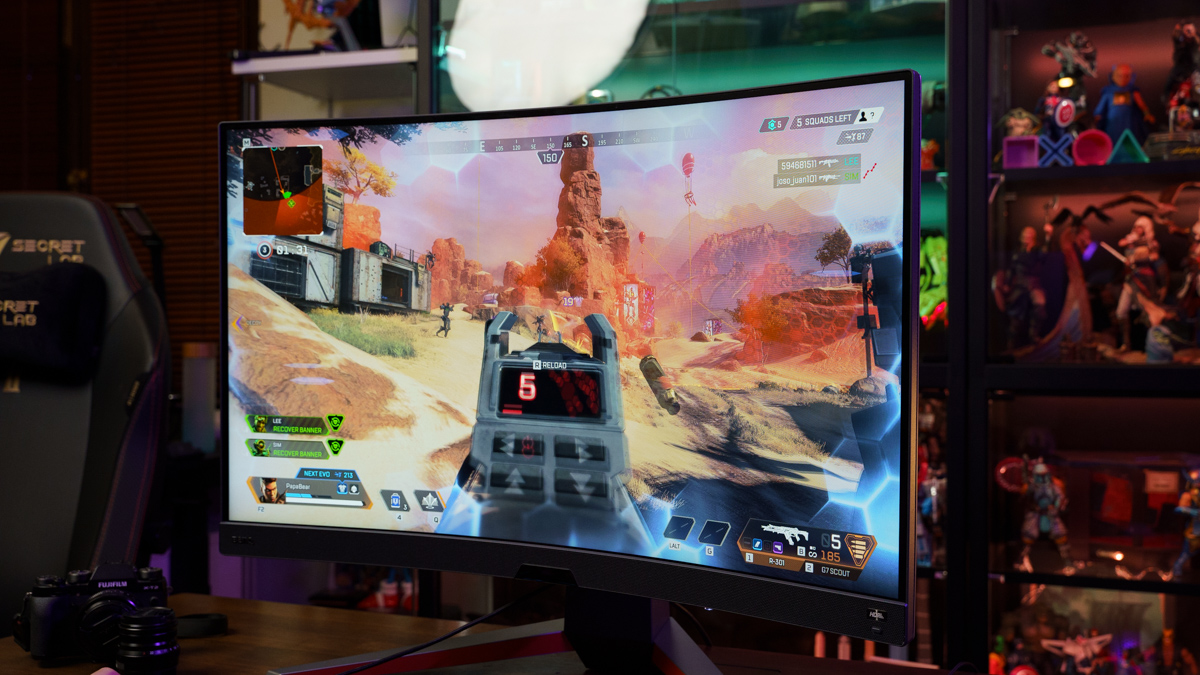 While playing First-Person Shooters (FPS) such as Apex Legends, there is still a palpable feeling of momentum and adrenaline while running and gunning through the stages, even though the EX3210R is not an ultrawide display.
Its aspect ratio is the standard 16:9, with a native resolution of 2560 x 1440 and a maximum of 165Hz refresh rate. The 2K resolution is not especially noteworthy in an era where 4K resolution exists, but the visuals in-game are still sharp and vivid, and isn't exactly a major compromise unless one is a stickler for running games at the highest of high fidelity. At 31.5 inches, the EX3210R is at a size where the resolution won't start fading out yet. Also, there is more guarantee that refresh rate, graphics card compatibility, and gaming experience will be smooth.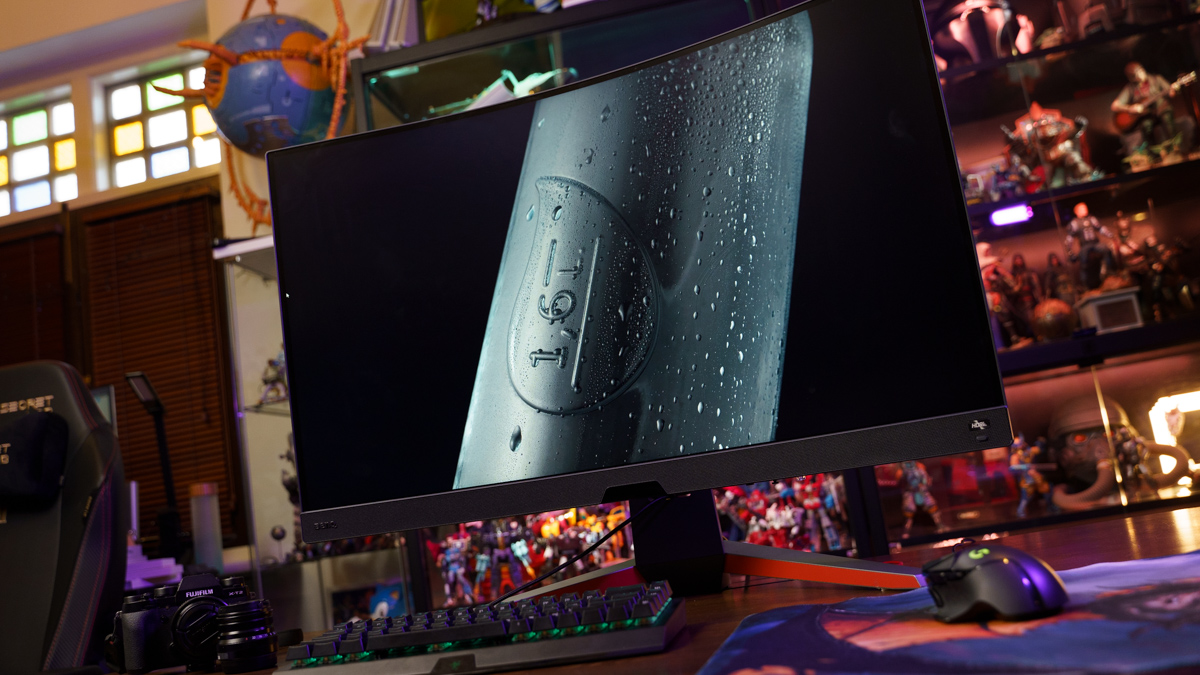 Instead of a regular high dynamic range (HDR) display, the EX3210R has BenQ's proprietary HDRi technology which brightens dark regions on the screen while not overexposing bright areas on the display. It optimises what is showing on the screen, ensuring that users get a more balanced view of images with better details without being too straining on the eyes.
This HDRi technology works on auto-pilot, and it takes both content and ambient lighting into consideration. This is done through a sensor along the bottom of the display. For users who prefer an overall brighter display though, it is possible to turn off this HDRi adaptive technology, sticking with regular HDR by choosing the DisplayHDR colour mode.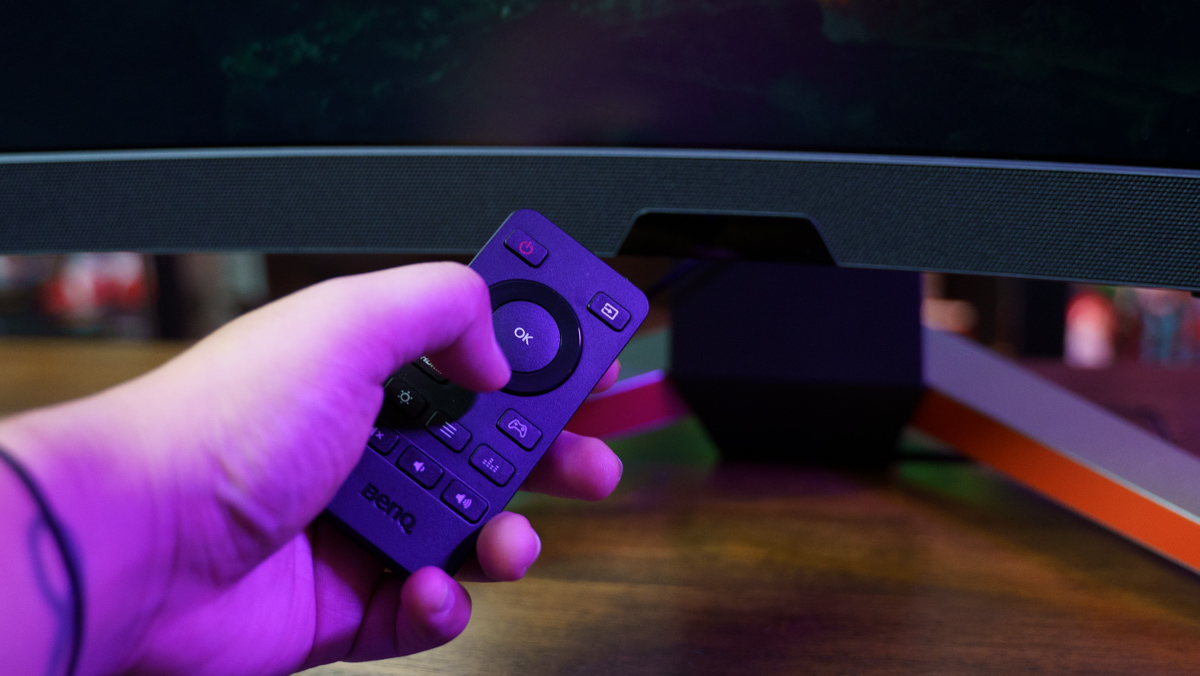 While the EX3210R is touted as a gaming monitor, it really is a monitor that is great for general use, albeit with a gaming bent. The display is a comfortable size for watching movies, with a remote control as part of the package for the monitor to serve as a device to watch shows on. The above-mentioned HDRi technology does make a difference to both games and movies, though whether the difference is positive is up to personal preference.
Audio-wise, there are two 2-watt speakers and a 5-watt subwoofer. That is more than sufficient for casual music listening, and the audio from movies and YouTube videos is clear. While the sound is going to be more than competent, it naturally is no match for proper external speakers or headphones. Still, it is good to know that BenQ didn't cut corners with the built-in audio quality of the EX3210R.
The monitor also works as a productivity monitor for reading, writing, and editing documents. This is evident in the ePaper colour mode option, which simulates the display of an ebook reader. It lowers the contrast and brightness, going into grayscale and maintains a gentle colour temperature that's conducive to longer reading and writing sessions. A feature like this is going to be a staple for users with dry eyes and prone to eye fatigue, and really deserves to be much more commonplace.
One thing that BenQ consistently does with all the features of the monitor is their attention to eye care. Understanding that users nowadays do spend a lot of time staring at a screen, BenQ placed a lot of emphasis on minimising eye strain. Beyond the HDRi technology and ePaper colour mode, the EX3210R also features low blue light, flicker-free technology, and customisable colour vision mode for people with colour vision deficiencies.
The attention to eye care, while not exclusive to BenQ's EX3210R monitor, shows that BenQ has the users' comfort in mind while still retaining the ability to display high quality videos and images. It isn't simply obsessed with assaulting eyeballs via increasingly brighter colours, sharper details, and denser pixels.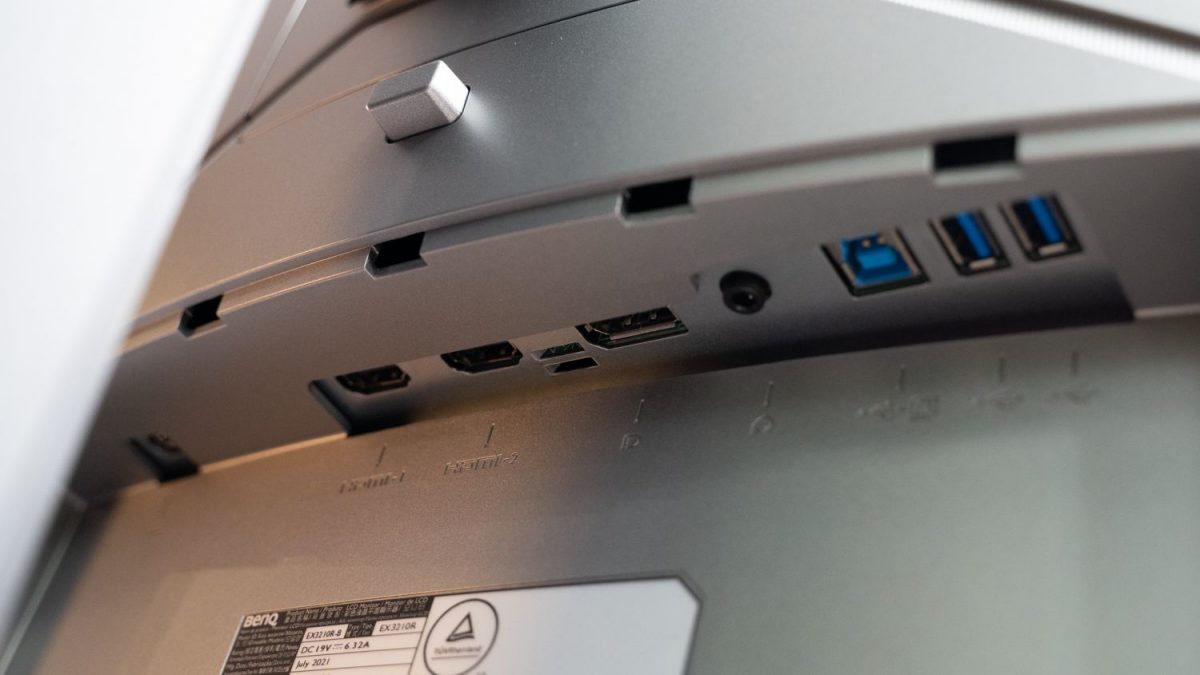 Where the EX3210R loses points, however, is in terms of the placement of its ports and the design of its stand.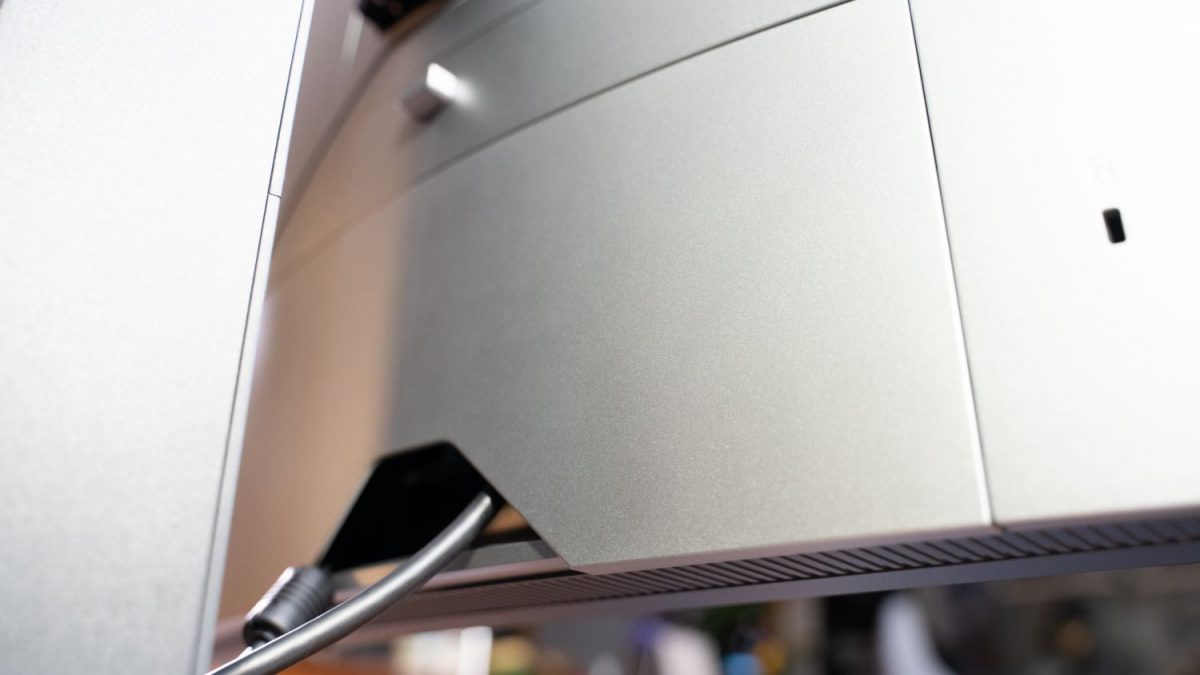 All the two HDMI 2.0 inputs, a DisplayPort 1.4, two USB 3.0 ports, a USB Type-B port, and a headphone jack can be difficult to access as they are located behind the display, slightly below the middle. This makes it inconvenient to reach those ports while sitting in front of the screen. Switching out cables and inputs is a bit of a hassle, especially if the cover for the ports is used. For users who don't need to switch out connections frequently, this won't be an issue, but for those who do, this is something to consider.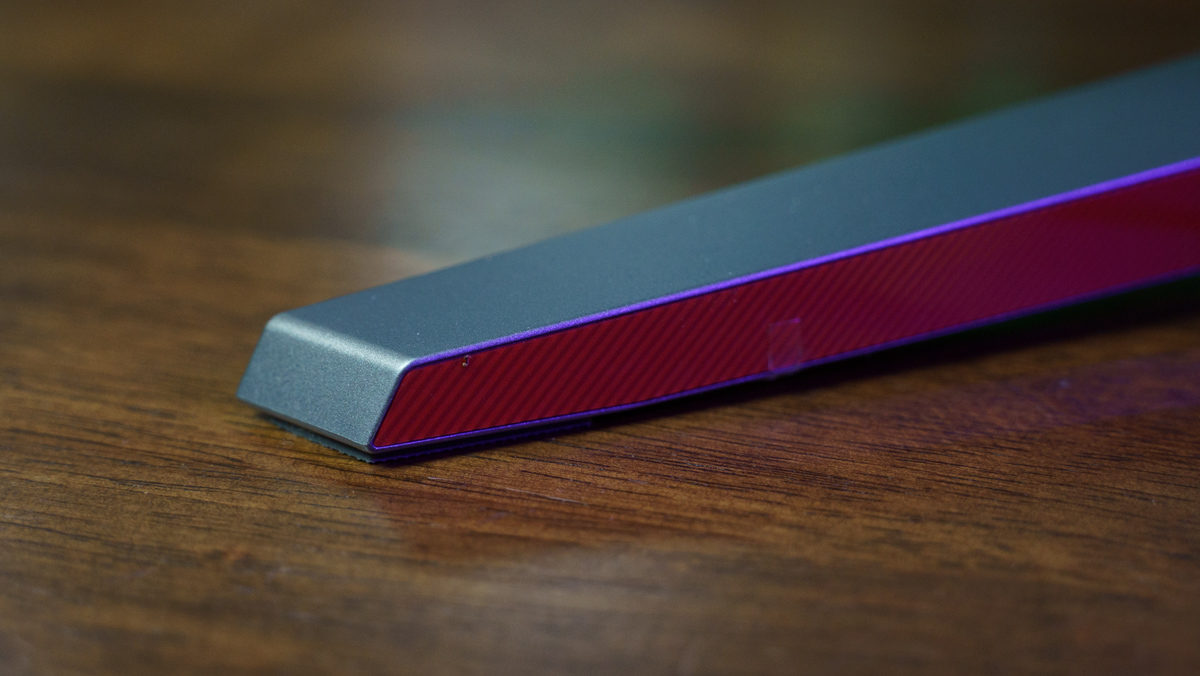 As for the stand itself, the somewhat sharp corners make it easy to end up scratching the user's table and other objects while the monitor is being set up or shifted around. This is more of an issue because curved monitors are much heavier than regular flat monitors. At 9.7kg, carrying the EX3210R around is a workout in itself. Again, this points to the way this monitor is meant to be set up once, and then used for a long time. If the screen's position needs to be adjusted, it can be swivelled to either the left or right for up to 15 degrees, can be tilted either down or up from between -5 degrees to 15 degrees, and has 10cm of adjustable height.
However, it is unlikely that users who need to constantly reposition their monitor would go for monitors of this size and weight. For what it is, the EX3210R is a monitor that still affords some flexibility in that respect. The EX3210R is really for users who want a monitor for general purposes to go with their PC, with an additional inclination towards gaming. With that in mind, it is really a monitor that isn't lacking in much of anything, as long as one doesn't have specialised requirements or needs. For US$699.99, this is definitely a monitor that one would use for a long time.
GEEK REVIEW SCORE
Summary
BenQ's EX3210R is more of a general monitor with a gaming bent than a hardcore gaming monitor. The brand's signature focus on eye care also makes it a monitor that causes minimal fatigue even after hours of use, and is a superb monitor for users who don't have any specialised or overly specific demands.
Aesthetics -

7.5/10

Build Quality -

8.5/10

Performance -

8/10

Value -

8.5/10

Geek Satisfaction -

9/10