The ASUS' ROG Flow Z13 is a curious device. It is a tablet-laptop hybrid that places the processing power of a gaming machine into the form factor of a productivity device and as such, it combines the strengths of both, of powerful processing power and portability. However, it also inherits a few flaws, and being more awkward to use compared to a laptop.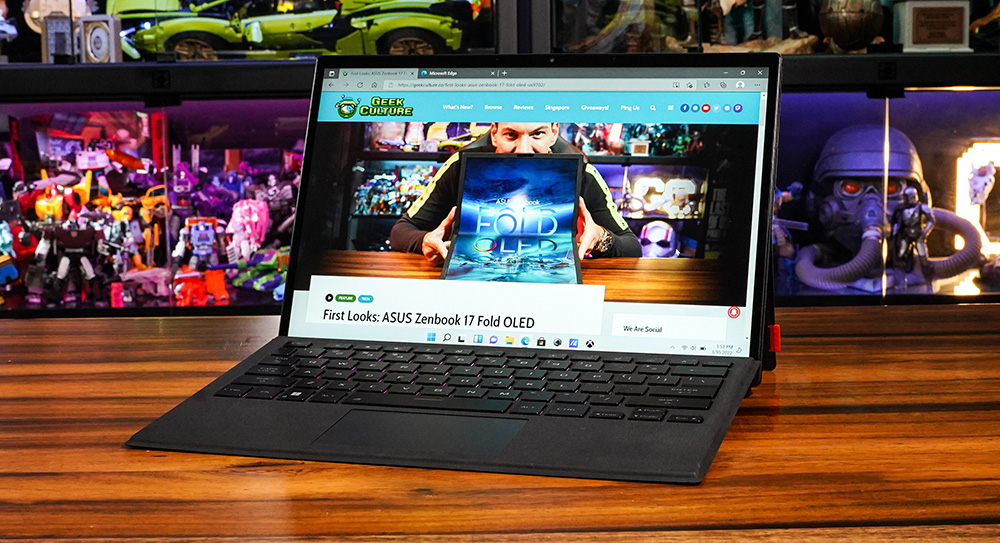 The 13.4-inch, 16:10 with 1900 x 1200 resolution device occupies a similar space with Microsoft's Surface Pro, except that it's more powerful and has a bit more heft to it. This is because the Surface Pro is designed to be a productivity device through and through, while the ROG Flow Z13 is trying to be both a gaming and portable productivity device.
The ROG Flow Z13 comes with Windows 11 Home, and is powered by the 12th Gen Intel Core i7-12700H CPU, with the NVIDIA GeForce RTX 3050 GPU. Combined with the display and the tasteful RGB accent on its back, the device delivers clean visuals while also looking stylish. The vents on the back are also incorporated well as part of the aesthetic, all wrapped around by an aluminium alloy chassis that is sturdy and with a premium feel to it.
However, the issue with the device soon became apparent, as the gaming tablet-laptop hybrid is trying to combine two concepts that are at odds with each other.
When gaming, comfort and immersion are important, so it helps to have a big display and a wide keyboard. The ROG Flow Z13, with its 13.4-inch screen and detachable keyboard can't envelop the user's field of vision enough, thus, the device's appeal as a gaming device is lessened for those who have big hands and prefer bigger screens. Now, does it work well? Yes. But is the gameplay experience comparable to that of gaming laptops? Not really. The ROG Flow Z13 perhaps best serves gamers who aren't after games that present beautiful sprawling worlds to be immersed in.
However, this can be easily alleviated by connecting it to a decent sized gaming monitor and full sized gaming keyboard, as intended when the laptop is plugged in to harness its full gaming prowess.
For tablets, portability and convenience are of utmost importance. The ROG Flow Z13 weighs 1.19kg and measures in at 303 x 205 x 12mm, which is 300g heavier, 18mm wider, and 3mm thicker than the Surface Pro 8. This may not sound like much, but if one were to use it like a tablet, holding it in one's hands, taking notes, digital sketching, surfing the web, or watching shows on it for long hours, the ROG Flow Z13 is clearly the more cumbersome device.
Another consideration is the 56 Wh battery, which is decent for productivity and portability, but not so much for some road warriors and gamers. When using it to surf the web and for work, it runs out of battery in four hours, which, while not great, is decent for a machine of this category, especially with the 120Hz display. When the MUX Switch toggle is on, which switches off the GPU to extend battery life, the device lasts for five to six hours. It is a reasonable battery life, but still one that users will need to plan around. For those who are constantly on the move, there will be that moment in the morning when you think about whether it'll last long enough before you can access a power outlet.
In fact, to truly max out the battery life for the laptop, one can always lower the screen's refresh rate to 60Hz instead of the default 120Hz, which should give enough juice to bump it up to seven hours or so.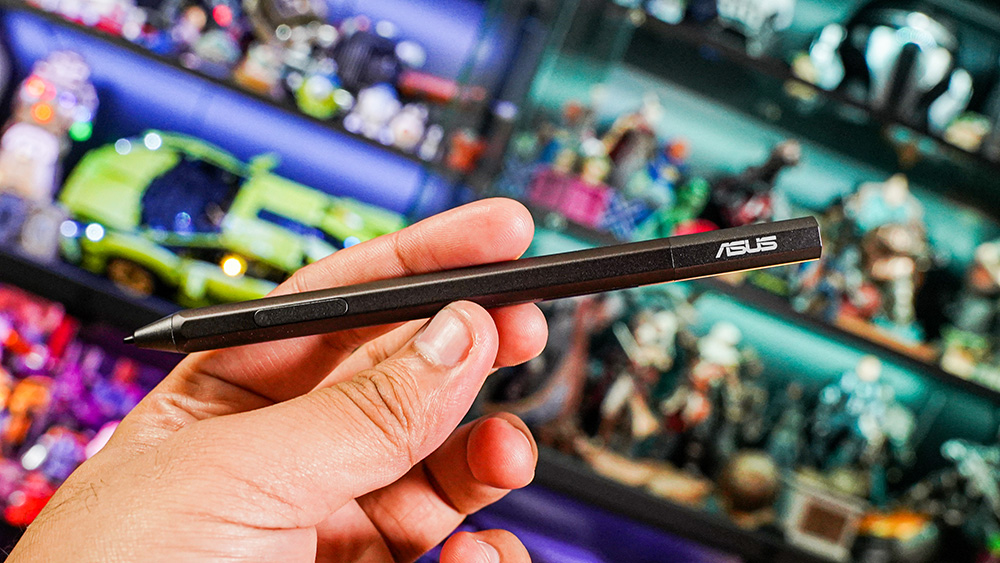 Also, even though the RTX 3050 means it can run most games, this is still a laptop so gaming is not a primary feature to use while on the go. The battery runs flat in about two hours playing games like Dragon Quest XI and Disco Elysium, which is pretty decent but if you want to enjoy the powerful graphics and enhanced display, it needs to be connected to a power source as few gaming laptops offer the necessary juice for extended gaming.
Due to its design, the ROG Flow Z13 comes with a kickstand and a detachable keyboard, which means it can't really be comfortably set on one's lap and used like a laptop, since the angle of the display can't really be adjusted. This isn't an issue unique to the ROG Flow Z13, and more of a design disconnect with hybrid devices.
So if you think about it, it comes with limitations of hybrid devices, and offers gaming prowess that is best enjoyed under specific conditions. The battery life problem is addressed partly by the quick charging of the device, which comes with a 100W USB-C charger, which means it can go from flat to full in about 80 minutes.
The ROG Flow Z13 is a compact device, able to display things in both landscape and portrait mode easily, and has a 720p front camera and 8MP back camera for either snapping quick pictures or video conferencing. The stylus support also means that artists and note-takers are taken into consideration. So long as one has access to a power outlet, the ROG Flow Z13 is able to cater to a bevy of use cases.
Without the possibility of the device running flat looming over the user all the time, this would be an easy device to recommend, since it'll be highly versatile and also suitable for on-the-go uses. For now, it is more often than not tethered to a charging cable, rendering many of its great on-the-go affordances less than ideal.
The ROG Flow Z13 is available on the ASUS Store and retailing at S$2,998.
GEEK REVIEW SCORE
Summary
The ROG Flow Z13 is a tablet-laptop hybrid that gives a gaming device the form factor of a productivity device. The strengths of a portable device like this is multi-fold, though some care should be taken, given that its hardware far exceeds the capacity of the battery. Still, if one can overlook this one bugbear, this is a decent choice for a work laptop while on the go, and for gaming when plugged in.
Aesthetics -

9.5/10

Build Quality -

9.5/10

Performance -

7.5/10

Value -

7/10

Geek Satisfaction -

7.5/10
---

Drop a Facebook comment below!