Quality comes at a cost, so it's only expected that 4K gaming monitors are often tagged to a hefty price point. For the folks over at Armaggeddon however, the rules of the game are slightly different, since their reputation is rooted in providing an affordable, quality experience. This time, it seems the team is abiding by the traditional formula yet again, as their newest Pixxel+ EFX27UHD SWITX Gaming Monitor seeks to combine serious gaming and heavy duty capabilities, 4K resolution, and affordability into one modest package – to respectable results.
Let's talk aesthetics first. The 27-inch monitor is given the minimalist treatment, with its Y-shaped base stand and cylindrical neck support sporting a sleek metal-coated finish that exudes a slightly weighty and premium feel. The former, in particular, drips more of that sturdy finesse, which is illustrated through its solid metal build, and a slim blue-accented line down the middle. It's not without its flaws, however – the legs of the stand can be a little sharp, so there's a need to ensure that the workspace doesn't end up being scratched by the edges.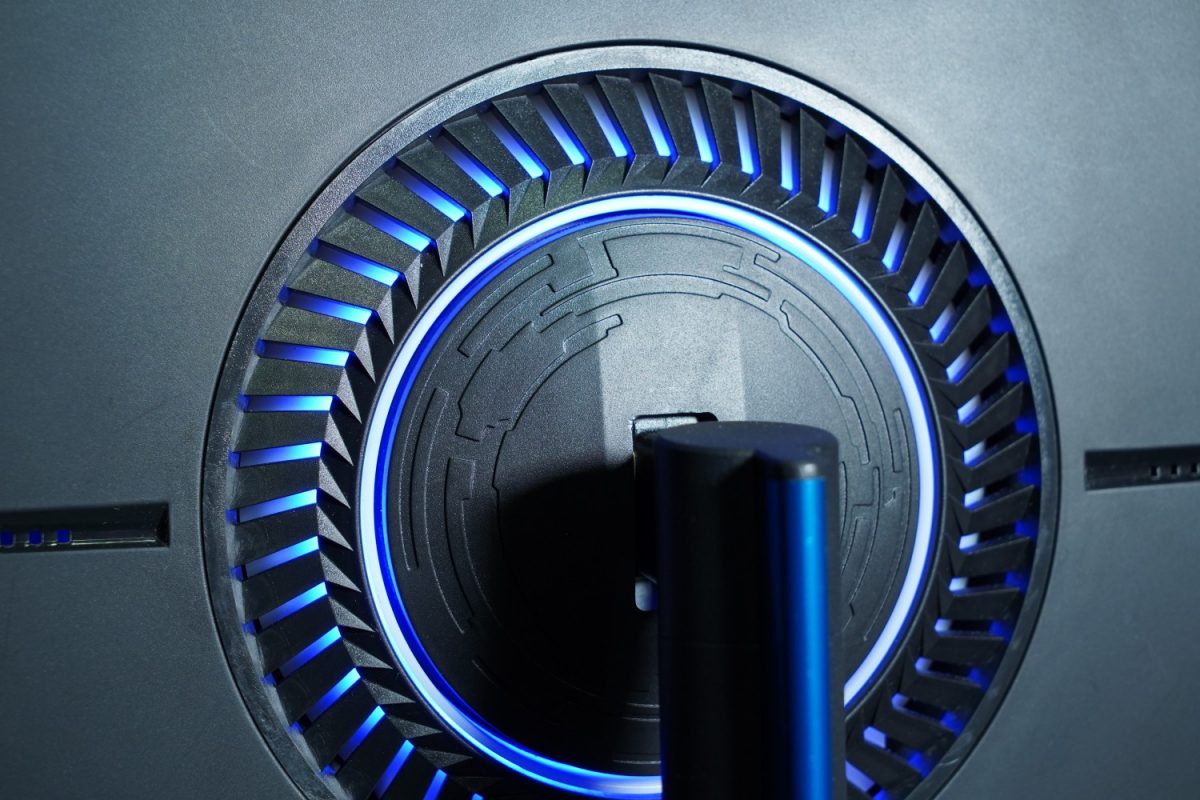 Truth be told, the design is not new, and mirrors the base design elements found in the new crop of 4K monitors entering the market. Accompanying the no-frills approach is the 15mm bezel design, where a slender panel border wraps around the image, and blends in nicely with the screen when it's switched off. Flip to the rear, and a glowing blue hue is fitted snugly within the spherical constraints of a glossy, black plastic body, which makes for a nice little touch.
The bottom left, meanwhile, sees a healthy variety of ports to offer content creators more viewing and connectivity options. Huddled up in a Kensington lock slot, it includes two HDMI 1.4 ports, one HDMI 2.0 port, a display port, a 3.5mm audio output, and a DC power input that also comes outfitted with a dedicated charging brick for the monitor.
The On-Screen Display (OSD) department is where the team appears to have taken a leaf out of Apple's page. Instead of ports, five plastic buttons are housed on the right side rear of the SWITX in a neat, scatter-free manner to allow for user control. The idea doesn't quite take off that well in reality, however, with the need to do guesswork to locate the buttons due to a lack of an indicator. For users who work with dual monitors or a crowded workspace, that would only prove to be a frustrating affair, especially since the buttons themselves require firm and definite contact to register an input.
With the tilt feature, the monitor does offer a slight degree of ergonomic flexibility. At the maximum angle of 5 degrees forward and 15 backwards, it can be positioned quite close to the wall – an arrangement that will be of favour to those who prefer some extra freedom with their viewing distance, or whose workspaces boast little estate.
Where performance is concerned, the SWITX has three different resolutions available for users: FHD (1080p at 144Hz), UHD (4K at 60Hz), and QHD (2K at 60Hz/120Hz). Of the list, the last is perhaps the most comfortable setting, with the FHD mode lacking in sharpness and font legibility, and UHD having a hit-or-miss response time, alongside the occasional ghosting of the cursor.
Out of the box, the monitor handles gamma tracking expertly, producing consistently rich images against a cool temperature backdrop – likely the result of a film on the screen that gives off the Low Blue Light (LBL) effect. It works by cutting out the blue light output from the monitor, such that the constructed image will appear warmer without the accompanying green tint for increased viewing comfort in low-light environments. While the blue light reduction isn't quite as significant here, it's still able to function effectively as a LBL setting; it'd be good if there's an option for users to manually adjust its intensity to fit their preferences, however.
Taking the SWITX out for a spin on Overwatch and Dead by Deadlight yielded decent contrast on the monitor, and an impressive level of detail in dark areas. Brighter shades, in particular, stood out nicely against the low-light surroundings, which made it easier to spot a flanking Tracer or Reaper on the Dorado map.
Like most IPS monitors, the IPS Glow – a term used to describe the glow effect on the corners of an IPS panel, where the backlight bleeds into the edges of a monitor – continues to be a slight issue when dark images are viewed in a dimmer environment. Most prominently observed at the bottom corners of the screen, it produces a bloom that'll lighten darker shades, thus leading to a loss in details.
When carried over to Netflix, the contrast proved to be a small flaw. It wasn't sufficient enough to bring a deeper, more cinematic look to shows, especially in low-light situations, but was able to perform satisfactorily under normal lighting. Users should stay clear of activating the HDR setting here, though, because that would only result in highly-saturated on-screen images with higher-than-ideal contrast levels. Finding the right setting, thus, requires some adjustments to the OSD.
The monitor's handling of the colour accuracy, meanwhile, is something to note. Outfitted with 99% sRGB, it's able to produce a rich and varied palette of colours that allows for increased vibrancy without strong oversaturation. Essentially, what this means is the colour shades produced will remain faithful to the original source material, while injecting an extra dose of vividness – the result is an enhanced viewing experience.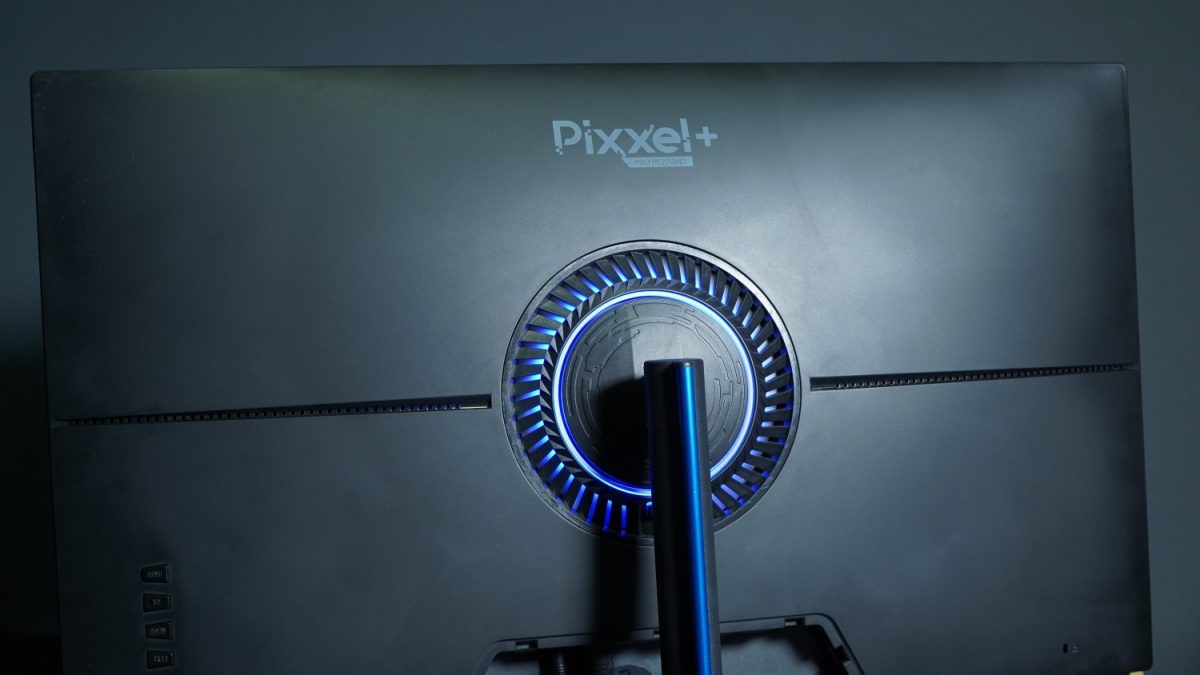 Priced at a wallet-friendly S$799, the Armaggedon Pixxel+ EF 27UHD SWITX is not the most outstanding, noteworthy, or innovative 4K gaming monitor, but it gets the job done with minimal fuss. It boasts excellent pixel density and gamma handling out of the box, and does a good attempt with its colour output. The inconvenient OSD controls, IPS Glow, and rudimentary HDR support are some issues that users will have to put up with – all of them are far from being a dealbreaker, however.
Nonetheless, the monitor has proved itself to be a decent pick, especially for gamers who have multiple game consoles, and thus can utilise its full range of resolutions to easily switch between them. Its relatively affordable price point certainly helps, too – unless you're more than willing to splurge, in which case there are always quality top-of-the-range options to invest in. For one that falls below the average price point, the SWITX isn't too shabby, as long as the users don't expect too much out of it.
GEEK REVIEW SCORE
Summary
The Armaggedon Pixxel+ EF 27UHD SWITX is hardly the best budget 4K gaming monitor around, but it performs sufficiently well in a pinch. More work could have been put into its aesthetics, though. 
Aesthetics -

6/10

Build Quality -

7/10

Performance -

8/10

Value -

8/10

Geek Satisfaction -

8/10
---

Drop a Facebook comment below!