As metaphors go, "Thinking out of the box" is one that has been overused and constantly recontextualised but you have to appreciate Apple's take on it – they have redefined it and ran with it, making the 'box' a literal example of innovation well, in a box.
Since the Mac mini's debut in 2005, the small form factor machine has made its name as an affordable Macintosh machine, sold without a display, mouse or keyboard. The petite, almost handheld-like device offered the hardware of an Apple machine without the price tag that came with a normal one and more recently, has come to sit comfortably between the all-in-one iMac and the professional Mac Studio systems.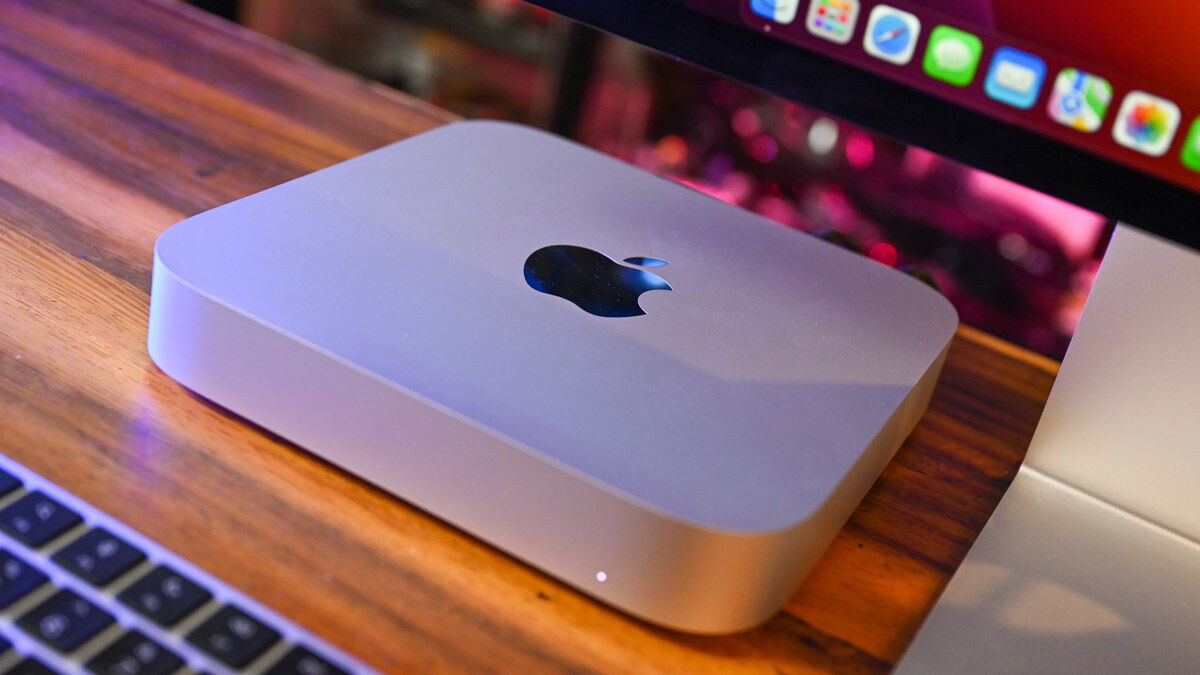 And while its dimensions have shifted, its basic structure, that of a small box currently covered in an aluminium unibody chassis, has remained. The latest version, announced in February, continues to offer an Apple computer at an affordable price, with options of the company's latest silicon M2 processor, or its more powerful sibling, the M2 Pro.
Designed by Apple to power its hardware after ditching Intel, the M2 is the next level processor after the original M1. Offered as a central processing unit (CPU) and graphics processing unit (GPU) all-in-one, the company offers higher performance Pro and Max versions of its chips and this marks the first time that a Pro chip has been added to the Mac mini line.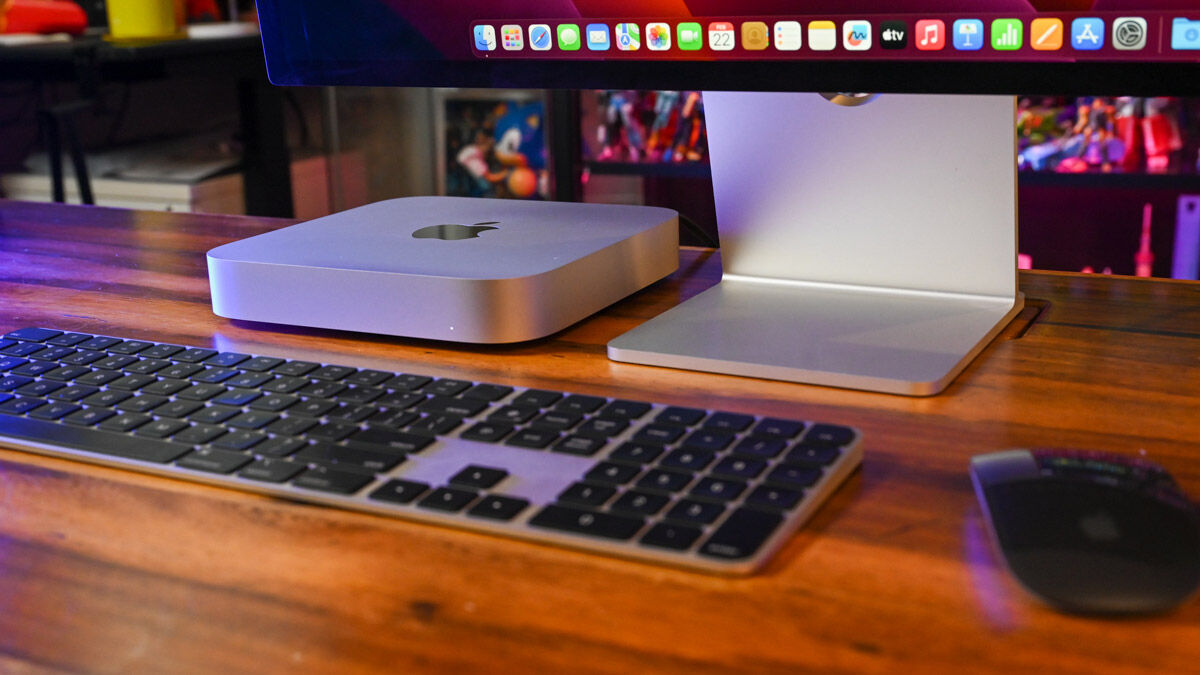 On paper, the hardware on the M2 is more powerful in some, but not in all aspects compared to the M1. The original had 16 billion transistors, with four high-performance and four energy-efficient cores, while the M2 has 20 billion transistors and the same number of cores. The M2 does come with a 10-core GPU, which is 2 more than the M1, with support for up to 24GB of unified memory and 100GB/s memory bandwidth, compared to only up to 16GB of unified memory and 68.25GB/s of memory bandwidth on the M1. This roughly translates to 20 per cent faster multicore performance, and a 15 per cent boost in single-core performance.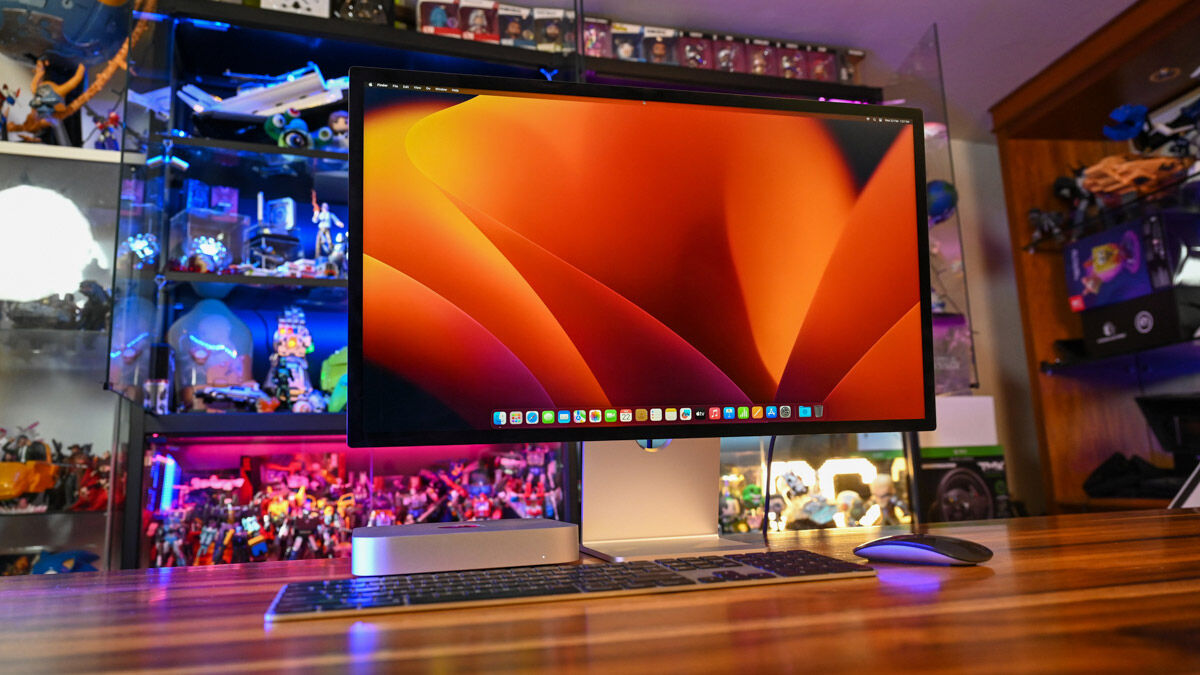 In other words, those who have the previous M1 powered Mac mini don't have to rush out to get an upgrade, but if you're looking for a set-up that outperforms Intel based machines, this is your chance. On our M2 Pro Mac mini, which comes with a 12-Core CPU, 19-Core GPU, 32GB Unified Memory and a 2TB storage, the Geekbench 5 benchmark came in at 1928 for single core, and 14,504 for the multi-core score. This is better than the 1758 and 12014 on the M1 Max MacBook Pro 16 from 2021. Compared to Intel machines, this score is around the results generated from 12th generation Intel i9-12900H machines, such as the ROG Zephyrus M16, and on par with the Razer Blade 16 – RZ09-0483 on Intel Core i9-13950HX. Of course, specifications can vary but it gives you a sense of what the chip can do. 
That said, there are other factors to consider, such as a dedicated graphics gun which gaming on an Apple machine won't be the same as on a Windows one, but for everything else, you're investing in a performance powerhouse. Since Apple's shift into limited ports for everything, users will get two Thunderbolt 4 ports for M2 models, and four Thunderbolt 4 ports on M2 Pro units, along with 2 X USB-A ports (up to 5 Gbps), 1 X HDMI port, 1 X Gigabit Ethernet port which is configurable to 10Gb Ethernet, and a 3.5mm headphone jack. The power switch is located at the rear, right hand side of the unit, and when powered on, there is a small indicator light that comes on. The Thunderbolt 4 ports support up to 40 Gbps of data transfer speeds.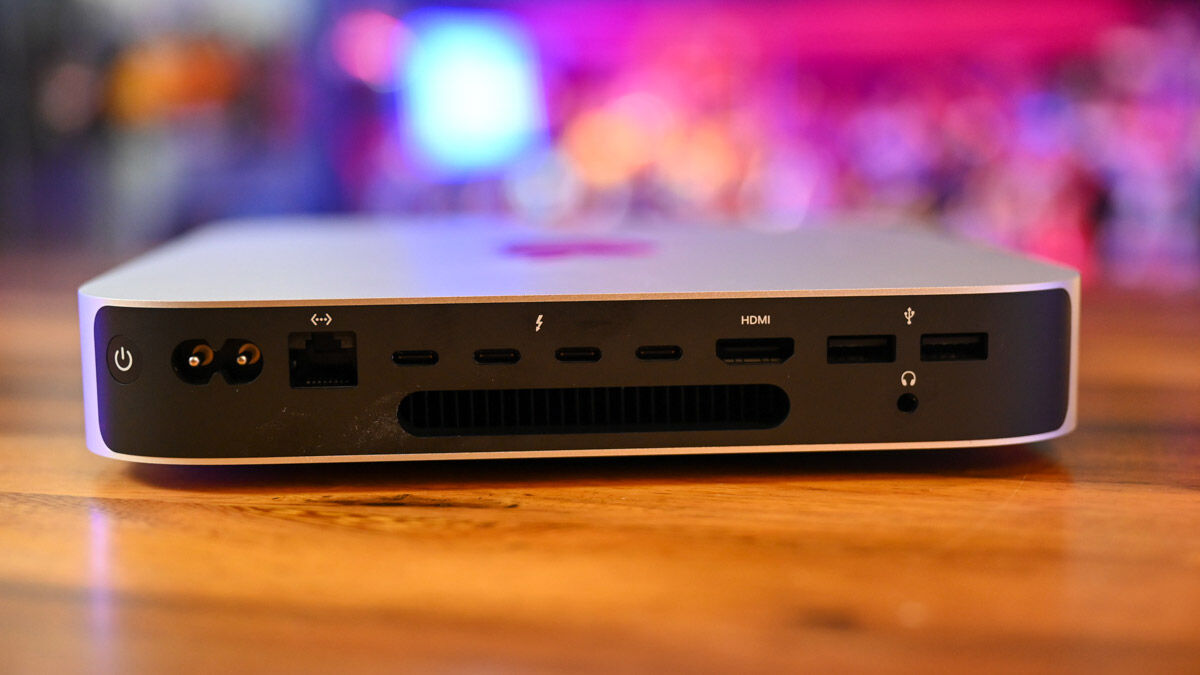 Set up of the device is extremely straightforward, as the unit can simultaneously support up to three displays (two for the M2 model), so simply connect your display via the Thunderbolt or HDMI ports. To complete the set up, especially connect to Wi-Fi, you will need a keyboard and mouse. We used our existing devices, which were immediately recognised when we connected them to the Mac mini using a Lightning cable, thereby establishing a Bluetooth connection immediately.
The one thing you will notice is how quiet the Mac mini is, whether you're playing games or editing photos and video. We had this connected, via one Thunderbolt cable, to an Apple's Studio Display monitor and that took up one of the four slots on the machine. This set-up took up the lone Thunderbolt port on the monitor, but added three USB-C ports to the configuration. The one thing we didn't do was to sit the 6.3kg screen on the Mac mini, though there is something elegant about having it positioned neatly and tightly (we eventually placed the Mac mini by the monitor's stand).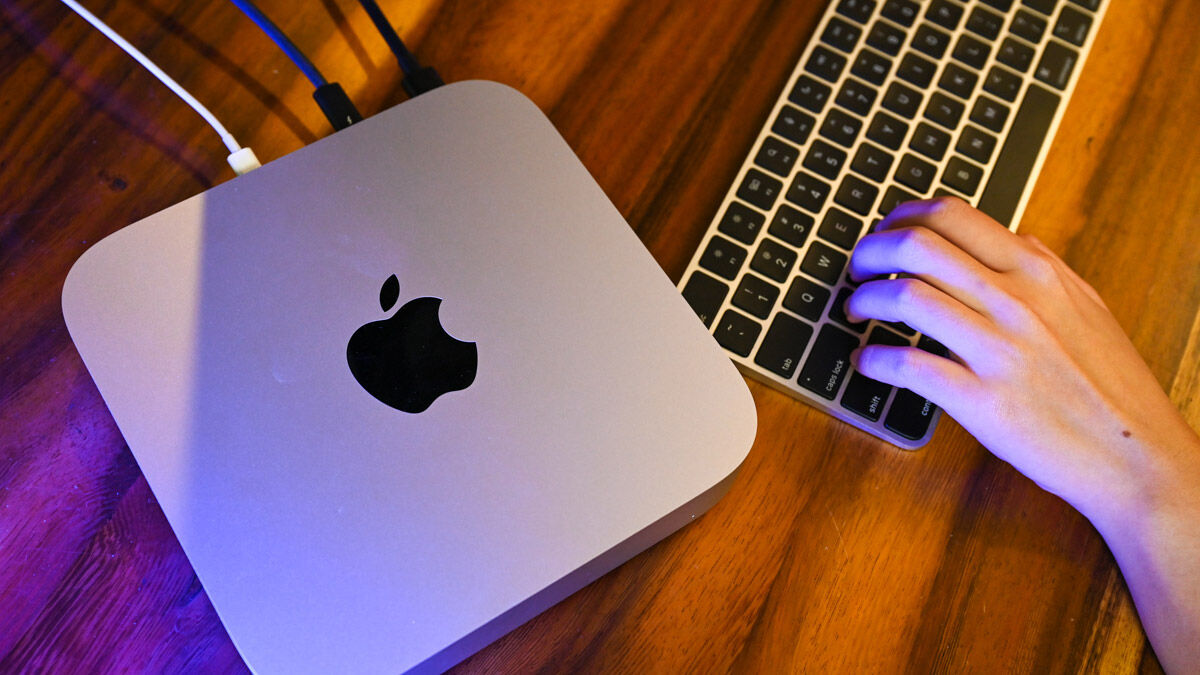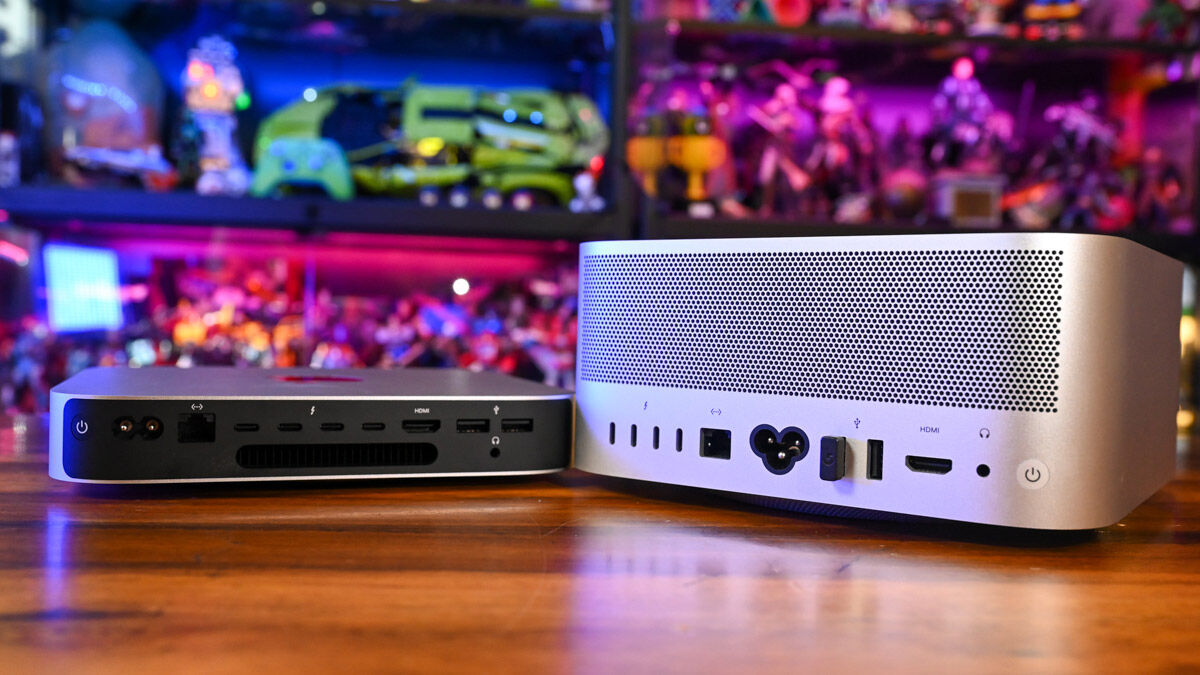 With prices starting from S$849 for the M2 version, to S$1,849 for the M2 Pro model, the value of the machine is getting a powerful machine based on your needs, without breaking the bank. Measuring 3.58 x 19.70 x 19.70cm, the physical difference is in its weight, with the M2 model coming in at 1.18kg, compared to 1.28kg for the M2 Pro model. The top, front and sides are flushed in aluminium, with a circular rubber base at the bottom for the unit to rest unobtrusively on. This machine is so inconspicuous, it can sit anywhere in your living room or at your desk, which is great for space-starved rooms or even office spaces.
But here comes the $849 question – which version should you get? The base model is powerful enough for everyday use and unless you intend to get some intense work, such as editing photos and video done, this is the machine to get. The great thing about a Mac mini is that you can splurge on a higher-end display, knowing that when you eventually upgrade to a new Mac mini, the screen can still be retained. The recommendation though would be to get one with 512GB of storage, and 16GB of unified memory if you can, as the base model offers too low specifications to make sense. And like all Mac machines, it is challenging or close to impossible to perform your own upgrades in hardware, but realistically, few users actually know how to, or bother.
Regardless of what you get though, it will be one of the most powerful machines at an amazing price, in a small package.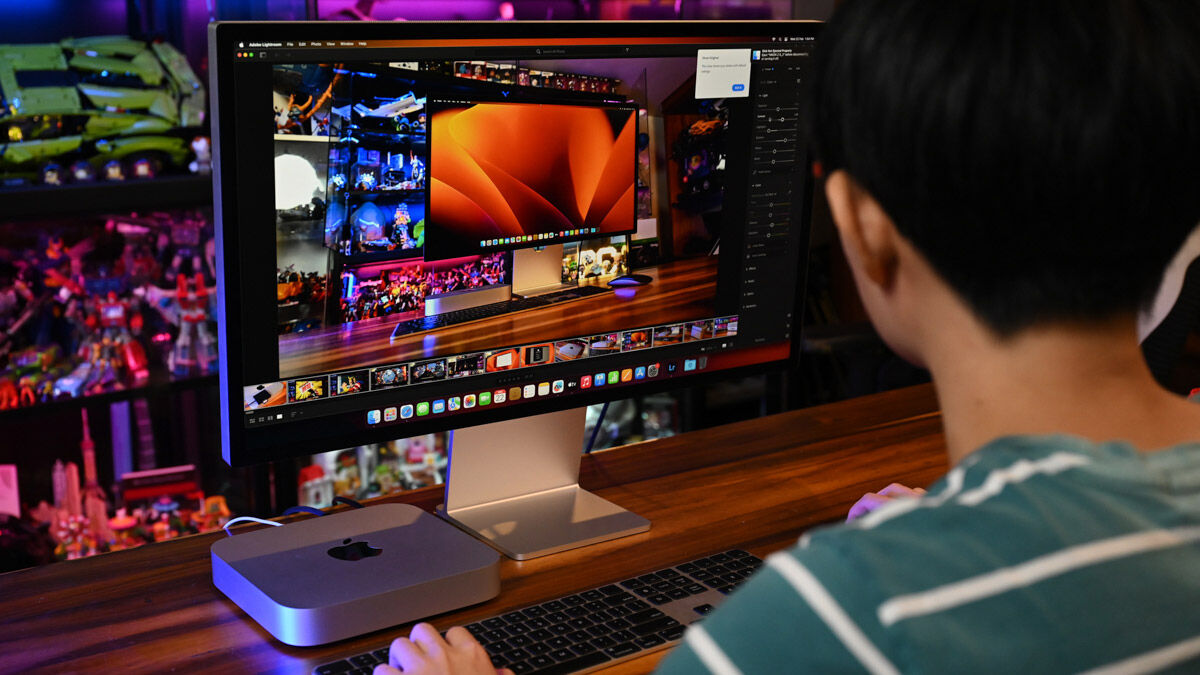 GEEK REVIEW SCORE
Summary
As a first machine for your child, productivity workhorse for your household or performance device for your work, Apple's Mac mini is a space saving and powerful machine that rivals competing devices in terms of sheer computing power.
Aesthetics -

8/10

Build Quality -

8.5/10

Performance -

9.5/10

Value -

9.5/10

Geek Satisfaction -

9/10