For the past few weeks, I have had the opportunity to give the Alienware 18 a good extended test run. The skinny is that the notebook (can you even term the beast under this category?) performs flawlessly but I found it that having too much of a good thing might be a tad overkill.
My Alienware 18 featured a Overclocked Intel Core i7-4900MQ, 16GB DDR3L RAM, Dual 4GB GDDR5 NVIDIA GTX 780M and finally my favourite, a 750GB 7200RPM SATA 6Gb/s + 64GB mSATA SSD Caching HDD. Taking 30s to boot up your game, ain't nobody got time for that, how does 10s or less sound?
Unsurprisingly, the Alienware 18 was able to handle pretty much every game that I had on hand with ease. All over the Internet, you can find benchmarks reviews that illustrate how well this machine performs. For the average consumer, fret not for this is why you shelled a big chunk of your pay for – just pop in any current gen game and you are guaranteed to have it run as smooth as butter.
I've tried BioShock Infinite, SimCity 2013 and mainly Dota 2 on the Alienware 18. I've also tried live streaming using Xplit of these games at the same time. Compared to my desktop, the Alienware 18 left me wishing that this could replace my existing desktop entirely. The only disappointment to be found would be my Internet connection that could not keep up with the awesomeness of the notebook.
I don't think that there's any game out there right now on the market that can faze the Alienware 18. Perhaps the the upcoming Battlefield 4 might give it a solid test, but considering that the notebook shrugged off BioShock Infinite, the Frostbite 3 engine shouldn't be much of a problem as well.
When it comes to gaming notebooks in general, I've always wondered why hardware manufacturers have yet to market their products in a way that makes it easier to the average consumer to reach a decision. Like how some graphic card manufacturers bundle games to their card, it could go a long way to help the wives or girlfriends in making the correct hardware purchase. A label on the box that goes "Runs Metro: Last Light on Ultra settings" would help heaps.
Aesthetically, the Alienware 18 is a head turner. Built with Anodized Aluminum and Magnesium Alloy, no Alienware wouldn't be complete without its distinguishing LED lightning that illuminates the entire machine. Full score in terms of the bling deparment.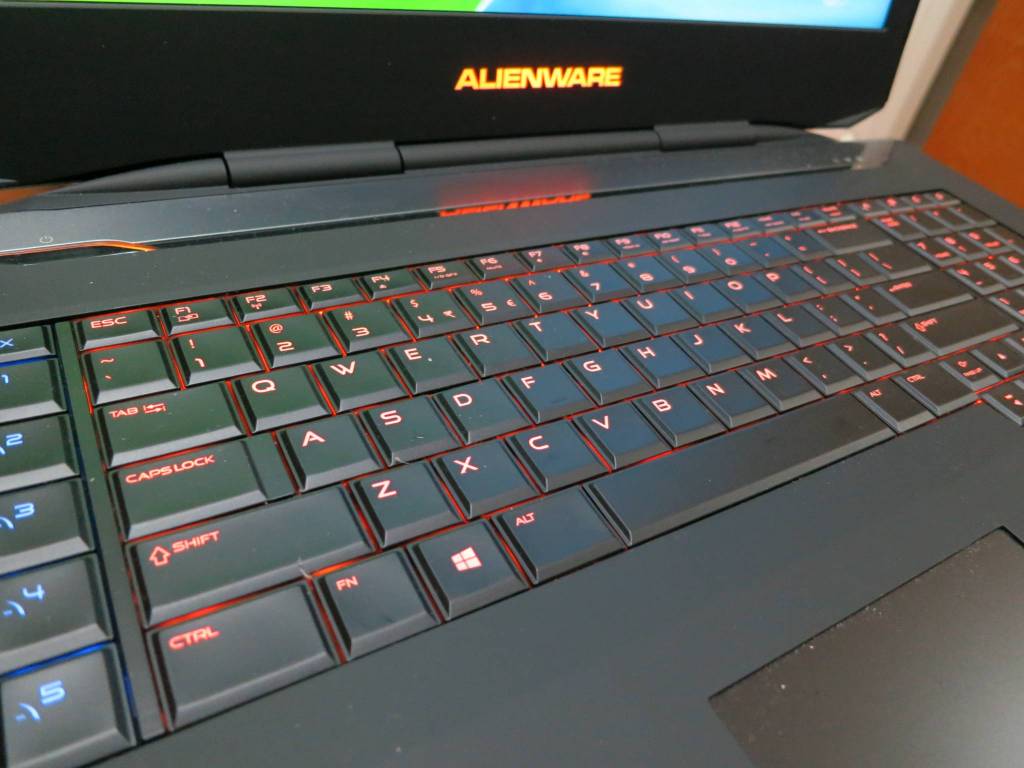 Not all is well with the Alienware 18 though. Considering its immense size, the notebook was able to squeeze out slightly over 2 hours when I was playing Dota 2. This is pretty worrying especially when each game of Dota can be pretty fluid which may range from as fast as 30 minutes to as long as 90.
Portability is a big concern when it comes to this notebook. If you are looking to game on the go, you might want to consider the other Alienware alternatives. The form factor of the Alienware 18 is not a plus point; something has to be sacrificed to pack in so much power. The powerbrick is just another park of the package that you do not want to be lugging around. But if you do choose to lug in around like some geek Bear Grylls, impressive back muscles you will develop.
The Alienware 18 is in a class of its own. If you are a working adult looking to splash the cash for a fuss free gaming experience that works right out of the box, my recommendation would be to go for this model. Sweep everything off your workstation if you purchase this beast, because he's going to be there for a very long time.
The Alienware 18 is available direct from Dell now or you can get it via Amazon.
Gerald currently straddles between his love of video games and board gaming. There's nothing that interests him more than trying out the newest and fanciest gadget in town as well. He dreams of publishing a board game sometime in the future!
---

Drop a Facebook comment below!

---