With the 18 September release date approaching for the colourful WWE 2K Battlegrounds, it remains an unknown quantity to plenty of wrestling fans. Granted, it is certainly not the annualised wrestling simulation that diehards are used to, but that does not mean there is no fun to be had. In fact, with WWE 2K Battlegrounds, arcade fun is back in the ring.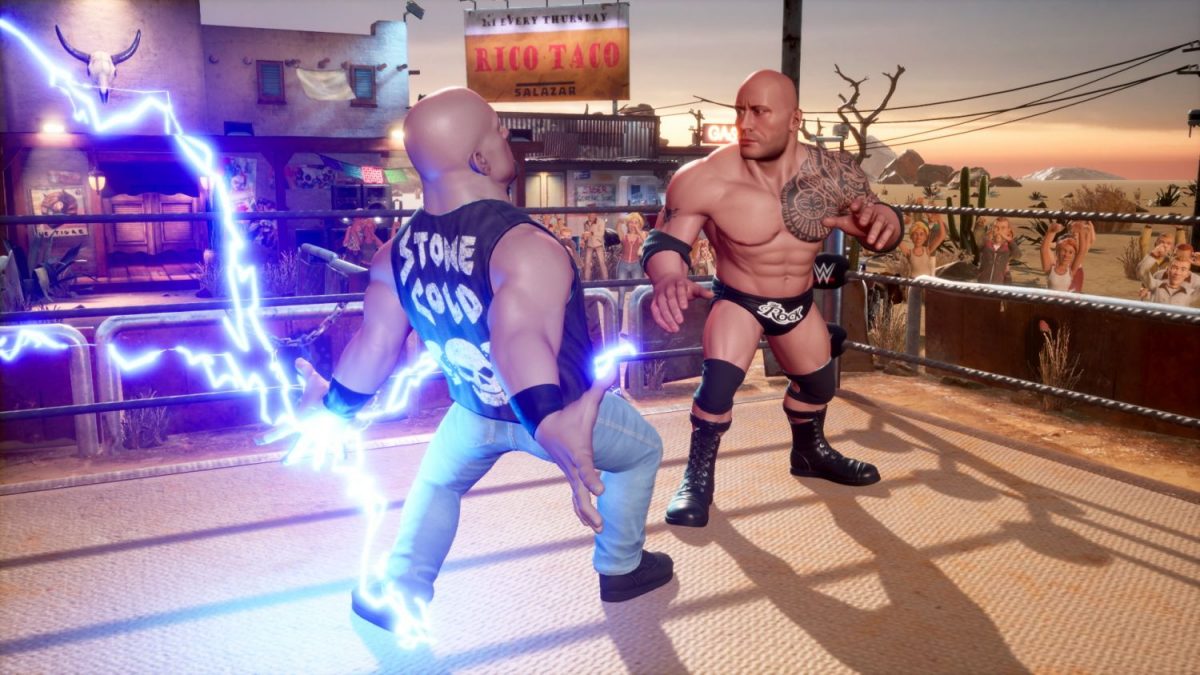 As part of our preview, we got our hands on plenty of multiplayer action in two different kinds of matches. A 2v2 Steel Cage match as well as a Fatal 4-Way match formed the main course, and provided plenty of thrills and spills.
With 11 male and four female superstars to choose from (and even more in the full game), we took to both The Everglades and the Auto Shop for some havoc.
Straight from the off, this is not a wrestling game you are used to. The controls are a little different, owing to its arcade-style brawler roots. It will take some getting used, but once you have the basics of movement and combat down, the fun will naturally flow.
As with the nature of WWE 2K Battlegrounds, everything is over the top. From the entrances the soundtrack, to the action in the squared circle, this is the WWE you know turned up to an eleven.
High-flying moves are spectacular but easy enough to pull off, and once you get the crowd on your side, unleashing the different tiers of power-ups can turn the tide in an instant.
To escape the Steel Cage, you need to survive the other team while attempting to gather money. Fill up your money bar, and you can escape. That is, if you can avoid the electrified cage. Whereas for the Fatal 4-Way, it is an all-out brawl to the end.
And if you are looking for a deeper experience, there is plenty of depth in WWE 2K Battlegrounds to master. Just the preview has whet our appetite, and we cannot wait to experience the real thing in its entirety.
The five class styles of Powerhouse, Technician, High-Flyer, Brawler, and All-Rounder bring their own pros and cons to the table, and the style that works for you is usually the best to acquaint yourself with.
It is not just your skills that can work in your favour. The environments are key to the fight as well. A hungry alligator can put the hurt on your opponents, while a vehicle is an important instrument of hurt.
WWE 2K Battlegrounds definitely has its own distinct style, and it will not please everyone. Some of the wrestlers definitely pale in comparison to others, and seeing how the game releases in just a few days, a quick fix may not be in the works.
Beneath all the flash, however, lies a cartoony but fun experience involving your favourite superstars. While 2K continues to wrestle with producing a proper entry as part of the main franchise, WWE 2K Battlegrounds is a viable alternative. You just got to give it a title shot.
Jake is a full-time trophy hunter and achievement gatherer on consoles, and part-time Steam Sale victim. He has a thing for Batman and awesome statues, and running out of space for both. Send help.
---

Drop a Facebook comment below!