As one of the biggest titles coming to the PS5 in 2022, Guerrilla Games' Horizon Forbidden West has plenty riding on its shoulders. The return of Aloy and her ongoing struggles with the machines and the past will continue a tale that was notable for its engaging characters and worldbuilding, and fans would be expecting more of that narrative goodness come 18 February.
As big fans ourselves, the curiosity to learn more about the mysteries of this game ran deep, and in speaking with Ben McCaw, the Narrative Director for Horizon Forbidden West, the game is definitely going to hook players in for a wild ride.
---
The latest story trailer for the game gave us a closer look at the larger world awaiting Aloy, with new threats, locations, and plenty more other individuals that will likely have a profound impact on the story, including the bombshell of a reveal of Tilda, played by The Matrix's Carrie-Anne Moss.
"She's a very mysterious character with a special relationship with the ancient past," McCaw teases. As for the others we will undoubtedly meet along the way, they are integral to the journey as well.
"Aloy is facing a whole storm of new threats, including the Blight, dangerous new machines, Regalla, the rebels, and the only way she's going to survive that onslaught is to rely on her companions. And we've got some exciting returning characters from Zero Dawn, including Varl and Erend, we've also got a bunch of new characters."
"Zo is from the Utaru tribe, who is a kind of a healer, and someone who helps people as they make their passage into death as a Gravesinger. Kotallo from the Tenakth tribe, who is a warrior, and Alva, one of my personal favourites from a mysterious new tribe that Aloy will encounter, and she works with her tribe to help decipher the mysteries of the ancient past."
That is obviously just the tip of the iceberg, and everyone will have their part to play in Aloy's adventures, helping her to evolve, as she continues to challenge her past as an outcast. They are also not here just for the sake of advancing Aloy's growth, and Guerrilla had made sure that they come with a certain degree of depth as well.
This applies to both new and old characters, and the developers were cognizant of the fact that these people had to "have a story that has depth, a personal story that had a lot of emotional value." Players can choose to explore these stories in deeper ways through certain side quests, which will only further your appreciation for the work that goes into building this world and the overarching story.
In approaching the storytelling in Forbidden West, the adherence to several principles that encapsulates the core experience of this series has helped smoothen the progression for the developers.
The tenets of beautiful nature, robotic megafauna, machine dinosaurs, tribal hunters, and perhaps more pertinently, the mysteries of the ancient past, have allowed the writers to push the boundaries and continue building a compelling world that can still surprise players. Even if you have not played the first game, you are not going to be lost entirely either.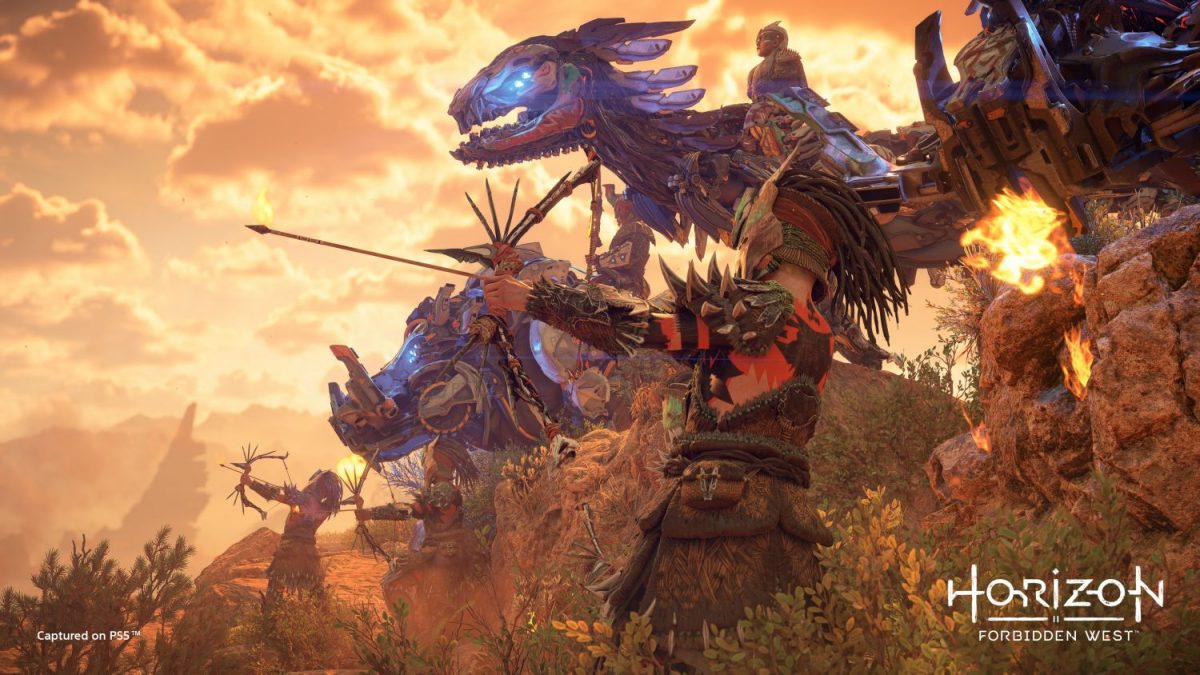 "The story starts in a way that's very easy to understand. The layers of depth are added very gradually, and we have a lot of storytelling techniques and features in place to help players understand what's happened in the previous game without overwhelming them."
On that end, the narrative thread started in the first game is obviously not done, and it was also important to the developers to ensure that the continuation was smooth and significant. At the conclusion of the Frozen Wilds DLC, the added threat of Hephaestus with Hades, which was last seen under Sylen's custody, are still present, and that will be addressed in some way in the sequel.
"Hephaestus represents the world's ability to produce more and more dangerous combat machines, and this is a very ever-present, escalating threat throughout the Forbidden West. It is extremely, extremely dangerous, and that's going to be represented in combat experiences throughout the game," McCaw shared.
"The story of Hades is also not over, so Aloy will indeed be encountering Hades again."
McCaw also provided some assurance for fans fearing that Horizon Forbidden West might veer too much either into a narrative-heavy experience or one that is all about storytelling and character development. In fact, it is a creation that has "the best of both worlds."
There is "an increased focus on Aloy's personal relationships, but that in no way takes away from the combat against machines." In addition, the team had made a conscious effort to improve human-to-human combat, adding new mechanics such as allowing enemies to override machines and presenting different threats to Aloy.
Another big obstacle standing in our heroine's way is that of the mysterious red blight, a world-ending threat that represents the degradation of the biosphere. While we have seen slivers of such damage in the first game, things have gotten worse in the six months after the end of Horizon Zero Dawn.
The blight has crept across the world, choking off the land, agriculture, and even water. For the people in Horizon Forbidden West, their time is seemingly running out. Needless to say, it is going to hurt Aloy as well if players wade carelessly into its grasp.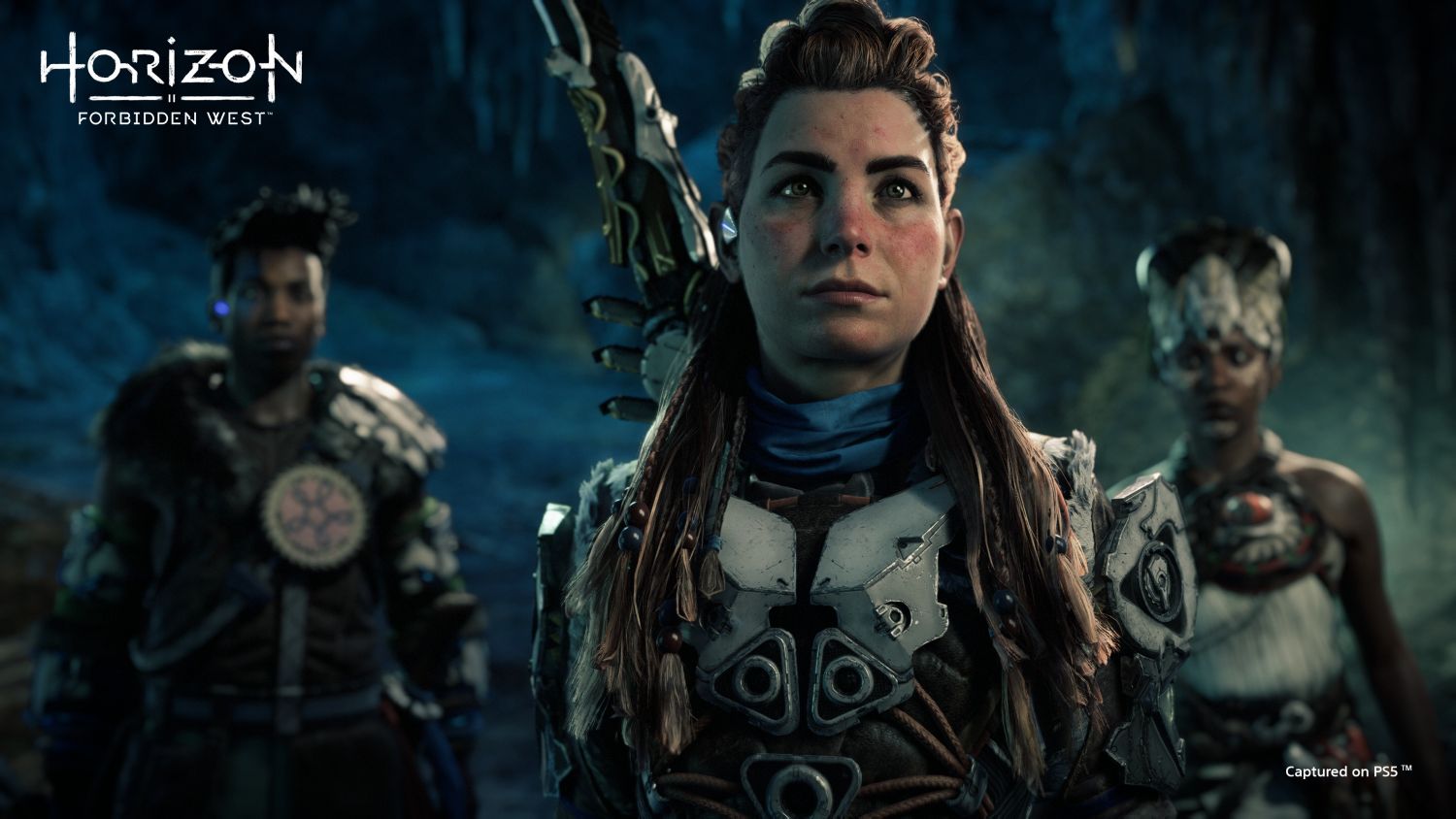 It is helpful then, for Aloy to have some new tricks up her sleeve, including the ability to swim. For the folks over at Guerrilla Games, the underwater exploration was something exciting to implement, and a big part of what makes the sequel even more special.
As McCaw explained, "the underwater gameplay represents a big push that we made in the game to create newer and more diverse exploration. We wanted to add a lot of verticality to the experience."
Players can expect to spend a considerable amount of time in the water, exploring and seeking out landmarks and secrets. McCaw was wary of spoiling too much, but it is likely that we will see some amazing set pieces that take place underwater, especially with such stunning visuals.
Mounts are also returning with a bang, with several more additions becoming possible modes of transportation for Aloy. Her ability to override the machines is still going to open up new ways to experience the world of Horizon Forbidden West, and the sheer possibility of air travel is exciting, to say the least.
If it kind of looks like the sequel is going to follow the same path as the first game, at least in terms of a narrative, Guerrilla is well aware of that fact. As the narrative director, McCaw and his team certainly had a lot to live up to and at the same time, build something new and fresh.
"What we really wanted to do in the Forbidden West was to put Aloy under a lot more pressure. Moving into the west, it's a whole new territory to explore, it's a whole new set of tribes, her previous reputation doesn't necessarily help her out either. We really put the world on her shoulders, she knows that there's only a limited amount of time to save the world. And this is a crushing burden, and it's something that's really going to make her personality evolve, and you see that in the relationships with all our companions."
"So we definitely did not want to, kind of, pull the same story twice. We didn't want to feel repetitive, we knew the character needed to evolve. And the key to that really is the companions, the only way she's going to survive these threats is to rely on those companions."
Having carved out success for themselves with the first game, Guerrilla is even more determined to deliver something that builds on that success and create a franchise to be remembered. With a commitment to creating a living, breathing world with believable characters and a heroine you cannot help but root for, they seem to be on the right track.
We will find out soon enough, when Horizon Forbidden West releases on 18 February.