From lucky pennies to four-leaf clovers, mankind has long ascribed meanings to little trinkets that bring luck or ward off evil. And while it wasn't luck that earned Eva Noblezada the lead role in Apple TV+'s latest animated film, Luck, the broadway actress is a big believer that such things do exist.
In Luck, Noblezada voices Sam Greenfield, the unluckiest girl in the world who has 'aged out' of the foster care system and is thrown into the world of adulthood at the tender age of 18. Only ever experiencing bad luck, Sam finds herself in the never-seen-before Land of Luck after chasing down a black cat down a couple of streets.
Just as Sam's luck flipped the moment she entered the Land of Luck, Noblezada felt like she got lucky when she came across a tiny rock in a crystal store right down the street from where she used to work.
"There's a tiny bucket where you can get a rock and one side is a picture and the other side is a word. The word you're supposed to adapt into your life and the picture is supposed to inspire you. I went in there and I chose mine, and then my partner went in there and chose his and the guy [working there] was like, 'wow, I've worked for 10 years and I've never met a couple who's chosen the same word'," explained an excited Noblezada, about visiting that store that sells crystals, Palo Santo, tarot cards and more.
"I have that tattooed on me because I thought that was so lucky. I also carry that (the rock) everywhere I go."
And as Luck would have it, the film also marks Noblezada's first voice-acting gig after a successful theatre career. The 26-year-old made her Broadway debut as Kim in Miss Saigon (2016) where she was nominated for a 2017 Tony Award for Best Actress in a Leading Role in a Musical, becoming one of the youngest nominees in the category. Since then, she's appeared in Les Miserables (2016), Yellow Rose (2019) and Hadestown (2019), and won a Favourite Leading Role in a Musical and a Grammy Award for Best Musical Theater Album in 2019 and 2020 respectively.
Despite plenty of esteemed accolades and nominations under her name, crossing over from the stages of Broadway to a sound booth in a studio was a huge jump for the American actress of Filipino and Mexican heritage, who's never done live-action, voice acting or any other form of acting that didn't require a stage and a live audience watching her every move. The actress did find it a bit of a struggle, and tried to learn as much as she could, and adapt certain theatre techniques to her voice acting and vice versa. If anything, she joked about her desire to be as successful as Tom Cruise one day.
"I'd love to be Tom Cruise and do what he does and also get paid like Tom Cruise," joked Noblezada. "But, I do theatre and it's super different. The whole body is a vessel to tell something or to say something or feel something. I did struggle knowing that even though my body was there, the only thing that was being captured was my voice."
"Are there things I learned doing voice acting that I can absolutely bring over to the stage? Energy – and mind you, I have that already – but it's different. You have to always be on. I think that's a good thing that I learned doing voice acting," she continued.
"I thankfully have a job right now. Just because you do one movie doesn't mean others are guaranteed. I would love that life of never having to audition again and just getting offered movies but that's not the life that I live currently. But I'd like to be like Tom Cruise one day."
Perhaps, the most exciting thing Noblezada brought to Luck is her singing. The young Broadway singer sang in Yellow Rose and has performed for The Cabaret, a nonprofit organization dedicated to elevating and promoting the cabaret art form and The Green Room 42, Broadway's off-Night cabaret hotspot in recent years.
A self-professed mezzo-soprano, Luck taps into Noblezada's singing by giving her one musical number in the movie that is quite honestly, catchy. An incredibly poppy song, whilst nothing like the cabaret art form that Noblezada often performs, her naturally light tone fits perfectly.
"It's a different style of singing, that's for sure. But other than the style, it's pretty much the same. I was working with the team and they just wanted it to sound really poppy so it was really fun to play with," said Noblezada.
As the title of the movie suggests, Luck sees the protagonist try to save the Land of Luck after bringing her bad luck into the sacred space. Sam never had bad intentions though, as her entire journey centred around getting good luck for her friend Hazel, a young girl who lives in the same foster home that Sam came from.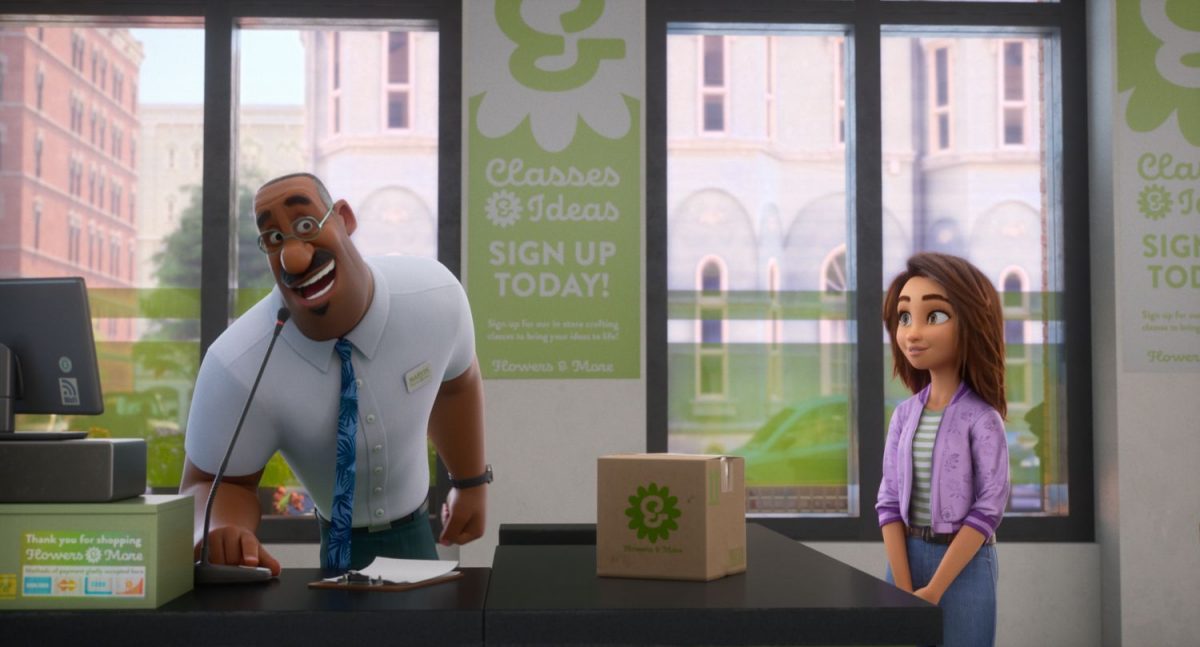 Looking at the bigger picture, Luck isn't so much about the good luck charms and what it means to be unlucky, but rather, finding a forever family within a community. Noblezada calls Luck a "family movie" that focuses on Sam wanting a family and how the character lives and exists in order to attract who she wants in her family. The actress frequently comments on how beautiful the relationship between Hazel and Sam is and that both characters are lucky to have each other.
When asked what she thinks about family, Noblezada said, "I think it's very important. It shows how much Sam wants to love. And she knows what it's like growing up in foster care and doesn't want Hazel to experience the same thing."
Luck taps very lightly into the reality of the foster care system whilst exploring the concept of a forever family. This idea of a forever family is something that is rarely discussed in children's animated films. Most children's films, including the recent Encanto and even the popular Finding Nemo discuss what it means to operate within the construct of a family you've been born into and very rarely do movies portray kids without families to support them, let alone children in foster care going through the emotionally tolling process that is adoption.
"Having a community, having a family of people that you can see and know that you would do anything for that person and you know that that's reciprocated – it's so beautiful. And I don't want to say it's rare because I hope that everybody has that group of people, but family is everything," said Noblezada. 
Luck premieres on Apple TV+ on 5 August 2022.