The Dark Portal opens once more, and to drive back the forces of the Burning Legion, we must stand together, pass through the gateway and stop this savage invasion at its source!
World of Warcraft: Burning Crusade Classic is an authentic revisit to the original MMORPG expansion that was released back in 2007. Until today, it's often referred to as one of the greatest WoW expansions ever – introducing two new races, flying mounts and a massive new area to explore. Fans old and new, can finally rediscover the shattered realm of Outlands, save Azeroth, and relive the iconic experience once more.
Enjoy World of Warcraft: Burning Crusade Classic now!
To celebrate its launch, the folks at Activision Blizzard teamed up with Prepped to reward their loyal fans with their all-time favourite WoW meals. For a limited time only, savour the sumptuous Ironforge Rations of the Alliance and the Chimaerok Chops of the Horde for real! Both recipes were inspired by the Official WoW Cookbook.
If you've always wondered how these meals taste or whether they restore 2,550 health over 30 seconds in real life, then rejoice because we have four of these meals to giveaway to four lucky winners in Singapore (2 Ironforge Rations and 2 Chimaerok Chops). Each winner will also receive a 14-day subscription to World of Warcraft: Burning Crusade Classic!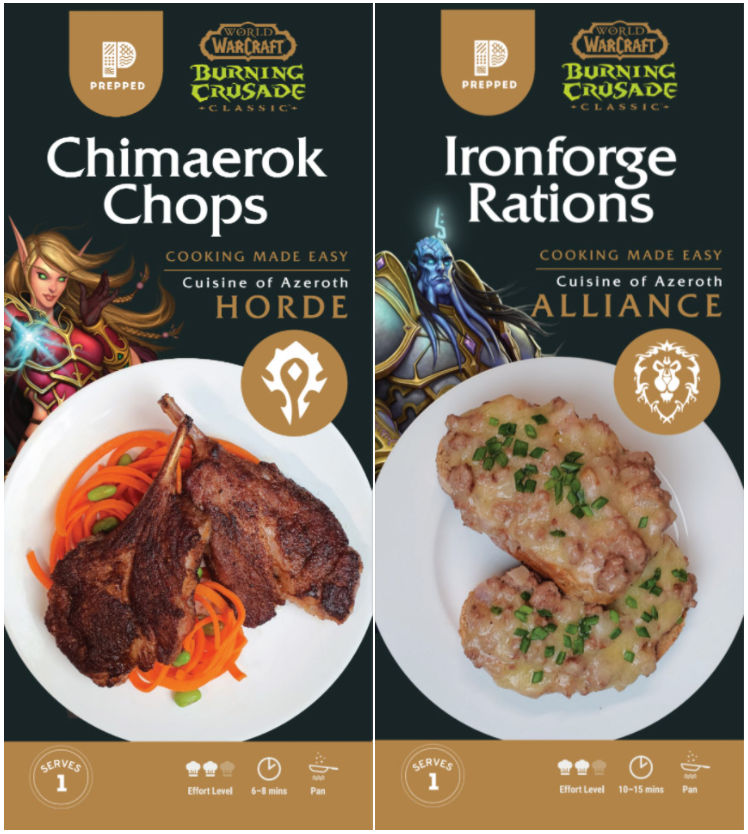 Want a preview of what the actual meal kit is like and watch the process of how easy it is to cook it? Check out our IG Stories here!
Additionally, if you want another chance of winning the meal kit, free feel to check out Prepped directly as they're running a separate giveaway as well!
---
ENTER NOW TO WIN
To stand a chance to win, simply complete these simple steps:
SHARE THIS POST and TAG a friend or more** you would like to share the meal with ->
Fill in the form below and answer a simple question.
Give us a LIKE below if you haven't done so yet, so you won't miss out on future similar giveaways!
If you are unable to use the form below for some reason, head to the original article on GeekCulture.co here.
The giveaway is open to all residents of Singapore. The giveaway closes on 17 July 2021 @23:59hrs (GMT+8). 4 lucky winners with the correct answers will be picked at random. The winners will be contacted via email by 19 July 2021. Good luck!
---

Drop a Facebook comment below!