[UPDATE 11 December 2015: Winner Announcement! Congratulations to Eric Chia, Ron Vining, Leonard Lim and Aiden Dominic Chong! You guys won the REALD glasses of your choice!]
This is it, boys. – Red Leader, this is Gold Leader.
We are now officially in Star Wars overdrive mode, and it is less than 2 weeks to the opening of Star Wars: The Force Awakens.
We hope that you've all managed to book your tickets for the film and if you haven't, you might still be able to snag them here. But while everyone else in the theatre is putting on their bland and ordinary 3D glasses, you can be one of the lucky ones slipping on one of these exclusive REALD 3D Star Wars: The Force Awakens eyewear, modelled after four of the (soon-to-be) iconic characters from the upcoming film.
While these limited edition eyewear are available for exclusively from the Shaw Theatres box-office counter, we understand that stocks are extremely limited, but we managed to get our hands on convince Shaw Theatres to sponsor four pairs, just for you.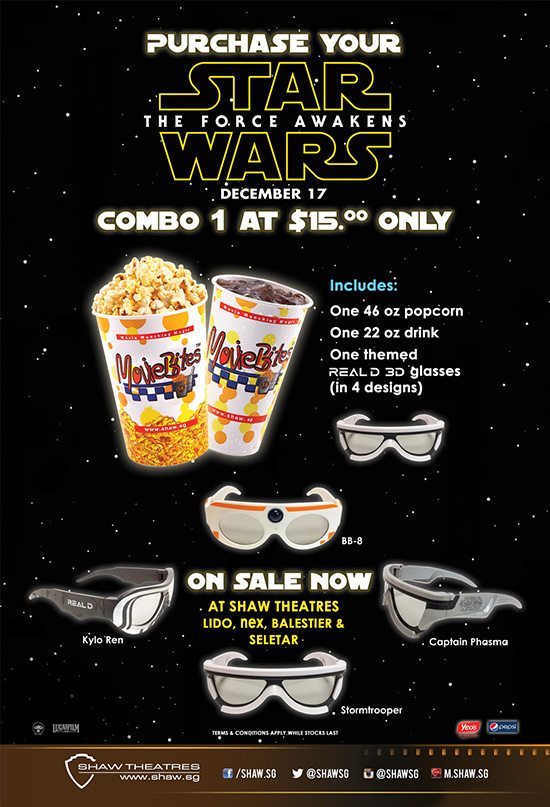 WIN A PAIR FOR YOURSELF!
First up is the black and white stylings of Kylo-We-Don't-Think-He's-Luke-Skywalker-Ren. Or you can choose to suit up in support of Captain-I'm-All-Woman-Phasma. Otherwise, there is always the modern First-Order-I-Hope-They-Can-Shoot-Stormtrooper.
But let's face it. Most of us want the new R2-D2 replacement droid, BB-8.
[GIVEAWAY HAS CLOSED]
Well, here is your chance:
Simply choose the design of the REALD 3D eyewear that you want.
And tell us in the Facebook comments below, Clone Trooper vs Classic Stormtrooper vs First Order Stormtrooper. Who do you think will win in a shooting contest, and why?
This giveaway is open to all who are currently residing in Singapore, and closes on 10 December 2015 @ 23:59hrs. Winners will be announced right here on 11 December 2015.
---

Drop a Facebook comment below!