The concept of kaiju is hardly a new one in the realm of cinematic works, with its roots deeply embedded in Japanese film culture, under the sub-genre of "tonkusatsu entertainment". Perhaps the most recognisable form of it would be Godzilla, arguably the biggest source of influence for many inspired works to come.
In 2013, the Guillermo del Toro-led title Pacific Rim introduced a new spin onto the unusual sci-fi-tonkusatsu troupe, giving audiences an idea of how deadly the evolved kaiju species can get. Giant humanoid mechas called Jaegers are designed to keep them at bay, and this east-meets-west formula, coupled with action thrills, and a big directing name, pushed the movie to great commercial success.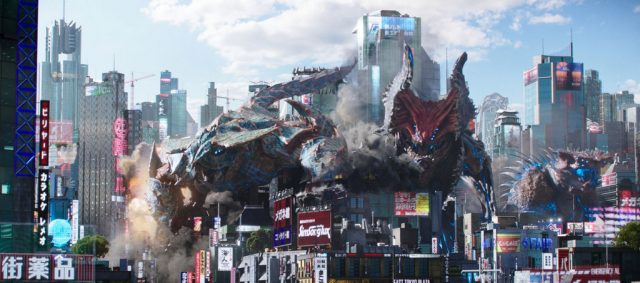 Five years later, its follow-up film, Pacific Rim: Uprising, is finally taking to the silver screen! Starring John Boyega and Scott Eastwood, it promises more adrenaline-pumping scenes as the showdown between the Kaiju and Jaegers reach a new climax, with both sides striking back with bigger, stronger, and faster units.
In light of the movie's upcoming release, we have three pairs of preview screening tickets to give away, so that you can watch the action-adventure epic before your friends! Each pair will also come with two other premiums: the Gipsy Avenger Tumbler, and the Obsidian Fury Notebook.
The screening details are as follows:
Date: 20 March 2018, Tuesday
Time: 7pm onwards
Venue: Cathay Cineleisure
Pacific Rim: Uprising releases in IMAX 3D and 3D cinemas on March 22, 2018, and is rated PG-13 for violence. © 2018 Universal Studios.
---
ENTER NOW TO WIN
To stand a chance to win, simply complete these 2 simple steps:
SHARE THIS POST and TAG a friend you would want to watch the movie with. ->
Fill in the form below.
Give us a LIKE below if you haven't done so yet, so you won't miss out on future similar giveaways!
[GIVEAWAY HAS CLOSED]
The giveaway is open to all residents of Singapore. The giveaway closes on 17 March 2018 @23:59hrs (GMT+8). 3 lucky winners with the correct answers will be picked at random. The winners will be notified via email by 19 March 2018. All premiums will be collected with the tickets at the preview screening venue on March 20th. Good luck!