Ask gamers a few years ago and the idea of a virtual concert happening live in a video game would have probably been something they would not have thought possible. However, that was exactly what happened at Fortnite's first live in-game concert for EDM producer Christopher Comstock, better known as Marshmello.
Just earlier last week, dataminers found hints of an in-game cosmetic pack of Marshmello, which featured the DJ's signature white suit and white, marshmallow-like helmet. The concert was eventually announced by the musician himself, even going as far as to put Fortnite's location Pleasant Park in his tour schedule.
Drop into Pleasant Park in @FortniteGame this Saturday for a special set ? pic.twitter.com/yDNX2IHNpp

— marshmello (@marshmellomusic) January 31, 2019
According to journalist Geoff Keighley, his sources from Epic Games says that there were more than 10 million concurrent players attending the Marshmello concert in Fortnite. The tweet was then retweeted by Fortnite's Creative Director at Epic Games Donald Mustard who added a series of fire emojis to his tweet.
— Donald Mustard (@DonaldMustard) February 3, 2019
At 2pm Eastern Time, players in-game were all transported to a virtual stage in Pleasant Park. Once they arrived, they found Marshmello performing what will end up becoming a 10-minute set. Epic Games seemed to have learned from their past one-time live events, such as the iconic rocket launch that left a rift in the sky, having created a special game mode specially for the in-game concert.
Thanks to the Team Rumble mode, players who were unceremoniously taken out by an enemy trying to ruin their fun can just respawn. Epic Games went a step further by disabling the ability to use weapons for the entirety of the 10-minute concert. Of course, players quickly went back to killing each other as soon as the concert ended.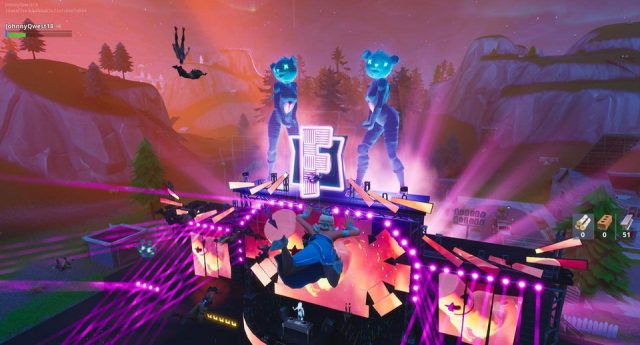 The concert itself was quite a visual spectacle. The stage came alive with giant holograms of Fortnite characters, with custom designed graphics flashing behind Marshmello's avatar as he performed. During his performance, the DJ also made an effort to interact with the crowd, encouraging them to dance and clap along. At certain points of the concert, the stage will alter its gravity, sending players bouncing into the sky.
This virtual concert is just a peek into the future of music and gaming. Musicians will definitely be clamouring to be the next to hold their own concert in Fortnite, given the insanely high level of exposure the Marshmello concert was given. Epic Games themselves should also be eager for the next event, as the revenue earned through microtransactions would definitely have been a pretty sizeable sum.
In the words of Marshmello himself, "We just made history today. We can all tell our kids one day that we attended the first ever virtual concert."
Those who missed the concert can now watch it here, courtesy of Polygon.