Which came first? The chicken (rice war), or the Apple iPhone?
For veteran documentary filmmaker David Gelb, using Apple's latest and best for this latest project with Apple Singapore was a given, but it was the subject matter that gave him a little pause. To the world at large, chicken rice is a dish that has become synonymous with Singapore cuisine, with many versions populating the coffee shops, hawkers and restaurants in the tiny Republic, and even around the world.
But when he flew into Singapore in February to film Poached, his new project on the nation's iconic hawker culture that has been added to UNESCO's list of intangible cultural heritage, he found out firsthand what made the simple dish such a complex case study.
"Part of the story here I'm really drawn to is passion. In Singapore, people are very passionate about their food and they are very passionate about chicken rice. That's like perfect, fertile ground for a dramatic story," said Gelb in a video call and exclusive interview with Geek Culture.
"The incredible thing about chicken rice in Singapore is that there are so many different takes, on what is fundamentally similar, that everybody can find their favourite."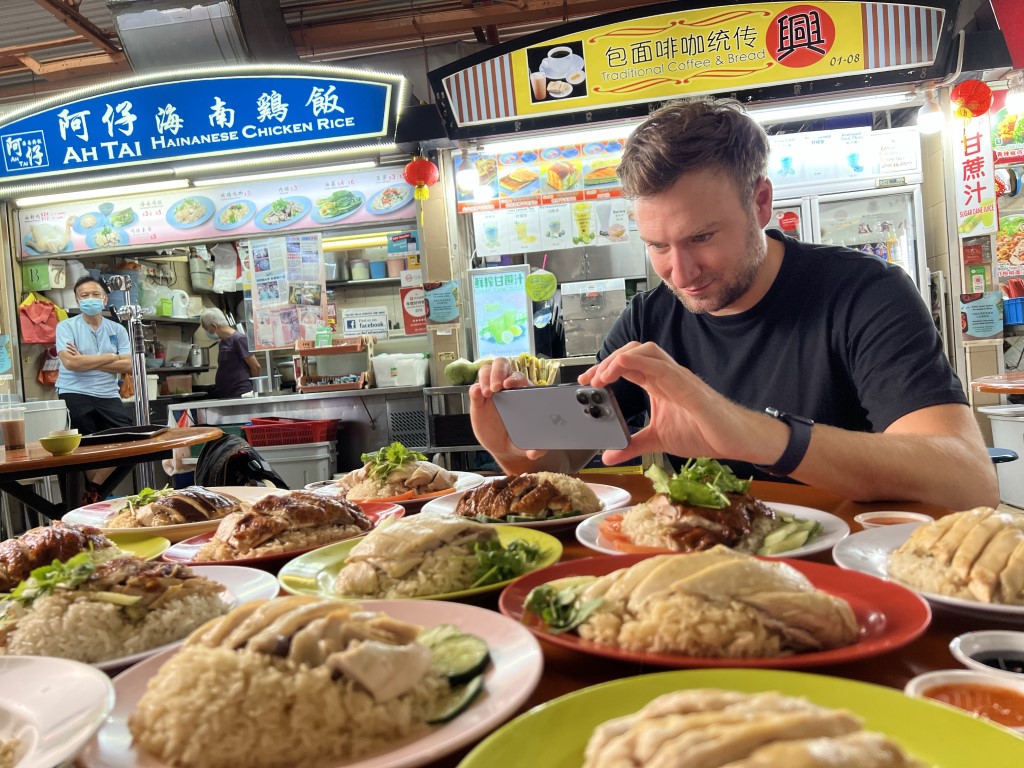 Poached is a short documentary focusing on more than just the popular Singapore dish, as it also represents something near and dear to many. Like the Mexican taco, American burger, Italian pizza and Japanese ramen, it's not just any food, but one whose popularity is directly intertwined with the national identity as well. For those not familiar with the legendary Chicken Rice, it's a crux to the beloved food culture in Singapore, and many argue night and day which is the best, and have no qualms about traveling the farthest distances to try.
So the international filmmaker, famed for creating Chef's Table on Netflix, Jiro Dreams of Sushi, and The Lazarus Effect, honed in on the two most famous chicken rice sellers in Singapore, located in the same hawker centre in Maxwell – Tian Tian Hainanese Chicken Rice and Ah Tai Hainanese Chicken Rice.
Both establishments have a deep connection, but have since been separated due to personal reasons, though are also forever linked to each other. The five-and-a-half-minute episode includes interviews with Tian Tian's founder Foo Kui Lian and current owner, daughter Loi Mui Yin, Ah Tai's founder Wong Lian Tai, as well as food journalist Annette Tan, and restaurateur Bjorn Shen.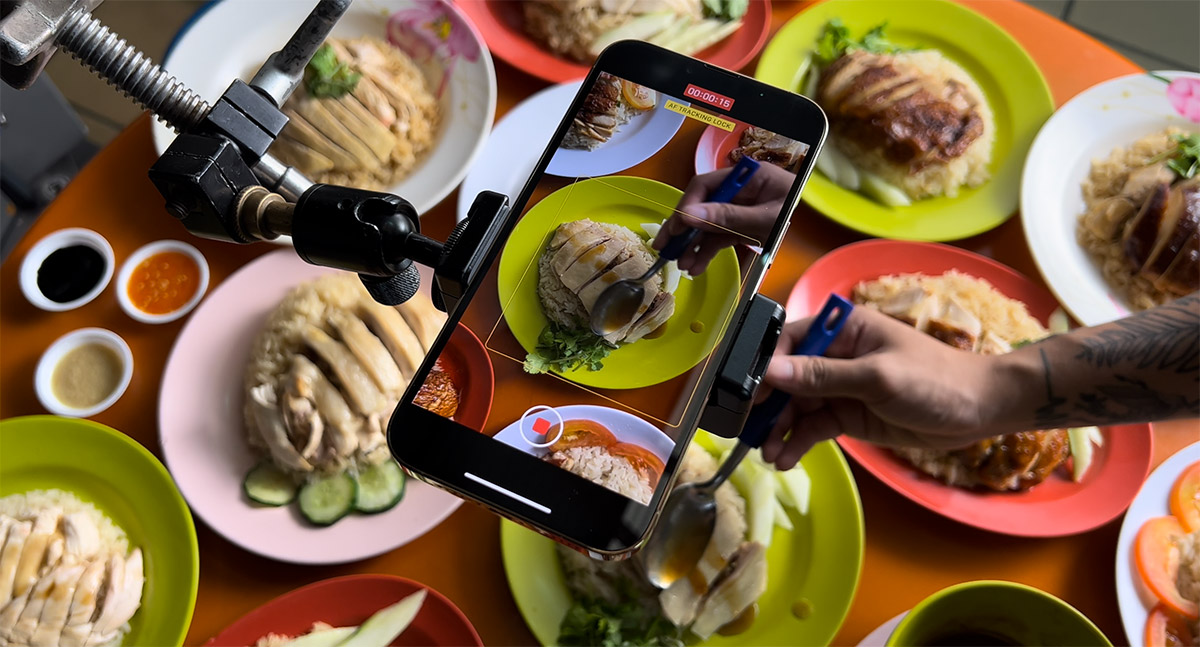 And while few filmmakers can capture the soul of food like Gelb, Poached also gave him the opportunity to create a project shot entirely on the Apple iPhone 13 Pro. It's no secret that the smartphone has changed the way we capture and create, and in the small, public space of Maxwell Food Centre where the short film was short, freedom of movement, hardware capabilities and more came into play during production.
On a technical level, the 38-year-old has a preference in shooting with prime lenses, with nice fall off and bokeh, and while smartphone cameras don't offer this due to the design and size of the lens, what the iPhone 13 has is a powerful Cinematic Mode which simulates this feel and look. In fact, it was his obsession with Cinematic Mode that made him use it primarily for this film.
"I really wanted to push the device itself to its limits. The vast majority of the piece was shot in cinematic mode in the native app and it performed brilliantly," gushed the filmmaker.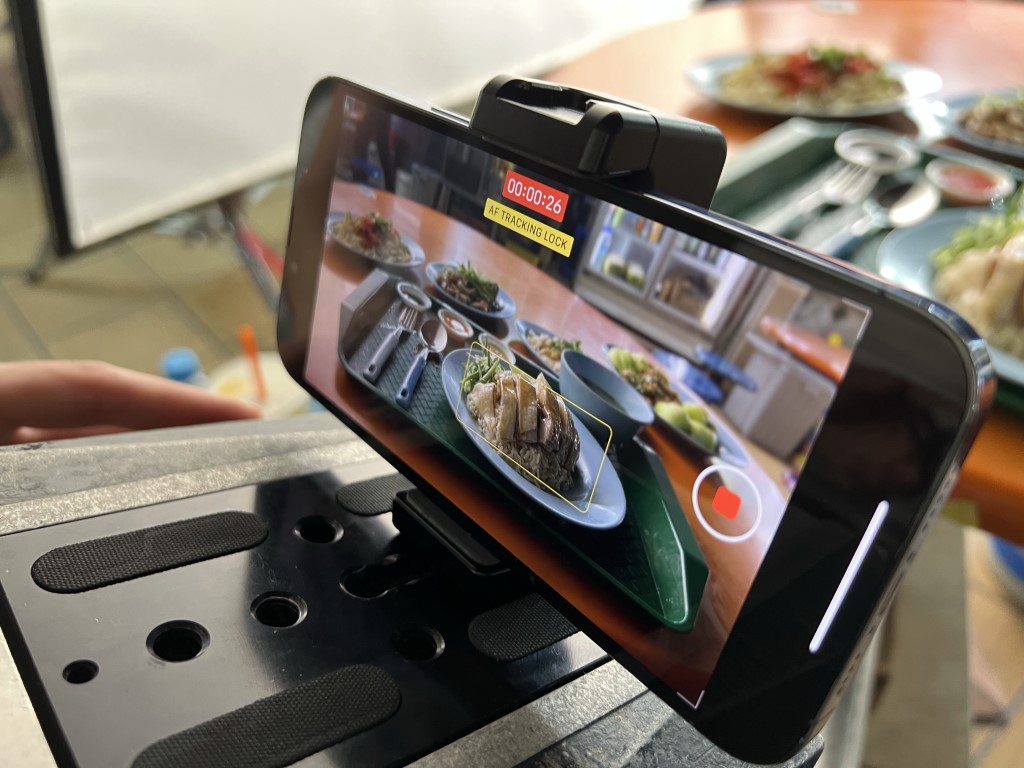 "I just want to shoot it on Cinematic mode, I want to shoot everything on Cinematic mode, I'm like, obsessed with Cinematic mode."
One of the benefits in using a small device during the shoot was the versatility, as the relative small size of the Apple 13 Pro allowed for more unique angles, such as when the phone was attached to a butcher knife for more creative shots. It also provided a less intrusive feel to those being filmed, which allowed those interviewed for the film to feel more at ease during filming. Also, the all encompassing macro lenses allowed him to capture sharp details in food, without the need of additional accessories.
For audio, the nature of the work meant that Gelb relied on separate audio recording and mixing but did state when he wanted ambience sound, the iPhone 13 Pro's microphone did an excellent job in this regard, and some of those audio clips made their way into the final film.
So was the iPhone 13 Pro the perfect tool? Yes, but if anything, there are improvements to look forward to and on his wish list for Cinematic mode? Slow motion, and ability to shoot in larger format.
Since the launch of the iPhone, Apple has been pushing these boundaries with every iPhone release. While they may not have the highest megapixels and gimmicks that other smartphone manufacturers have, what they include are features that work in a cohesive and organic way, giving the creator the freedom to create vs burning our faces in multiple menus and settings just to get the shot we want.
So now that the project is completed, one final question that seemingly deserves an answer – which of the two stalls serves the superior chicken rice?
"It's tough," admits Gelb.
"We have great sauce; we have beautiful rice. One is a little fattier, on the Ah Tai side, and there's a little bit in the leaner-ness going on with Tian Tian. But I think they are both fantastic."