Back in 2018, Garmin launched the Instinct series of GPS smartwatches, with a focus on creating a purpose-built smartwatch designed with rugged exterior, and integrated with Garmin's full suite of activity and health features. The Swiss multinational for smart wearables continues its bold and playful spirit with its latest collaboration themed smartwatch, the Instinct 2 Solar ONE PIECE, Asia Limited Edition.
Following the launch of the well-received Instinct Evangelion GPS smartwatches in 2020, Garmin has now teamed up with hit Japanese anime ONE PIECE, and released the world's first ONE PIECE-inspired smartwatch, the Instinct 2 Solar ONE PIECE, Asia Limited Edition. Inspired by Captain Monkey D.Luffy, the swordsman Roronoa Zoro and doctor Tony Tony Chopper, the new device invites consumers to explore the New World with the beloved characters of the Straw Hat Crew.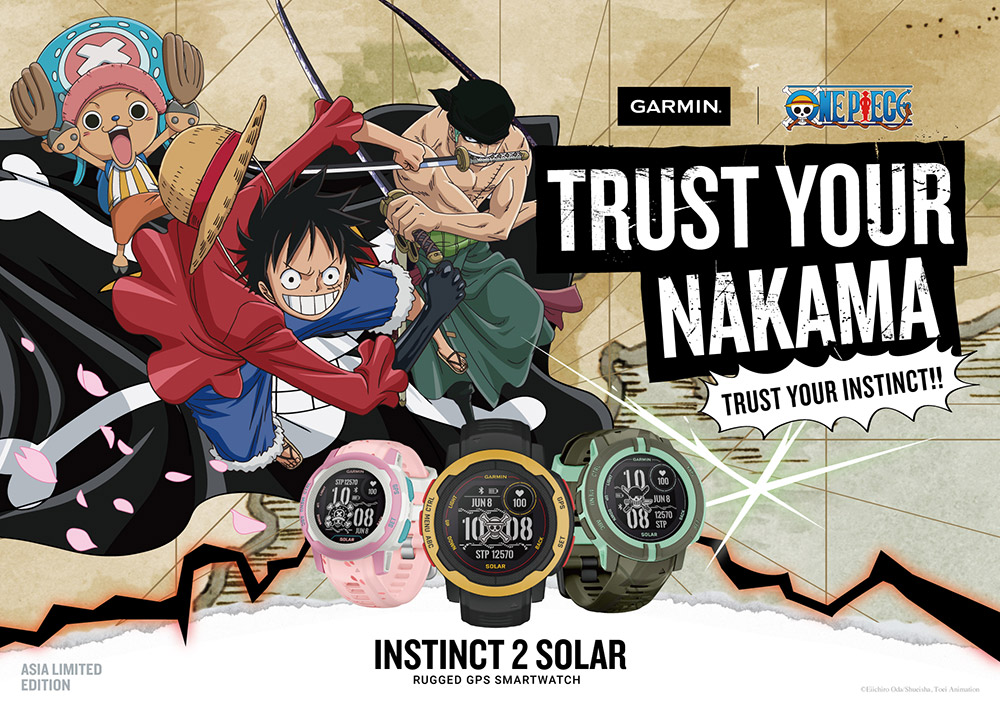 Built to MIL-STD-810 standards, the smartwatch weaves classic elements from the anime into the rugged DNA of the Instinct series, and features Garmin's proprietary Power Glass solar charging display and a Power Manager system, providing unlimited battery supply for your adventures. With built-in multi GNSS support, a barometer and an electronic compass, the watch is your best adventure companion as you set sail into the wild!
"Since the launch of the Instinct series, we have taken pride in engineering outstanding features beneath with a tough exterior, and have continuously delivered various themed smartwatches that celebrates the adventurous spirit of our active users," said Mr. Scoppen Lin, Assistant General Manager, Garmin Asia.
"With the latest collaboration with world-famous anime ONE PIECE, we have integrated iconic elements of the anime into the watch design, built-in features, watch faces and the packaging. By doing so, the Instinct 2 Solar ONE PIECE, Asia Limited Edition is designed to be the perfect companion for every sailing enthusiast."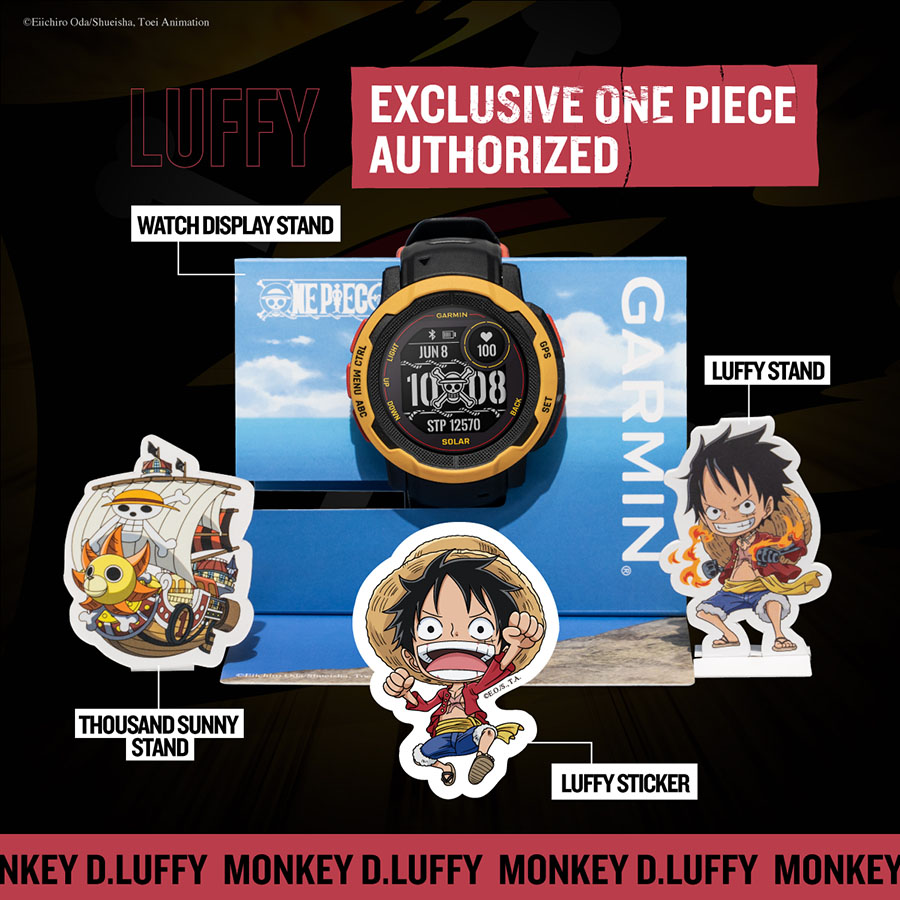 Instinct 2 Solar ONE PIECE, Asia Limited Edition is the world's first ONE PIECE collaboration smartwatch. In order to reflect the hot-blooded adventurous spirit and the mindset of trusting your nakama (comrades) and your instinct, Garmin launched three limited editions of the smart device – the Monkey D.Luffy limited edition, Roronoa Zoro limited edition and Tony Tony Chopper limited edition, based on Instinct 2 Solar GPS smartwatch series, inspired by elements from the iconic anime.
---
'I'm Going To Become The King Of Pirates!'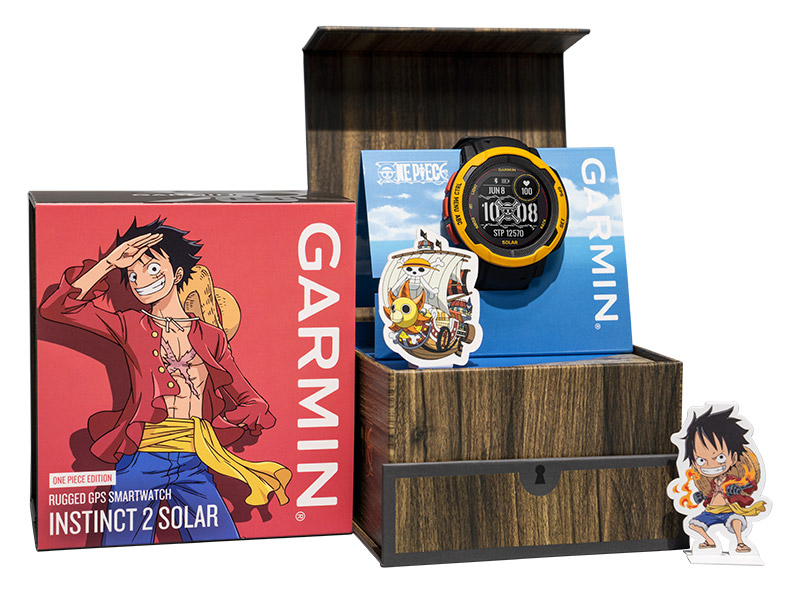 Inspired by ONE PIECE main protagonist Monkey D.Luffy, who got his ability from the Gum-gum Fruit, this pirate-black colorway has a buckle embellished with skull and crossbone details, and features red and yellow bezel and button accents that embody Luffy's optimism and courage.
---
'The Day I Decided To Be The World's Greatest Swordsman, I Gave Myself Up For Dead.'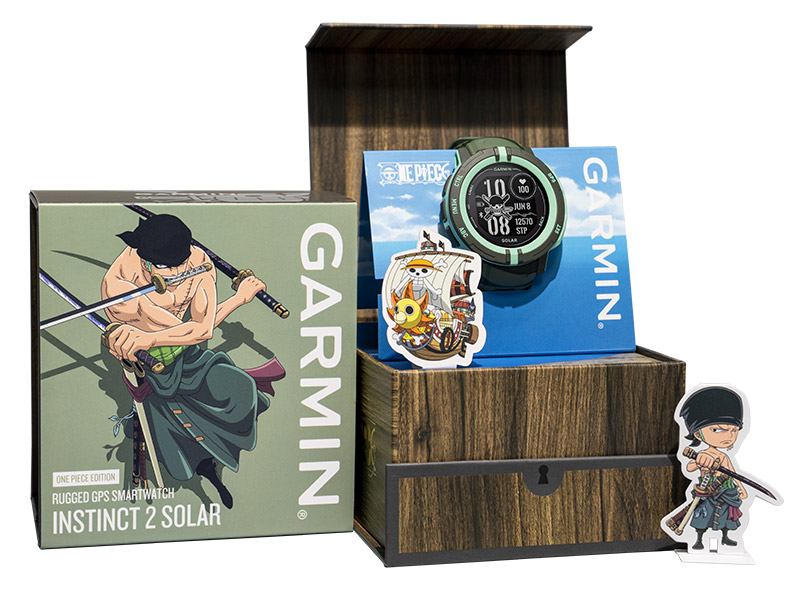 Roronoa Zoro 's goal in life is to become the world's greatest swordsman, so taking its cue from Zoro's iconic hair color and clothing, this design manifests his signature three-sword fighting style. You can feel the swordsman's aura envelop you as soon as you put it on your wrist, which shouts the spirit of Zoro.
---
'I Will Become The Doctor Who Can Cure Everything!'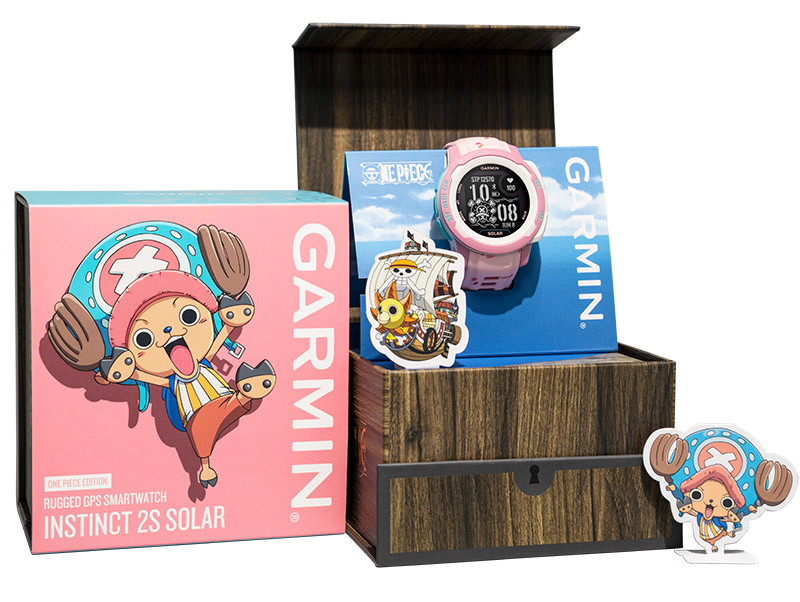 Inspired by Tony Tony Chopper's adorable characteristic as well as the classic scene where sakura falls, this design features a dynamic and lovely pink case and a light blue button on the side, exuding Chopper's incomparably cute charm.
---
Not only is the watch design inspired by the characters, the watch faces are embellished with skull and crossbone details, as character illustrations adorn a faux-woodgrain treasure chest containing exclusive authorized stickers and display stands that add to its unique collectible value.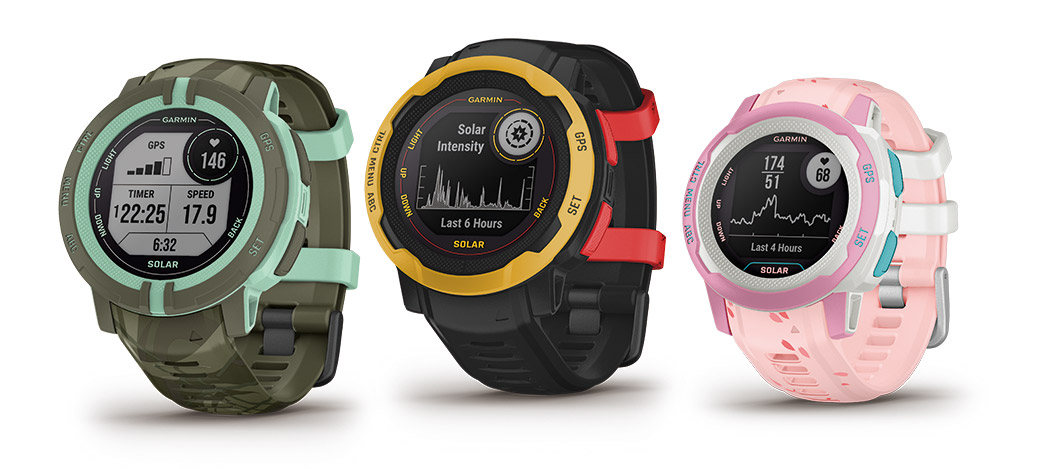 Built-in compliance with MIL-STD-810 standard for waterproofing, drop and shock resistance, thermal and cold resistance, and corrosion resistance, this one-of-a-kind series is water-rated to 100 meters and equipped with a proprietary Power Glass solar charging display, allowing the watch to achieve 30% greater solar conversion than the previous generation. When used with the Power Manager system, it can optimise battery life for extended, worry-free use without the need to constantly look for a charger.
With built-in multi-satellite positioning (GPS, GLONASS and Galileo satellite networks), altimeter, barometer, electronic compass, and the Tracback function, owners can accurately navigate back to the Great Line even when you're lost in the farthest reaches.
For those not looking to set sail across the seven seas, the watch continues to challenge limits, with more than 30 indoor and outdoor built-in sports modes, including running, mountaineering, weights, rock climbing, golf, skiing, surfing, kite surfing and sailing etc. It is also equipped with all-day advanced health monitoring, including VO2 max, heart rate, stress level, blood oxygen, calorie consumption, body battery, advanced sleep monitoring and fitness age, providing owners the ability to face every challenge at their best.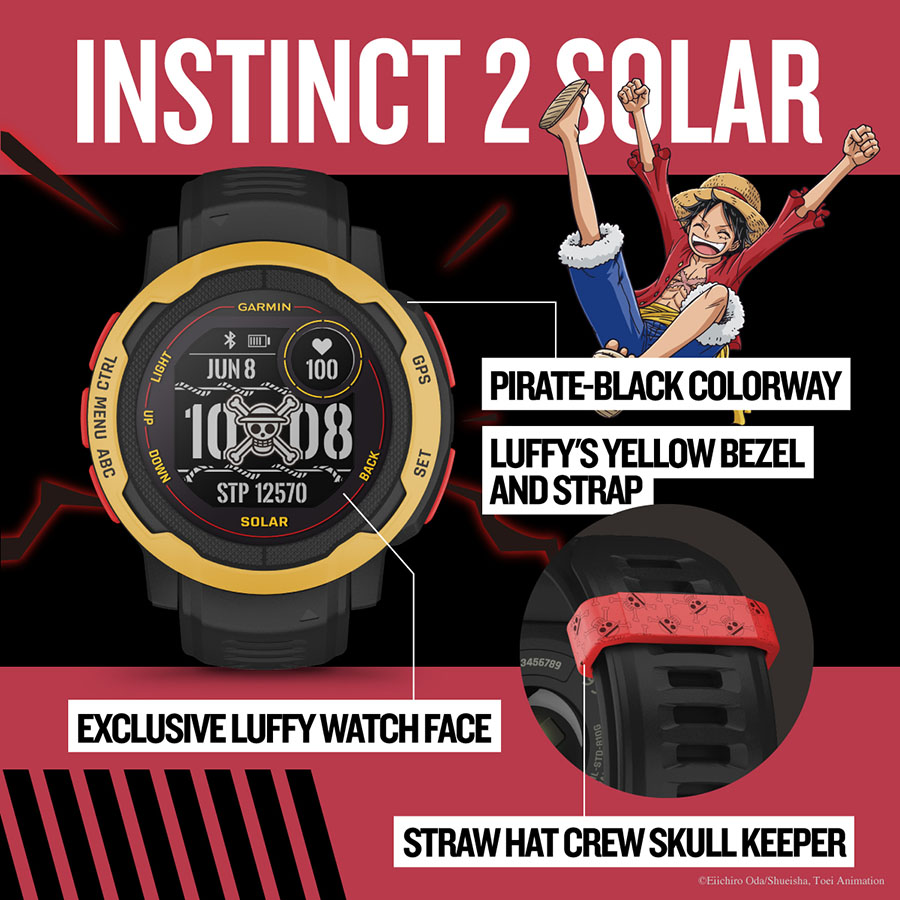 Last but not least, the smart alarm function sends notifications on incoming calls, messages and social media notifications, giving owners peace of mind as they set out on their adventures.
Each model in this Instinct 2 Solar ONE PIECE, Asia Limited Edition is priced at S$699, and the complete collection will be available on 28 April, and sold at all Garmin Brand Stores, Lazada, Shopee, Garmin Online Store, and all authorized retailers on 5 May to commemorate Luffy's birthday.
---
This article is brought to you together with Garmin Singapore.