Netflix is gearing up for the highly anticipated premiere of Skull Island, the animated series based on Legendary's King Kong. Set to debut in June, viewers can expect an exhilarating adventure brought to life on the streaming platform.
In 2017, the thrilling adventure film Kong: Skull Island stomped into theaters, marking the second installment in Legendary Pictures' Monsterverse following 2014's Godzilla. Since then, the universe has grown with the epic releases of Godzilla: King of the Monsters in 2019 and the colossal showdown of Godzilla vs. Kong in 2021. A new Godzilla x Kong feature film is also set to release soon.
Now, in an exciting collaboration, Legendary and Netflix have joined forces to unleash another captivating addition to the expanding Monsterverse: Skull Island.
Taking place during the same period as the original Kong: Skull Island film, the upcoming series offers fans a glimpse of what they can anticipate in terms of thrilling action. With the release of the series synopsis and the announcement of the main voice cast, the new project has unveiled its initial insights for eager viewers.
Netflix offers a thrilling glimpse of what lies ahead, teasing viewers with the enticing prospects of the series:
"Skull Island takes viewers on a thrilling adventure as a group of kind-hearted explorers rescues Annie (Mae Whitman) from the ocean, unaware that their act of heroism will lead them to the treacherous Skull Island. This enigmatic place is home to bizarre creatures and terrifying monsters, including the mighty titan himself, Kong."
The stellar voice cast for the series has been unveiled, featuring renowned talents such as Nicolas Cantu (known for Dragons Rescue Riders: Heroes of the Sky) portraying the main protagonist, Charlie. Joining the cast is Mae Whitman, who not only lends her voice to Annie but also takes part in Netflix's exciting new Scott Pilgrim anime.
Darren Barnett, celebrated for his performances in Never Have I Ever, assumes the role of Mike, while Benjamin Bratt (recognised for Coco) brings life to the character of Cap. Additionally, Betty Gilpin (known for Mrs. Davis) takes on the role of Irene.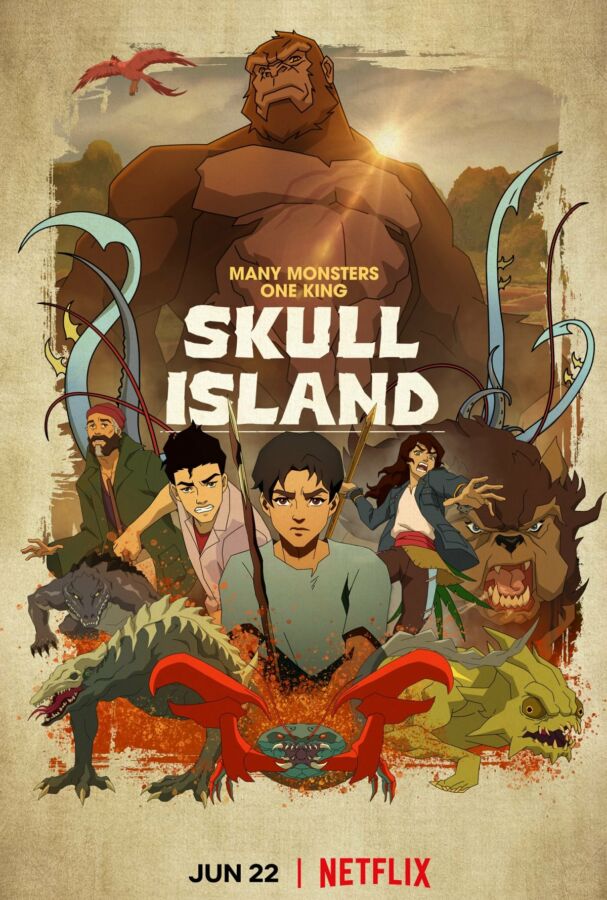 The Skull Island animated series will be brought to life by the creative genius of Brian Duffield, who produced Cocaine Bear and wrote the screenplay for Love and Monsters. Powerhouse Animation Studios, recognised for their work on acclaimed Netflix animated series such as Castlevania and Blood of Zeus, brings their expertise to the animation production for the new series.
Skull Island is set to premiere on 22 June 2023, only on Netflix.