There are some food items that don't belong on the same menu – noodles and tacos; soup and fried chicken; pizza and fish; burgers and hot dogs.
Wait a minute. American burger chain Fatburger, which opened here just late last year, is bringing together these two American classics, by offering  three new takes on the American Classic Hotdog – the Classic Hot Dog (S$6.90), the Chilli Dog (S$7.90), and the Chilli Cheese Dog (S$8.90).
And before you start thinking about Ikea hotdogs in sweet chilli sauce, the chilli here is the classic American stew aka chilli con carne, where minced beef is cooked with chili peppers, tomatoes, beans and topped with cheese.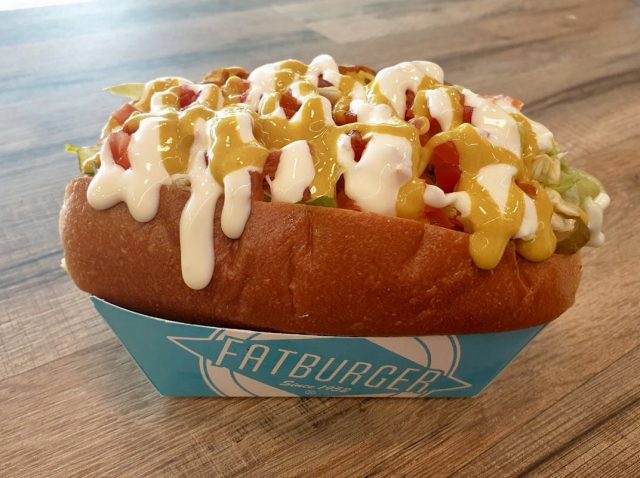 Each hotdog comes with juicy, thick, mouth-watering chicken sausage that's bursting with flavour from every bite, wrapped in a lightly toasted brioche bun that has a buttery bite, and is easy to bite into. Every bite will definitely bring a new experience for your tastebuds to savour.
The Classic Hot Dog comes with Fatburger's signature toppings, "The Works", which has a generous helping of mayo and mustard, together with lettuce, tomatoes, pickles, onions and relish. Yeah, it is a definite mouthful.
The Chilli Dog is loaded with richly flavoured chilli that is made in-house daily, while the Chilli Cheese Dog comes with melted cheddar cheese generously topped over the chilli. The saltiness from the melted cheddar cheese perfectly compliments the savoury and rich chilli as it coats the flavourful juicy chicken sausage. The soft brioche buns also add to the experience by absorbing some of the chilli, giving you even more flavour with every bite.
While the Classic is a delight, do be sure to check out the chilli versions. Ever since Wendy's shut its doors here, American chilli isn't an easy item to find on the menu and Fatburger's slight sweet and spicy take is sure wins fans over. Those looking to have chilli together with their fries will be glad to know that you can purchase the Chili Cheese Fries from Fatburger for S$5.90.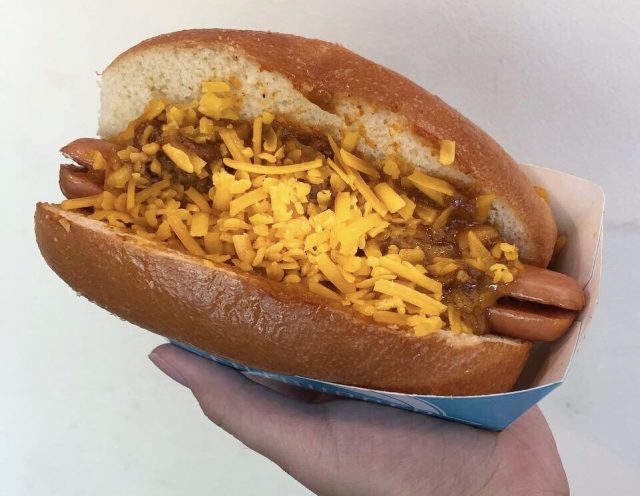 For those who like their food a little more personal, Fatburgers is also giving you the chance to customise your own hotdogs with your own choice of toppings to make your hotdog your very own.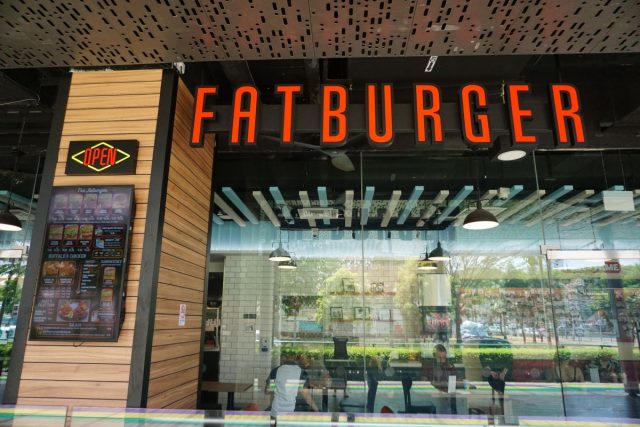 These gourmet hotdogs will be available at both Fatburger KINEX and Velocity @ Novena outlets, so go ahead and indulge yourself.
For those who like a little challenge when dining, Fatburger also has the Quad Burger challenge where if you manage to finish their Quad Burger (S$15.90) which comes with four thick patties, you will get a certificate for your achievement and get to go onto Fatburger's Wall of Fame!
Believe it or not, someone managed to eat four Quad Burger and now he is at the very top of the Hall of Fame.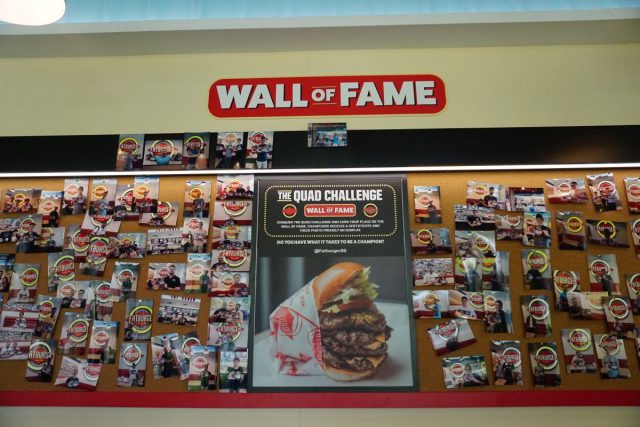 Being a fast-casual restaurant best known for its burgers, it is not surprising that Fatburger's burgers are jam-packed full of flavour with every bite. You get a little bit of tanginess from the pickles, mild tartness from the tomatoes, and a rich savoury taste from the patty which uses mostly lean meat so you can worry a little less about your waistline when dining at Fatburger.
By the way, in case you are curious, the 'Fat' in Fatburger stands for 'fresh, authentic, and tasty'. Who knew!