Since its worldwide release in 2018, MapleStoryM has seen the introduction of a number of jobs, including the Demon Slayer, Mechanic, and Wild Hunter in order to keep the game fresh.
In true, tried and tested, RPG fashion, the advent of an anti-hero in the form of a demon joins the world of MapleStoryM.
He is none other than the Demon Avenger.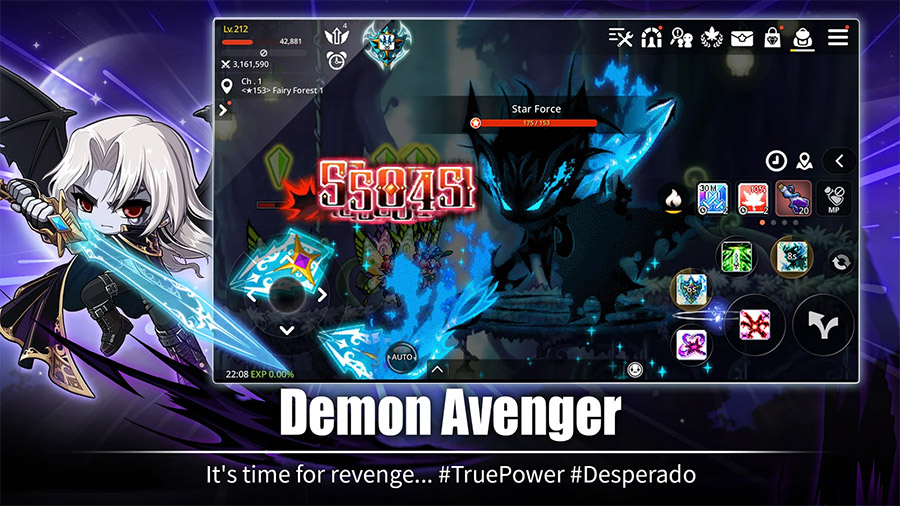 Based on his lore, our protagonist, Demon, was born to a devil father and human mother. We begin their story in the Temple of Time, with Demon going head to head with the Black Mage, who they have served for many years. It is through a flashback that we learn that the Black Mage's order had resulted in the death of Demon's mother and brother. From there, Demon embarks on a path of revenge with his loyal sidekick Mastema as a Demon Avenger, to track down the Black Mage and avenge his family.
Unlike other warrior classes in MapleStoryM, the Demon Avenger has no need for other stats like Strength and Dexterity, Instead, they rely solely on their HP for their skills and overall damage dealt to enemies and monsters. Avengers also come with no MP, meaning players that choose the class on MapleStoryM get to save on the in-game currency mesos, since only health potions will need to be bought and the game gives them out rather generously whenever a mission is complete.
The Demon Avenger comes with a new Exceed ability which includes four different Exceed skills such as the Exceed: Double Slash and Exceed: Demon Strike. The use of each Exceed skill will add a stack of buff to your Infernal Exceed passive.
The Infernal Exceed buff, which will be available to players from the start, greatly enhances the Demon Avenger's attack and attack speed, turning your attacks from blue to purple. However, the job also comes with an Exceed Overload passive which decreases the ability for your Demon Avenger to sap the life out of someone to increase your own health, based on the buff stack of your Infernal Exceed passive. Fortunately, once the Exceed Overload reaches a significant amount, players will be able to apply the Overload Release skill to undo this effect.
For anyone looking to try out MapleStoryM, the new Demon Avenger is the type of class where players are bound to have plenty of fun with.
Once you've overcome the heavy sense of nostalgia that washes over you on the character creation screen, it takes less than a minute to have a Demon Avenger created and ready to go.
No matter how long a hiatus one might have had with MapleStoryM. It's a fun experience to delve back into the game. Much would have changed since playing it back in the day. For one, levelling up is now much faster.
With the Demon Avenger, we only needed to worry about our health, with the mana bar completely void. This way in battles, which are often fully automated, players only need to occasionally pay attention to our health bar and keep our health topped up with potions when necessary. Aside from health potions, Demon Avengers also come with the Life Sap skill which can be used to help counter the massive consumption of the character's HP. As such, Demon Avenger just might be the easiest class for new MapleStoryM gamers to play.
Aesthetically, the Demon Avenger also comes with very flashy and visually appealing skills, with skills like Exceed: Double Slash and Shield Charge having cool purple coloured animations followed by the very satisfying row of numbers signifying the damage we've dealt. The Demon Avenger also uses Desperado as their main, and only, weapon.
MapleStoryM also makes it incredibly easy to build your Demon Avenger, with the ability to auto-assign skill points every time after levelling up. This way, you won't need to spend too much time worrying about which skill to increase as the game simply does it for you.
Quests are also easy to complete, with MapleStoryM giving players the ability to put battles and travelling on 'auto'. With this feature, we easily traversed through the maps, completing any quests that we received.
What's more, to help celebrate the launch of the Demon Avenger on MapleStoryM, the game is holding a number of limited-time events, such as the Demon Avenger Growth Support Event where players who reach certain level milestones from now till 12 January 2021 will receive additional in-game items, and the Demon Avenger Burning Event where any new Demon Avenger character can be levelled up by three times for every level increase, between level 3 to 100 from now till 12 January 2021. This way, you can easily and more quickly have every Demon Avenger skill at your disposal.
All in all, Demon Avenger is an extremely forgiving and easy-to-play job for someone returning to MapleStoryM after not playing the game for a while. Though that is not to say that it is boring or not fun to play, there is still an interesting storyline concerning the Black Mage and the Demon Avenger's path to revenge for players to follow, and if they so choose, players can also opt to not have their battles automated and instead take a more hands-on approach to winning their battles and clearing their quests instead.
MapleStoryM can be downloaded on both iOS and Android.
---

Drop a Facebook comment below!