Singapore fans of tokidoki rejoice, as the world's first tokidoki pop-up cafe has opened its doors!
Running for a limited time only, Kumoya cafe has been transformed into a tokidoki dream come true. The iconic characters of the Japan-inspired lifestyle brand created by Simone Legno adorn the walls, tables, and chairs! Before you even walk in the door, a large pink statue of Little Terror greets you by the entrance for you to snap photos with.
The interior is bright and cheery, with big plushies of Unicorno, Moofia, and Donutella providing a cute tokidoki friend for every table.
More plushies and decals hang from the ceiling, and every chair has a unique tokidoki character covering. It's like stepping into a rainbow fairytale! Of course, there's plenty of tokidoki merchandise on sale, from the plushies you see scattered around the seats to stickers, key chains, and collectible toy figurines.
The food on offer consists of tokidoki-themed snacks, mains, desserts, and drinks.
Prices range from S$10.90 to S$28.90. The food is served look impressively identical to their images in the menu. This one is the Donutella & Sweet Friends Japanese Curry (S$25.90).
All mains are served with miso soup and the side dish of the day, today's being edamame beans, corn, and lotus chips. Here's the A Lot-of-Things LAH! Merlion Seafood Ramen (S$28.90). Do note that while the Merlion fishcake is edible, the "LAH!" speech bubble isn't! We found that out the hard way.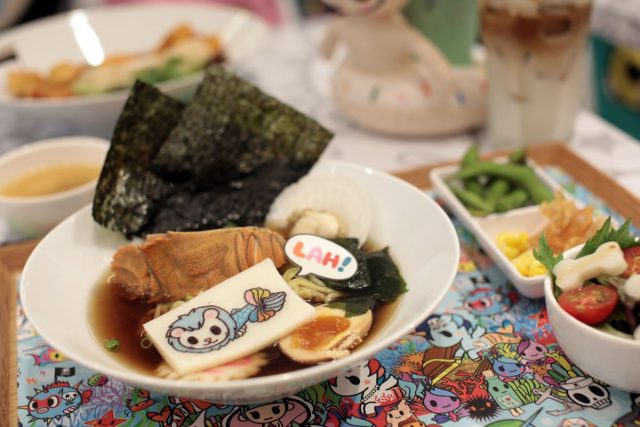 If you feel like having sushi, there's the Moofia-Protected Pressed Sushi Rice (S$24.90). Apart from Japanese fare, the menu also offers Japanese-Western fusion dishes such as the SANDy and Polpettina Full-of-Life Chicken Katsu Burger (S$23.90).
The drinks selection includes coffee, iced/hot chocolate, frappes, mocktails, and this unique one that caught our eye in the menu – the Unicorno Cotton Candy (S$17.90). This massive, magical creation turned heads as it was carried out of the kitchen. If you're ordering this, snap your photos quick, as the puffy cotton candy doesn't stay voluminous for long!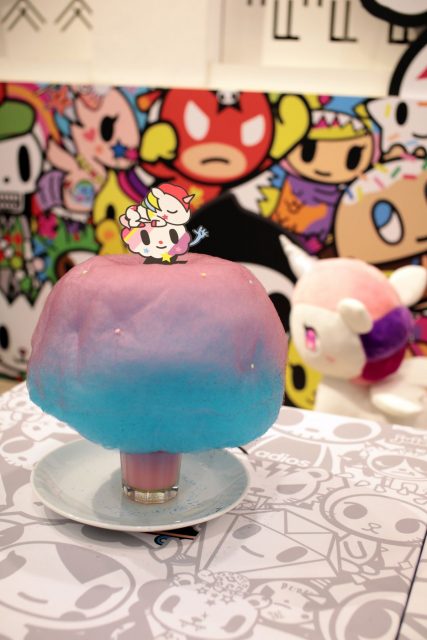 The drinks that we ordered were the Donutella Mighty Minty Chocolate Chip Frappe (S$17.90), and the Latte Iced Latte (S$13.90). All frappes come with a free limited edition Donutella Float, and all the other iced drinks are served with free limited edition coasters.
Sweet tooth still not satisfied? Indulge in one of the cafe's many desserts, such as the Donutella's Delightful Chocolate Cake with Dark Chocolate Sauce (S$18.90). You'll definitely get your day's (well… maybe week's) dose of sugar here.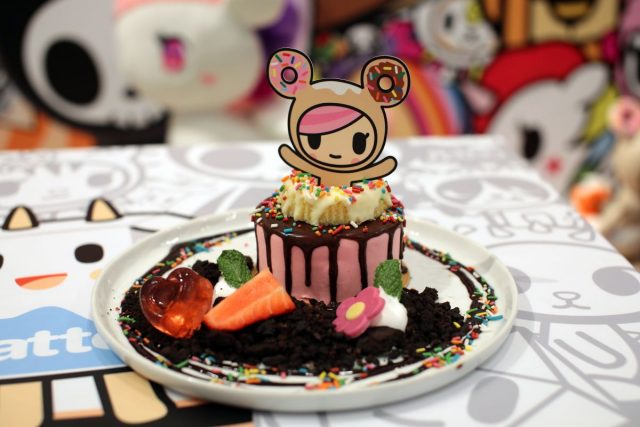 Purchase of the Unicorno Rainbow Magic Parfait (S$23.90) also comes with a 4.5″ Peperino or Marea plush key ring worth S$9.90.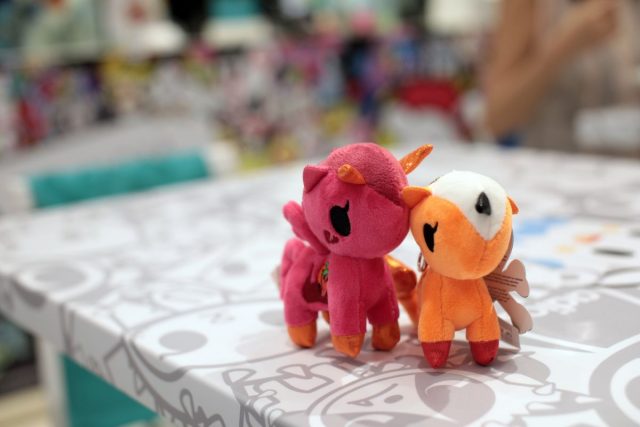 If you're a fan of tokidoki, then this Kumoya x tokidoki pop-up cafe is a must-go for you. Everywhere you look makes for an Instagram-able shot, and folks are just having a good time. This sweet little girl would agree!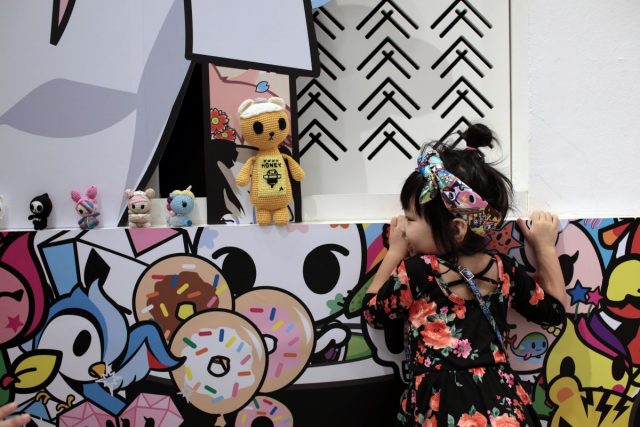 The Kumoya x tokidoki pop-up cafe is located at Kumoya, 8 Jalan Klapa, Singapore 199320.
Opening hours are Tuesday to Thursday, Sunday 12pm to 9.30pm, Friday and Saturday 12pm to 10.20pm, and closed on Mondays.
The cafe will run from now till end June, so make your way down for your sweet dose of tokidoki!