Long-known for producing automotive sound systems for car manufacturers such as BMW and Audi, Harman, now a subsidiary of Samsung Electronics, has tweaked their offerings (to no one's surprise), to turn their audio technology into sound systems for the home instead.
With a focus on streamlining the home audio experience, Harman Kardon has unveiled their all-new Omni+ series, consisting of five products – the Omni 10+, Omni 20+, Omni 50+, Adapt+, and Omni Bar+.
This is in tandem with sister brand JBL, who is also releasing their latest JBL BAR lineup of four models – the Bar Studio, Bar 2.1, Bar 3.1, and Bar 5.1, which scales up in terms of price and audio quality to suit varying needs.
Whew, that's quite a lot new gadgets! Let's take a closer look at them.
Harman Kardon Omni +
The Omni+ series of speakers are all about Wi-Fi connectivity and versatility. No longer do you need to reconnect your phone to the speaker as you move from room to room in your house via Bluetooth, as the music streams via Wi-Fi. Press and hold the Link button on top of the device for 4 seconds, and music instantly syncs and plays across multiple Omni+ devices in various rooms.
Apart from Wi-Fi, music can be streamed over Bluetooth, or 3.5mm input. Wireless connection remains stable across the dual-band (2.4GHz and 5GHz) Wi-Fi connection and 802.11ac network support.
The Omni+ devices are also compatible with the use of Chromecast and Spotify Connect, allowing for wireless streaming of music from your smartphone to your speakers, all at a lossless HD 24bit/192Hz quality.
The main differences between the Omni 10+, Omni 20+, and Omni 50+, apart from their prices, are size, power, and portability. The Omni 10+ sports a rated power 50W, while the rated power of the Omni 20+ and Omni 50+ are 60W and 100W respectively.
Left: Omni 20+, Right: Omni 50+
While the 10+ and 20+ require to be plugged in at all times to function, the 50+ has a built-in rechargeable battery that lets you unplug the speaker and use it anywhere for up to 5 hours. The IPX5 rating on the 50+ makes it splash proof and weatherproof for the ideal indoor and outdoor speaker.
The Omni 10+ will retail at S$359, the 20+ at S$499, and the 50+ at S$699.
Bring it out to your balcony or yard for that sweet ambient music during your dinner party, and the music can keep going even when it starts raining. But really, how often will us in Singapore need an outdoor speaker? Maybe a better daily use for it would a shared portable speaker for the family, which can follow you with music from when you're cooking in the kitchen to having a family dinner in the dining room.
The star of the Omni+ lineup is the Omni Bar+, a surround-sound system for your home that comes with a soundbar and subwoofer. One HDMI cable is all you need to connect it to your TV and enjoy the 3.1 channel surround sound.
Don't be fooled by Harman's descriptions of the Omni Bar+ though, as they'll tell you that the soundbar is 5.1 channel with a 220W power output. There's a catch – these figures are inclusive of two additional Omni 10+ speakers serving as the left and right channels to boost the overall surround-sound experience. On their own, the soundbar and subwoofer have a combined rated power of 120W.
Using a shootout scene from Robocop as a demo, Harman showcased the sound of the Omni Bar+ which proved impressive, with bass emanating from the subwoofer for every gun shot while voices during conversations remained clear.
Retailing at S$1,299, it's slightly on the higher end of soundbars and home audio systems, compared to the Samsung HW-MS650 Sound Bar at S$799 with 4K Pass-Through, or the Sony HT-NT5 at S$1,199 with a power output of 400W and wireless subwoofer.
If you've already got an existing sound system in your home, then you may want to consider the Omni Adapt+, a HD receiver that turns any home stereo into a wireless music streaming system. It comes with a TRS stereo aux cable and RCA phono cable to connect to your system, making it compatible for Spotify music playback and music streaming over Bluetooth and Chromecast.
At S$399, it's a nifty addition to upgrade any home stereo system into a more versatile one.
---
JBL BAR Series
The highlight of the JBL BAR lineup is the Bar 5.1, which comes with three 4K HDMI pass-through inputs, a wireless subwoofer, and a total rated power of 510W.The two ends of the soundbar are detachable, and can become two wireless rear speakers that have a battery life of about 4 hours each, rechargeable via USB cable or by plugging it back into the main bar.
It's Bluetooth compatible for wireless music streaming and can be controlled by your regular TV remote.
Listening to the same scene from Robocop, we noticed that the sound with the JBL Bar 5.1 has a lot more bass and depth compared to the Harman Kardon Omni Bar+, where more subtle sounds such as bullet casings clinking onto the floor are more pronounced, while voices sound a little more muffled.
The JBL Bar 5.1 retails at slightly higher than the Omni Bar+ at S$1,399.
The rest of JBL's BAR offerings provide various options for those looking for more entry-level soundbars. The Bar Studio is the most affordable of the lot, going at S$299 for a compact, 2.0 channel soundbar with 30W of power. The Bar 2.1 is a 2.1 channel soundbar with a wireless subwoofer and 300W of power, selling at S$499. Lastly, the Bar 3.1 boasts slightly more power at its S$899 price, with a rated power of 450W in a 3.1 channel soundbar with 4K Ultra HD connectivity and a wireless subwoofer.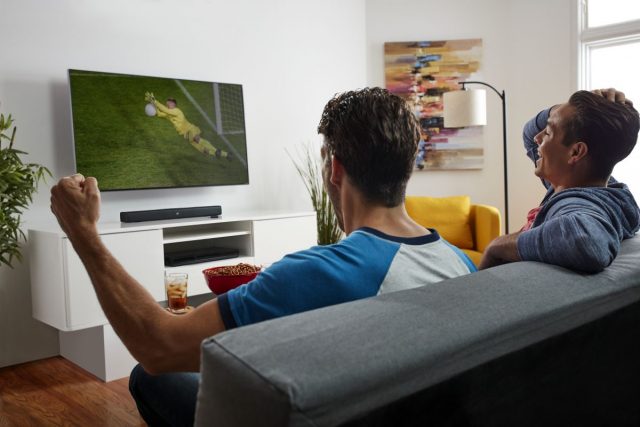 With so many new speakers and sound bars launched by Harman Kardon and JBL, users are truly spoiled for choice. All products will be available at all major electronic retailers in Singapore sometime in end April/early May, with plans to roll them out in the surrounding Asia Pacific region in May 2018.
---

Drop a Facebook comment below!