Star Wars: The Last Jedi may have ended its run in cinemas a while ago, but if there's one thing past instances have shown, it's that the franchise keeps rolling in the dough, even during its off-peak seasons.
In the case of local bakery Swissbake, it certainly rings true – in a literal sense.
Following an earlier launch of Star Wars-inspired brownies, the company is looking to further expand its inventory with Star Wars character cupcakes, featuring a lineup of familiar faces from the original trilogy, both Rebels and Imperials alike.

This means that the chocolate-flavoured mini pastries will come with five cupcake toppers in tow: R2-D2, X-Wing Starfighter, Darth Vader, Stormtrooper, and Boba Fett, alongside a healthy dash of nostalgia. These sweet treats are available at S$5.50 for 1 piece, and S$14.90 for 3 pieces.
Those with a sweet tooth can opt for more sugar goodness with the assorted brownies, which comes in either 3-piece boxes (single flavour, S$19.90 per box), or 6-piece set (assorted flavours, S$36.90 per box). The selection are as follows (S$6.90 each):
Darth Vader Dark Chocolate Brownie
Stormtrooper White Chocolate Brownie
Princess Leia Red Velvet Brownie
Chewbacca Mocha Brownie
C-3PO Orange Chocolate Brownie
Yoda Gree Tea Chocolate Brownie
Of course, a Star Wars package is never complete without merchandise, and Swissbake is offering one free plushie to customers who have spent a minimum of S$30 on the store's Star Wars products in a single receipt at any of the 13 Swissbake outlets. It's the same range as what Pastamania is offering, so check them out here.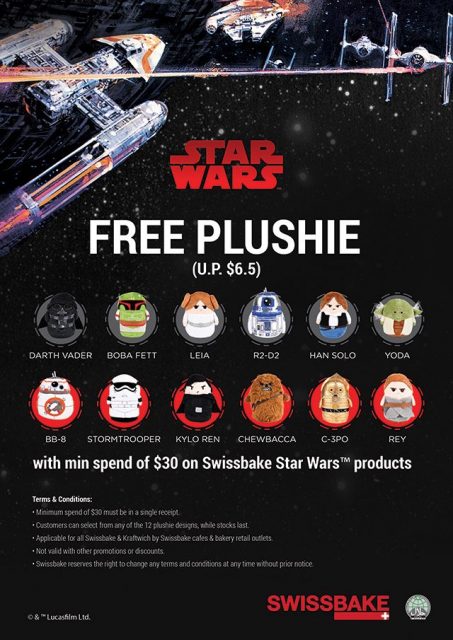 Better be quick, though – the deal is only available for a limited time only, so interested parties should start heading down to any of the 13 Swissbake and Kraftwich cafes, or retail bakeries within Cold Storage and Marketplace. Alternatively, orders may be made online as well, with delivery to come after, though the plushie promotion is not applicable for this option.
Si Jia is a casual geek at heart – or as casual as someone with Sephiroth's theme on her Spotify playlist can get. A fan of movies, games, and Japanese culture, Si Jia's greatest weakness is the Steam Summer Sale. Or any Steam sale, really.
---

Drop a Facebook comment below!

---