The highly-anticipated era of next-gen gaming with the PlayStation 5 has finally arrived, and that means it's time to embrace even more console gaming goodness. Immersive monitors and high-resolution displays are all the hype, but that's not enough to fully bring out the potential of Sony's coveted console, especially with its all-new Wi-Fi 6 support in tow.
ASUS presents the missing puzzle piece in the form of its Wi-Fi 6 routers, which are set to level up the PS5 gaming experience. An upgrade from Wi-Fi 5, this new standard yields higher data rates, increased capacity, longer range, improved power efficiency, and enhanced performance in multi-device environments – simply put, it does the same basic action of connecting to the Internet, but with more efficient technologies to speed the process up. Users will stand to benefit from the boost, and gaming enthusiasts, in particular, can look forward to features like reduced latency.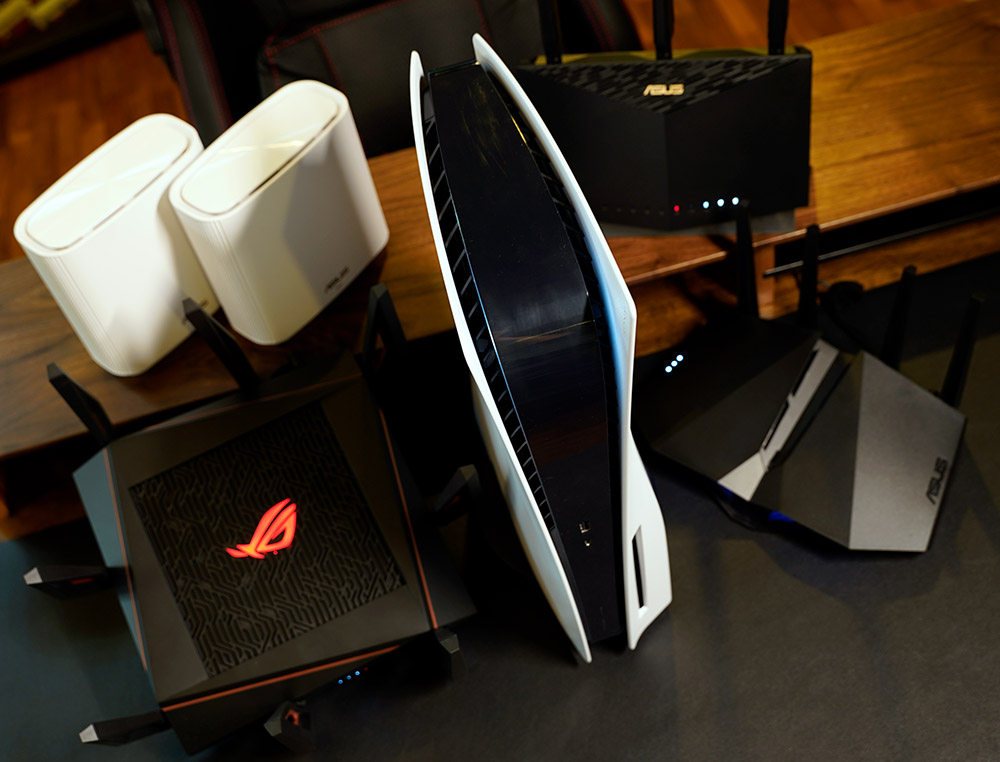 Here's where the team's golden trio comes into the picture. With most devices having to start adapting Wi-Fi 6 technology moving forward, Wi-Fi 6 routers will be in for the long haul. Having one in your home or workspace, as such, would serve as a welcome and future-proof upgrade, and the RT-AX86U, RT-AX82U, and GT-AX11000 act as that bridge to faster speeds and better performance.
---
The ASUS RT-AX86U & RT-AX82U with speeds up to 5,400Mbps
The successor to the best-selling RT-AC86U, the red-accented RT-AX86U sports Wi-Fi 6 technology that clocks a combined overall speed of up to 5,700Mbps, alongside several gaming-oriented features. The RT-AX82U, meanwhile, delivers Wi-Fi 6 speeds up to 5,400Mbps, and comes decked out with Aura RGB dynamic lighting effects for the gaming aesthetic. Because Wi-Fi 6 brings an increased signal range and a reduced number of Wi-Fi dead spots, there's no need to worry about experiencing unreliable connection or interruptions during gameplay sessions on the PS5.
It's worth noting that while both routers are more inclined towards mobile gaming, they are definitely more than well-equipped to support wired gaming devices. The NAT Open (network address translation) ecosystem, for instance, makes port forwarding on consoles a hassle-free process through a simple, user-friendly three-step configuration process, while the Adaptive QoS (Quality of Service) feature can be configured to prioritise traffic from different kind of apps, including – yes, you guessed it – games.
For users on wired connection, there's also a dedicated Gaming Port (doubling up as a LAN port) on each of the routers that automatically prioritises the device connected to it. Just hook up the PS5, and enjoy a fast, stable connection for the entirety of your gaming session.
---
The ROG Rapture GT-AX11000 with speeds up to 11,000Mbps
The ROG Rapture GT-AX11000 takes things up a notch. As the world's first tri-band Wi-Fi 6 router, it offers greatly-reduced ping times and latency gameplay, as well as a whopping maximum speed of 11,000Mbps, which is 2.3 times faster than that of its Wi-Fi 5 counterpart. What this translates to is an accelerated online gaming experience that's four times more efficient than previous-generation builds, with up to 80 percent greater network coverage. Add a slew of dedicated gaming-focused elements to the mix, and you'll be well on your way to an enjoyable, lag-free time.
Like the RT-AC86U and RT-AX82U, the GT-AX11000 also comes with the same NAT Open technology that makes it easier for console gamers to team up with other players or host a match. Unlike the two, the arachnid-lookalike router boasts the Game Radar feature, which allows gamers to check ping times to different servers before hopping online, so they can opt for the match with the best connection.
The GT-AX11000 is additionally outfitted with a gaming-dedicated Wi-Fi band that prevents competition for network bandwidth with other wireless devices, as well as dynamic frequency selection (DFS) support to reduce network congestion during gaming sessions in the comfort of your home. All of this isn't empty talk, either – the technological benefits do live up to their paper credentials when carried over to real life.
---
A Quick Speed Test On The PlayStation 5
To get an idea of just how well this router performs on the PS5, a speed test was conducted. A typical Wi-Fi 5 connection on a PS4 Pro (5GHz) averages at around 180 Mbps (download) and 40Mbps (upload). Whereas on the PS5, powered with Wi-Fi 6 and connected to a GT-AX11000 router, this is what we got: 475.3 Mbps (download)*, 175.2 Mbps (upload)*.
Impressive much? The added boost in wireless speeds will sure come in handy when downloading all those massive next-gen games in the coming years.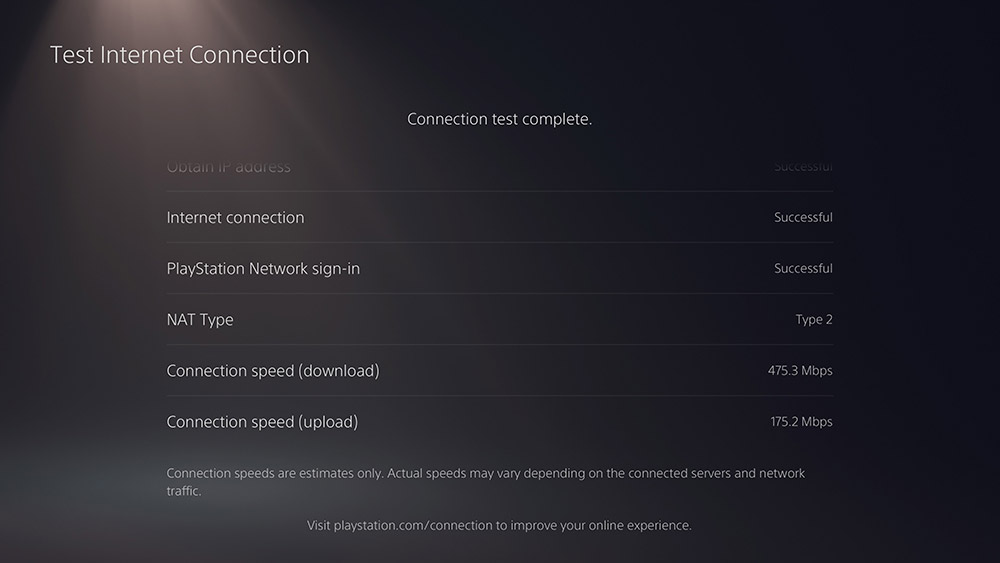 *This test was conducted with a wireless signal strength of 100% via a Starhub 1Gbps Fibre Plan.
---
The ZenWiFi AX Mesh with speeds up to 4,800Mbps
Living in the era of the Internet of Things (IoT) means there's plenty of support for the ecosystem to go around. Apart from the RT-AC86U, RT-AX82U, and GT-AX11000, the ZenWiFi AX (XT8) mesh router is available as another option for fast, reliable and secure Wi-Fi connections. Comprising a pair of ASUS AX6600 Wi-Fi 6 routers, the mesh system is built to blanket homes in Wi-Fi with its quad-core CPU, optimised signal strength, and specially-designed vents, allowing for an uninterrupted console gaming goodness.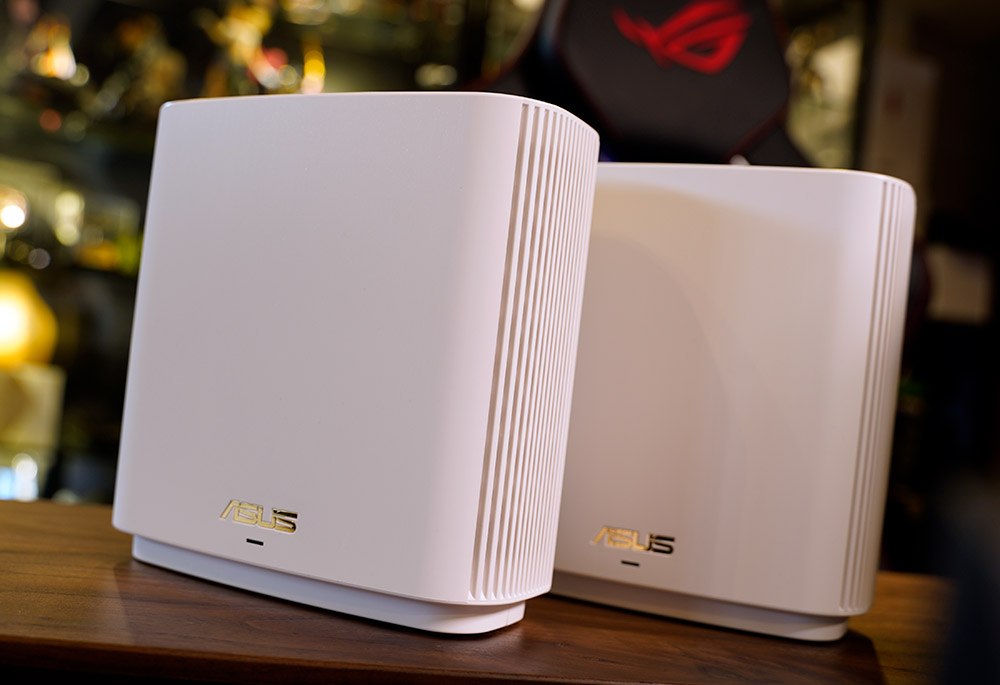 As Sony's most powerful console, the PS5 is expected to fulfill the promise of next-gen gaming, and it'd be a pity if its potential isn't fully unleashed and enjoyed. Ushering in a host of improved and intuitive technology, ASUS' trifecta of Wi-Fi 6 routers offers both speed and performance to give users a leg up in their gaming sessions, where every flick, jump, parry, and shot counts.
The journey to Wi-Fi 6 gaming has just begun, and the time to embrace it on the PS5 is now.
---
The various Wi-Fi 6 routers featured above are available at the following online retailers: