Interested in catching all the E3 2019 action? Check out our handy guide, and all of our E3 2019 coverage!
---
It may be the second last showcase on the list, but the E3 hype has yet to dissipate. Hot on the heels of the Kinda Funny Games Showcase is the Square Enix press conference, serving up piping hot news about both their upcoming and existing games.
As expected, Final Fantasy VII Remake and Marvel's Avengers soaked up most of the limelight. With more details brought to light, both titles also showed off some action goodness as familiar characters projected strong presence in their respective trailers.
Square Enix wouldn't be Square Enix without more JRPGs, however. From a remastered edition of Final Fantasy VIII to the likes of Dragon Quest Builders 2, here's everything that happened over at the press conference.
---
Final Fantasy VII Remake
Ah, the memories. The iconic opening of JRPG classic Final Fantasy VII has now been recreated in glorious HD form, as Cloud returns to the familiar settings of Midgar. The first of a remastered trilogy, the team promises that the total amount of gameplay content is worth two Blu-ray discs.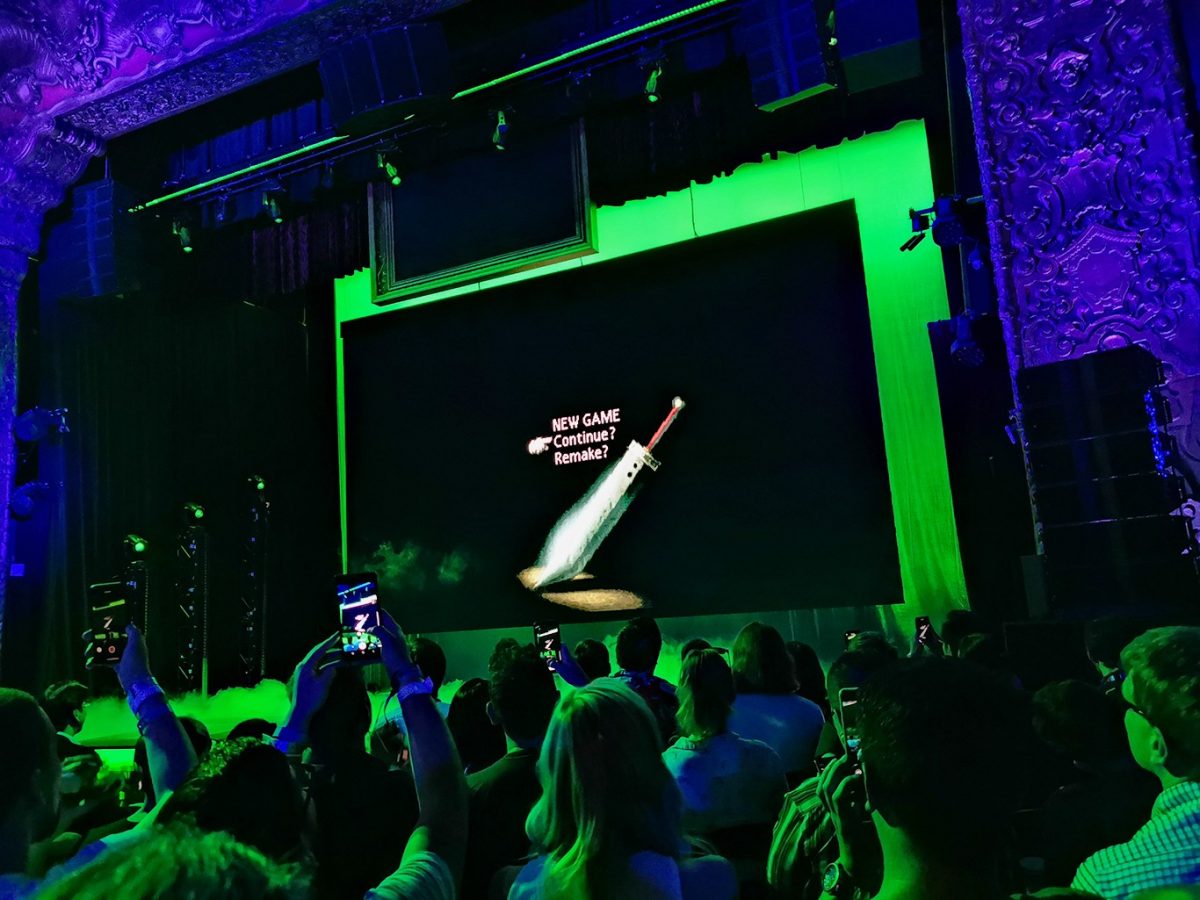 While the game sports many nostalgic elements, there are plenty of new mechanics to go around as well, with the most obvious one being the hybrid combat system. It's reminiscent of a Dragon Age and Final Fantasy XV crossover, combining the hack-n-slash genre with a tactical mode that sees time slowing down to a crawl in the midst of battle for planning purposes.
The addition of two ATB metres serves as a charge-up for Cloud's powers, which are set to fill up as fast as the Buster Sword wielder attacks. Equipping the right material will also allow for the casting of spells, alongside the selection of special abilities.
With the original being taking on a turn-based approach, switching between character is hardly an issue. In Final Fantasy VII Remake, the transition controls seem to have been tailored seamlessly, such that character selection is activated with a smooth, one-button action. This time around, enemies come with a Focus Gauge in tow that, when filled, will trigger a staggering effect.
Barret's skill set has been changed up as well. The primary attack remains as per the 1997 title, but the supporting abilities have been refreshed.
An extended look at the trailer sees the characters and environment looking extremely gorgeous, as the spotlight is shared between Cloud, Aerith, and Tifa. The one-winged angel, of course, would have to join in the party, and we see the iconic Sephiroth introduction scene being reimagined near the end of the reel.
All onboard the hype train! Final Fantasy VII Remake will be releasing on March 3, 2019, and is set to be a PS4-exclusive.
Marvel's Avengers: A-Day
Saving the best for the last – that's certainly Square Enix's approach this year. A closer look at the highly-anticipated Marvel's Avengers has finally been unveiled, and it's unfortunately running not too hotly.
Yes, Earth's mightiest heroes are back, but their different appearances will take some time getting used to. The game thrusts players into an all-original storyline, as the beloved team of Iron-Man, Captain America, the Incredible Hulk, Black Widow, and other heroes find themselves being framed, following their response to a distress call in San Francisco.
Players will be able to team up online (to a maximum count of four), and is set to feature ongoing new episodes. Here's the best part: all additional content, such as new DLCs, are free-of-charge, with zero lootboxes and pay-to-win mechanics.
The sheer magnitude of the game is undeniable, especially with its star-studded cast. The likes of Nolan North, Laura Bailey, and Troy Baker have lent strong credibility to Marvel's Avengers: A-Day, and more remains to be seen.
First impressions, though? The game could do without the changed appearances and facial characteristics, though that may easily be the result of mo-cap technology based on the characters' voice talents. The action manoeuvres, at least, do appear to be rather smooth, so that's some good news.
Marvel's Avengers: A-Day is currently planned for a May 15, 2020 launch on PS4, Xbox One, Google Stadia, and PC, with PS4 owners having the privilege of early beta access.
Final Fantasy VIII Remastered
Squall and company are back in town! A oft-requested re-release of Final Fantasy VIII is soon to hit town sometime in 2019, sporting better resolution and higher frame rate.
Dragon Quest XI S: Echoes of an Elusive Age – Definitive Version
Featuring a blend of both new and old elements, Dragon Quest XI S: Echoes of an Elusive Age – Definitive Edition takes players back into the sprawling world of the original, and enhances the experience with newly-added character-specific stories, fully-orchestrated music, the option to switch between HD and retro visuals, and both the Japanese and English voice tracks.
The Switch exclusive is scheduled for a Fall 2019 release.
Dying Light 2
Plenty of undead are laying in wait, and there are a lot of reasons to fear them – one of which being its huge, open setting. A new Dying Light 2 trailer gave a glimpse of just how vast the zombie-infested world can be, alongside some fluid platforming abilities.
Dragon Quest Builders 2
Dragon Quest Builders is bigger and bolder than ever before. From building objects to combat, everything has been expanded to include more content, and villages will now provide more assistance with the crop-growing process.
A return to the Minecraft-meets-JRPG world also sees a couple of new features in store, such as flying and underwater travel, co-op play, and fast-travel. Upon launch on July 12, 2019 for PS4 and the Switch, players can look forward to exploring a host of new islands as well.
Kingdom Hearts 3 – Re:Mind DLC
Come Winter 2019, the Disney-Square Enix crossover is set to welcome a long-awaited DLC. Roxas, Aqua, and Riku will serve as playable characters in Re:Mind, though the trailer's focus on Organisation XIII may hint at a sort-of backstory reveal for some of the more enigmatic members.
Final Fantasy XIV: Shadowbringers
Final Fantasy XIV has already undergone the process to become a completely redesigned game, but that's not stopping the team from repackaging it as another brand-new title.
Its third expansion, Shadowbringers, promises to introduce enough new content such that the game can be counted as a standalone, including the addition of two new jobs – Gunbreaker and Dance – and two playable races. July 2, 2019 is the date to look out for.
Octopath Traveler
Filled with the charm of an adorable JPRG, Octopath Traveler allows players to play as eight different characters, all of whom come with their own origins, paths, and story in tow. It has captured the hearts of Switch enthusiasts, and might very well do the same to PC gamers with its newest launch on the platform.
The Last Remnant Remastered
Wow, it sure has been a long time. The Last Remnant rose to popularity in the days of last-gen consoles, and it's finally striking a triumphant return on the Switch tonight. Square Enix skimmed over the details, but further information should be available on the digital downloads page.
Final Fantasy: Crystal Chronicles Remastered Edition
Get ready to save the world from the Miasma again, as Final Fantasy: Crystal Chronicles heads over to the mobile gaming platform and current-gen consoles. The remastered iteration will feature updated visuals, new content, and voice acting, alongside both four-player local multiplayer and online play.
Slated for release in Winter 2019, the game is set to arrive on PS4, Switch, iOS, and Android.
SaGa Games
Romancing SaGa 3 and SaGa Scarlet 3 are finally coming to the West. The RPG classics are known for their choice-based concept and high replayability value, and the familiar old-school mechanics only serve to add to their appeal factor. Nostalgia, aplenty.
Outriders
From the minds of Gears of War: Judgment and Bulletstorm comes Outriders, a promising, narrative-driven shooter that appears to house plenty of blood, gunfire, and grotesque monsters. The developers have described it as "dark and unforgiving", and it certainly looks like it: "thrilled" is evidently not the middle name of any of the game characters.
Expect tons of co-op chaos in this one.
Oninaki
Featuring a "Watcher" at the centre of the narrative, Oninaki revolves around the idea of a playing navigating between the lands of living and the dead, in a world where reincarnation reigns. Daemons are the player's trusty partners in battle, each with a specific set of weapons and skills. It's gorgeous, it's interesting, and it's bold, set for launch on August 22, 2019 for the Switch, PS4, and PC.
Circuit Superstars
The racing genre is a saturated market, so it's always a refreshing sight to have new titles take on a different style. Circuit Superstars' approach to go with a top-down, arcade view and tactile physics as an accompanying element certainly makes for an interesting art dynamic. It's primed for release sometime in 2020, where players can join in for a ride.
Final Fantasy Brave Exvius: War of the Vision
A successful addition to iOS and Android devices, Final Fantasy Brave Exvius will soon expand into new territory. With War of the Visions, the game is set to move into the boundaries of Adora, featuring whole new story built upon the Brave Exvius formula. More information is expected to be on the horizon, though not too soon – the game's still in early development.
Life is Strange 2
Following the events of Life is Strange and The Awesome Adventures of Captain Spirit, Life is Strange 2 takes the duo of Sean and Daniel on a journey of self-discovery. The game's been out for some time now, but the above video serves as a nice reminder of how far the pair has come in their friendship.
Battalion 1944: Eastern Front
Battalion 1944: Eastern Front is all about the classic first-person shooter life. With multiple game modes and fast-paced retro action, it's an easy recommendation for lovers of the genre, and is available right now on Steam.
---
Square Enix definitely isn't holding back with developments on the Final Fantasy franchise and retro remasters. Apart from the above, the team has also announced the availability of Square Enix music on streaming services, including a 46-album Final Fantasy compilation on Spotify.
Now, that's plenty of content to look forward to. The industry giant's showcase has surpassed expectations, and the onus is now on Nintendo to bring E3 2019 to a resounding conclusion. With Nintendo's track record, however, we should have nothing to worry about.
---
Interested in catching all the E3 2019 action? Check out our handy guide, and all of our E3 2019 coverage!
---

Drop a Facebook comment below!