Interested in catching all the E3 2019 action? Check out our handy guide, and all of our E3 2019 coverage!
---
Bethesda is back with their fifth annual showcase at E3 2019 and in their words, this showcase is dedicated to everyone who games. While there was a notable lack of Elder Scrolls 6, and only a passing remark for Starfield, during the showcase, it was still a solid one hour showcase by Bethesda with numerous updates as well as new releases to look out for in the coming year ahead.
In case you missed the livestream, here is a quick recap on the various announcements Bethesda made during their one hour showcase.
Doom Eternal
Bethesda has finally released more information for their much-anticipated Doom Eternal, including details of a multiplayer mode, and an extended gameplay demo which showed off the fast-paced gameplay that the original was widely known for. In Doom Eternal, monsters have taken over the world and it is up to the player to embark on journeys to various other dimensions to save the Earth.
Doom Eternal promises to be the ultimate fantasy where the fun comes from mastering the game's universe as the strongest and fastest demon slayer in the universe. It also promises to always have something new to throw at players, to keep the game unpredictable and fresh, even when players are deep in a campaign.
Doom Eternal will also be getting the multiplayer Battlemode where players will pair up as demons to take on a Slayer. Each demon picked will come with different skills and abilities so players will have to learn to cooperate with each other to take the Slayer down.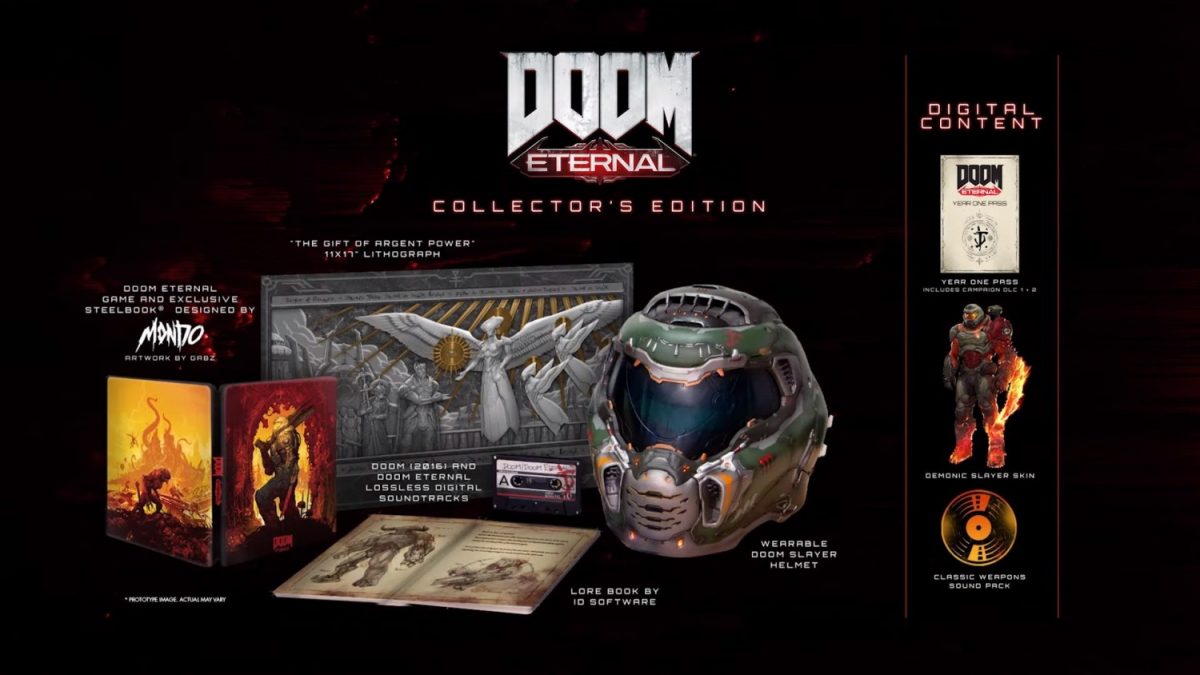 Those excited to play the game will not have to wait much longer as Doom Eternal will be released on November 26, 2019. An exclusive Collector's Edition will also be released, and it comes with a Slayer helmet that can actually be worn.
Wolfenstein Youngblood
Wolfenstein is by far one of Bethesda's most popular action shooter games, and Wolfenstein Youngblood will bring with it most of the elements that made past iterations of the game so fun. Players will get to do a lot of Nazi stabbing, a lot more shooting, all in a sea of blood and fire. This time though, players will not have to do it alone as Wolfenstein Youngblood is introducing a co-op mode where players get to play as sisters Jess and Soph Blazkowicz, out to save their dad BJ Blazkowicz.
Wolfenstein Youngblood will be released on July 26 for the PlayStation 4, Xbox One, PC, and Nintendo Switch.
Deathloop
It's Groundhog day all over again with Arkane Studios' newest game, Deathloop. This first-person shooter game features an art style very similar to other games by Arkane Studios such as Dishonoured and stars two rivals, Colt and Julianna, stuck in a time loop where every time they die, they just wake up again and the cycle repeats.
Colt firmly believes that the way to break the cycle and free himself from the neverending cycle is to find a way to kill Julianna. On the other hand, Julianna loves the cycle of death and resurrection the pair is in and believes it will only continue if she keeps finding ways to kill Colt. Like other games by Arkane Studios, Deathloop will feature mind-bending stories and meticulously designed levels that lets you approach the situation whichever way you prefer.
Ghostwire Tokyo
Ghostwire Tokyo is a new action-adventure game from the creators of Evil Within which has players fighting to help rid the city the Tokyo of supernatural creatures. In an event much like 'The Snappening' in Infinity War, people all around the world have suddenly disappeared and skeleton-like demons have taken over. It is then up to the players to step up and find out why. While Tango Gameworks is known for creating spooky, horror-filled games, it notes that Ghostwire Tokyo will be more of an action-adventure game. In the trailer, several Japanese motifs for death or the supernatural can be seen. Such as the red spider lily, which is a flower often associated with the afterlife in Japan, and the oni mask, which often symbolises the belief in a spirit world
Here is the official game description for Ghostwire Tokyo.
After strange disappearances hit Tokyo's population, it's up to you to uncover the source and purge the city of a strange, new evil. Armed with your own mysterious spectral abilities, you will face down the occult, unravel conspiracy theories and experience urban legends like never before.
Commander Keen
One of Id Software earliest game, Commander Keen is being revived for a new generation of gamers with Bethesda and Zenimax Online Studio's newest mobile game, also called Commander Keen. While the gameplay for Commander Keen is still not entirely clear, we do know that it is a strategy based game where players can drag and drop various gadgets to summon allies, defeat monsters, as well as move around. The game utilises Saturday style cartoon graphics and features two main heroes, Billy and Billie. Aside from the usual Story Mode, the game will also feature a PVP mode where players can go up against others to claim the flag and emerge victorious.
Commander Keen will be available on both iOS and Android this Summer. Players can pre-register first to enjoy exclusive in-game rewards once the game is launched.
Fallout 76
The massive online multiplayer Fallout 76 will be getting a major update, one of which includes the addition of human non-playable characters, each with their own storyline for players to engage with. The Wastelanders update has been described as the game's first major expansion since its release last year and Bethesda promises that it will fundamentally change the game as players know it. The return of NPCs will be a welcome update, the NPCs will all come with full developed dialogue trees.
There will also be new weapons, questlines, and rewards for players with the new update. Wastelanders will be free for every current player of Fallout 76, and for those who have yet to play the game, there will be a free trial available for Fallout 76 from June 10, 2019.
Aside from the Wastelanders update, a 52-player battle royale mode called Nuclear Winter will also be coming to Fallout76, where players compete against one another to vie for the position as Overseer of a vault. Players will be able to enjoy a week-long free trial for Nuclear Winter from June 10 – 17, 2019.
The Elder Scrolls Blades
Bethesda's number one dungeon crawler mobile game is back with more updates. Now players will get to choose a bigger selection of jobs, participate in solo arena battles. Aside from that, there is an all-new Dragon questline that will be arriving on the game in a few hours. For those who are wishing for Elder Scrolls Blade to be available on more than just mobile, your wishes are answered as The Elder Scrolls Blades will be coming to the Switch this fall, and much like the mobile version, the game will still be free on the Switch. Even better, players will be able to carry over their progress from the mobile to the Switch.
The Elder Scrolls Online
Dragons are making their way to way to the world of The Elder Scrolls Online with the game's newest Elsweyr DLC. During their E3 2019 showcase, Bethesda debuted a new cinematic trailer showcasing an intense battle between a ferocious dragon and a number of brave fighters. Following Elsweyr will be Dragonhold, which will conclude the story that began with Elsweyr.
Dragonhold will be available come November. In the meantime, a smaller, dungeon-based DLC pack Scalebreaker will be available in August.
The Elder Scrolls Legends
Another Elder Scrolls game that will be receiving an update is the free-to-play collectible card mobile game, The Elder Scrolls Legends. It will be receiving the Moons of Elsweyr expansion on June 27 which will come with a number of new cards to help grow the number of strategies and tactics that players can utilise in-game to win.
Rage 2
A new update has just been announced for Rage 2, which promises to make the game even wilder than it already is. The Rise of the Ghost update comes with several new additions: new enemies, new weapons, and more. In their trailer, Bethesda showed off several new vehicles such as the skull motorcycle and the Armadillo. There are also several new cheats for players to employ and new enemies such as the sand worm to take down. Aside from that Bethesda also promises to bring players weekly updates, which will definitely make the game a lot more fun and unpredictable.
And that's about it for Bethesda's E3 2019 showcase. There is definitely a lot of games for fans to look forward to, be it on mobile, or on the PC and console. Though Bethesda's press conference might be over, there are still several livestreams to look out for, such as the ones by Square Enix and Ubisoft. So do stay tuned for those!
Orion Streaming Technology
Bethesda has just announced their new software platform which is supposed to greatly improve the performance of games played over the cloud. The new platform, called Orion, was developed following years of research and development, and is designed to reduce the latency, bandwidth, and computing power needed for players to experience a solid game steaming experience. With Orion, players will be able to stream games over the cloud much faster. It also promises to be able to stream 4K gameplay at 60FPS.
---
Interested in catching all the E3 2019 action? Check out our handy guide, and all of our E3 2019 coverage!